With the economic gridlock of the current preventative measures in place to stop the spread of COVID-19, many independent institutions find themselves struggling beyond their means. The government stimulus package promised relief to small businesses, but not all industries were given aid, and the indefinite temporary closures have racked up debt and uncertainty for the proprietors as they struggle to decide whether or not it is financially viable to open once this is all over.
This is not an easy list to make, but here are the restaurants and venues that have permanently closed their doors thanks to the pandemic.
We will update this as more closures are announced. 
Food & Beverage Closures
Acorn
Denver's dining scene is certainly changing and there's no better indicator of said change than the news that Acorn at The Source is closing for good.  The former giant was once hailed as the pinnacle of Denver's restaurant landscape after it launched in 2013. Opening inside the newly minted Source Marketplace, the sister restaurant to Boulder's OAK acted as an anchor to the then-fledgling RiNo Arts District. It was one of the first to bring national attention to Denver and would later help establish the Mile High as a new dining destination. Nearly seven years ago, the restaurant was certainly a breath of fresh air and just last summer it updated its menu and space for a second wind. But like many businesses, the pandemic has left it breathless. But fans, don't fret because the minds behind Acorn are vowing to bring a new concept to the space. No word on what it'll be quite yet but we're assuming something more suited to the times (think casual and take-out friendly). Additionally, the group's ice cream shop Melted will also close — albeit temporarily. Go here for the full statement from the restaurant group's founder.
American Cultures
Kombucha lovers, this one is tough. The LoHi taproom, which once showcased a collective of Colorado kombuchas, is officially closing September 8. According to their announcement, COVID-19 has caused its sales to drop 75% and they've not been able to rebound.
Some days it feels like the bad news just keeps coming. Unfortunately for fans of South Broadway's modern Latin restaurant, Leña — today is no different. Announced via a message on its website, the six-year-old joint has shuttered. Owner Jimmy Callahan, who also operates Prohibition on Colfax, explained he isn't able to elaborate more on the closure, but from the statement, it seems COVID-19 is largely to blame. Go here for more info.
Gozo
Leña isn't the first South Broadway restaurant to shutter in the time of COVID-19.  Wood-fire focused Gozo recently called it quits. Although there is some hope of a new concept filling its shoes. Gozo also opened in 2014, making the pair a keystone for new dining in the area. Now that they are both gone, eating options are once again a bit more limited. 
After more than two decades LoDo icon, Vesta, announced it will not re-open. Owner Josh Wolkon explained the pandemic, along with a need to downsize, are the motivating factors for the decision. Originally known as Vesta Dipping Grill, it was hailed for its innovative approach to dining that encouraged patrons to match homemade dipping sauces to a range of proteins. Their embrace of the industrial brick building, and the grittier nature of LoDo back then, only lent itself to their more rebellious spirit. For decades, they anchored the block as developments sprouted on all sides. Now, the restaurant group is focusing on its younger concepts — Ace Eat & Serve and Steuben's. The team will say goodbye via a fundraiser for their recently deceased former chef, Brandon Foster on August 8 and 9. Go here for more information.
Chuey Fu's Baja Cantina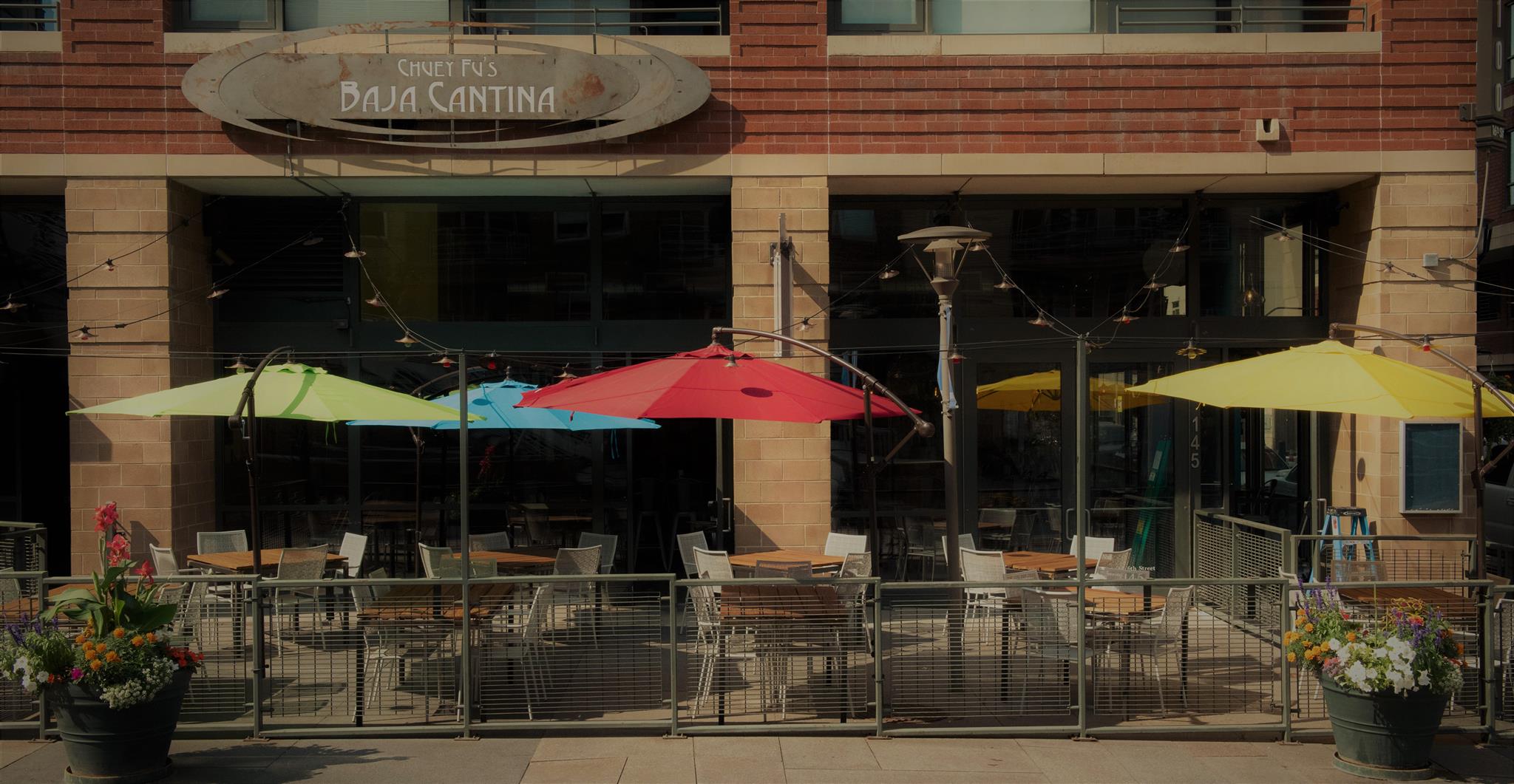 Chuey Fu's Baja Cantina is one of the concept restaurants born from the Chuey Fu food truck and restaurant locations. The Riverfront Park location opened in 2018, offering a slightly different take on the Latin-Asian fusion fares that the brand is well-known for. This brick and mortar shop has permanently closed, although the brand aims to add another Chuey Fu food truck soon in the future, according to Joe Knoblich, owner of the Chuey Fu restaurants.
Blue Pebble
Blue Pebble was a new restaurant on the Santa Fe stretch that opened its doors Fall of 2019. The newly renovated building on Santa Fe has already housed two different restaurant concepts, both closing within a short period of time. The original owners of the real estate, John and Holly Slaughter, own Tribal Tattoo next door, and announced on Facebook that they would be expanding the tattoo shop to Blue Pebble's previous location and adding hairstylists.
The Hidden Idol
Jefferson Park tiki bar Hidden Idol has officially announced its closure on their Facebook as of Tuesday, June 23.  The bar has been open for three and a half years. They have planned a final blowout celebration, with social distancing measures of course, from Thursday, June 25 to Sunday, June 28. To RSVP and support their closure check out this link. 
Meadowlark Kitchen
Meadowlark Kitchen has officially closed its doors due to coronavirus. Co-owner Casey Barns and Joshua Bitz stated that the slim margins in the restaurant industry made a reopening impossible given the current circumstances. The spot famous for its burgers, late-night DJs and proximity to Meadowlark live music around the corner will leave a big hole in the restaurant industry.
Old Major
LoHi's legendary meat-centric restaurant is officially ending its tenure. Famed chef and owner, Justin Brunson released a statement explaining it was time for him to close the seven-year-old eatery due to the pressures of the coronavirus pandemic.
"I had a really good run with Old Major and I want to thank the Denver community, past and present employees and all of our regulars who helped make it the restaurant it was," he said.
The locale was known for always being at the forefront of the Denver dining scene — whether it was whole animal butchery or lunch-time pop-ups, Old Major was often leading the way. Now Brunson is once again re-focusing his energy on another trailblazing project —
River Bear American Meats
. The local company, which sources from family farms, has become increasingly relevant while American meat factories face
startling realities
.
"When I opened Old Major in the spring of 2013, the Denver dining scene was a different place. I felt that was true even before COVID forced all of these major changes on us. Over the years, Old Major allowed me to experiment with whole animal butchery and salumi making which eventually led me to my true passion with River Bear American Meats. And for that, I am incredibly grateful," he said.
However, it's not completely over for the spot that once housed Old Major.
Brunson has sold the business to chef and friend Amos Watts,
who also opened Corrida in Boulder in 2019. According to the
Denver Post
, Watts plans to announce a new name and concept in the coming weeks. Brunson also plans to keep cooking by installing a test kitchen at River Bear headquarters.
"I'm excited to see what's to come with River Bear because honestly, I feel like I'm just getting started."
There
Another LoHi restaurant has announced its closure. There told its followers on June 1 that its Denver location would close with a cryptic message stating, "We are no longer here, but will soon be there… again. With love and appreciation, so it goes…" It appears its original location in Telluride is still operational, but the Mile High spot, once known for its eccentric events and whimsical messaging will not return. No word yet on what will become of the location.
Punch Bowl Social Stapleton
Punch Bowl Social's Stapleton location will not re-open according to a Westword article published on June 9. The innovative sprawling establishment opened in 2017, with several bars, a large patio, bowling lanes and karaoke in the former Stapleton airport control tower. "In this new reality, landlords cannot expect to maintain status-quo economic terms that were negotiated in pre-pandemic times," Robert Thompson, founder of Punch Bowl Social, said in a statement. "We appreciate that landlords are trying to ensure the success of their businesses, however, we were unable to reach satisfactory new terms to move forward with our Stapleton, Colorado and Schaumburg, Illinois landlord. As such, we determined it was in Punch Bowl Social's best interest to sever ties. We will not be re-opening either of the locations." Although the Punch Bowl Social Stapleton location has permanently closed its doors, the original South Broadway location seems to remain open for the foreseeable future according to Thompson.
The Cereal Box
The Cereal Box, a restaurant serving cereal in all shapes and forms, has officially closed its doors, even after efforts to remain in business including a GoFundMe page. "This year hasn't been what any of us expected. We've fought every day, not willing to give up, and we did all we could," said a statement from The Cereal Box. "Some things are just beyond our control. Our lease is up and we no longer have a space to operate the business, and we must now close our doors permanently." The Olde Town Arvada location has been operating since 2017.
12 @ Madison
Jeff Osaka's New American restaurant has shuttered its doors. The announcement came on the same day as the opening of restaurants statewide, with many restrictions, of course. Osaka owns many of Denver's more popular eating establishments including Sushi-Rama, Osaka Ramen and Empire Lounge. 12 @ Madison was a critically acclaimed eatery in Denver.
The Lowdown:  After 37 years, The Market on Larimer Square permanently closed as of Mid-April. The beloved spot was the home of the Spring Fling Cake, a Denver staple pastry. For more on the closure, go here.
Biju's Little Curry Shop
The Lowdown: Biju's Little Curry Shop was a fast-casual Indian restaurant that first started in the Five Points area. The hope eventually expanded to two more locations, before closing down and settling on Tennyson Street by 2020. The innovative curry shop has officially closed its doors as of the beginning of May. For more info check out 5280.
20th Street Cafe
The Lowdown: The downtown staple has been in business for 74 years. It was a family run business for three generations. The Rod and Karen Okuno, the diners current owners, were set to retire in a few years, but COVID-19 fast-tracked their decision. For their official statement check out their Facebook.
Scratch Burrito
The Lowdown: The North Denver eatery and taproom has permanently closed after seven years. The restaurant announced its closure on Facebook on April 26, with the last day to order one of their delicious burritos being that next week, Wednesday, April 29.
Next Stop Brew Company (Formerly The Intrepid Sojourner)
The Lowdown: After changing its name and undergoing a rebrand this last fall, Next Stop Brew Company is calling it quits. Formerly known as The Intrepid Sojourner Beer Project, the brewery began with innovative beers that were meant to take drinkers around the world with exotic flavors (think Turkish Coffee Stout or a Basil IPA). But it seems this approach and subsequent re-brand did not win over enough customers as they cited growing competition in the beer world as well as COVID-19 for their demise. Go here for more info.
Wendell's
The Lowdown: The Berkeley diner announced its closure via their Facebook on March 17. The popular breakfast joint didn't go into great detail as to why it would close.
---
Venues
The Lowdown: The South Broadway venue and dive bar has closed its doors after 14 years. The closure was announced on Instagram in Mid-May. 3 Kings was a classic rock dive bar and was also a coveted stop for UMS. Go here for more info.
The Lowdown; Live @ Jack's was the first Denver venue to officially close due to coronavirus. Sandra Holman Watts, the managing owner of the establishment, posted a tearful video announcing the decision on Saturday, May 9. Go here for more info.
Le Cour Denver's Art Bar
The Lowdown: Le Cour was a jazz club and French bistro on South Broadway that brought old charm and music to the masses. The owners and partners Janet Poth and Joe Monley wrote a statement on their Facebook page about the announcement.
Other Closures
The Lowdown: Euclid Hall was one of the first restaurants to announce its closure due to coronavirus. The restaurant was around for 10 years. Although they plan on closing down its location off of Larimer Square, co-owners of the establishment hope to find a new location with Euclid Hall concepts in mind once the pandemic is over. For more on the closure, go here.
Racines – Closing in 2021
The Lowdown: After more than 40 years in business, the owners of Racines have decided to retire. However, the all-day restaurant isn't calling it quits until January 2021 in hopes they can have a proper goodbye. Go here for more info.
Tom's Diner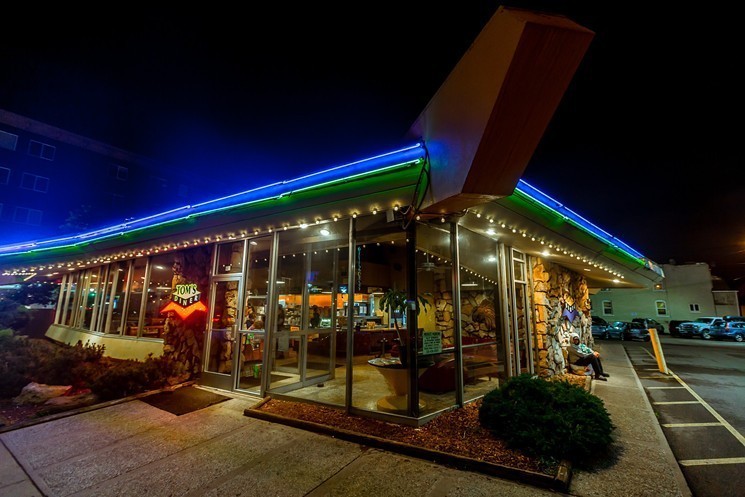 Tom's Diner has been a staple part of the Colfax world for quite some time. Its relevance to our history is so impactful that the National Register of Historic Places protects the building's structure. Nonetheless, the diner has closed its doors with no indication as to what it will be replaced by. Although the move was coming up regardless of coronavirus measures, according to a historic-friendly developer GBX Group, the onset of the virus has sped up the buying and selling process. Tom Messina, the owner of Tom's Diner, has sold the property. We can only await what's in store for the cult-following of such a place.