Less than a month(-ish) until Red Rocks 2017 Summer hits us. What music gets you going? Maybe you feel hard for the rap genre, and are stoked to check out Chance the Rapper, Snoop Dogg and more. Maybe you adore the classics and want to see Tom Petty amongst other talented rock stars. Whatever your flavor is, check out ten upcoming shows from the concert goers of 303 and see if you can snag some tickets – before your regret has a chance to set in.
Method Man, Redman and Flatbush Zombies – April 29
I literally can't think of a better way to pregame 4/20 than with members of Wu-Tang. And on the Rocks? This show is about to combine the best parts of golden age hip-hop and Colorado all in one night—a tried and true recipe, as Method Man and Redman usually end up in the 303 around this beloved holiday and it's surely not going to disappoint. The packed lineup including Curren$y, Afroman and $uicideBoy$ make this show a dream for any hip-hop head, especially those who happen to be fans of weed as well. Method Man and Redman clearly love us here in Denver, which will inevitable make this concert a special night as always. We've got high hopes for this show, and you should too. – Jonina Diele
Read our review of 2016's Method Man and Redman's Red Rocks performance here.
Snoop Dogg, Wiz Khalifa & Cypress Hill- April 23
What better way to continue the 4/20 festivities than to celebrate with the ganja kings themselves, Snoop Dogg and Wiz Khalifa? With their fittingly named Mount Kushmore Wellness Retreat Tour, there will definitely be no shortage in good beats, good music and good vibes. Snoop's latest song "I Promise You This," continues the tour's theme with lyrics like, "Doing legendary shit/ Smoking on a blunt with your temporary bitch." Hopefully, the two rappers will duke it out again and we will get to witness another smoke off between the cannabis enthusiasts. Either way, this concert will ensure that your 4/20 weekend ends on a high note. – Symone Roque
Check out our gallery of Snoop Dogg's 2016 Fiddler's Green show here.

Chance the Rapper – May 2 & 3
Chance the Rapper – you know his name. All in the past year, he's won three Grammy's, become a philanthropist for Chicago public schools and now, he's sold out two nights at Red Rocks. And he didn't just sell out two nights at Red Rocks, he sold them out in minutes. It's safe to say we're excited for this one. Chance also filmed his music video for "How Great" backstage at the Fillmore last year, so we can only wonder what shenanigans he'll get into over the course of his two days in the Mile High. To make these concerts evermore exciting, Chance stated on his Facebook that they're putting together new stage production for the Magnificent World Coloring Book Tour. Now the question is – will there be puppets? – Tyler Harvey
Check out our gallery of Chance the Rapper's 2016 Fillmore show here and a review here.
Papadosio – May 6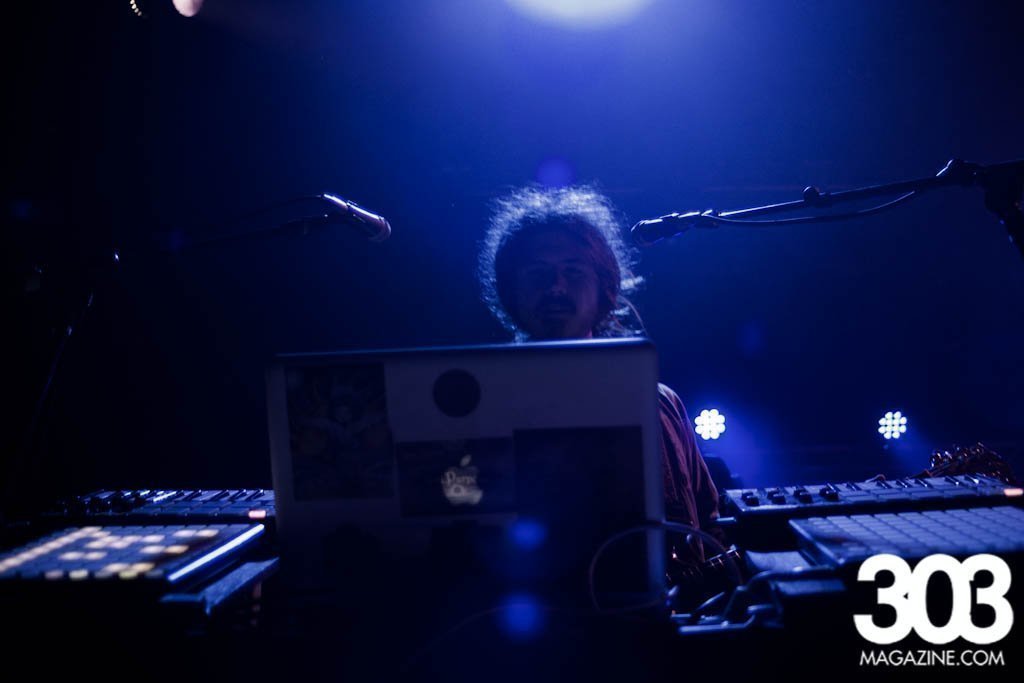 My most anticipated show for the 2017 Red Rocks season is without a doubt Re:Creation Red Rocks, the awesome combination of Papadosio headlining the rocks while Alex and Allison Grey deliver another one of their spectacular live art showcases. I'm a huge fan of Alex and Alison Grey's painting and have looked forward to seeing it done live for some time now. The bonus of this show is that it's at the most beautiful venue in the world and they are accompanied by some very talented electronic artists like Papadosio, SunSquabi, Desert Dwellers and Supersillyus. The night is sure to be a breathtaking experience both visually and audibly – a wave of psychedelic energy to which I cannot wait to be a part of. – Josh Cowden
Read our review of Papadosio's 2016 Red Rocks performance here.
Bonobo & Nick Murphy – May 12
Of the many Red Rocks options this year, few fill me with as much excitement as the Bonobo and Nick Murphy (Chet Faker) co-headlining show on May 12. Bonobo's music has such layered grandeur, which complimented by Nick Murphy's chilled and nuanced electronica, and Red Rock's unparalleled atmosphere makes for a perfect match. Not to mention, Bonobo is bringing along a full band to breathe new life into his compositions, as well as some of the featured artists on his masterful new album Migration. Nick Murphy, on the other hand, has a forthcoming album under his new moniker, which leads to the prospect of hearing new material, perhaps for the very first time. Come May 12, there will be dancing, tears and a lot of feelings overflowing from Morrison. – Kori Hazel
Read our review of Bonobo's 2016 Beta Nightclub DJ set here.
Primus & The Claypool Lennon Delirium- May 16
To say that I'm excited about the upcoming Primus show at Red Rocks would be a severe understatement. It's not that I've never seen Primus at Red Rocks (remember that time they opened for the Flaming Lips, when the Lips played Dark Side Of The Moon?). It's not that I've never seen the Claypool Lennon Delirium (remember their killer set from Sunday afternoon at last summer's Vertex?). But this is a double Claypool bill: Claypool opening for Claypool. That's, like, my dream scenario. I'm over here praising the funky bass gods for sending me Les on Les. Les is more. I'm thrilled, giddy, beyond stoked. Claypool is the king of strange, one-of-a-kind. Every band he's played with, his book South of the Pumphouse, his mockumentary Electric Apricot — his art pushes my weirdo buttons in all the right ways. His dark sense of humor is well received by his devoted fans, audiences chanting "Primus sucks!" enthusiastically at every show: the man can do no wrong. Stay tuned for my review, but I can already tell you, it's going to be glowing. – Allison Cohn
Tom Petty – May 29 & 30
Tom Petty and The Heartbreakers are one of the biggest classic rock names whose crowd can still (barely) fit into the 60-something rows at Red Rocks. Whether you're re-living the good old days or your an old soul stuck in the body of a 20-something, this show is not one two miss. Most artists in the same league as Petty can only be caught every few years, and this May, you'll get two full nights of rock 'n' roll. – Emma Polachek
Check out our gallery of Tom Petty's 2014 Red Rocks performance here, and a review here.
Trailer Park Boys – August 30
It was an average hungover Sunday when I first embarked on my long, passionate obsession with the Trailer Park Boys. With their dim wit, vicious cycle of poverty and relentless efforts to break free from the claws of justice from Mr. "I am the liquor" Lahey — the trailer park supervisor — Ricky, Julian and Bubbles never cease to amaze audiences with their one-of-a-kind humor and impeccable knack for ending up worse than they started. The thought of seeing these three comedians live on the greatest stage in the universe excites me to no end, and I am sure it will be the kind of experience I will remember forever, as I hope to continue quoting the show until the day I die. – Denby Gardiner
Sturgill Simpson – September 25
Channeling old school outlaw country badasses like Waylon Jennings and Merle Haggard, Sturgill Simpson has made his mark on modern country music. I've got to give my most anticipated Red Rocks show of 2017 to Simpson. He is one of those artists that is just so good live. He won Best Country Album of the Year at the Grammys for A Sailor's Guide to Earth and was also nominated for album of the year. Simpson is sure to play songs from this album and his others. Simpson has soul to spare and will definitely kill it at Red Rocks. This honky-tonk hero is coming to town on September 25 and is not to missed – that is if you can still find a ticket. – Elliott Flood
Check out our gallery from Sturgill Simpson's 2016 Paramount Theater show here, and a review here.
Fleet Foxes – September 27
This is going to sound awfully horrible, but I dedicated the song "Someone You'd Admire" by the Fleet Foxes to my dead dog. Hear me out – a bowl was smoked, then I met my family at the vet's office and my cancerous, elderly dog was put out of his misery about six years ago. "After all is said / and all is done / God only knows / which of them I'll become" – it was a special tribute and moment. But honestly, Fleet Foxes, I have some harsh words for you – words that the professional in me does not want to express. But it's been six f*****g years! Six long, long years of no albums, no concerts, no nothing…so it's about time you make up for it. Hence, my excitement, everyone's excitement – hey, maybe even Father John Misty's excitement. Psh, hipster. They will have their new album released by the time fall comes around and I'm looking forward to see how they mash up their discography at the Rocks. – Taylor Heussner
Also see…
Chris Stapleton, Brothers Osborne, Lucie Silvas – May 23 & 24
Odesza – May 27 & 28 (sold out)
Chromeo, Rufus du Sol, D.R.A.M., Hayden James – June 1
John Prine, Kacey Musgraves – June 4
Portugal. the Man, Local Natives, Car Seat Headrest – June 18
Flume, Baauer, Touch Sensitive – July 5 (sold out)
Ween – July 12
Jason Isbell & the 400 Unit – September 7
Check out the full Red Rocks 2017 lineup here.