–
The definition of art is a fluid one.
For thousands of years, the definition of art has ebbed, flowed and expanded as humans create new ways to express themselves. And here in Denver, we have no shortage of individuals utilizing this age-old form of expression. From street artists like Mike Graves to the man behind 303 Music Vol. 1 record sleeve art John Vogl and guys turning pizza boxes into works of art — the Mile High City is oozing with countless forms of artistic application — many of which have been featured at Spectra Art Space. Spectra is a South Broadway gallery that's changing the way people think of galleries. Spectra has gained a reputation throughout the city for showcasing undiscovered artists and addressing real issues through rotating exhibits. We had the opportunity to sit down with CEO and Chief Curator Sadie Young to discuss her take on what it means to both create and curate art.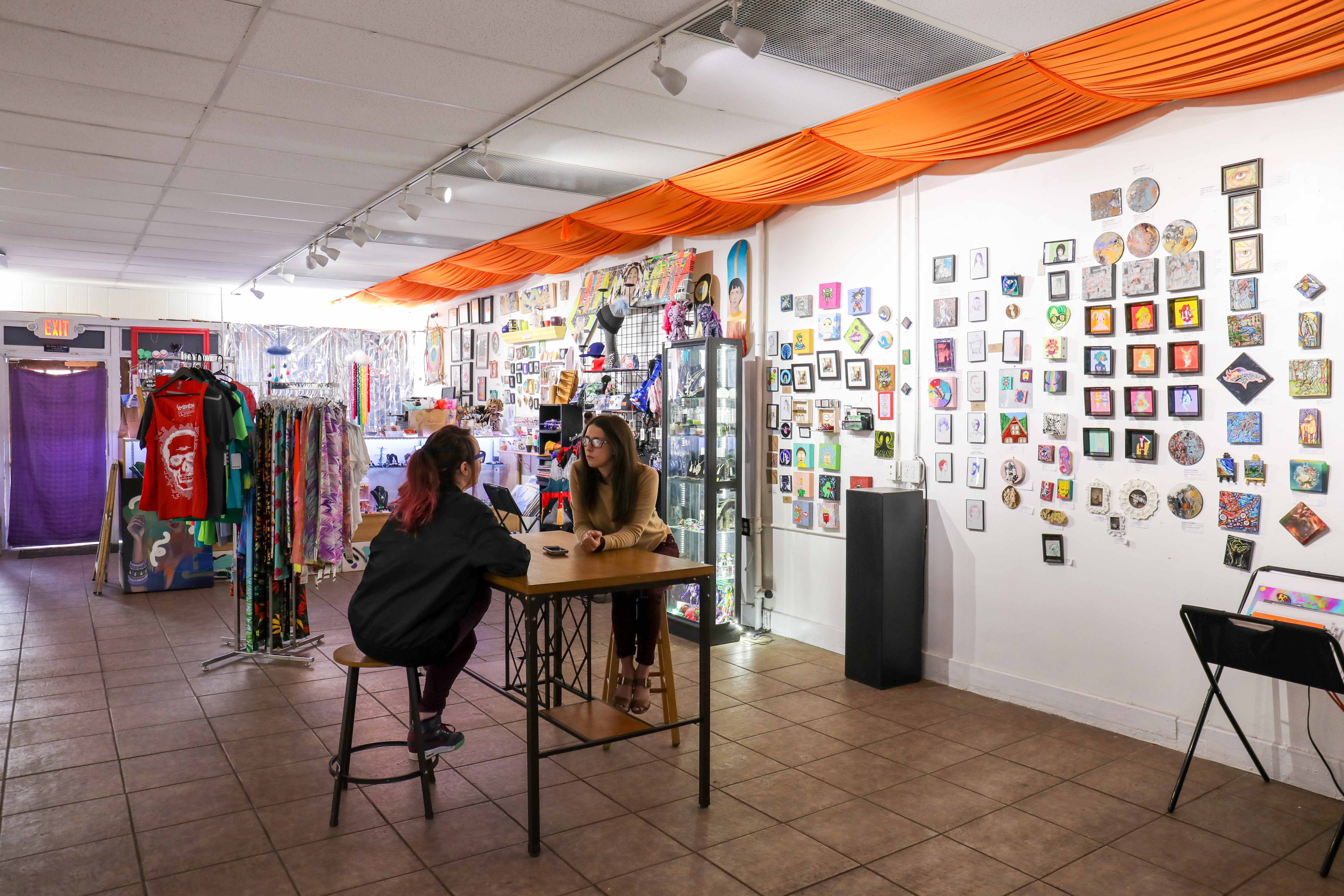 303 Magazine: What sets Spectra apart from other galleries in Denver? 
Sadie Young: I really wanted to make a place that was inclusive, not exclusive. And something that wasn't like the gallery experiences that I had experienced in my career… I wanted to make a place [that's] accessible for all artists… and also accessible for people that aren't artists because you know, even though I have a degree in art, art sometimes can be something that's intimidating to people who don't know about it or didn't study it.
303: Do you feel like price tags have a part to play in people's perception of galleries?
SY: I can go into an art gallery and appreciate different abstract art because I have a background as a full-time professional painter… I didn't make abstract art so I have different appreciations for different things. But then you always hear people like, "oh I could do that, why is that $3,000?" I didn't really want that kind of environment here. And based on my history of being involved in different art communities throughout the years, before I opened Spectra, I loved the idea of art openings being more of a party and a social gathering.
303: And what would you say to people who don't feel like they can afford to collect art?
SY: I would say you're not looking in the right places… everyone has affordable art, I've been an artist and a curator and an entrepreneur basically my whole life. The reality is I don't have money hardly ever, but I have an amazing art collection. There's affordable art everywhere and it's just about looking for spaces like Spectra.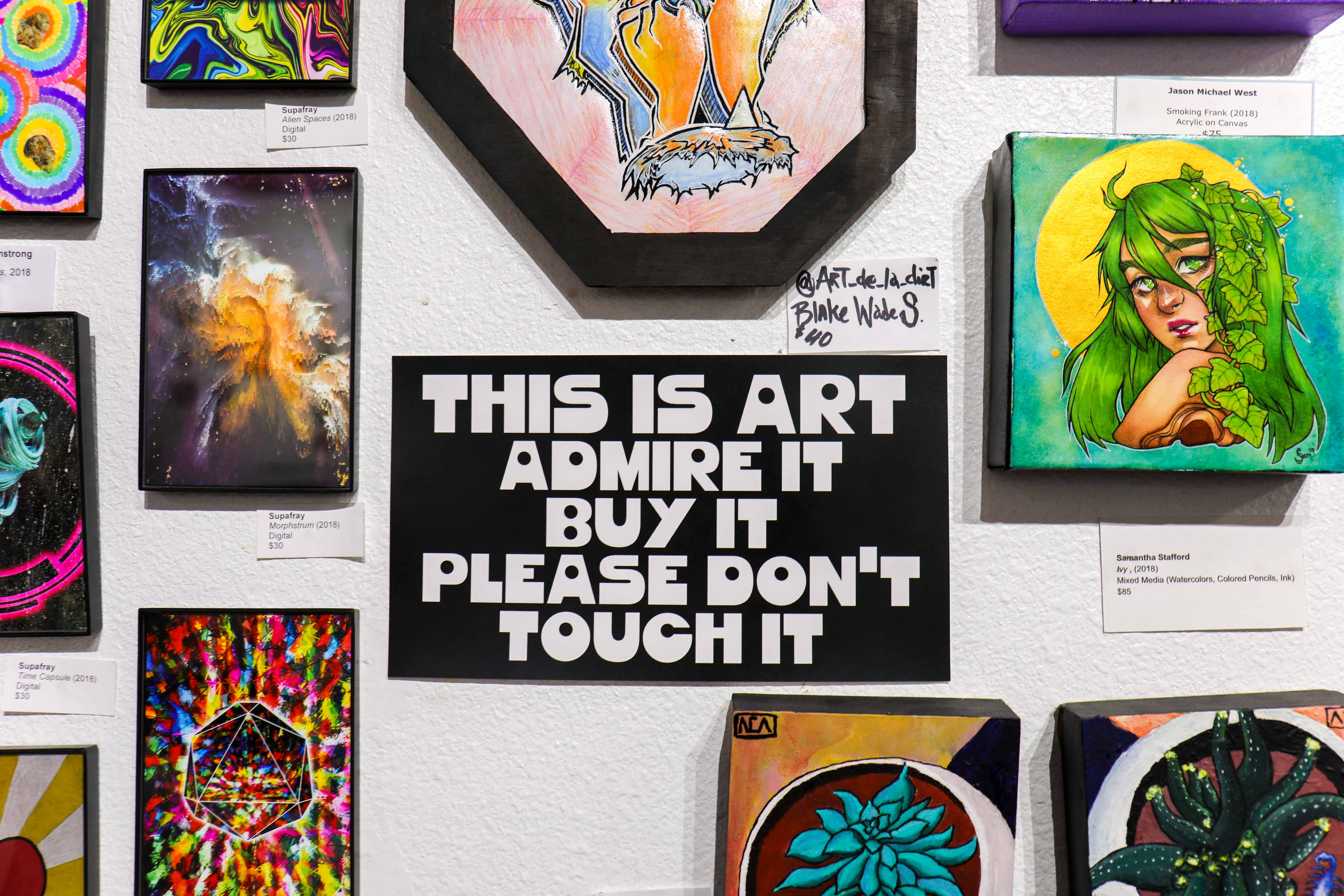 303: Do you feel like serious collectors should be checking out places like Spectra? 
SY: Absolutely. Because I understand that world a little bit too, you know, so I understand art that already has inherent value. They started somewhere, those artists who are worth crazy amounts of money… first off, those artists didn't realize that [fame] was going to happen for them. And it did. And it was collectors and curators who believed in them that helped them get there…. when there's a space like this, where there's a bunch of artists in one space, some of these people are going to be worth [alot] at some point. And serious art collectors, I think, should have the mentality of, "I'm not only going to collect art or artists who are already worth a lot, but I'm going to go out and seek who that next artist is."
303: You're known in Denver for bringing lesser-known artists to light. Why is that a focus of yours? Why not focus on the big names? 
SY: I didn't just want to do art shows where it was like, okay… this person already has a following, let's bring him in because that'll make us money. My intention is…  let's bring in a few of those people [artists with a following] but then open it up to all these other artists that I work with… Then it's good for everyone. Those people [lesser-known artists] start selling art because the more well-known people brought them in. It all fits together. [For example] when we did the donut-opia show, KGB is a really famous glass artist and he helped create buzz around that show, but then I had 35 other artists make donut art, and we did donut installations and we built a city and then Voodoo Doughnut sponsored it and now that installation is at their doughnut shop, which is really cool.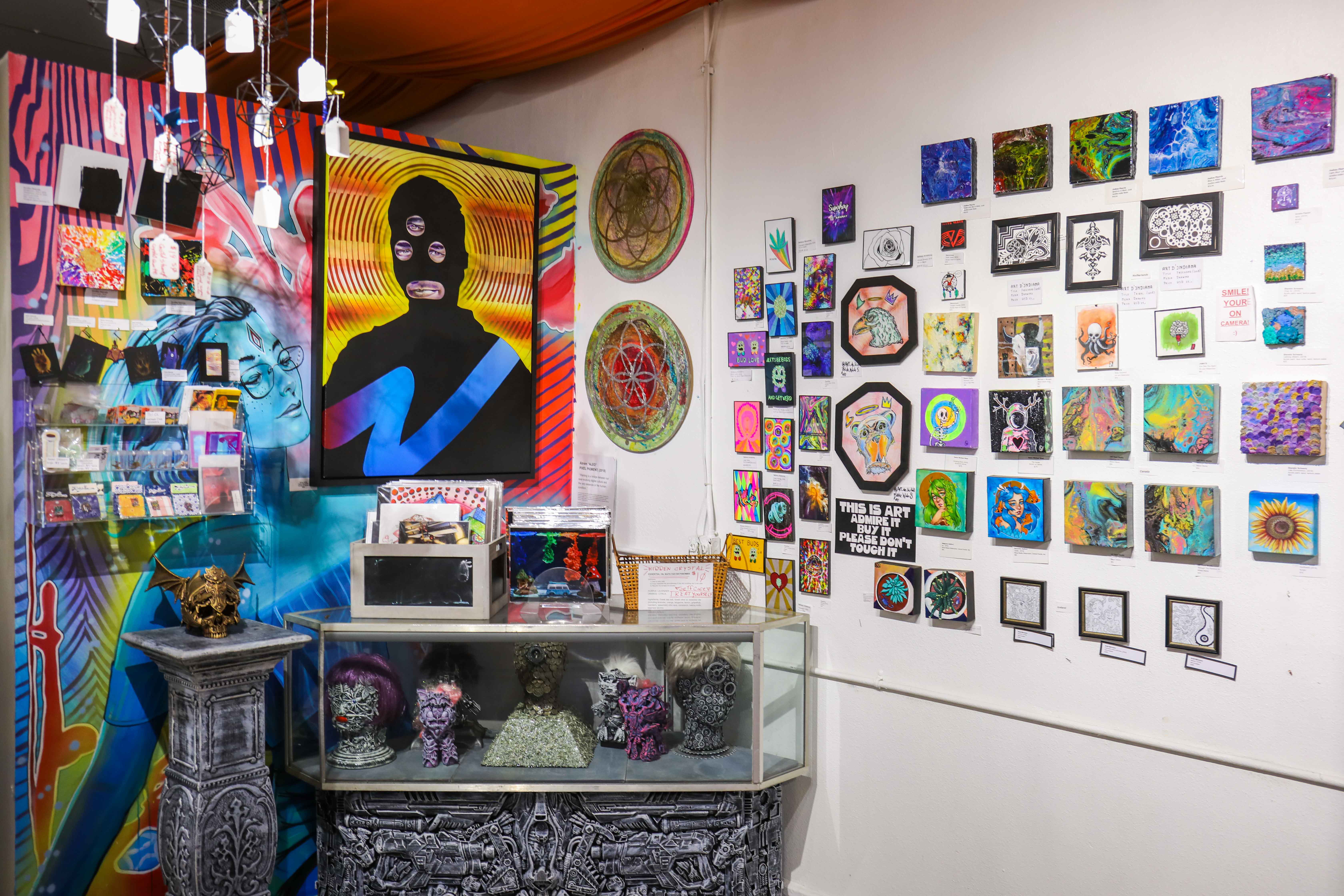 303: You're also known for bringing heavy issues to light through art. What exhibit, in the past, has most affected you?
SY: Tiny Art Big Ideas... The intention here [was] to remember that the little things in life are worth living for. And part of the proceeds [went] to the suicide awareness and prevention… The most gun deaths in the United States by far in the last year were suicides. And that's actually how we lost a Spectra family member who started Team Love Life and did fundraisers at Spectra with art and music events. He started that whole group. We lost him because he got a gun. He got access to a gun. So for me, I was just like this is terrible, he would still be here. He advocated for awareness for suicide and for suicide prevention, but it was too easy. So because of all of that, I was like, "how do I spin that into something [to] keep his memory alive, something for him, something where we can involve everyone.. anyone who's been affected by this. And so I canceled the show that month and put out a call for entry, Tiny Art Big Ideas. We had 160 artists say that they were going to submit work from 12 different countries.
303: And do you feel like you, as an artist and curator, play a bigger role than merely creating and collecting art? 
SY: I guess it's part of the responsibility of artists and curators to address social situations, not even in a positive way, but just… address them, bring them to light, talk about them, engage the community. That's our job as artists and curators and gallery owners and this show [Tiny Art Big Ideas] did that by intention, but then also there were all these things that were not necessarily intentional that came to light because of it.
303: As far as the future is concerned, are you considering moving locations any time soon? 
SY: Yeah. We'd be open to it because the rent is crazy. It's really expensive. So I'd always be open to moving. We don't have a plan to move yet, or at least we're here for another year.