Choosing where and what to eat in Denver became increasingly complex in Denver for 2015. Earlier this year, the Denver-Metro area clocked-in at whopping 6,646 restaurants—landing us within the top 20 cities with the most dining options in the United States.  
For those who consider themselves creatures of habit, this growing list of options might not be much of an issue. But for what seems to be a swell of ravenous city dwellers, navigating the budding culinary wonderland of Denver can be a slightly daunting task. For 2016, we've decided to give you a helping hand by breaking down the list of newcomers, so you know who to watch for in the New Year.
From hidden sea-themed bars to Moroccan bungalows and a restaurant from one of the world's most well-known sushi chefs, here are our picks for most anticipated restaurants of 2016.
Coperta
Where: 400 East 20th Ave., Denver  
Neighborhood: Uptown
Projected Opening: Early 2016
What: a new Italian restaurant from the owners of beast + bottle.
Why We are excited: Paul C. Reilly and his sister, Aileen V. Reilly have made a name for themselves with their intimate Uptown eatery, beast + bottle. Their dedication to farm-to-table cuisine and nose-to-tail butchery was at the forefront of the trend when it hit Denver. Now, their new concept, Coperta—which will occupy the former Jonesy's space—will bring an Italian element to the neighborhood. According to Paul, Coperta—which means "blanket" in Italian—will be, "warming and welcoming, like a blanket wrapped over the shoulders of our guests." This idea, coupled with the pair's ability to create infinitely inviting spaces, is likely to result is a supremely cozy spot.
The Way Back
Where: 4132 W 38th Ave., Denver
Neighborhood: Berkeley
Projected opening: Early 2016
What: a restaurant and bar serving craft cocktails and a menu built to "champion sustainable farming, ethical fisheries, and humanely harvested livestock."
Why We are Excited: The Way Back consists of a triumvirate of industry veterans—including Chad Michael George formerly of the world-renowned, Williams & Graham. George, along with Kade Gianinetti and Jared Schwartz, are all well versed in the Denver food scene, having met while working at  Linger and then went on to open two food trucks—American Grind and State Fare.  The Way Back, which occupies the former Bark Bar space, boasts a massive 3,000-square-foot patio, which will make it a prime spot for al fresco imbibing.
Torchy's Tacos
Where: 1085 N. Broadway St., Denver
Neighborhood: Golden Triangle
Projected opening: January 2016
What: an Austin born taco joint that began as a food truck and has become a Texas classic with 30 Lone Star state locations.
Why We are excited: Torchy's has Texas transplants rejoicing, as this will be its first out-of-state location. Known for its "damn good" tacos—including breakfast renditions like the Wrangler, loaded with scrambled eggs and smoked beef brisket—Torchy's will fill the taco-shaped hole Moontower Tacos has left in our hearts.
Matsuhisa Cherry Creek
Where: 3222 E 1st Ave, Denver
Neighborhood: Cherry Creek
When: February 2016
What: a 7,800-square-foot high-end, sushi restaurant from James-Beard Award nominated sushi chef, Nobu Matsuhisa.
Why We are excited: Chef Nobu Matsuhisa has built an international restaurant empire with more than 30 restaurants worldwide. Boasting locations everywhere from Hong Kong and Tokyo to New York City and Beverly Hills, the master chef has decided to open his third Matsuhisa concept in Colorado (Vail and Aspen both have outposts). Aside from London and New York, Colorado will now be the only other place to have three locations of Chef Matsuhisa's restaurants. This signals a serious uptick for Denver's culinary cred.
Vital Root
Where: 3915 Tennyson St., Denver
Neighborhood: Berkeley
Projected Opening: April 2016
What: A vegan/vegetarian-friendly restaurant from Justin Cucci, the restaurateur known for eccentric eateries such as Linger, Root Down, and Ophelia's Electric Soapbox.
Why We are excited: Justin Cucci is arguably one of Denver's most inventive restaurateur. Breathing new life into unusual spaces, including a former mortuary (Linger), a gas station (Root Down) and an old brothel (Ophelia's), Cucci has proven he is a master at evoking a sense of whimsy and wonder in even the most unlikely of places. This time round, though, Cucci will try his hand at a more casual dining experience with Vital Root. Located in a '70s-era building, Vital Root will offer a vegetarian and vegan-friendly menu with a juicing program. Knowing Cucci, who has plenty of experience in making vegetable dishes sexy as any omnivorous options, is likely to find a way to make a vegan meal as enticing as a cheeseburger and fries (well, close enough). Bonus: Vital Root will work with Vital Yoga, a yoga studio next door, in hopes to facilitate overall healthier lifestyle options.
Corvus Coffee DTC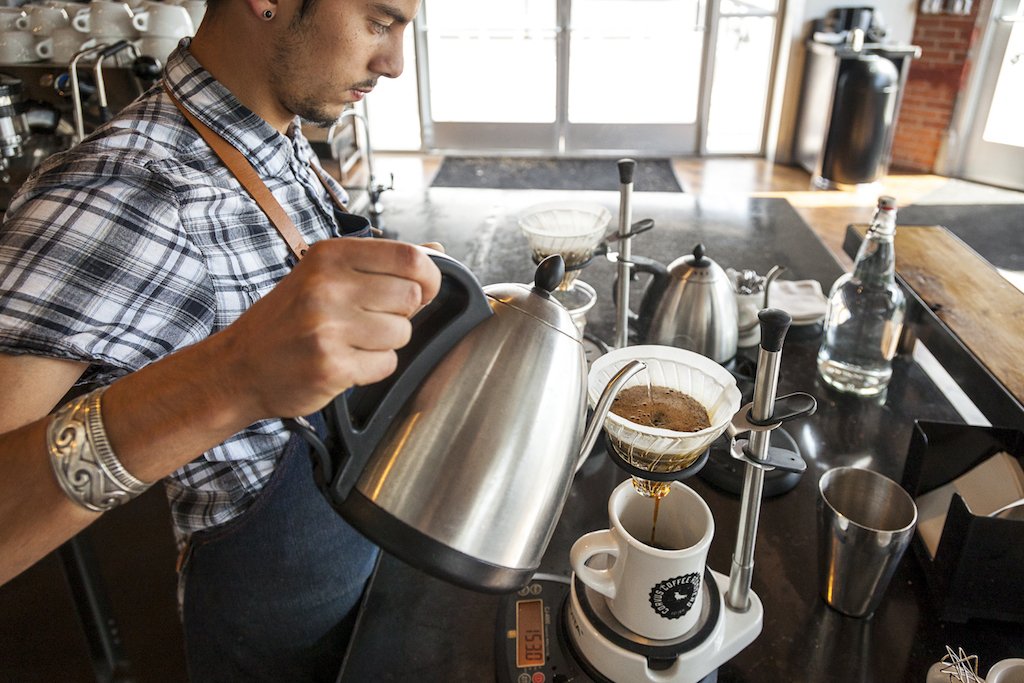 Where: Belleview station at 1-25 and Bellevue Avenue
Neighborhood: Denver Tech Center
Projected Opening:  April 2016
What: A second location of the popular coffee shop and roaster.
Why We are Excited: Since it opened on South Broadway nearly two years ago, Corvus has been changing how we drink coffee in Denver. Pulling inspiration from the beer and spirits industries, Corvus has introduced us to everything from hop-infused coffee to coffee beans aged in whiskey barrels. Now with its second location—which has the option for a liquor license—there's plenty of renewed opportunity for experimentation. Think coffee cocktails that not only use whiskey but bourbon-infused coffee, too.
Central Market
Where: 2669 Larimer St., Denver
Neighborhood: RiNo
Projected Opening: Spring 2016
What: A gourmet market with 13 local vendors, including a craft cocktail bar called Curio.
Why We are excited: This 14,000-square-foot gourmet market will be the first large-scale market in the growing RiNo neighborhood. While it won't be a full-fledged grocery store, the 13 local vendors will add more options for those looking to buy and eat in the formerly industrialized part of Denver. So far, the list of tenants has not been released, but Curio, a cocktail bar from the award-winning bitters company, Cure All Bitters, is said to have signed a lease at the location. Similar to the layout at The Source, the cocktail bar will play centerpiece to the market. This signals that the market won't just be a place to shop but will also have a more social element, as well. 
Stanley Marketplace
Where: 2501 Dallas St, Aurora, CO
Projected Opening: Spring 2016
What: A 100,000-square-foot urban market that includes an expansive selection of dining options including a community park and an indoor/outdoor event venue.
Why We are excited: Like the Central Market, Stanley has landed on our most anticipated list two years in a row. Despite the delay, our excitement for Stanley to open has not wavered. Located in the former Stanley Aviation headquarters, the company responsible for the creation of the ejector seat, the 100,000-square-foot urban market will be a food lover's paradise. With an impressive line-up of restaurants and vendors, Stanley is slated to become one of the best collective eateries in the Denver-Metro area. With the recent addition of the BigWonderful, the former RiNo urban flea market, the Stanley might make Aurora the new place to be this summer.
Illegal Pete's Colfax
Where: 2001 E Colfax Ave, Denver
Neighborhood: City Park West
Projected Opening: March 2016
What: A Colfax location of one of our favorite burrito joints.
Why We are excited: It's not a secret we love Illegal Pete's. From its support of local musicians to how the company takes care of it employees—and of course, its killer burritos—we have always had a crush on the Colorado chain. Come this spring, we're going to have another reason to be lovin' on the homegrown brand, as it will open a Colfax location. Located inside an old IHOP (in the iconic A-frame building included), the new spot will have a big patio—something that's uncommon, but much needed, for the increasingly busy stretch of Colfax.
Mighty Mighty Sparrow + The Sea Maiden
Where: 1310 Pearl St., Denver
Neighborhood: Capitol Hill
Projected Opening: Summer 2016
What: a double concept featuring a restaurant and bar from the creator of Two-Fisted Mario's Pizza, Mario's Double Daughter's Salotto, and Beatrice & Woodsley,  
Why We are excited: Kevin Delk, the artist/designer/restaurateur behind Mighty Mighty Sparrow + the  Sea Maiden is tight-lipped when it comes to his newest endeavor. However, the restaurateur is assuring us that the double concept restaurant and bar are going to, "make a lot of people smile," in Denver. Coming from anyone else, this would be too vague to get us excited. Due to his role as a creator of Beatrice & Woodsley, a whimsical Baker restaurant that looks like it's set inside an enchanted forest, we have to admit our interest has been piqued. Here are the details we have so far: located in a turn-of-the-century garage that has been abandoned for 25 years, the Mighty Mighty Sparrow (restaurant) will serve world cuisine with consideration for dietary restriction (vegan/paleo) for breakfast, lunch and dinner. The Sea Maiden will be a quirky cocktail bar that, according to Delk, would make Dean Martin, "piss himself and fall over laughing if he were to walk in." We're not sure what that means, but we're excited to find out.
L5
Where: 2930 Umatilla St., Denver, CO
Neighborhood: LoHi
Projected Opening: June 2016
What: A Spanish tapas restaurant from Justin Cucci with Middle Eastern/Mediterranean influences.
Why We are excited: Nestled high above LoHi on the fifth floor of a new development, L5 will boast spectacular unobstructed city views of east Denver. The large open-air patio that sits adjacent to its popular big sister Linger, is sure to be a highly sought seat come warmer nights. Aside from the beautiful vistas, L5 will also offer a relatively underrepresented cuisine in Denver with a menu focused on traditional Mediterranean tapas with influences from North Africa and the Middle East. The Arabic motif will also be reflected in the design of the space, with a modern take on a Moroccan aesthetic. Accentuated by lustrous jewel-tone fabrics, retro Egyptian movie posters, and kaleidoscopically colored mosaics, this colorful dining space will be anything but subdue. With 150 seats and elevator-only access, the bold restaurant will have aspects that lend themselves to a more exclusive and intimate experience.
Unnamed Restaurant from Team at Frasca Food & Wine
Where: 16th Street between Wewatta and Wynkoop Street
Neighborhood: Downtown/LoDo
Projected Opening: December 2016
What: A seasonally driven restaurant from the owners of Frasca Food & Wine.
Why We are excited: For the last decade, Boulder's Frasca Food & Wine has been considered the pinnacle of Colorado cuisine by national publications far and wide. It was even recognized by the James Beard Foundation as a semi-finalist for "Outstanding Restaurant" in 2015 and winner of "Outstanding Wine Service" in 2013. Come the end of next year, Bobby Stuckey and Lachlan Mackinnon-Patterson, Frasca's master sommelier and chef duo will expand upon their success by venturing south to Denver with an unnamed project. Located adjacent to the Kimpton Hotel, the intimate 125-seat restaurant will likely be one of the hottest tickets in town.