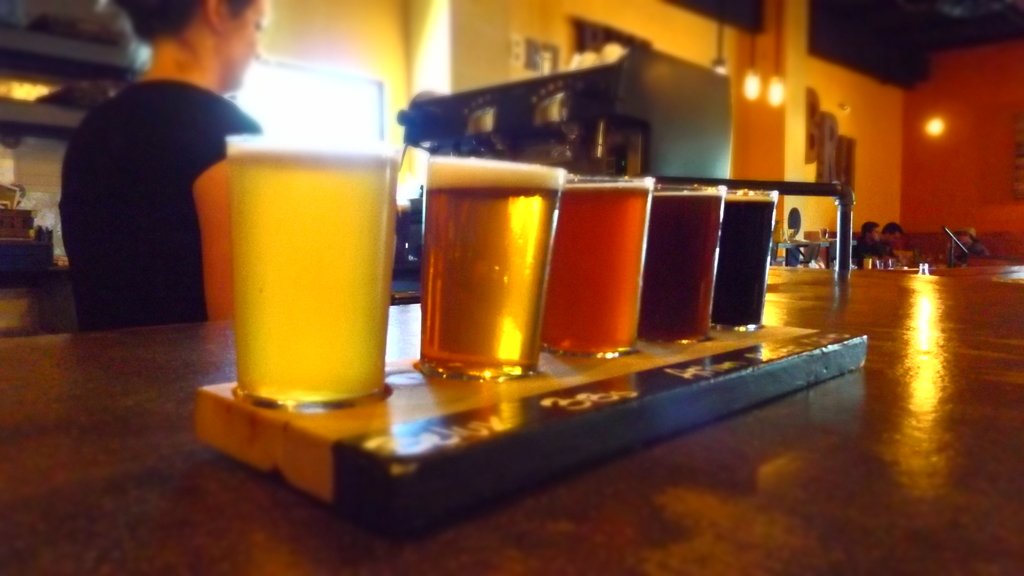 What:  BRU handbuilt ales & eats Where:  5290 Arapahoe Ave, Boulder, CO 80303
When: Monday-Thursday 11:30am-10:00pm, Friday-Saturday 11:30am-11:00pm, Sunday 9:30am-10:00pm
Pros:  Well-designed beers in a cozy environment with a knowledgeable staff.
Cons:  Bigger beers mean you'll have to come back a few times to sample everything.


I've mentioned in the past that I used to harbor dreams of becoming a self-made brewer.  In my crazier moments, I've dreamt of building the entire pub from the ground up, but I've always dismissed those thoughts as impossible.  Leave it to a Colorado brewer to prove me wrong yet again, with BRU handbuilt ales & eats owner/founder Ian Clark building his brewpub with his own two hands.
"We take handbuilt seriously."  –Ian Clark, owner, BRU handbuilt ales & eats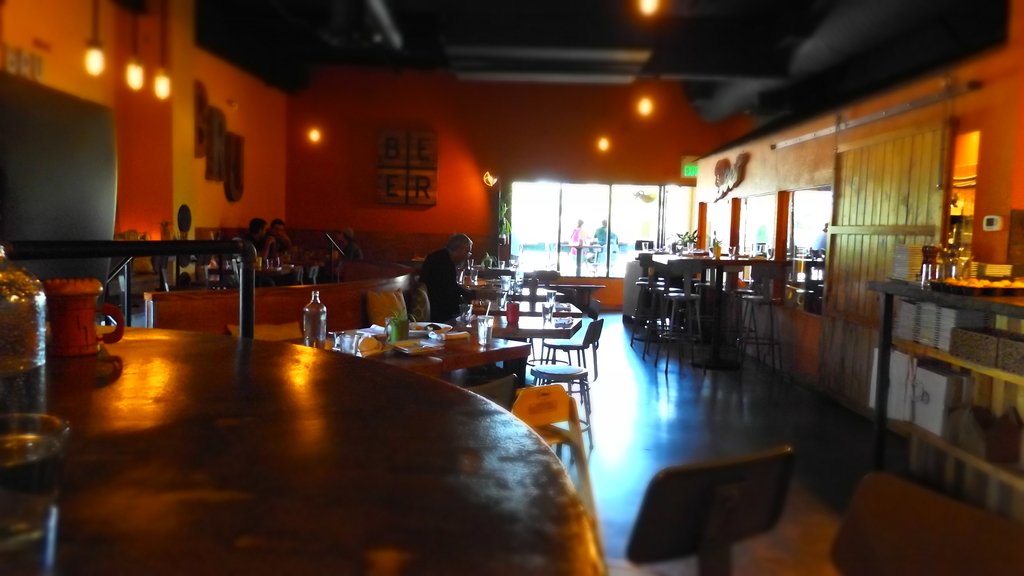 Ian and his crew built the entire restaurant almost from the ground up, including the tables and the concrete bar.  "I've always had a passion for knowing how everything works, so we took handbuilt to the next level," he told me, and the attention to detail really shows.  Ian is in every corner of his pub, from the artwork on the walls to the customized tap-handles. Walking into BRU is like crawling into the head of the artist himself.
Brewing as a Chef
I'm usually suspicious of adjunct-flavored beers.  With a few exceptions, they tend to be gimmicky and only good for a pint or two before mouthnumb sets in.  But Ian's 20 years of experience as a chef have given him an entirely different attitude when it comes to brewing with adjuncts.  "My [brewing] philosophy is centered around cooking," he said, explaining that he uses adjuncts in order to accentuate traditional flavors in specific beer styles.  "I'm not trying to overpower the beer, or add things because they are new and different. It's about brewing each ingredient in harmony."  In this way, he circumvents the usual problem with flavored beer, because the adjuncts are a supporting player rather than the star.
"I brew beers like a chef."  –Ian Clark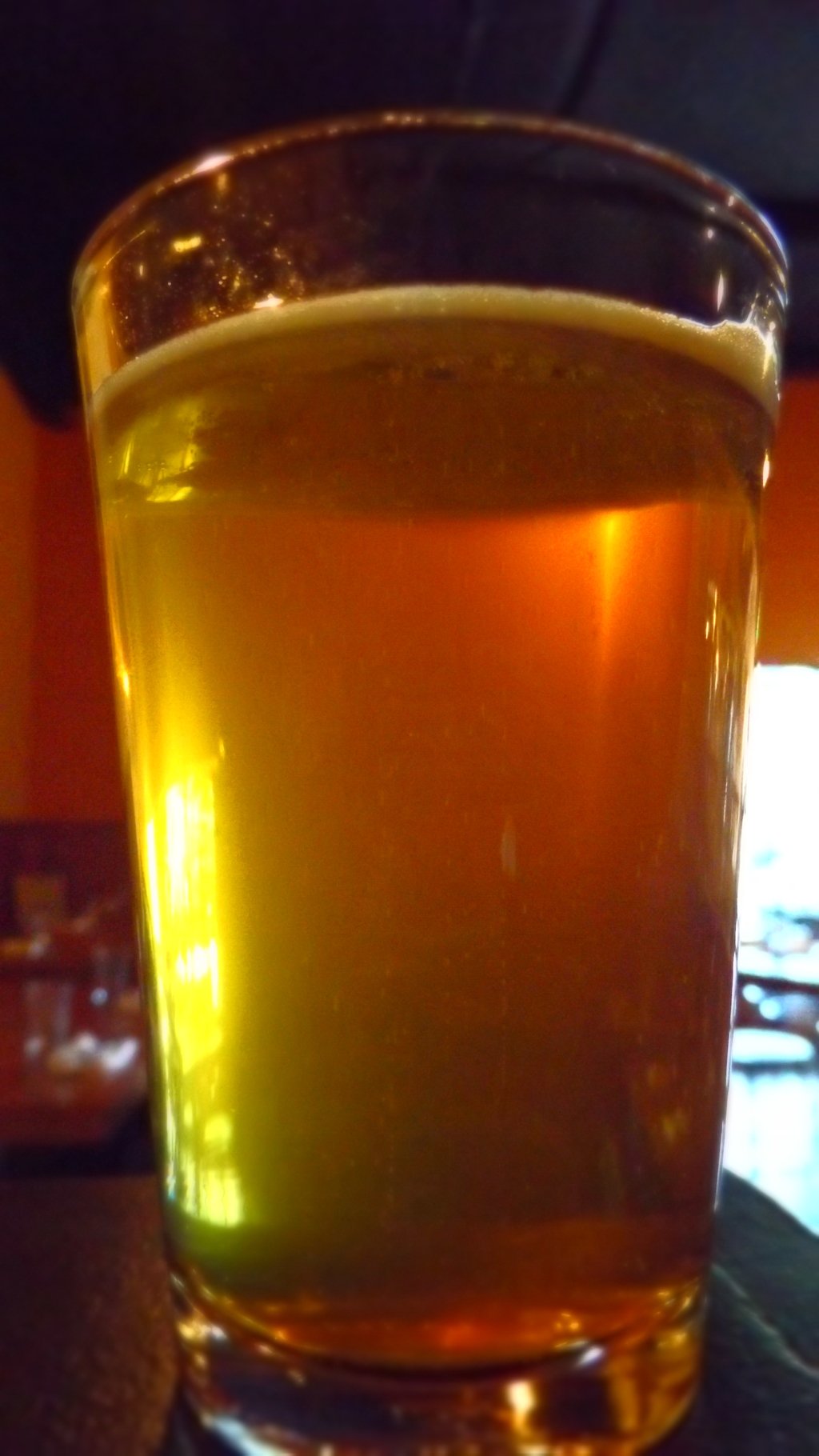 His harmonious attitude doesn't end at the brew kettle, with BRU trying to operate with as small an environmental footprint as possible.  This is seen in their spent grain being used to make chocolate-chip cookies, house made vinegar, and to feed locally raised livestock used in the restaurant.  "We try to keep it as close knit as possible and fully utilize our products while helping our community."  This environmentally conscious business model is a growing trend within the Colorado craft brew scene, with more and more establishments like BRU proving it's not only possible, but good for business.
But the most important question is:  How is their beer?  While they have too many on tap to review in one article, the four that I sampled are definitely worth trying:
Obitus American Brown
I admit I've been on something of a brown kick as of late, so this brew slid right into my normal rotation with ease.  This is more complex than I'm accustomed to, with the toasty malt flavor sandwiched between caramelized sugar and roasted dates in a pleasantly subtle way.  It has a heavier body than beer novices might be used to, but don't let that first sip dissuade you from enjoying this ale–it's complex enough to keep you interested without confusing your tastebuds.  If anything is going to convert you to brown ales, it's this one.
Arium Abbey Dubbel
I'll cut to the chase and say that this beer straight-up tastes like a homemade cherry pie.  That might make it sound like a big glass of gimmick, but it's balanced by great toasty malt flavor and nicely subtle sour notes.  It's a great example of Chef Ian's philosophy, with the Belgian sour flavor working hand-in-hand with the organic dry cherries to bring something utterly unique to the table.  If you know someone who thinks they've tried everything, bring them this–there's nothing else like it.
Beezel Belgian-Style Golden Strong
With a lightly sour aroma and a light, creamy head, this is one of the more refreshing beers I've had in a while.  It's got a subtly sour flavor that is mellowed by hints of honeycomb, accompanied a light tartness from the bitter orange peel and some nice spice from a Black Pepper addition.  It's got amazing balance, deftly avoiding the cloying sweetness you often get with a bitter-free brew.  This is a beer for everyone–seasoned drinkers and craft newbies alike should try Beezel simply because you'll be hard-pressed to find a more expertly made beer.
Amarillo IPA
Made to showcase the Amarillo hops, this is a pretty gentle IPA.  But don't let that scare you away, because it has nicely rounded, floral aromatics that compliment a balanced flavor that brings the bitters alongside a light, malty sweetness.  While it might not have the big hops challenge that many IPA fans crave, Chef Ian's hand is apparent in this brilliantly balanced brew that doesn't hide the bitters, but also doesn't beat you up with them.
If you're in Boulder and feel like a pint, stop in to BRU and sample a brew or two.  Mark your calendar, as they do beer dinners on the first Tuesday of every month.   They're a lot of fun with great food and plenty of brews.  But whatever your reasons, head on down to Bru Boulder.  We need more chefs like Ian to get into the craft brewing scene so that they can break down the walls between the beer styles and help us discover some amazing beers.
Photography by Tressa Hodros