The Mile High City is no stranger to swine. Pork belly, ears, and head are giving the ubiquitous bone-in pork chop a run for its money. Bacon worship has spawned its own festival. And some restaurants even feature elaborate, in-house butchery programs. But as Il Porcellino opens doors at 4334 W. 41st Ave. in the Berkeley neighborhood on October 22, it becomes the first Denver retail shop to sell its own cured meats.
The neighborhood salumeria, co-owned by industry vets Brian Albano and Bill Miner, centers around the arduous process of dry-curing meats, and selling the final product in a retail setting. In addition to its variety of rotating, cured meats, the delicatessen will be stocked with Colorado cheeses, stocks, fat, jams and other local products. The storefront will also serve soups, salads, and sandwiches that highlight both in-house products and seasonal produce.
While the two have been working for years to perfect recipes, and weeks to age the meats for opening day, they will only continue to experiment. "We have so many ideas of what we can do with this place. We keep reminding ourselves to step back and just open up first," says Albano.
The Concept
For Miner and Albano, formerly of Relish Catering & Events, the storefront is a long time coming. During slow winters at Relish, the two began experimenting with fermentation and traditional methods of preparation and production. "As a chef, you get to a point where you want to experiment and try new things," says Miner. These trials, which began over three years ago, eventually led to cured meats. "We started making andouille for gumbo. That's pretty much how it started," Albano explains. "Then we started messing around with bacon. And then it just spiraled from there."
Family and friends responded positively, and urged the two to figure out a way to sell their products. "Once we really started talking about it, and giving samples to people, we looked and realized there wasn't a place doing [what we were doing]," says Albano. As the two developed a business plan, they painstakingly perfected the process of fermentation. "You can't really open a place like this without having serious knowledge ahead of time," says Miner.
The original retail plan expanded into a full deli concept when the two signed a lease in Berkeley. "If you had talked to us three years ago, we couldn't have imagined that it would have grown into this beast," says Miner. The surrounding neighborhood has been overwhelmingly receptive to the concept—despite the fact that the two have only been able to sample several products. "We've noticed in the neighborhood that people are very interested in the process and how the food is made," says Albano. "They'll just hangout and talk for 15 minutes."
The two acknowledge that they're hitting the market at the right time, given Denver's penchant for all things artisan. While the process of butchering aligns with the growing emphasis on transparency in the food industry, the zero-waste, responsibly-sourced approach is only natural for a salumeria. "It's neat as a chef to see where your animals are coming from, and to be able to break down a whole animal and to utilize as much as you can," says Albano. "I don't want to say it's a lost art or a disappearing art, but a lot of culinary students just don't get that experience."
Unlike other retail operations, Il Porcellino is able to sustain its product over time. Dry-curing meat not only minimizes the amount of perishable product, it extends its shelf life. "If we are bringing in something, and we find out that we're not that busy, it's not like our stuff goes bad and we have to throw it out. We can just ramp down production," says Miner. "We have no idea what our schedule will be like. We have to think weeks and months ahead of time."
The Space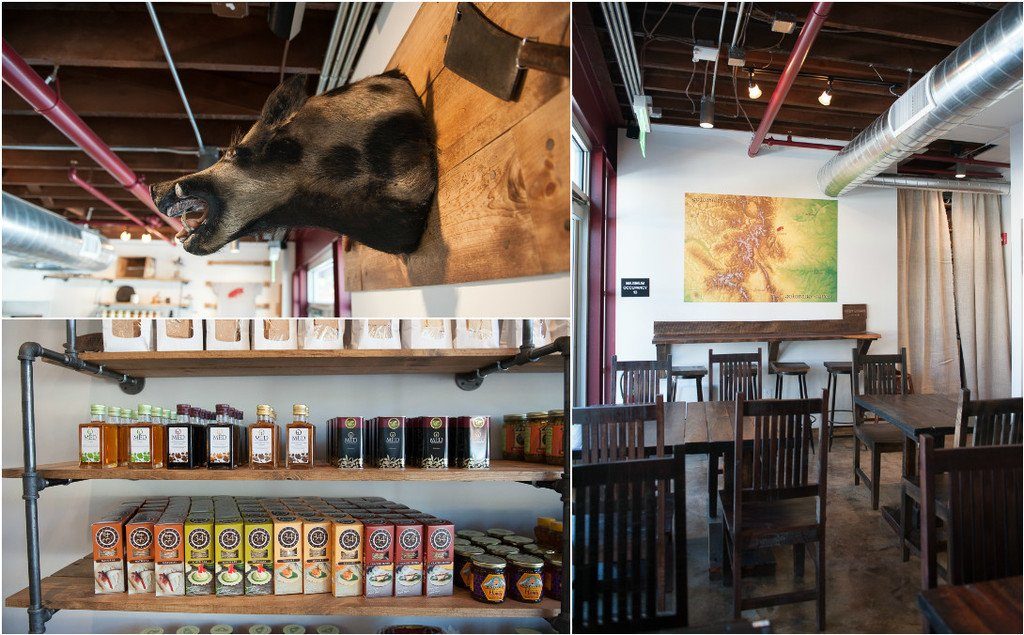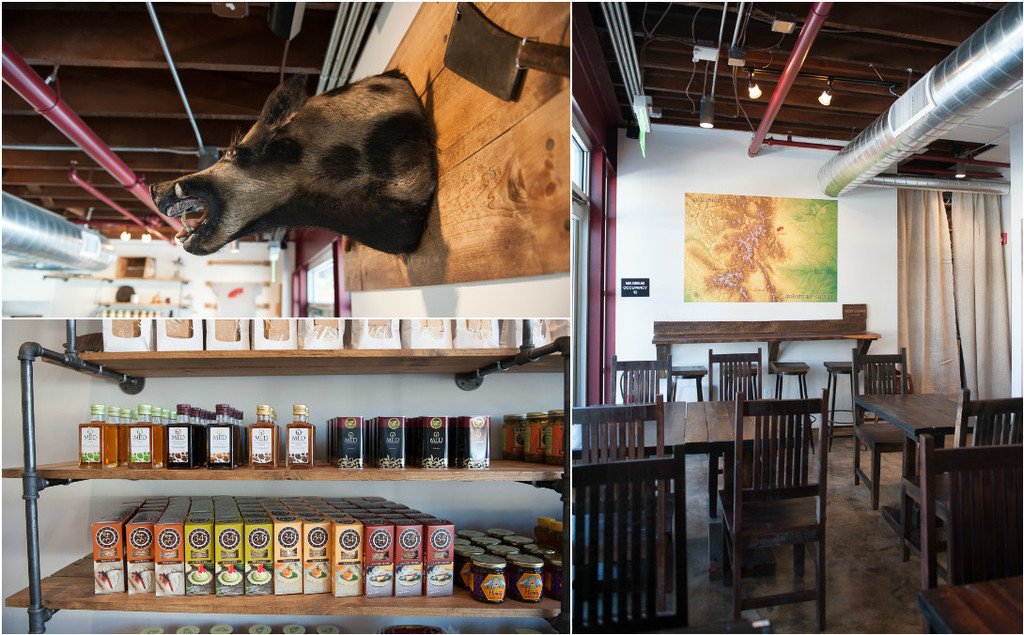 Il Porcellino is located only half a block from the main stretch of Tennyson Street; a large wooden piglet, carved by Miner's father (Il Porcellino is Italian for "piglet" or "little pig"), directs guests to the deli. The storefront includes a small seating area, and is appropriately outfitted with dark woods and uncomplicated decorations, including a map of Colorado and a stately boar's head. It's simple enough for a storefront, yet welcoming enough to stay for lunch.
Unsurprisingly, the focus of the space is the products. The deli counter greets guests and is flanked by an open kitchen to the east, and shelves stocked with sundry goods to the west. Immediately behind the deli counter is a large window that offers a glimpse into the air-dry chamber, Il Porcellino's pride and joy. By regulating the humidity and temperature—the levels stay around 80% humidity and 60 degrees—the two maintain the perfect environment for meat to cure. In six months, Miner and Albano intend to fill the room. Some meat will hang for years.
True to their in-house ethos, Il Porcellino's production room is in the back. And much like the retail half, space is limited: there's a sausage stuffer, an additional (but small) fermentation chamber, a prep area, and a walk-in fridge. It's apparent that Miner and Albano are industry vets; they know how to make the most out of the space. "We're hoping to bring in 2-3 pigs a week. But space is the problem," says Albano. "Business will dictate how many pigs we will use."
The Food
Due to licensing, Il Porcellino is unable to serve any salumi that preceded their final inspection. While they were able to test run products—and provide samples to customers—all curing for retail products started about a month ago, following their final approval from the city. Now that they've started from scratch, dry-cured products will be limited for several weeks. However, Miner and Albano have a number of products that will be available for immediate purchase, including a unique, flavorful bison pastrami and thin-sliced bacon.
The salumeria will roll out different products over the coming weeks, months and years, depending on cure times. While the two have a set line of products in mind, including andouille, mortadella, and coppa—which, according to Miner is the best product they make—and guarantee several dry-cured salumis by December, experimentation will always be at the heart of Il Porcellino's endeavors. While the concept of a salumeria is rooted in old-world tradition, the two are excited to impart their own modern interpretations. "Within those confinements, you can do a lot of stuff," says Miner. "We can experiment with the basic recipes we have." And it won't be exclusively pork. The two excitedly describe a lamb prosciutto, a bison bresaola (traditionally an air-dried, salted beef product), and the possibilities of elk-based sausages. "This place is a playground," says Albano.
In addition to space and demand, output will be based on availability. Currently, Il Porcellino is sourcing both lamb and pork from McDonald Family Farm in Brush, pork from Corner Post Meats east of Monument, and bison from Rock River Ranches in Denver. As business grows, the two hope to work with local farmers, ranchers, and other purveyors to expand their offerings. "If we can source it from Colorado, we'd like to mess with it and see what we can do," says Albano.
As for the deli, Miner is keeping things appropriately simple—the fall menu features seven sandwiches, two salads, two soups, and several snacks. Current offerings include the Hoggie, which stacks sliced coppa cotta, house ham, and genoa salami on a Grateful Bread hoagie roll. The Elementary, Il Porcellino's take on the PB&J featuring house-made nut butter, highlights both the storefront's neighborhood location and their commitment to quality. And the Wook, which features seasonal produce and local chevre spread from Ugly Goat Milk in Keenesburg, shows some love for non-meat eaters.
—
Business is currently set up so that Il Porcellino can sell exclusively to the general public. But for now, serving quality products to the surrounding neighbors is their primary concern. "These are our neighbors. If they're going to support us, we want to reciprocate," says Albano. "You can walk in for lunch and leave with half a pound of bacon in your hands or half pound of ham," adds Miner.
The salumeria is open from 10:30 a.m. until 6:00 p.m., Wednesday-Sunday. While hours currently cater to the lunch and after-work crowds, the two discuss expanded hours next spring, with the possibilities of happy hours and small plates. Albano and Miner also excitedly discussed the possibilities of wholesale, admitting that the proverbial next step opens the door for collaborations, small-batch items, and extensive customization.
The two are optimistic about the future—with one caveat. "For us, we won't grow until we feel like the quality won't suffer," says Miner. And for a business that deals almost exclusively with quality control, it's exciting to see what the future holds.