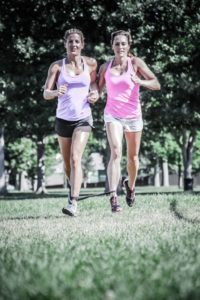 What is it –  The RX Dash 'N Bash is the brainchild of former NHL star Stephane Yelle, formerly of the two time Stanley Cup winning Colorado Avalanche, and Brandon Dinkel, a local CrossFit coach.  The two teamed up to bring this unique event to arguably one of the fittest cities in the country.  "We wanted to bring the best parts of CrossFit and themed events to the masses," explains Yelle.  "With so many recreational athletes out there looking for different ways to challenge themselves we feel like we've nailed it.  Without giving away the details of the course you'll just have to experience it to know what we mean."
The event is coined the "ultimate partner workout" which entails participants will running (or hobbling) through 2 miles of Workouts of the Day (WOD) stations.  Between the 5 stations, participants can expect to be brought back to their gym class days: with activities that include pushing, pulling, lifting, jumping, squatting and burpeeing their way to the finish line.
When – October 5th, 2013 @ 10:00am
Where – Sports Authority Field, 1701 Bryant St, Denver, CO 80204
What to wear – Athletic Gear that matches your Rock Tape formations
Who does it support – The RX Dash 'N Bash has partnered with the charity, Barbells for Boobs. Barbells for Boobs is a breast cancer prevention charity.
Who to look out for competing – Your very own fitness guru Josh Schall and Muscle Pharm employee Drew Miller on "Team Double Jacked Triple Stacked"