There's something about summer that goes hand-in-hand with art festivals. The Front Range is basically littered with them through the hot months, with art fairs, block parties and live painting festivals — to name a few. This week, the town of Golden is celebrating all sorts of creative enterprises during a multi-day celebration featuring film, painting, chalk art, murals and aerialists that ends on Sunday. The week-long itinerary of events will culminate this weekend with a juried arts festival featuring more than 100 artists from around the country on the Colorado School of Mines campus.
ArtsWeek Golden, as it's called, isn't just about celebrating art though — it's about providing art education that is dearly lacking in Colorado's public schools and bringing attention to issues in the community through creative expression. Organized by the Foothills Art Center, the events and programming planned for ArtsWeek centers on the idea that art inherently connects people, sometimes through difficult circumstances. The pivotal event that encapsulated this idea was the premiere of the documentary Wall of Hope: A Source of Strength on Tuesday, July 17, which presented the story of acclaimed street artist Jolt painting a 1,000-foot long mural on Washington Avenue in response to the rise of youth suicide in Golden.
"This year marks the 50th anniversary of Foothills Art Center and a new era for art in Golden," said Hassan Najjar, the executive director of Foothills Art Center in a press release about the festival. "The arts scene in Golden has never been stronger or more varied." And it's hard to deny that he might be right. Golden has been known as a mining town, an engineering school town and a beer town — but now, many in Golden hope that the arts scene is worth visiting as much.
–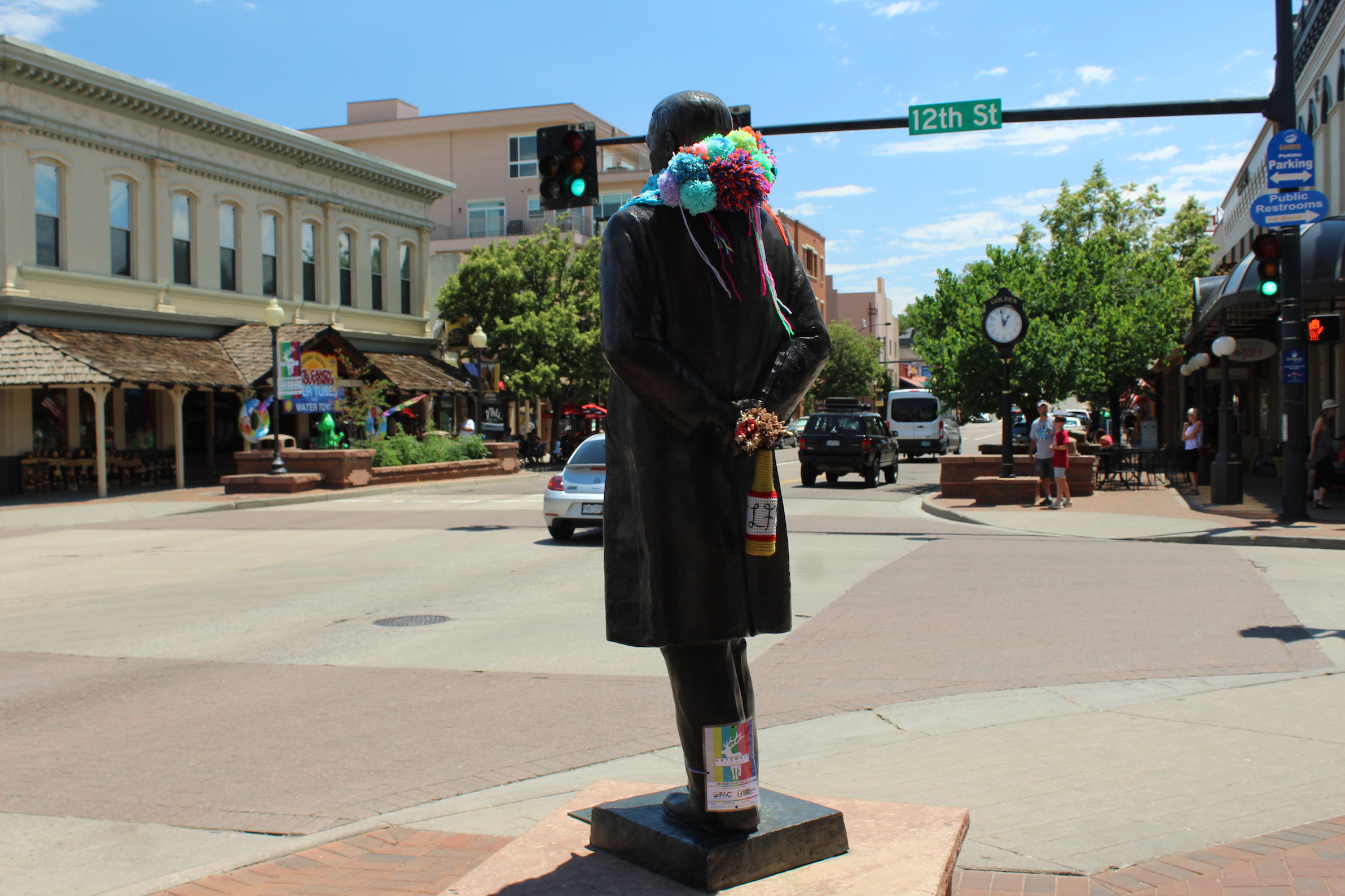 –
ArtsWeek kicked off on Monday first with free admission to both Foothills Art Center and the Rocky Mountain Quilt Museum. Then, Denver-based installation artists Ladies Fancywork Society yarn-bombed the main street in Golden, covering statues with crocheted adornments — including a beer bottle that looked strikingly similar to a Coors, except with their own initials (LFS) instead of the actual label. Monday also marked "Parking Day" where 24 artists gave art-centric demonstrations in a parking area, where their workshop or bench was sectioned into its own parking spot.
–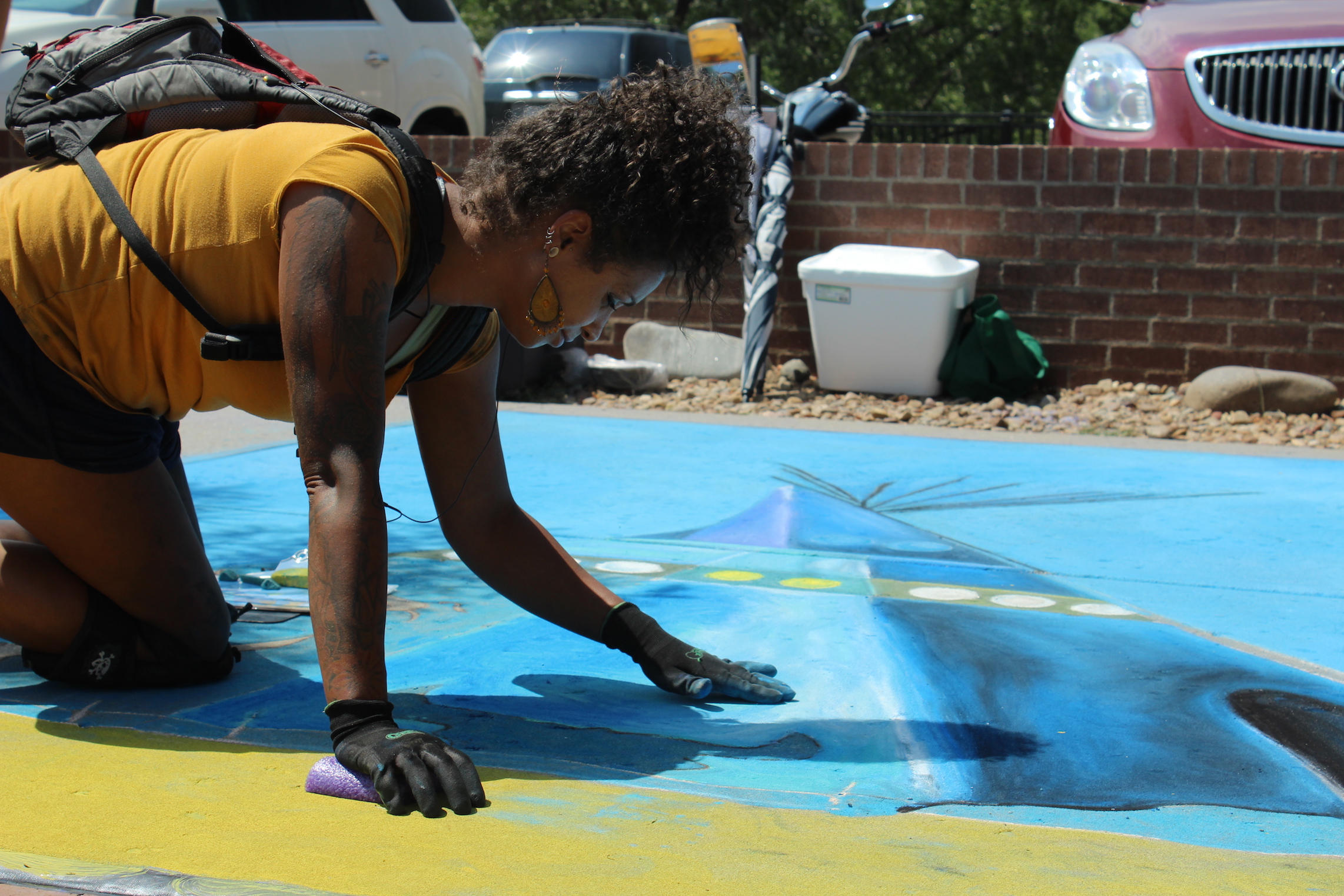 –
Tuesday was all about the visual arts, with chalk artists converging in downtown Golden to cover the ground with unbelievably detailed pieces. Some of the artists who participated have made a name for themselves after appearing year-after-year in Denver's Chalk Art Festival (in June) like Katie Vuletich, the Chalk Ratz and Michael Rieger. In contrast to the hunched scraping and smearing of chalk on pavement, Tuesday also brought en plein air painters to Clear Creek History Park, where onlookers could watch as they painted the view amidst the elements. The final event for the second day of the festival was the screening of the new documentary, Wall of Hope: A Source of Strength, mentioned before.
On Wednesday, ArtsWeek offered more educational programming, including an en plein air painting session at GoFarm — a local food share group that also assists emerging farmers — with cooking demonstrations to boot. In a different direction, but still educational, the Public Art Commission offered an open house at Foothills Art Center. Community members were welcomed to discuss future and current public art projects, ask questions and give input on the evolving public art program in Golden. To finish the day with a more artistic bang, Miner's Alley Playhouse (a local theater company) produced a summer showcase event.
–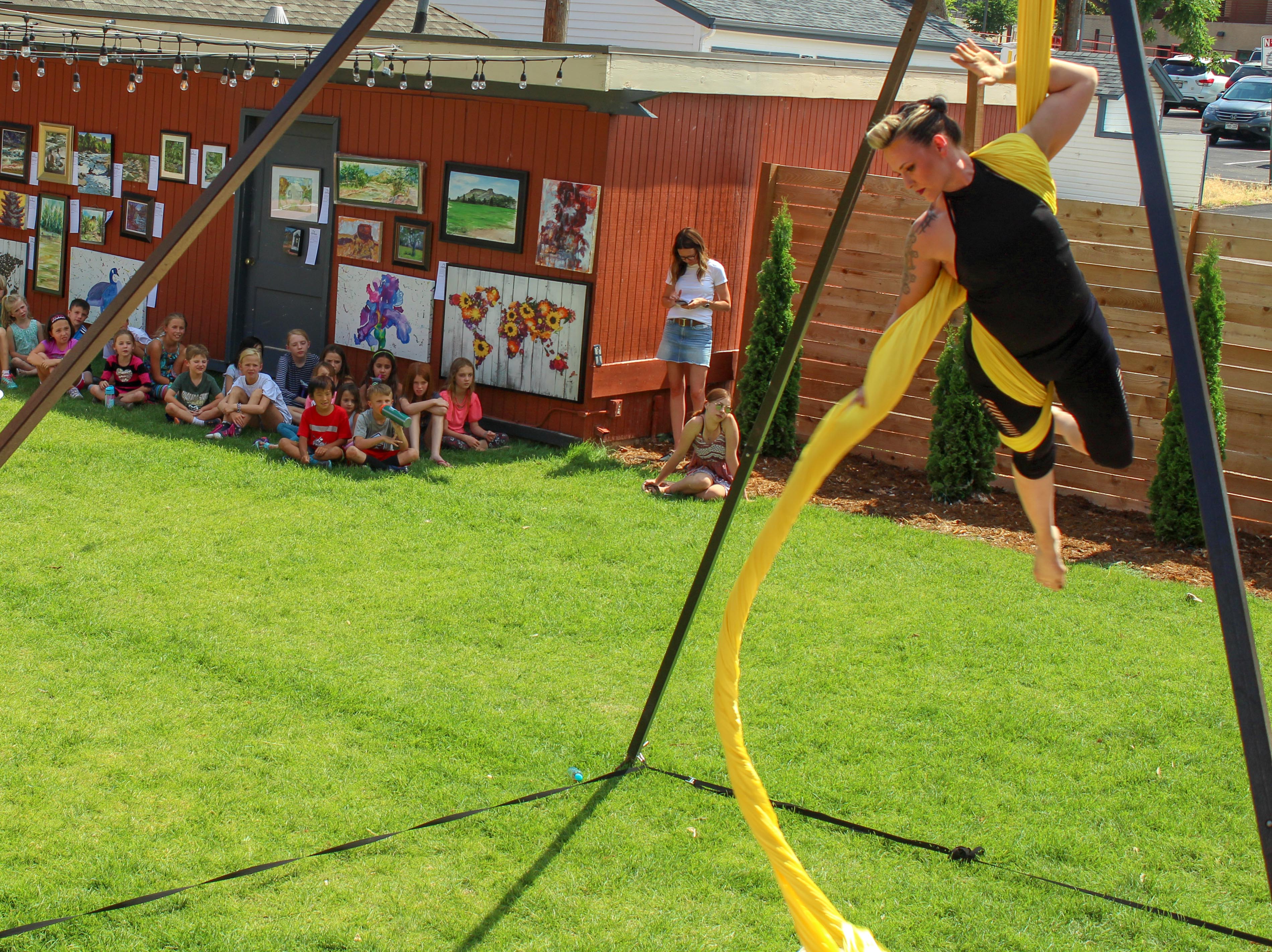 –
Thursday and Friday slowed down as far as the event schedule and instead focused on only one event per day. On Thursday is was aerialists in the garden at Foothills Art Center. Using a free-standing apparatus, the aerialists twisted, climbed, dipped and wrapped themselves up and down a flowing ribbon of colored silk. Kids sat nearby, engrossed in the performances that almost look like magic. Of course, we all know that the true magic of those performances is the strength it takes to complete one. Regardless, you could see some eyes lighting up with thoughts of "when I grow up, I want to be like her." On Friday, three free downtown public art tours with knowledgeable guides from the Public Art Commission were offered for anyone interested in the current state of public and street art.
This weekend, the art festival will take over the campus on Saturday and Sunday from 10 a.m. to 5 p.m. where you can peruse over 100 artist booths while imbibing on grub from food trucks, ice cream and, of course, beer — Golden is still a beer town, after all.
–
All photography by Anna Schoen, Foothills Art Center.


–