We all have an idea of what a room full of Manson fans would be like, and the assumptions are not far off. However, Saturday night's show at The Fillmore Auditorium proved that there is more to Manson than smeared makeup and violent antics.
READ: All of the 2018 Red Rocks Shows Announced So Far
Amazonica (real name, Veronica "Harry" Harrison) kicked off the evening with her sexy, rock-fueled DJ set. After she finished her opening set, the Fillmore filled to the brim, which turned out to be less stressful than past experiences. Their newly finished renovations, including a new set of giant bathrooms downstairs on the east side of the building, greatly improved the atmosphere and made the crowded area feel more cohesive.
At half past nine, the lights dimmed and the house music ceased. A recorded Manson song played out to an eager crowd, preparing themselves for the arrival of their dark lord. Eventually, the stage lit up and a large throne rolled out into the spotlight and the audience went wild. Two giant guns were hoisted up behind the band, and while they provided an edgy visual, it was hard not to focus on them due to the damage they caused after one of them fell on top of him during a performance in New York this last summer. Upon closer inspection, the throne Manson was seated on turned out to be an electric wheelchair tricked out in gothic decoration to match the rest of the stage vibe. His right leg was dressed in a grey boot, which stood out from his otherwise all-black ensemble.
In a large trenchcoat and glasses, the singer announced, "Denver, you are my motherfucking favorite, and you know that." He then asked if anyone wanted to hear the new shit, which obviously hinted to the next song, "This Is The New Shit," and the fans showed their clear support for the track by screaming the lyrics in response to Manson's guidance. "I can break my leg, but they can't break me," he explained to his followers.
"mOBSCENE" played out next, and Manson pulled his pants down to gift the audience a full moon shot of his rear-end. This playful side to the typically stern and dark artist came as a surprise. Manson's banter in between songs was surprising as well, with enough jokes to keep his patrons laughing all night. "So, my drug dealer's name is Mike. It gives a whole new meaning to the phrase 'mic drop.'" This was just one of many other humorous drug references, after which he also inquired to the crowd, "Let's just be honest, who out there is on drugs right now?"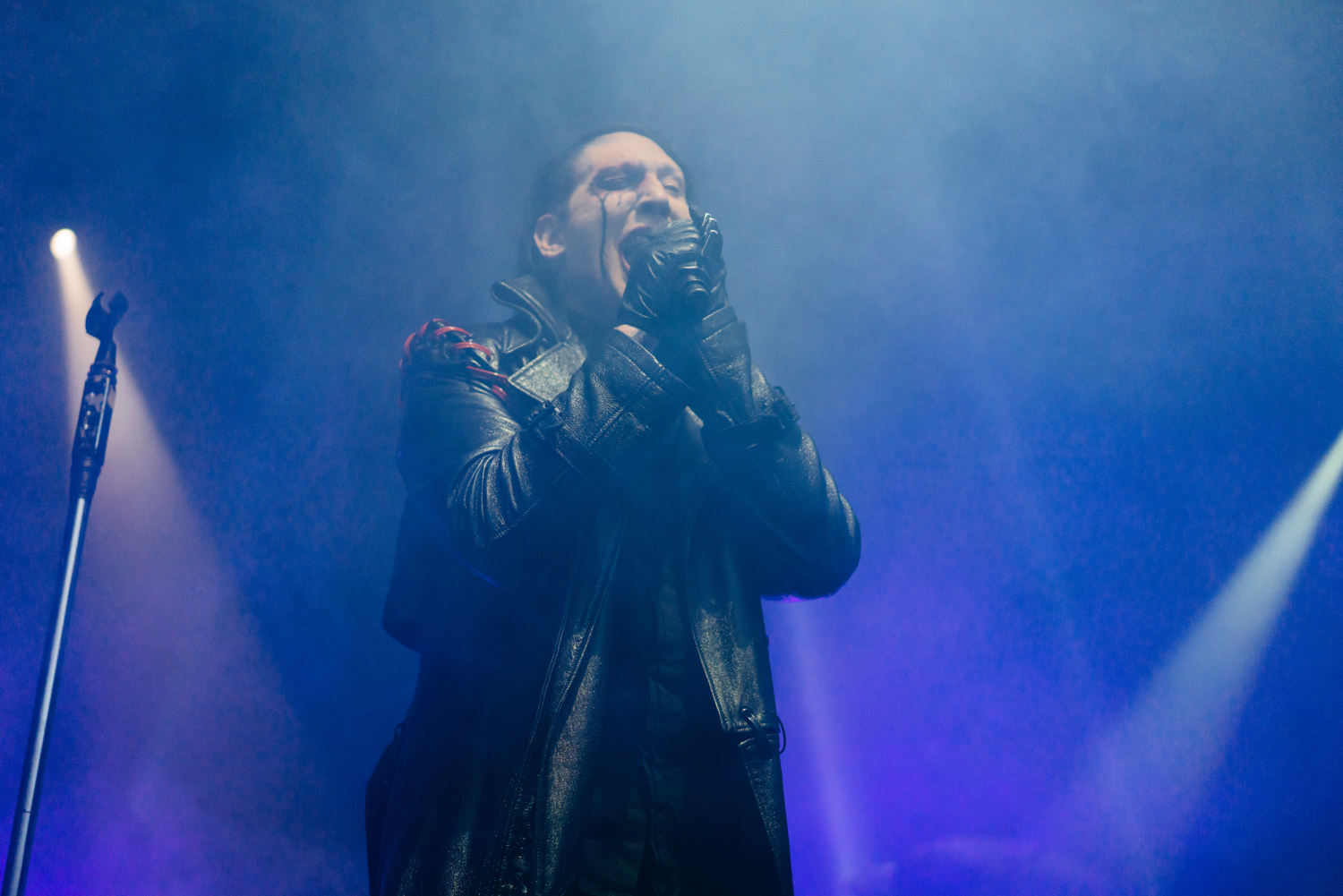 As we all know, Manson has a penchant for covering some of the most popular tracks from the '80s and '90s. This included a deeply dark rendition of "Sweet Dreams," originally by Eurythmics, which the band played to a sea of lighters and phones. Manson then played a new song, which is very exciting, considering this tour, the "Heaven Upside Down Tour," is in support of an album from just last year. The merchandise for the tour included the expected sort of images, with upside down crosses and photos of Manson in full makeup.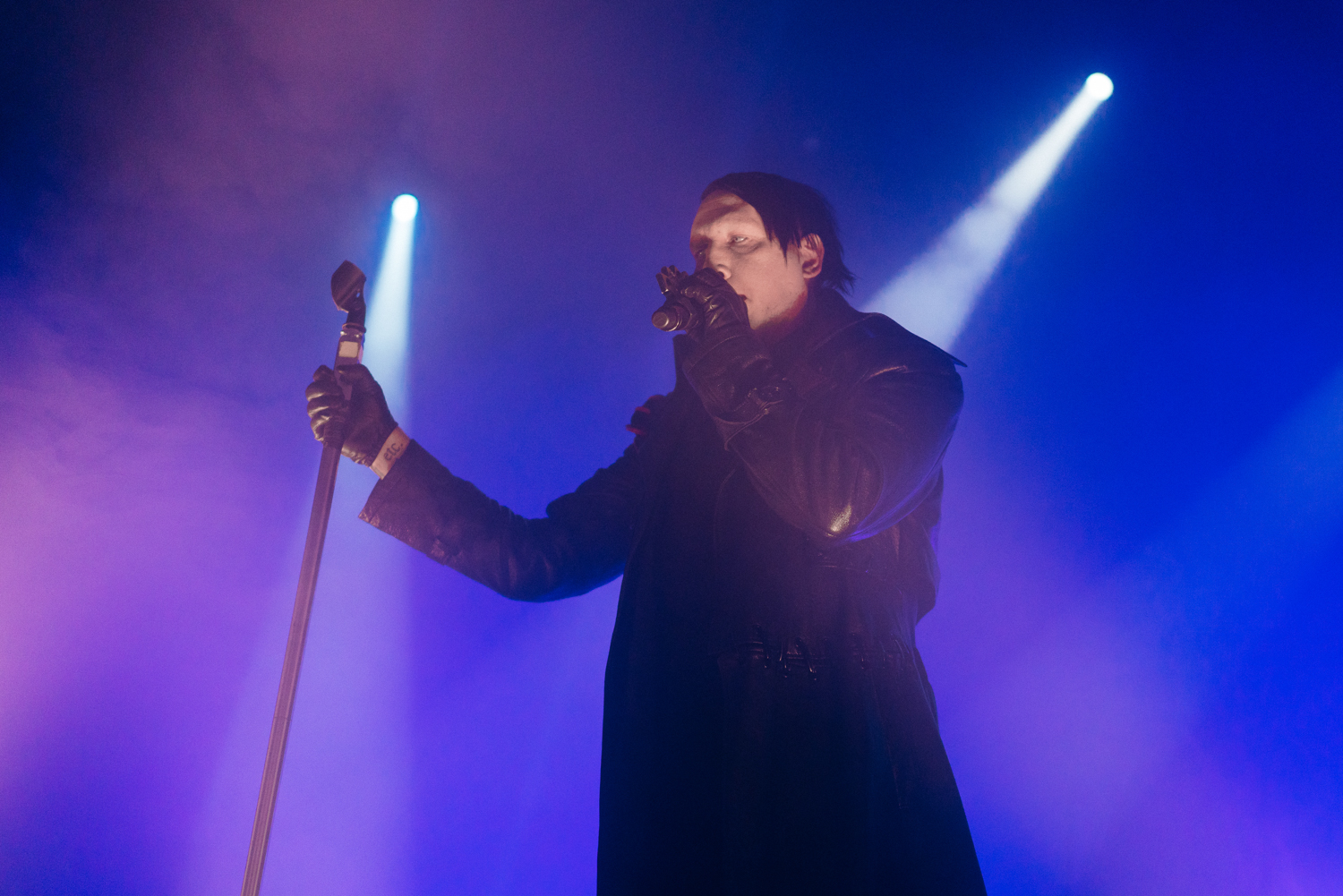 The performance held up to rumors that Manson is one hell of a showman. While there are certainly those who would not consider the content that Manson puts into the world to be their go-to sound, the live act that he has curated is worth a viewing at least once. After the show Saturday night, it was hard not to be hopeful for another tour in the near future, hopefully once Manson has healed entirely.
All photography by Ryan Good. See full gallery here.