Chef, Top Chef veteran and owner of Boulder's beloved Blackbelly Market and Butcher has done it again, bringing a unique full-bodied dining experience to Boulder's blossoming food scene. But, this time, he's paying homage to his New Mexico roots with a restaurant concept he once dreamt about — Santo.
"What we're doing — New Mexican food, there's none of it here [in Boulder] and even in Denver…There's green chile [in Denver], but it's not real green chile."
The Space
This slideshow requires JavaScript.
Santo opened just a few weeks ago at the cross streets of Alpine and Broadway in North Boulder. Much like Chef Hosea Rosenberg's hometown of Taos, New Mexico, the space is airy, warm and welcoming — flooded with light and filled with subtle alludes to New Mexico's heritage. Black and white photographs offer glimpses into moments from New Mexico's cultural history — a rain dance of Pueblo Indians from 1989, sacred and historic spaces of Taos back in the late 1980s. Little hand-carved santos or "saints" adorn the top of the adobe-esque doorway, and at center stage, the large Zia sun (the symbol on the New Mexican state flag) light fixture hangs ethereally over the open bar.
"The [food], the artwork and the santos that you see here — that are made by Santero, who is very well respected down in Taos—[…are] really bringing the authentic, cultural symbolism into [the restaurant], and then we're placing it into modern light as well," explained Lauren Feder, Rosenberg's wife.
Rosenberg was scouting locations in Denver and parts of Boulder to open a second Blackbelly concept when he happened upon the newly available real estate at Alpine.
"We were really blessed, it just kind of fell into our laps," Feder explained.
And so, with time, chance and opportunity, Rosenberg got to bring to light the concept and dream that had been in the back of his mind for a long time.
"[New Mexican food is the] food I grew up on, it's food I love. I'm really passionate about it," said Rosenberg.
The Food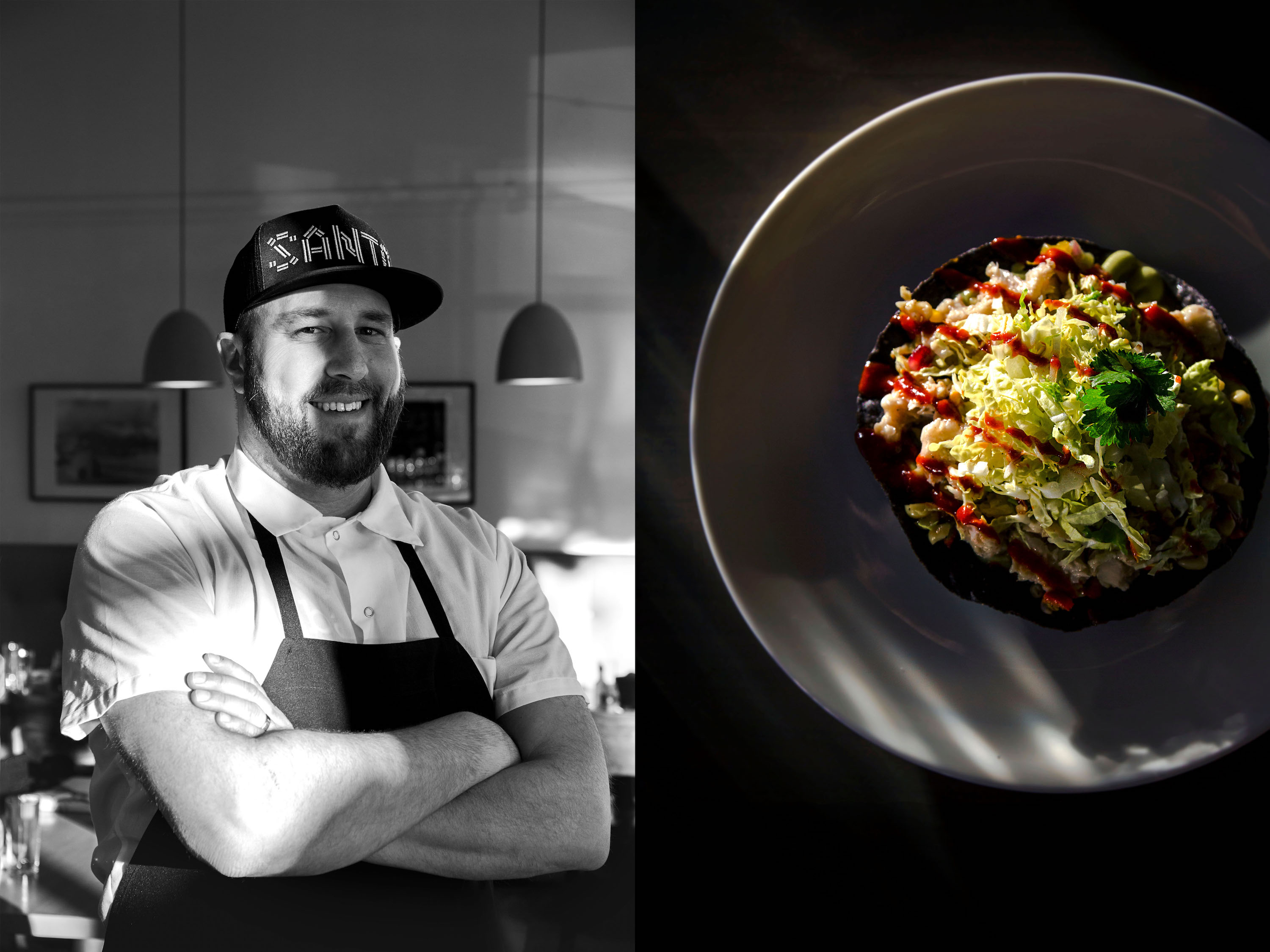 If you like a little burn, you've come to the right place. The menu, much like New Mexican food, is centered around one ingredient—Hatch green chile.
"Chile peppers grow all over the world, but there's something special about Hatch, and there's something special about those New Mexican chilies," the chef explained.
Almost every dish is served with some form of green or red chile on it, from the stacked blue corn enchiladas ($18) to the Smashed Green Chile Cheeseburger ($16), which envelopes Santo's dishes with a certain smoky, spicy dynamism. In fact, the emphasis on red and green chile in New Mexican cuisine is so important, it is the official question of the state—one that Rosenberg made sure to ask Colorado's diners and the local food scene when he opened the restaurant.
"What we're doing — New Mexican food — there's none of it here [in Boulder] and even in Denver," Rosenberg elaborated, "There's green chile [in Denver], but it's not real green chile."
But it's not just Rosenberg's (re)introduction of proper Hatch chile into the region that makes Santo's food so special — it's the manner in which the chef and his team are handling it and the levels they are creating with it.
"The food uses spices and techniques that are very endemic to that region, but Hosea is kind of putting a modern spin on to it," Feder explained.
Take the pineapple salsa piña  ($3), for example, mixed with jicama and served with warm tortilla chips. Rosenberg elicits his unique take on it by smoking the pineapple first.
"We're trying to do something here [with New Mexican food] that is familiar and comfortable but that also has a little bit of a twist," Rosenberg explained, also noting the food's strong colonial Spanish influence.
The chef spins together combinations like apple & green chile pie ($7) with a sharp cheddar crust topped with a scoop of creamy vanilla ice cream, the chocolate & red chile cake ($7) with dulce de leche and for the bold palate, mescal strawberries and sea salt caramel.
Even dishes as seemingly simple as the traditional tostada are elevated by using a rich, smoked rainbow trout with avocado purée tied together with the satisfying crunch of cabbage and a homemade, blue corn shell ($8). Rosenberg explained that while all the food reflects authentic New Mexican cuisine—and his compelling taking on it—the team keeps the ever-present Boulder farm-to-table aesthetic and sensibility in mind.
Rosenberg also noted that they keep their Boulder locale in mind, catering to a more specific palate. "We're very conscious about gluten-free and dairy-free with our food." A lot of the items on the menu are already naturally gluten-free or can be made gluten-free, dairy-free or vegetarian. Even the green chile, traditionally thickened with wheat flour, uses a toasted masa (corn) flour.
All ingredients from Santo are sourced from local Colorado farms, and those that aren't from Colorado are organic and come from farms in the US from a company called Grower's Organic. Rosenberg and his team place high importance on sustainability, health and respect for food. Even something as seemingly simple as his tortillas — the base of so many of Santo's dishes — have this level of care and are derived from corn grown by a local organic seed company, Abondonza Seeds and Produce. The owner hand mills the heirloom blue and yellow corn, a special variety that comes from Oaxaca, Mexico. Each tortilla is handmade, of single origin, sourced from Colorado farms and derived from heritable roots — and that's just the tortillas. From the time it is grown at a farm until the moment it arrives on the diner's plate, each and every ingredient has that extensive attention, including the booze.
The Drinks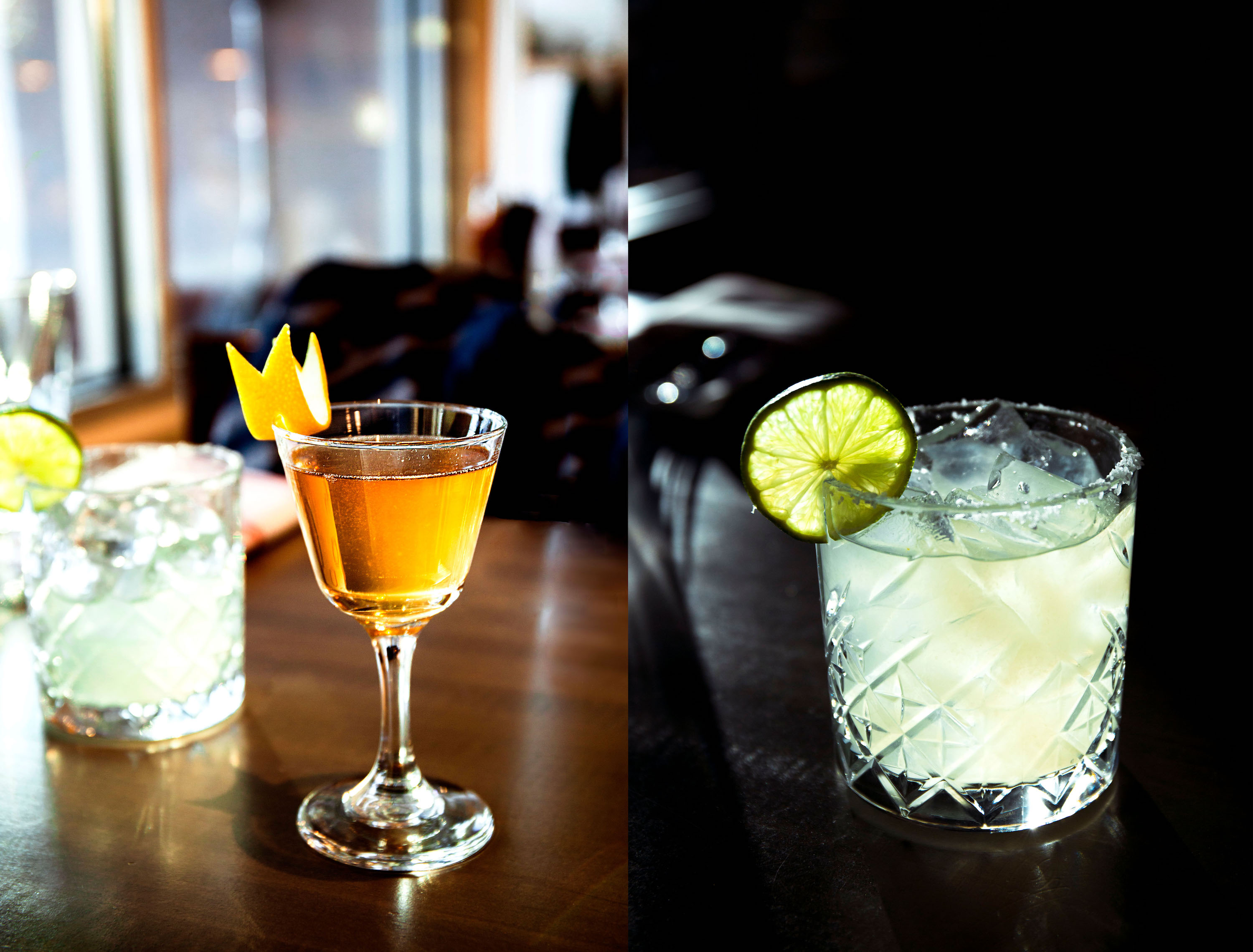 To the delight of all tequila lovers, Santo's cocktail menu is tequila- and mezcal-focused. Rosenberg explained how he and his team prioritize working with local breweries and distilleries to bring Colorado-based spirits to the menu. We loved the Coin Margarita on Draft ($11) with Olmeca Altos Reposado, agave and lime. For those who are a bit more on the adventurous side, the Nitro Mezcal Old Fashioned ($12), mixed with Del Maguey Vida, demerara and bitters is a smokey riff on the classic cocktail.
—
Chef remains excited about the future of Santo and the opportunity to bring something different to the Boulder palate.
"It's simple and it's rustic. To me, it's more like soul food — New Mexican soul food," Rosenberg said. "This is something that I'm really proud of, I grew up on, I'm very passionate about it… We're trying to bring something that is unique to this town."
So while you're scarfing down that wood oven half chicken ($21) with roasted winter squash, kale and a smoky mole rojo (which we highly recommend) or preparing your winter layer with the seared duck breast ($29) with sweet potato puree, Brussels sprouts, pomegranate and a prickly pear gastrique, fret not, conscious Boulder diner. Both your stomach and conscience can be happy with this clean, sustainable and responsibly sourced New Mexican food. Just don't forget to answer the most important question of the day — about chile — "Red or green?"
Santo is located at 1265 Alpine Avenue, Boulder. It is open seven days a week starting at 4 p.m.
All photography by Nisa Sedaghat.