This summer we reported that more than 40 restaurants were planned to open in Denver. Now, to celebrate the first day of fall, we've updated the list. From restaurants that hit delays in the summer to new faces, here are the restaurants that are rumored to open before the end of 2017.
We will continue to update this article based on available info and as more restaurants open.
Bamboo Sushi – Open
Where: 2715 17th St., Denver
The Lowdown: Moving out of its former home in Avanti F&B, Bamboo Sushi will move a few blocks down into its own brick and mortar. The sustainable sushi-centered spot is anticipated to open this fall.
Bang Up to the Elephant!
Where: 1310 Pearl St., Denver
The Lowdown: Opening this fall in Capitol Hill, Bang Up to the Elephant! will feature vibrant cuisine served in a space where indoors and outdoors collide. The name comes from a Victorian slang term meaning "finished, immaculate and perfect." The quirky restaurant and humble café comes from the creators of Beatrice & Woodsley.
Bar Helix – Open
Where: 3440 Larimer St., Denver
The Lowdown: Chef, sommelier and wine columnist, Kendra Anderson is getting back into the Denver food scene with a brand new bar called Bar Helix. Serving seasonal wine cocktails paired with sweet and savory small plates, Bar Helix will also be a lounge that aims to create an intimate atmosphere with a focus on masterful food and beverage pairings. Read more here.
Beckon | Call – Open (Call Only)
Where: 2843 Larimer St., Denver
The Lowdown: Originally planned to be called Paired, these two side-by-side homes will now be called Beckon | Call — working in tandem to as a casual restaurant centered around a bakery. The concept comes Craig Lieberman of 34 degrees, with the help of Duncan Holmes and Allison Anderson.
The Bindery – Open
Where: 1817 Central St., Denver
The Lowdown: This bakery, market and restaurant combo is set to open at the edge of LoHi this fall. From chef Linda Hampsten Fox, this European-influenced concept will serve breakfast, lunch, dinner and will also cater.
The Block Distilling Co. – Open
Where: 2990 Larimer St., Denver
The Lowdown: Where might another distillery open in Denver? You guessed it, the RiNo arts district will add The Block Distilling Co. to its lists of local distilleries. After a prolonged grand opening, the Block Distillery is set to open its doors this fall. 
Chimera
Where: 2014 10th St., Boulder
The Lowdown: Prepare yourselves for a tasty twist on traditional Asian cuisine. This bar-meets-lounge will soon be filling the former estate of Sushi Tora. Expect edgy Asian eats in addition to regional cocktails and wines. Doors will open in mid-October.
Chubby Cattle
Where: 2 Broadway, Denver
The Lowdown: The Las Vegas-based restaurant is expected to open its second location in Denver this October. Despite its possibly misleading name, the restaurant is a Mongolian joint, focusing on hot pot stews. Tables will have heated pot, and guests will start with a base broth and then choose their own meats, vegetables and spices.
Copper Door Coffee #2  – Open
Where: 900 W. 1st Ave. #180, Denver
The Lowdown: Copper Door's second location will be its new hub for roasting operations. The space includes a small patio and bar seating, and it's anticipated to open late September.
READ: Denver's First Female-Owned Roastery Opens Second Copper Door
Corrida
Where: 1023 Walnut St., Boulder
The Lowdown: Sail away to the North of Spain with traditional fare from the coast. Mediterranean seafood dishes and Spanish-style steaks will give you yet another reason to stop by Pearl Street this November. Grand views of The Flat Irons serve as a bonus.
Cultura
Where: 1565 Raleigh St., Denver
The Lowdown: From the makers of El Chingon comes Cultura — a restaurant serving dishes from several Latin American regions. Start sampling the cuisine from these different Spanish countries starting this fall.
Denver Poke Company – Open
Where: 1550 Platte St., Denver
The Lowdown: Denver's been going crazy for this fishy food trend. Not many specifics are known that differentiate this particular spot from other poke places in town, but we'll find out more when they open this fall.
FNG – Open
Where: 3940 W. 32nd Ave., Denver
The Lowdown: Another Troy Guard concept is heading to The Highlands. FNG — short for F'in Good — will be centered around a woodfire grill and serve comfort food favorites like burgers and steak. The team promises FNG will be a casual neighborhood hangout for everyone to enjoy.
Frozen Matter #2
Where: 1061 S Gaylord St., Denver
The Lowdown: This ice cream parlor will serve ice cream made at its Uptown micro-creamery. The second location of Frozen Matter, this rendition is expected to open November 2017.
Hangar 101 Bar & Grill
Where: 7575 West Jewell Ave., Lakewood
The Lowdown: From the owner of Zanzibar Billiards comes a brand new WWII-era themed bar and grill. Featuring bowling lanes, billiards and pilot themed outfits for the staff. Fly down to Lakewood for the anticipated opening in October to check out Hangar 101 Bar & Grill.
High Point Creamery
Where:39977 Tennyson St., Denver
The Lowdown: The High Point Creamery is opening a new location this fall. While the building is under construction, the team will be featuring a mobile pop-up shop in place of the actual store. Enjoy select unique flavors before ice cream weather is over and snow hits.
The Inventing Room Dessert Shop – Open
Where: Tennyson St. and W. 29th Ave., Denver
The Lowdown: Originally closed last year, this dessert shop will reopen and be bigger than ever. Get your sweet tooth ready for milkshakes, sundaes, ice cream and more. Ian Kleinman, a modern-day Willy Wonka, is sure to delight with creative desserts you've never seen or tasted before.
Ironton Distillery
Where: 3636 Chestnut Pl., Denver

The Lowdown: Opening in the RiNo area this fall, the Ironton Distillery will be specializing in farm-to-flask spirits, using only the freshest Rocky Mountain ingredients. The team hopes to capture Colorado's adventurous spirit in their creative cocktail menu, locally distilled spirits and a craft house where you can view the distillery process in action.
Izakaya Ronin – Open
Where: 3053 Brighton Blvd., Denver
The Lowdown: From the makers of Sushi Ronin come a sleek new sushi bar paired with an izakaya, a Japanese workers bar. This authentic Japanese experience is in the works to open its doors in October.
Joe Maxx Coffee Co. – Open
Where: 869 Santa Fe Dr., Denver

The Lowdown: As the legend goes, WWII hero Joe Maxx flew a plane from Central America to the east coast of the US once a week to provide restaurants with the best and freshest coffee. One day Joe Maxx made an emergency landing in Myrtle Beach, South Carolina, and wrecked his beloved plane and amidst the wreckage came his first coffee shop serving some of the best coffee in the world. Joe Maxx is coming to Denver this fall, minus the airplane wreckage.
Julep
Where: 3254 Larimer St., Denver
The Lowdown: Butcher Kyle Foster is opening a tribute to his southern roots in RiNo with his wife Katy of Stir Cooking School. The duo has been traveling around the various southern states, and they plan to emulate each in their brunch, lunch and dinner menus come November.
Marcella's Ristorante – Open
Where: 1801 Central St., Denver
The Lowdown: At the end of September, Marcella's Ristorante — an Ohio-based Italian café — is coming to Denver. Its menu will serve classic shareable antipasti, wood-fired pizzas, pastas and other entrees. On top of handcrafted cocktails such as Grapefruit Basil Fizz, it will serve Italian wines to complement the authentic Tuscan feel.
Ocean to Plate
Where: 444 E. 19th Ave., Denver
The Lowdown: Sustainable seafood supplier Lobster Bliss is opening a brick-and-mortar restaurant in late 2017. Expect the 2,400 square-foot space to be filled with all of your seafood favorites, from lobsters and mussels, to ceviche and crudo.
Owlbear
Where: 2826 Larimer St., Denver
The Lowdown: We covered this more in the summer, but we can't wait for Karl Fallenius to bring the barbecue we loved inside Finn's Manor to its own brick-and-mortar. It's been delayed because of permitting, but we expect to see it open this fall.
Poke House – Open
Where: 17th and Platte St., Denver
The Lowdown: You guessed it — more poke. Opening up steps away from Denver Poke Company, Poke House Denver will be offering another opportunity to dive into this trendy Hawaiian dish this fall. And, we spy mac and cheese on there, so that couldn't be more exciting.
Post Brewing Company, Boulder – Open
Where: 2027 13th St., Boulder
The Lowdown: The Post Brewing Company announced that it will be taking over the former Shine Restaurant space in Boulder to open another location. They are shooting to open Halloween this year.
Punch Bowl Social Stapleton – Open
Where: Martin Luther King Jr. Blvd. and Uinta St., Stapleton
The Lowdown: It's no secret that Stapleton is exploding this year, and Punch Bowl Social will be joining the mix in late October. The casual joint will be filled with all we've come to expect from the brand — music, games, food and fun.
READ: Inside Punch Bowl Social's 32,000 Square Feet of "Eat-ertainment" in Stapleton
QuickFish @ Avanti – Open
Where: 3200 N. Pecos St., Denver
The Lowdown: Replacing Bamboo Sushi in Avanti, the same owners are bringing us QuickFish. Instead of sushi, the Portland-based concept will be serving — get ready for this — more poke.
Santo – Open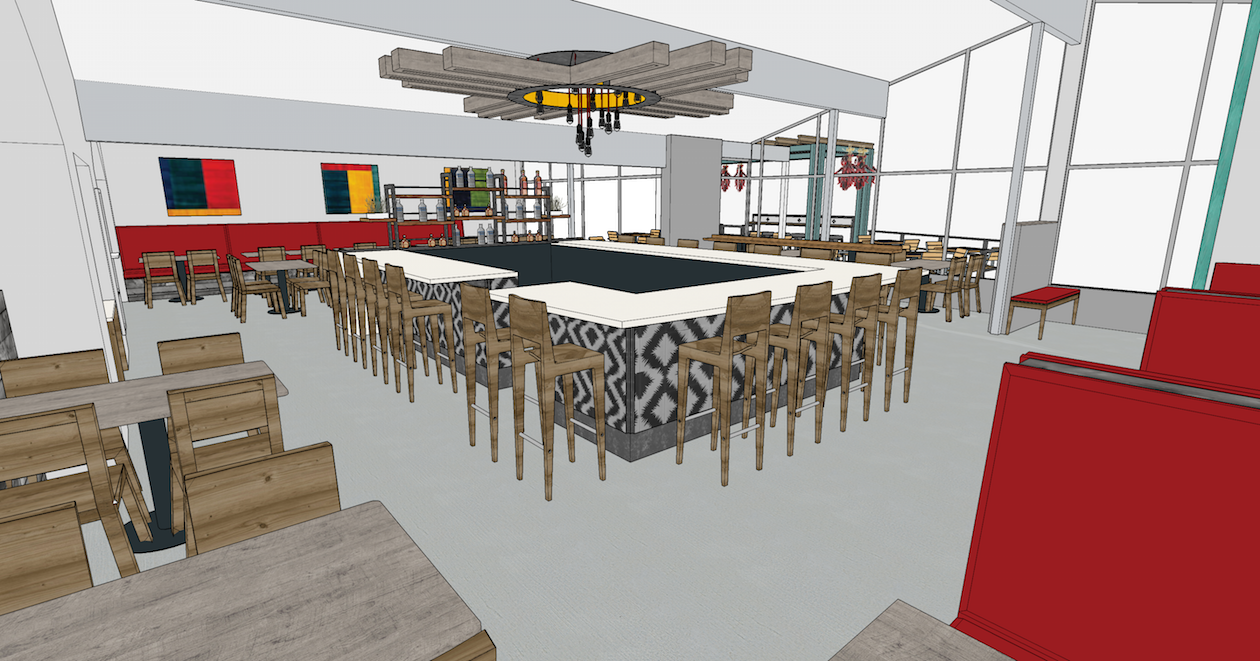 Where: 1265 Alpine Ave., Boulder
The Lowdown: The Top Chef-veteran Hosea Rosenberg of Blackbelly is back in Boulder for a new concept called Santro this fall. This will be a seasonal, modern concept focused on New Mexican cuisine — where Rosenberg was raised. More info here.
Smokin' Yards BBQ – Open
Where: 900 W. 1st Ave., Denver
The Lowdown: Barbecue lovers, you should get real excited about this one because some of the best 'cue in the state is headed to the Mile High this fall. Currently located in Idaho Springs, Smokin' Yards will bring its slow traditional dry rub to a new location on Sante Fe Drive inside a mixed-use space, coincidentally named, The Yard.
Snarf's South Broadway – Open
Where: 1490 S. Broadway, Denver
The Lowdown: Snarf's Sandwiches will be opening its seventh Denver location on South Broadway. This award-winning sandwich shop will be the latest installment of what is now a franchise with more than 20 shops open in Colorado, Chicago and Austin. Check out the new Snarf's this October.
 Solutions Lounge And Restaurant Featuring Escapology – Open
Where: 22nd and California St., Denver

The Lowdown: This multi-faced lounge will serve as a stylish steampunk bar, a cheese eatery and a ticket to a plethora of puzzling adventures. Escape rooms, good eats and exciting expeditions await you at this experimental new eatery beginning on October 16.
READ: Denver's Newest Escape Room Also Has a Cheese-Centric Restaurant
Stoney's Uptown
Where: 17th Avenue and Downing St., Denver

The Lowdown: Out with the old and in with the new. The owner of Stoney's Bar and Grill will be opening a new restaurant where Argyll Whisky Beer used to be. The owner is hoping to add a fun sports bar to the area with his latest acquisition. Check out the new Stoney's in November.
Ultreia – Open
Where: 1701 Wynkoop St., Denver
The Lowdown: Opening inside Union Station, this will be the newest concept from top chef Jennifer Jasinski of Rioja, Stoic & Genuine, Euclid Hall and Bistro Vendome. Loosely translated to "onward" in latin, the team chose the name to pay tribute to its location inside a transportation hub. Look forward to Spanish and Portuguese tapas in late November.
Wewatta Point – Open
Where: 1607 Wetwatta St., Denver
The Lowdown: This new restaurant is all about fresh seafood. Wewatta Point will strive to provide guests with sustainable ingredients while taking a creative approach to seafood dishes. Specializing in tasty options including crab deviled eggs and seasonal oysters, this eatery is sure to drift you away to the coast.
READ: Wewatta Point Docks in LoDo with Seafood Worth Seeking
Wolf's Tailor
Where: 41st and Tejon St., Denver
The Lowdown: Local Boulder chef Kelly Whitaker of Italian gem Basta will be opening a new eatery. Not many details are known yet, but it's already on our list of restaurants to anticipate before 2018.  
 Zeppelin Station
Where: 3501 Wazee St., Denver
The Lowdown: Zeppelin Station will be a 100,000 square-foot mixed-use development in RiNo. It is expected to open later this year, featuring a range of eclectic restaurants.
Additional reporting by Ryan Longaker, Olivia SwensonHultz and Brittany Werges