With Denver Restaurant Week right around the corner, many Denver diners have started to compare and contrast the menus from participating restaurants. The event, which takes place from February 26 through March 6 and highlights multi-course meals for $30 per person (tax and tip not included), is one of the hottest in town. However, with over 200 eateries taking part, determining your destination can be daunting.
Itching to try something new? Prefer to stick to a classic restaurant that's serving up one of your favorite dishes? To help make up your mind, the Food + Booze staff at 303 Magazine has compiled our list of recommendations.
Leña
Where: 24 Broadway Street, Denver, CO
For the uninitiated, dining at Leña is an interactive experience. Populated by an array of grilled meats, seafood, and vegetables, and Latin and South American dishes, the extensive menu may require a fair deal of explanation from your server. But this casual, yet upscale Baker spot is the perfect spot to try new things—especially from this year's restaurant week menu.
Diners choose from a well-rounded, four-course menu that features many of the restaurant's signature dishes. The first course includes octopus ceviche and an assortment of salads and empanadas (the latter of which you can do no wrong). Tacos and chilaquiles populate the second course. The third course is heavy on the grilled meat—including menu standout morchilla, or blood sausage—although a seasonal vegetable skewer displays that veggies, too, can be grilled to perfection. A chef's choice dessert rounds out the fourth course. Several items are served a la carte, including the phenomenal pan de yucca, should you be so inclined (trust me, you should). – Trenton Reed
Spuntino
Where: 2639 West 32nd Avenue, Denver
Crafting the perfect DRW menu is truly a feat for local restaurants. Not only do they have to create a low-budget menu that can feed the thousands of diners that participate each year, but they have to do so in a way that accurately represents the restaurant and inspires repeat visits. I can attest that Spuntino has perfected this practice.
Last year, I had one of the most memorable DRW experiences that left everyone in my group swearing to return. Just like this year, their menu was filled with thoughtful, seasonally-driven Italian cuisine that was diverse enough that even the pickiest eaters in my party approved. You'll find recognizable classics like hand-made pastas with mushrooms and smoked ricotta, and more adventurous options like braised beef cheeks or octopus and chorizo.
Also, if you don't normally get dessert DRW almost guarantees you'll get to try out a sweet course from your favorite restaurant. Spuntino has dessert on lock— I still dream of their sea salt caramel tart from last year! – Brittany Werges
Whiskey Tango Foxtrot
Where: 2907 Huron Street, Denver
If you frequent the dining scene, biting your nails with DRW's diplomatic motto in mind—"there's never a better time to try a new spot or head back to your favorites"—is as sure a bet as any. Come to think of it, the plural favorites is a pretty sick joke.
See, I've gone both routes in years past. And although I haven't necessarily had a bad meal at a "new" spot, in the back of my mind, I always seem to be running the would-be pig-out scenarios that got away—perhaps the worst kind of buyer's remorse, due to its sticky pull on the imagination. That's why this year will have to be a favorites year for me.
Exemplifying comfort food's inherent (emotional) benefits, and featuring a list of the world's most wondrous spirit as long as your drinking arm, one stand-out on my ever-growing list of favorites has to be Whiskey Tango Foxtrot. You'll find the standard fare (i.e. all things battered and fried) done right, but the shareable dishes, specifically the pork wings and goat cheese stuffed dates, are where it's at. Oh yes, bring on the heaping plates and pours of hedonism. – Matthew Hedgpeth
ChoLon
Where: 1555 Blake Street #101, Denver
My love for ChoLon came when I first moved to Denver two years ago. Plenty of lists regarded it as one of the best restaurant in the city, so I had to see for myself. I dropped in to have a lunch of soup dumplings and pork belly buns, which undoubtedly had me hooked on chef Lon Symensma's restaurant. If you haven't dined at the LoDo Asian spot, Denver Restaurant Week is the perfect opportunity to get in the door to see what it's all about.
Start with your choice of small bites including a salmon crudo, kaya toast with coconut jam and egg cloud, and my beloved soup dumplings. Share the beef short rib with coconut grits, tamarind rendang, and cipollini onions, then finish things off on a sweet note with chili-mango and pineapple sorbets. – Justin De La Rosa
The Corner Office
Where: 1401 Curtis Street, Denver
Based on past multi-course meals at The Corner Office, including the monthly Brewer's Brunch, chef Rich Byers is a master of flavor pairing. Past favorites have included biscuits with red-eye gravy, so it's comforting to see more Southern items on the Restaurant Week menu including black + pinto beans and sweet potato hash. – Cody Gabbard
Telegraph Bistro & Bar
Where: 295 South Pennsylvania Street, Denver
This newly opened West Wash Park bistro is unpretentious, cozy, and lively—just like a neighborhood spot should be. And because Telegraph's menu is fairly diverse, restaurant week is an ideal way to sample the kitchen's eclectic takes on creative New American cuisine.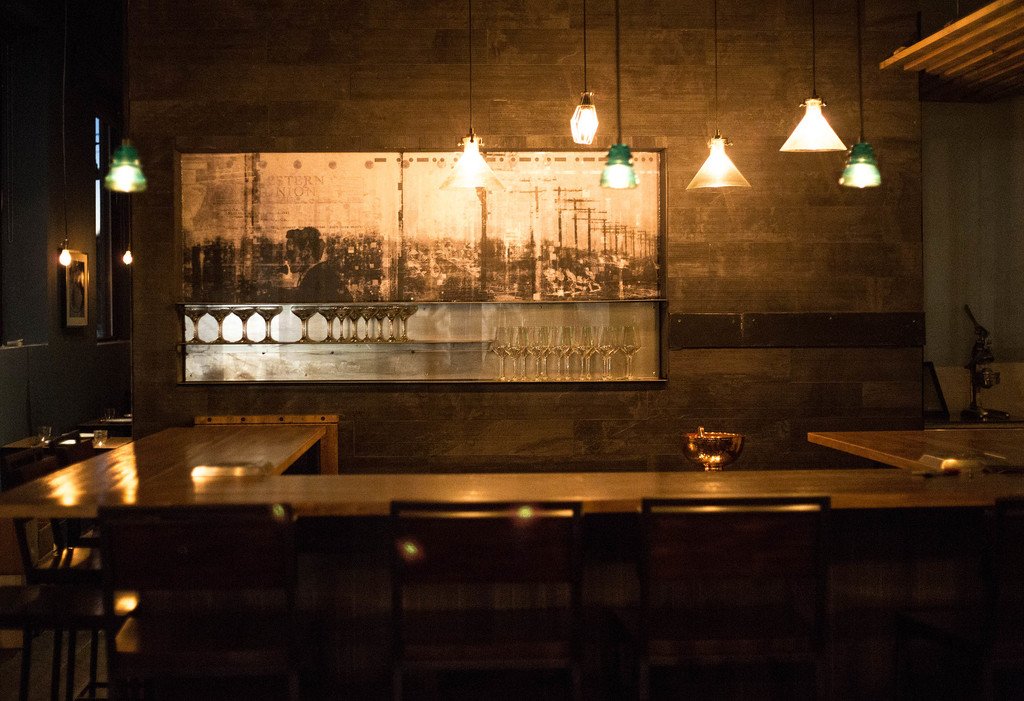 The menu begins with starters that are sure to please any palate, including a beautiful carrot and beet salad and hardy meatballs with polenta. Next, diners choose a plate to share—I recommend the squid ink vermicelli, a stunning dish that marries scallops with spicy fresno chilis and an aromatic tarragon salsa verde—and an additional entrée to split, including Spanish octopus or a New York strip. Finally, dessert includes the chocolate hazelnut tart, a playful, deconstructed interpretation of the classic pastry.
Telegraph is a perfect spot to bring a friend or date to enjoy drinks and several shared plates. The restaurant week menu provides diners with a solid bang for their buck, and an opportunity to try a wide array of dishes that may otherwise get overshadowed by the restaurant's free-spirited menu. – Trenton Reed