As we head into another event-filled weekend in Denver, we look back on some of the top music-themed stories that made headlines this week.
Alt-J releases new track, samples Miley Cyrus
Two years after their debut breakout album An Awesome Wave, indie-rockers Alt-J have released the first song on their follow-up record — and it features a sample from Miley Cyrus.
While a new release from one of rock's greatest up-and-coming bands would have made headlines by itself, "Hunger of the Pine" drew even more curiosity for its connection to the polarizing Cyrus. The track samples Miley singing (chanting?) "I'm a female rebel" from the pop star's "4×4" record.
But don't fear, Alt-J managed to blend the Cyrus sample with ease, and many might not have even drawn the connection had it not been so highly publicized.
"Hunger of the Pine" also marks the group's first release as a trio, after bassist Gwil Sainsbury's amicable departure in January.
You can catch Alt-J this Fall in Denver when they take over the Fillmore Auditorium on October 28. Tickets, which are a sure bet to sell out, are on sale now. Look for the trio's new album, This Is All Yours, to drop on September 22.
Beats by Dre headphones banned from World Cup
The FIFA World Cup is off to its most exciting start in years, and coupled with a triumphant victory over Ghana on Monday, U.S. soccer fans in are flying high. As the team prepares for a critical match Sunday against Portugal, one thing you won't see on the pitch is the popular Beats by Dre headphones.
The colorful, bulky, yet-somehow-stylish music accessory has been banned by FIFA for licensing reasons, as soccer's governing body has an exclusive agreement with rival Sony Corp.
Nonetheless, athletes have still been photographed wearing Beats while at practice or on the team bus, but the headphones are forbidden from all World Cup stadiums and media events.
No matter what cans help fill your ears with music, check out this awesome Brazilian-themed World Cup mix by Diplo, before he brings his own brand of beats to the Golden Triangle in Denver this Saturday.
YouTube announces paid streaming service, accused of "bullying" indie labels
Move over Spotify, Beats Music and Rdio — YouTube has announced its own paid streaming service that could be out later this year, partnering with "hundreds of major and independent labels."
But the Google-owned internet giant is being accused of bullying independent labels to sign on, threatening to pull music videos if they don't and forcing them to agree to unfavorable contracts. A rep for the Worldwide Independent Network told reporters the agreements YouTube is trying to force on independent labels are non-negotiable and pay less than other streaming services.
YouTube denies trying to strong-arm indie labels, and said in a statement the new service will "bring our music partners new revenue streams in addition to hundreds of millions of dollars YouTube already generates for them each year." It says it has already signed up 95 percent of labels and will block content from the five percent who have not agreed to be part of the streaming music service.
Breaking: Shots Fired at Red Rocks, rapper Schoolboy Q in Handcuffs 
During the massively-anticipated 2014 Feed the Rocks installment, fans that came to see Nas, Schoolboy Q and Flying Lotus may have gotten more than they bargained for. Three men in an SUV were gunned down at 10:30 p.m. following the show. Red Rocks was promptly in lock-down, as officers conducted searches through cars. Thankfully, the injuries are not though to be life-threatening, reports NBC. The National Park around the amphitheater was sealed off in an effort to apprehend the shooter, who still has not been found.
Though Schoolboy Q was seen in handcuffs in the photo below, there is nothing confirmed about his arrest, but the this photo circulating on the social spheres might suggest otherwise.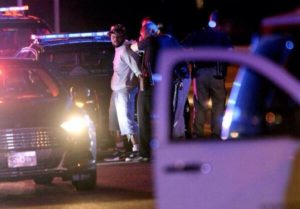 Hopefully this incident does little to tarnish the reputation of both the venue and the artists that perform there. They are not sure of any connections to the rappers, but there is a hotline open for any information from witnesses of the event.
For more information on the incident: http://www.thedenverchannel.com/news/local-news/triple-shooting-at-red-rocks-amphitheater-following-nas-rap-concert
Keep up with 303 Magazine's music desk every Friday to get weekly updates from the music world.