Who is Caveman Cafeteria?
Caveman Cafeteria is a brand of food service that creates gourmet meals which are all 100% compliant with the paleo Diet. They offer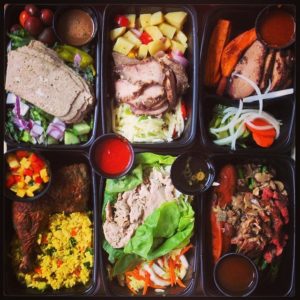 a variety of services including catering and private paleo cooking classes, but their main product is a subscription meal delivery service. When you subscribe to Caveman Cafeteria, they cook and fully prepare meals each week and deliver them to you weekly via FedEx anywhere in America or to a local free delivery spot (and soon-to-be California) in Denver .
Why check Caveman Cafeteria out?
Firstly, it was started in Denver, CO.  Secondly, it serves delicious food (see review below).  Lastly, it revolves around the hottest diet trend in America called the paleo diet.  If you are not aware, the paleo diet is based on the notion that for optimal health, modern humans should go back to eating real, whole unprocessed foods that are more healthful than harmful to our bodies.  Needless to say, I think most readers can afford to tighten up their waistlines to look good for the 303 Magazine Pool Parties this summer.
What are their food plan options?
Colorado clients can subscribe for the 6-meal weekly plan or the full 10-meal per week monthly plan, which is delivered twice weekly. Monthly clients may choose from our Denver Metro Area free pickup locations from Boulder to Littleton to save on shipping costs. Please email [email protected] if you have any questions about the meal service free pickup locations. Out-of-state clients can enjoy their 6-meal weekly service, which is delivered fresh (never frozen).  They also have three portion size options to choose from. Medium works for most women, large for most men & XL plans are available for those with a big appetite. You can always change the portion size later if needed.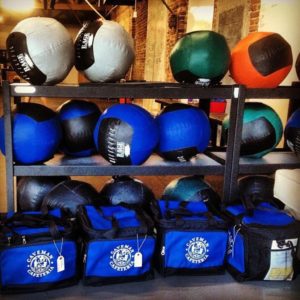 The Waderlusting Gym Rat's Review:
I had the honor of meeting the founder of Caveman Cafeteria, Will White, last month.  After talking about my Crossfit Chronicles articles, he offered to send me a week of food to see the quality and ease of eating the paleo diet.  I had never eaten strict paleo for more than maybe one or two days, so this was an experiment on my own health and athletic performance.  Without a doubt, I had much more energy than I usually have during the gym sessions eating a semi-"clean" diet.  Additionally, Caveman Cafeteria lived up to its claim of providing gourmet food.  I am not talking gourmet diet food but something that you would gladly pay $20-$25 a plate for at a local trendy restaurant.  I was served dishes like:
Braised Leg of Lamb with a French onion demi-glace, baked yam, market vegetables
"Old Macdonalds;" Pork Loin with roasted garnet yams, rosemary- seasonal berry chutney, fennel-napa slaw; Wagyu Meatloaf with chipotle BBQ, caramelized onions, mashed yams, asparagus
Overall, this experience changed my outlook of what "paleo dieting" would look like if I made the change full-time.  If you are interested in finding out more about Caveman Cafeteria, check out their web address or social media sites.