On Monday evening, Gregory Alan Isakov finished his three-night Colorado run at Red Rocks with a breathtaking set that showcased the evolution of his music.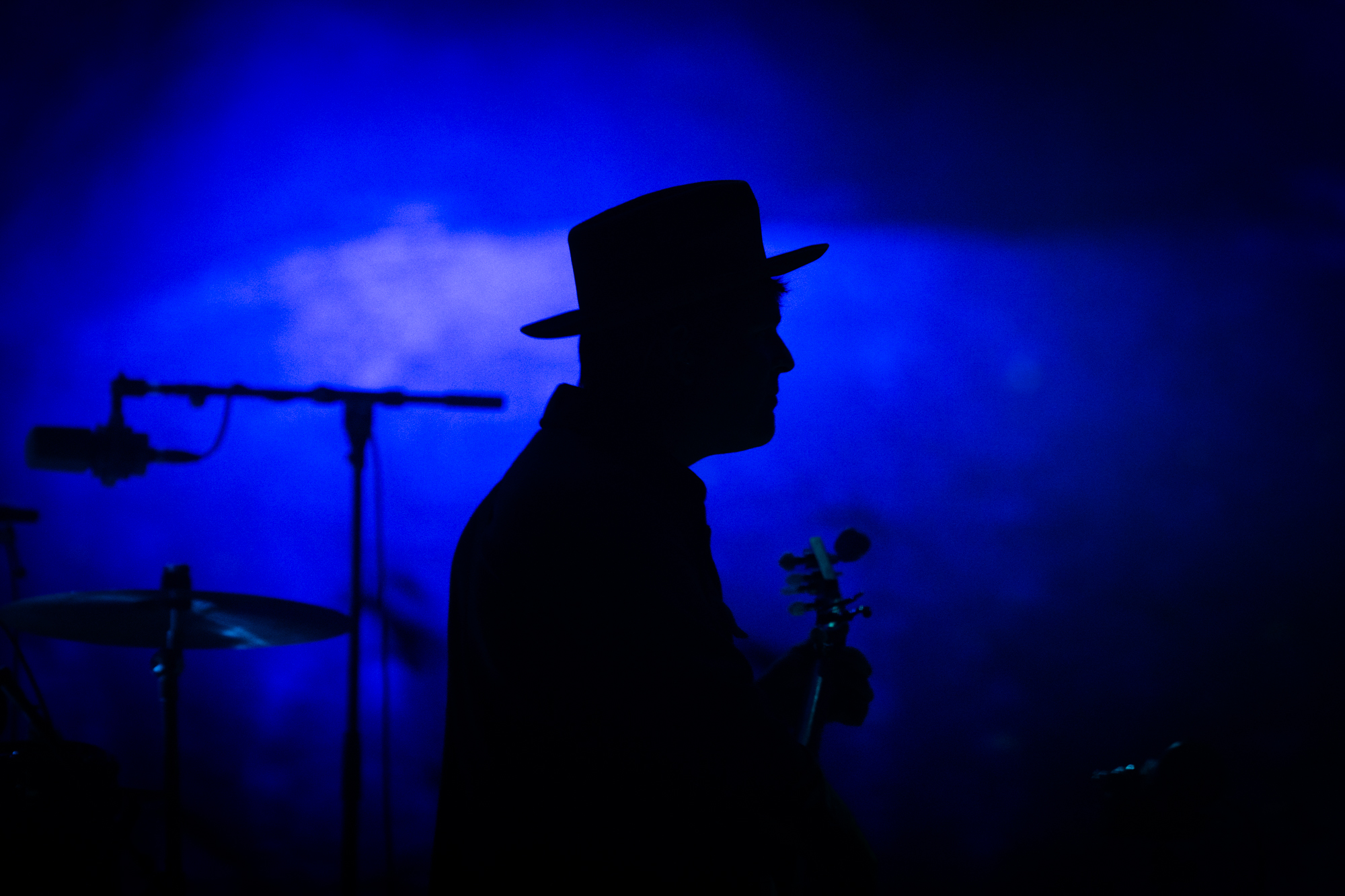 Following a haunting instrumental set from Jeremiah Fraites — co-founder of The Lumineers who's long-called Colorado home — Gregory Alan Isakov hit the stage underneath the rising moon. His set began leisurely with "Before the Sun" off his new album Appaloosa Bones, which he's currently on tour supporting. It's important to note that for each stop on the massive world tour, $1 of each ticket sale is donated to a local cause. The proceeds from each of the Colorado Shows went to the Boulder Food Rescue and the Denver Food Rescue. It's a cause close to Isakov's heart as the Johannesburg-born artist has called Boulder home for over twenty years after moving there to study horticulture.
Isakov was joined on stage by Danny Black on guitar, John Grigsby on bass and cello, Steve Varney on banjo, Jeb Bows on violin and Max Barcelow on drums. Each song they played came alive in a way only made possible in a live setting, the Rocks seeming to imbue the band with a power not quite found on the albums. It's music to get lost in, the instrumentals confident yet meandering, almost dangerous in their ability to lead the listener away from the beaten path. Thankfully, Isakov's powerful lyrics sung in his wistful voice are enough to lead you home.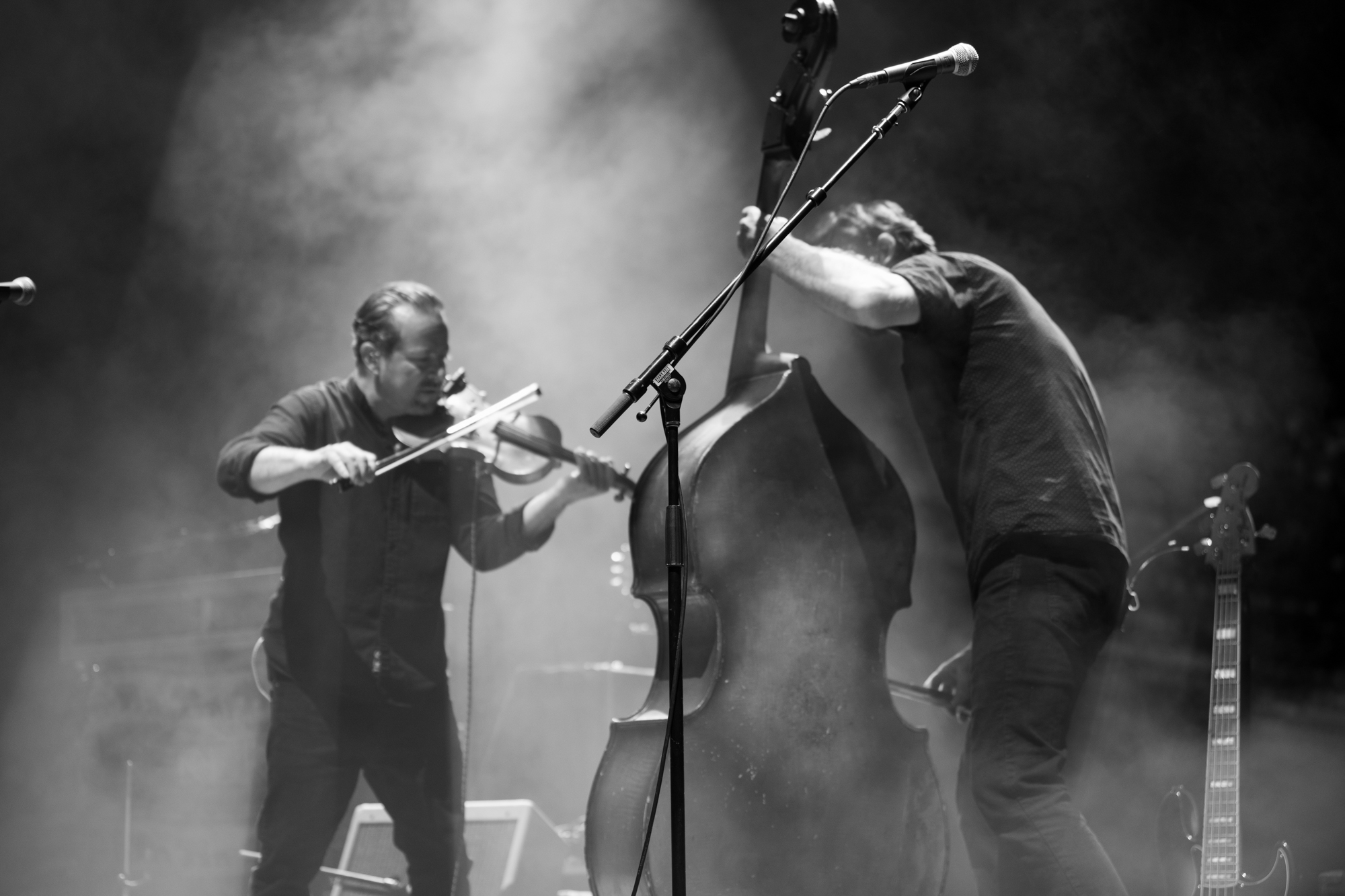 The stage setup was simple enough to not distract from the performance but held details that enhanced the experience for both the band and the audience. Twelve glowing orbs hovered above the stage, changing color throughout the evening. They were always white when projected on the black and white screens, resembling dangling moons. The scenery complimented Isakov's authentically raw sound and intimate lyrics. An evening with Isakov at Red Rocks feels like a summer night on a porch swing while a dear friend serenades you under the stars surrounded by fireflies. 
Isakov expressed his gratitude for being back in Colorado as he introduced "San Luis," a song he stated "has a lot of Colorado in it." San Luis is the oldest town in the state and possibly the most spiritual. The history and complexity of this place are captured in the warm vibrations of lyrics such as "I'm a ghost of you/ You're a ghost of me/ A bird's eye view of San Luis" that Isakov repeated over and over and the audience gladly would have let the line wash over them for hours.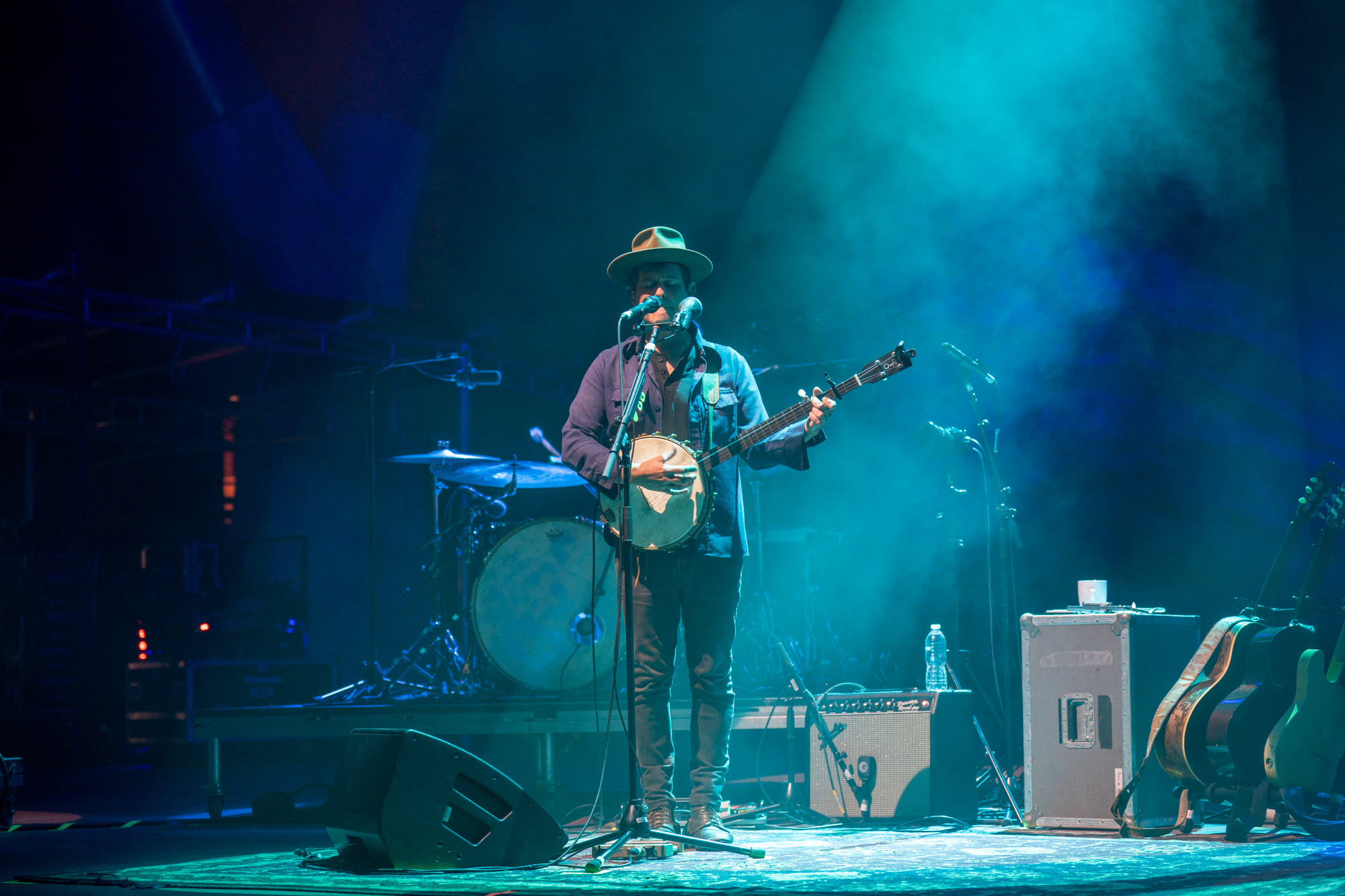 Monday evening's version of "Big Black Car" was absolutely unforgettable. The rendition featured an entrancing strings lead-in which was quite different from his album version but the perfect way to extend a beloved song. Varney intricately plucked the banjo as fans mediated on every individual note. The strings continued as the song's original one-minute outro transformed into a lengthy and hypnotic instrumental that ebbed and flowed through the crowd's blood and bones. 
"I'll never get over playing a place like this," Isakov said in awe as his band members took a step back for him to perform "She Always Takes it Back" alone. Isakov's performances transport the audience through time and place, inviting them on a journey that only he may lead. As he sang "Liars," his voice held a buried and distorted effect, like he was serenading us through an old radio, telling us the story of growing up and moving on. Isakov is known for unique elements like this that add new life to old favorites, often singing to the side of his mic to create a deep echo effect that is essential to the sadness and intensity of the lyrics.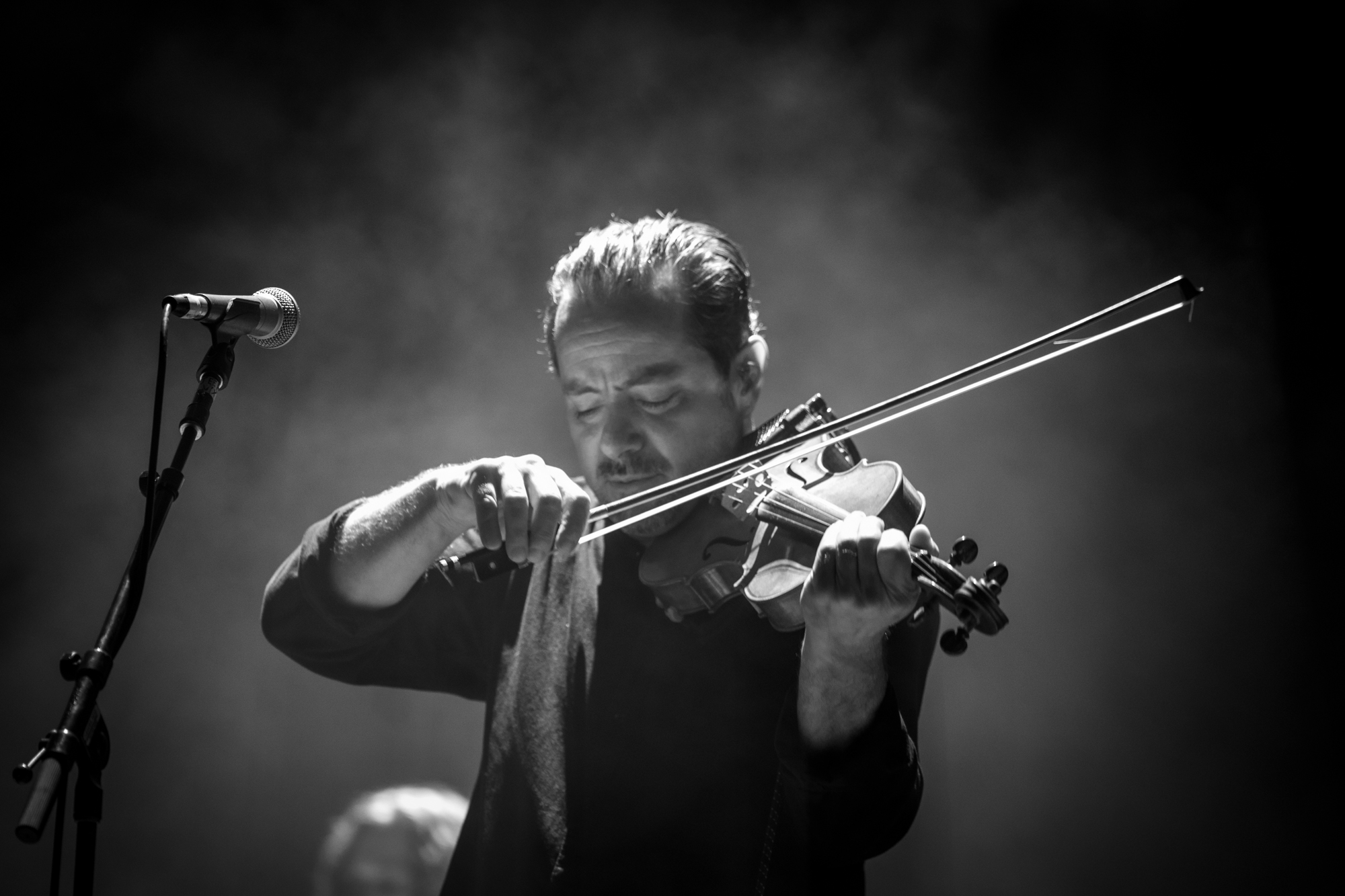 Gregory Alan Isakov has a unique ability to sing about anonymous people and places. In his closing song "Amsterdam" — a bright and simple story about coming home — the audience could hear the ache of emotion in his voice as he cried "Churches and trains/ They all look the same," taking everyone's breath away with the orchestral hum behind his words.
After the set ended and a large amount of the crowd filtered out, the band returned for two encores totaling five more songs. The first encore closed with a bright acoustic version of "Silver Bell" as the band was joined by Elephant Revival singer Bonnie Paine. The performers huddled close in the center of the stage while Paine accompanied Isakov's vocals.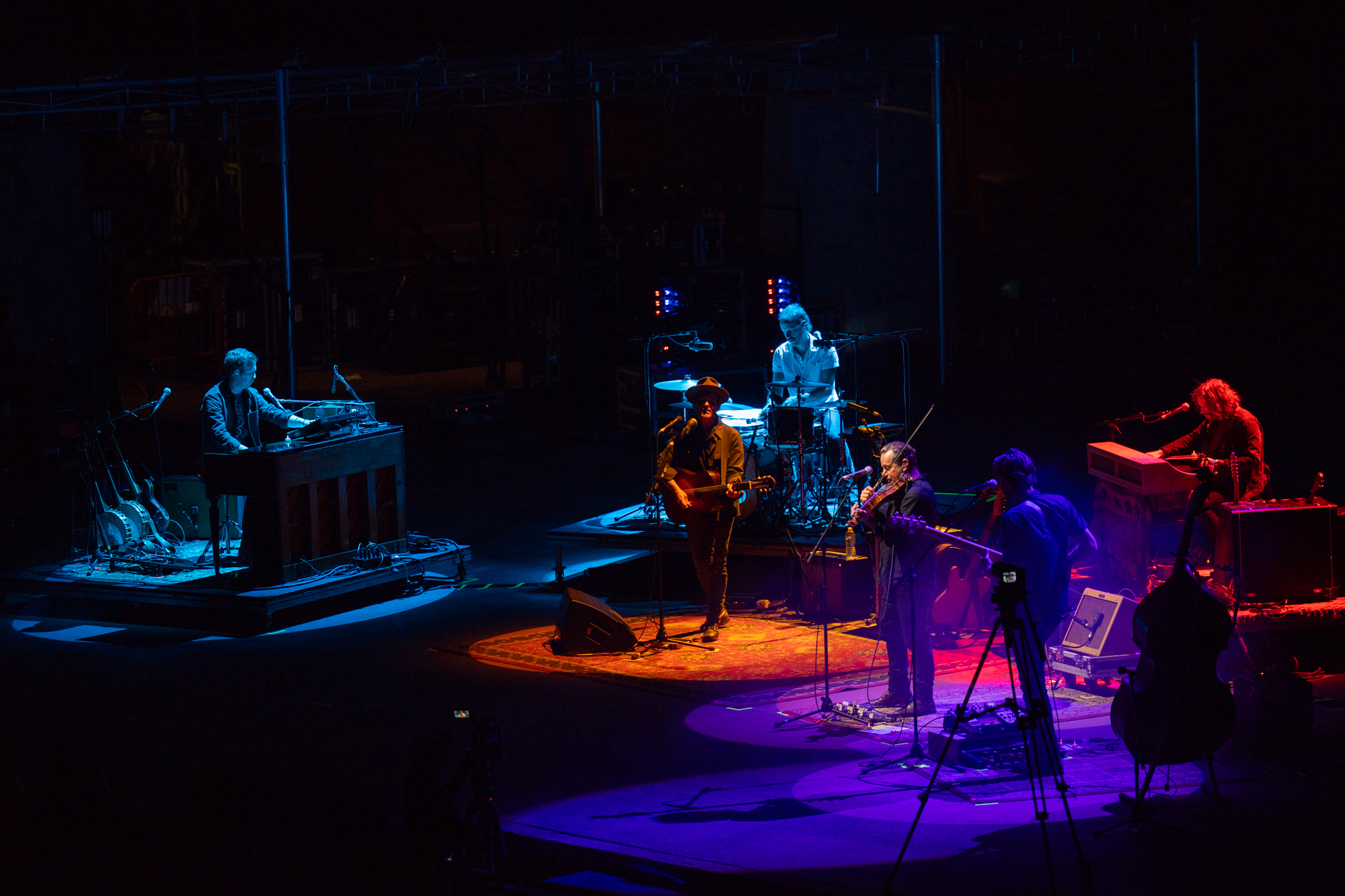 The second encore opened with Isakov and Varney intimately performing "The Stable Song" with just guitar and banjo. A string-bending banjo solo caused cheers to erupt from the audience and more performers returned to accompany Isakov on his final song, "All Shades of Blue." The moon glowed an impossible shade of yellow and orange as fans exited Red Rocks with spirits glowing just as bright.