Two artists are sharing Sally Centigrade this upcoming month with an exhibition that mixes the serious and the playful, the cunning and the simple. Local artist Kaitlin Ziesmer and Los Angeles artist Morley are the headliners, with new paintings, prints, stickers and books to showcase. Despite (or because) the artists have dissimilar styles, this shared exhibition leaves no room to guess who made what contribution. In that way, the exhibition Over and Over feels like a perfectly coordinated duet.
Set in the little gallery space of Sally Centigrade, Over and Over came to life on the suggestion of the gallery owners, Scott and Myah Bailey. "I feel like [the artists] both have a lot of positivity in their art and it's very punchy," Scott commented. "But they're kind of opposites in that Morley is very judicious with his color and Kaitlin is completely fearless. And then partly [this show] was meant to be the reverse of last month's show, Space Goth — an artist who makes darker, more sarcastic work."
Ziesmer is a Colorado native and still works and lives in Denver. She's exhibited work at galleries all over the city including Helikon, Think Tank, Cooper & Dash, Lowbrow, Valkarie, Point and Abend. Much of her inspiration comes from film, especially the classics of her childhood. According to the Sally Centigrade website, "Ziesmer's done most of her childhood favorites: Storm Troopers, Power Rangers, even the Gremlins, which scared the bejesus out of her when she was little." But it's not an idealized version of these characters, necessarily. Instead, Ziesmer likes to attach the heads of iconic characters onto regular bodies (like her own) in a juxtaposed combination because she's "fascinated with combining things that don't go together." When she's not venturing down the path of movie nostalgia or taking suggestions from her many followers, Ziesmer still approaches her art with that complementary dissonance.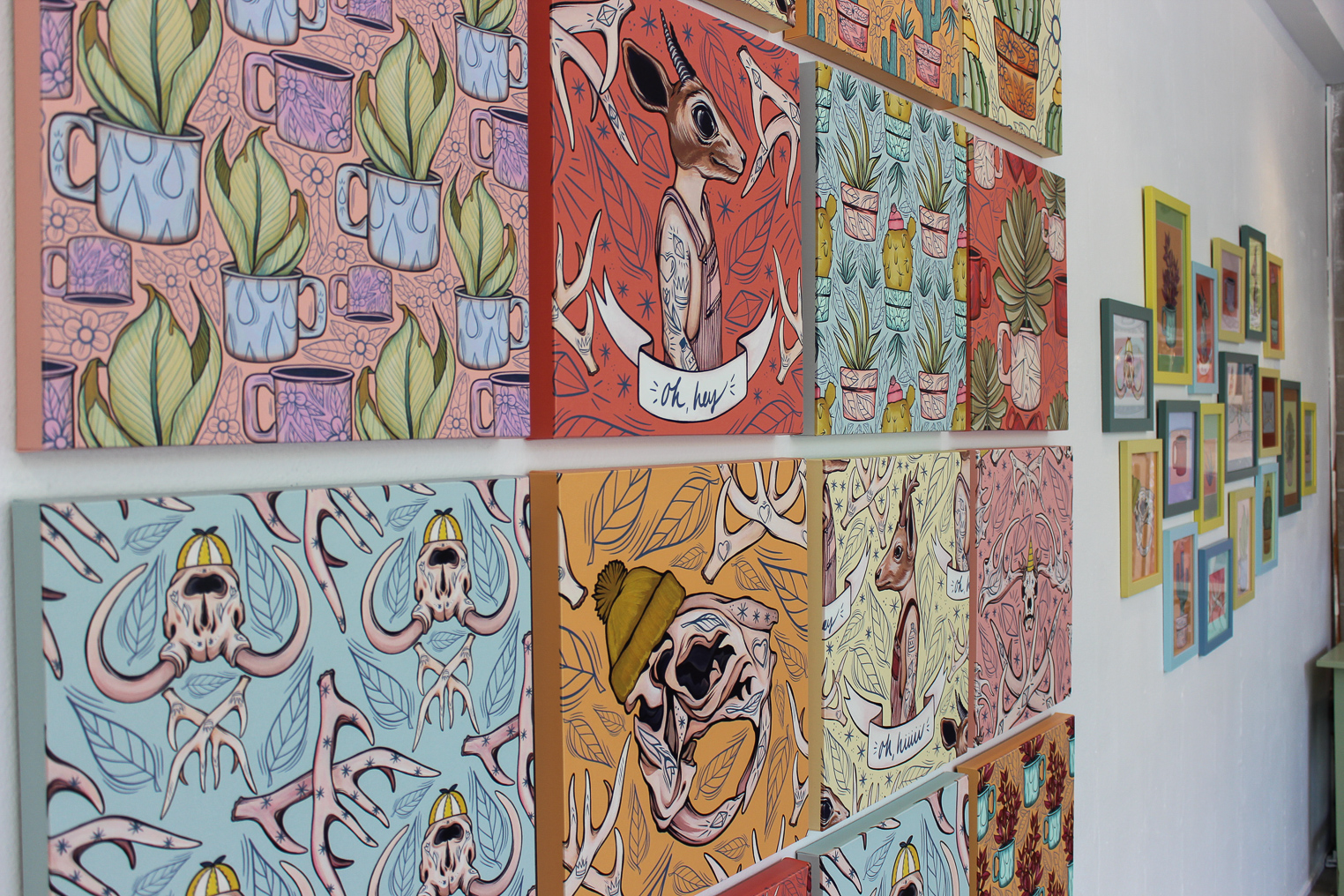 Her pieces in Over and Over stray away from her familiar style and instead of focusing on one object within the canvas, she uses repetition to create patterns. The aesthetic still pulls from a mixture of story-book illustration and nostalgia and Ziesmer's cheekiness is still present as ever. And as Scott said, her fearless approach to color-matching is showcased in full-force, with one section of her work displayed in an eye-catching grid. About her work, Ziesmer explained "between the playful color palette and the characters' often standing still or relaxed posture, I'd like to think that it makes them approachable. Then the highlights of neon are what really brings the audience up close."
For those well-versed in street art, the inclusion of Morley is an exciting addition to the show. Even though his work hinges on the idea that just an average guy is writing on the wall with a permanent marker, Morley has proven over the years that he's not typical. Not unless you hang out with eloquent writers and artists on a regular basis. Though he started his street art shenanigans in New York City, Morley moved to L.A. and solidified the consistent theme of picturing himself in the posters because he wanted people to remember that someone was creating the slogans and speaking through them. In other words, he personalizes his street art in order to connect with his viewers more intimately. This, of course, is almost the exact opposite of most street artists and graffiti writers who do their best to protect their identity and place a mask between their personal life and the general public. Instead of using a moniker, he started using his middle name and signed all of his posters "- Morley."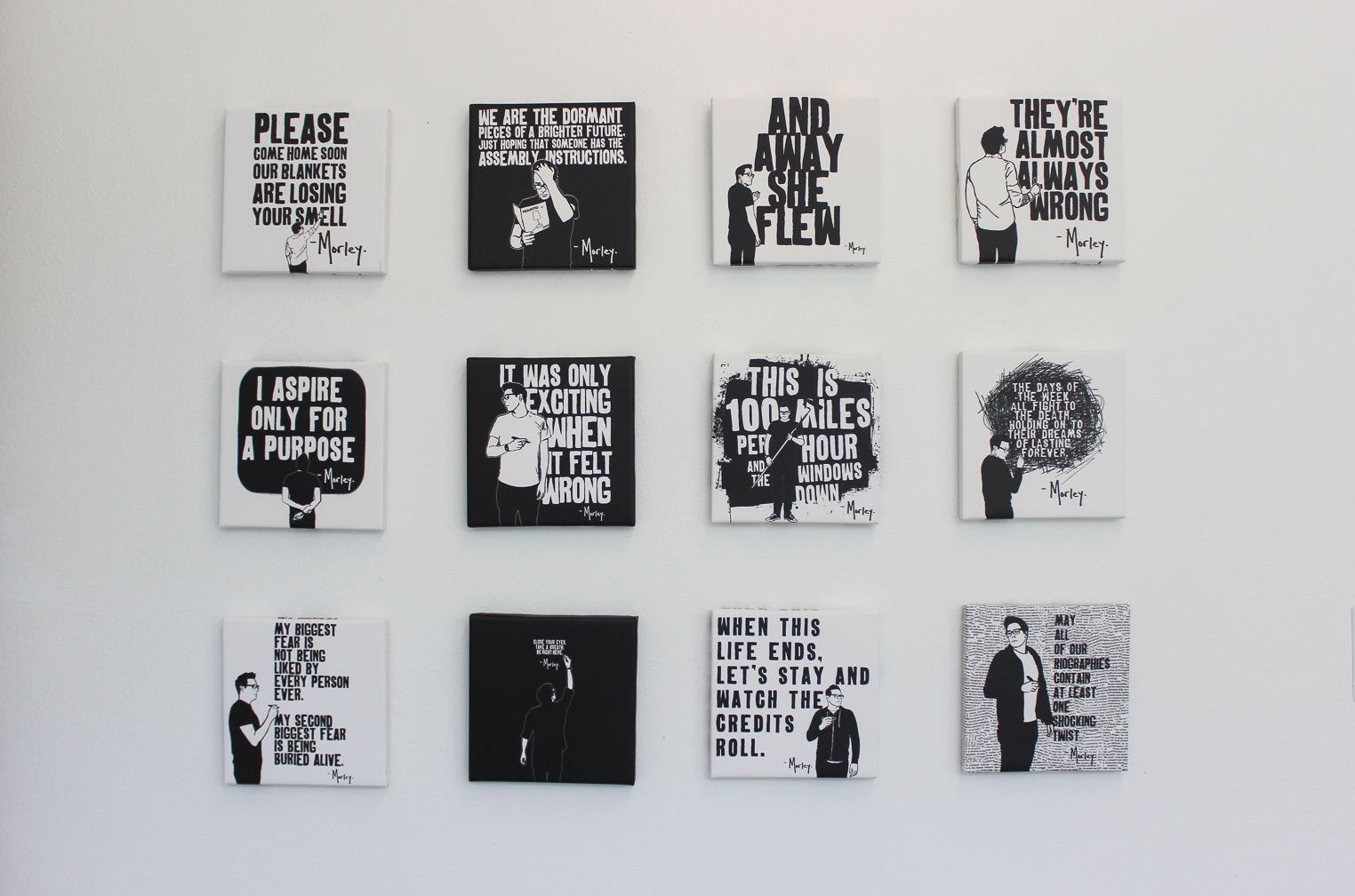 Though Morley has contributed to many other group exhibitions, this is the first time he's splitting a show with one other artist. About sharing the space with Ziesmer, Morley responded:
"It's always great when you can do something with an artist that you feel a kinship with and yet each bring something unique to an event. I don't think anyone would confuse our art but I think it will complement each other in terms of theme and a sort of outsider sensibility. Her art is very special and it's a great treat to share some space with it. I always pursue working with artists where there's no risk of either seeming derivative of each other. This is also why I look for inspiration in as many different mediums as I can. Finding inspiration in dance or photography or sculpture or filmmaking and filtering it through what I do is an often unappreciated method of expanding your artistic horizons. So for me, I love to see my stuff next to something where the contrast can be interesting and yet it still feels thematically consistent."
Since Morley started as a street artist, it might feel odd to some to see his work separated from the grittiness of the real world and in a climate-controlled gallery, but the truth is that the kind and sensitive quips he writes are something people want to take home with them. That was something that Steve Lazarides — a famous British gallerist who possibly helped launch Banksy's career in the early 2000′ —  saw in Morley's work when he started representing Morley years ago. But even with the inclusion of gallery-style shows, Morley still posts out in the public domain. "For me, I feel like art in a gallery is like seeing a band at a venue and art in the street is like watching someone play an old acoustic guitar at a bus stop," he explained. "Both are ways to experience something beautiful, but one is through an act of serendipity and has a temporal element to it."
This slideshow requires JavaScript.
This won't be the first time showing work at Sally Centigrade for either artist — in fact, Ziesmer's work can be found online through the gallery at any point — but the combination of the artists is why the show is special.
—
Over and Over will have an opening reception on Saturday, September 22 from 5 to 9:30 p.m. at Sally Centigrade (445 South Saulsbury Street, Lakewood) and both artists will be in attendance. All pieces in the show will be for sale. The show will be on view until October 19, 2019.
All photos by Cori Anderson.