–
This is the first installment of a new series where we will examine the possible changes to Denver's neighborhoods in the next five years. 
Even though it is bordered by I-25 on the east, Federal Boulevard on the west, 6th Avenue on the south and 20th Avenue on the north, Sun Valley's rectangular neighborhood is anything but straight-edged. More than 100 years ago, the area was settled by a Jewish immigrant population, which in turn created an established working-class community by the early 1900s. Latinos started their migration to the area (though they were further north at first, along West 38th Avenue) in the 1930s, along with Irish and Italian families as well.
Since then, Sun Valley has become a melting pot of cultural heritages that offer the rest of Denver a peek into the tastes, colors, sounds and sights of other countries. However, the area has been downtrodden since the 1970s, with the vast majority of the roughly 1,500 residents living in subsidized housing. It's also a neighborhood with more youth than adults — a rare and somewhat worrying statistic.
Development in Sun Valley is necessary, but the organizations in charge of implementing changes need to be wary of the innate challenges and consequences of beautifying a defunct area. Councilman Paul Lopez of District 3 explained, "my vision is that Sun Valley can become a standard in how we build neighborhoods, how we remove stigmas, how we develop responsibly in a way that keeps people in their neighborhood so they can enjoy the new amenities that are coming to their neighborhood."
In the next five years, Sun Valley is going to change drastically — from major alterations to the standards of public housing to better mobility to more opportunity for businesses and art. As a neighborhood very close to downtown, it's actually surprising that Sun Valley hasn't already undergone some of these renovations, but it also makes sense why — with the massive influx of residents and visitors to the city — it now needs them.
A Mini-Village at Mile High Stadium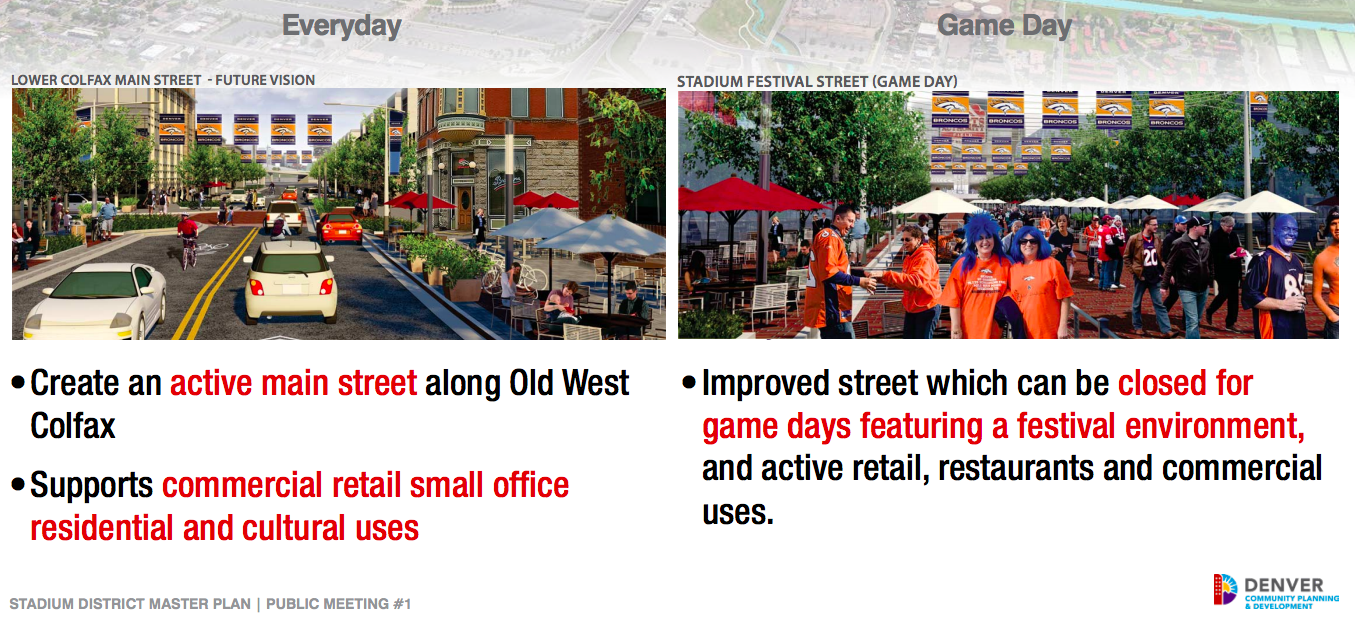 If you've gone to a Broncos game or even just driven by the stadium on Federal, you've noticed the vast expanse of parking lots that surround it. These parking lots have only ever been used during game days, leaving them vacant (and wasteful) a majority of the time. With its fairly central Denver location, Mile High Stadium's parking lots could be used more efficiently. Which is exactly what the Broncos, the Metro Football Stadium District (MFSD), the city planners of Denver and Councilman Lopez think as well.
"It's long overdue. The Broncos and the Stadium District shouldn't come to the voters and ask if our city and our team is worth it or not," Councilman Lopez said. "Rather than have to go back to voters and reauthorize another 200 or 300 million dollars for maintenance, we have parking lots in a potential tax space to be developed. It's self-sustaining, and it keeps the health of the stadium up to par with the city. It keeps it a cornerstone of our neighborhood and our part of town."
As of March 21, 2018, city planners announced they'd gather community input on their plans to create a "year-round, mixed-use neighborhood hub" at the south end of the property — which is currently owned by the MFSD. And on June 27, the MFSD hosted their first public meeting to ask community members for their thoughts as well as to provide a tentative proposal for the district. Other public meetings will be held in the future (check on this website for updates on that).
This neighborhood hub and entertainment district will aim to improve the fan experience for Broncos games, but it also seeks to fulfill a gap in Sun Valley for other amenities, available all year long. Things like mixed-use retail spaces, entertainment options, cultural facilities, mixed-income housing and recreational opportunities are under consideration. The idea came from the Decatur-Federal Station Area Plan (explained later), so the hopes are to positively impact the entire neighborhood rather than just the Broncos.
"Let's talk vision, goals for the area, how do we make sure we are balancing the needs of a year-round experience and a better game-day experience but also meet the needs of residents in the area." Caryn Champine, director of planning services for Denver Community Planning and Development explained.
"This is a unique opportunity for the district to become a year-round destination with places to live, eat, shop and enjoy," said Mac Freeman, chief commercial officer for the Denver Broncos in a press release. And many other sports teams and city planners around the country — Dallas, Tampa, San Francisco and Chicago to name a few — are renovating their stadium parking lots with financially fruitful "districts" that can help offset debt the tax-funded stadiums incur. Plus, as cities like Denver only get more crowded, empty parking lots seem even more wasteful and inefficient. The Rockies are doing the same thing, just a few miles away from Mile High Stadium, with parking nearby lots. Construction should begin on the Rockies stadium district in the second half of this year, while the Broncos are still only in the planning stages for their project.
Federal Is Getting a Facelift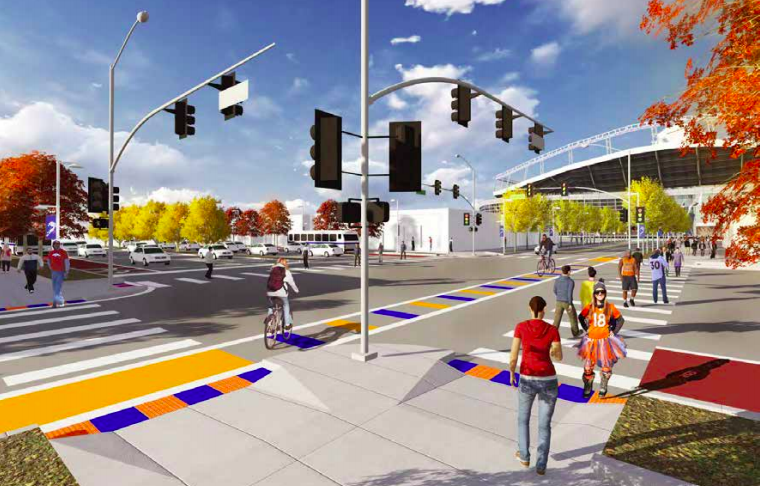 Though Sun Valley sits only a few miles from downtown, transportation in, around and to the outside of the neighborhood has needed help for many years. In 2013, Sun Valley residents, business and property owners and the Broncos envisioned the Decatur-Federal Station Area Plan which was then adopted by the City Council of Denver, with massive portions of the plan directed at Sun Valley and increasing mobility within the community as well as to other Denver areas. The recommendations for the plan included proposals to improve the Stadium District and make West Colfax into a "main street" for the area.
Councilman Lopez remarked, speaking as if to his constituents, "the river, the highway and Federal are not barriers to you, they are avenues which you can utilize to get all around the city."
"Federal Boulevard remains dangerous for pedestrians," the Councilman continued, "13th Avenue is still a bit shady, underdeveloped. And the neighborhood lives in the shadow of the [Colfax] viaduct." Plans have been put in place to improve Federal Boulevard from 5th Avenue to 20th Avenue, due to low mobility, high accident rates and general deferred maintenance. Improvements from West 7th Avenue to West Holden Place include sidewalks, raised medians with landscaping, new street lighting, repaving and adding a third northbound lane — expected to start this year.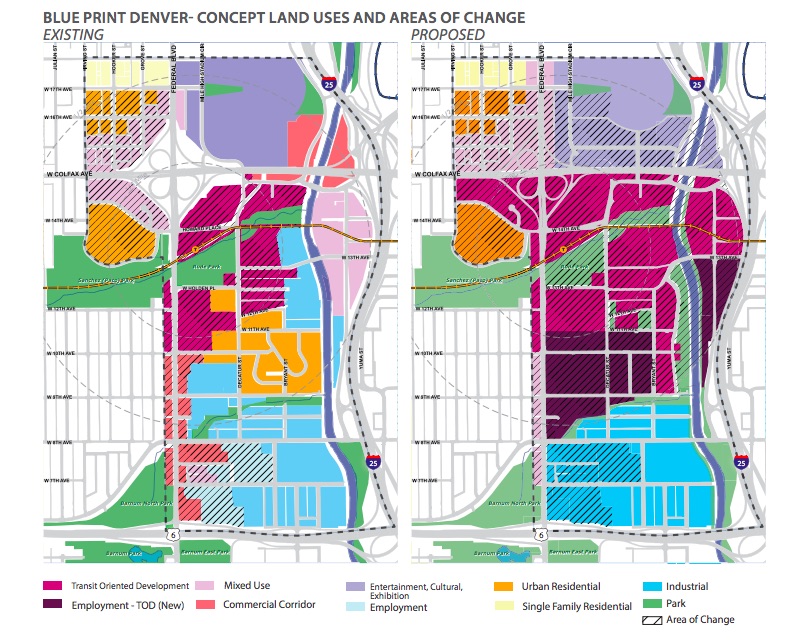 The first step in the Decatur-Federal Station Area Plan, however, was connecting Sun Valley with downtown most directly, through the light rail system. The West Rail Line opened the Decatur-Federal station in May 2013 — the first station on that line outside of downtown and four stops from Union Station. And the final point to connect all of these separate projects is the plan to improve Sun Valley's street grids, public transportation and pedestrian and bicycle routes.
It Could Be an Epicenter For Art in Denver
Art already saturates the Sun Valley neighborhood, though it usually comes in the form of street art, graffiti and other non-permanent installations. The area has been a mainstay for the Latino/a population in Denver, as well as other immigrant populations (just take a trip down Federal for some tacos or pho).
So it comes as no surprise that Adrianna Abarca plans to build the first phase of the Latino Cultural Arts Center on the site of the former Ready Foods (her father's business) by 2020. Abarca grew up on the west side of Federal and her family has owned a business in Sun Valley for 45 years. About the rapidly changing landscape of the community, Abarca explained, "the Mexican community [in Sun Valley] always acknowledged the communities before it. And in the case of Sun Valley we've always acknowledged that there was a Jewish community before us. And we would hope that new inhabitants of Sun Valley will know there was a Jewish community, a Mexican community and an immigrant community that was at first Vietnamese and now primarily Somali. We just want them to acknowledge that Sun Valley and Denver was made by diverse groups of people."
The LCAC will have a library, a black-box theater, a gift shop, a coffee shop and a cantina. It will also display Mexican and Chicano art that Abarca and her father collected over many decades in a Mexican Heritage Museum, provide rotating exhibitions for fine and folk art from Latin and South America and may eventually have an Academy of Latin Culture with artist live-work spaces. According to the LCAC website, this Mexican-American collection is the most extensive in the Rocky Mountain Region.
"I think it's important to document the fact that Colorado historically has had a Mexican presence and with all of the changes happening in Denver we don't want our historic contributions and our cultural legacy to be forgotten," Abarca commented. "So it's important for us to put a stake in the ground. We are not going anywhere. We have always been here and we will always be here. It's a pretty serious statement, especially because our sense of community has been lost. We want to ensure that people have something to connect to."
Sun Valley won't just be the mecca for Latino culture, though. Also by 2020, it will also be the mecca for the new immersive art trend that's taking the country by storm, with the help of the Santa Fe art collective Meow Wolf. Early in 2018, Meow Wolf came to Denver to announce their official plans for building their second permanent installation. This time, instead of remodeling a building — like they did in Santa Fe — they are starting from scratch.
Located in a pizza-slice-like wedge between I-25 and Colfax Avenue, Denver's Meow Wolf just barely rests inside Sun Valley, but it may be one of the most anticipated art openings Denver has ever experienced and it will invariably impact the neighborhood. Plans with part-owners of Elitches, Revesco Properties — a Denver-based real estate developer focused on underutilized urban spaces — include a 90,000 square-foot property that reaches over 70 feet in height. The interactive psychedelic playhouse has already started selling tickets, nearly two years in advance of the opening and before construction has even begun. The property Meow Wolf will take over is not an area frequently trafficked at the moment, so it will be interesting to see gobs of visitors finding their way to the curious location.
Of course, this development is not going unnoticed by both the current Sun Valley residents and Councilman Lopez himself. When Meow Wolf first announced their Denver plans, the Councilman spoke with them, explaining "people are freaking out. People think that because of [Meow Wolf's] presence, they're going to gentrify the neighborhood as one of the first steps. [I asked them to talk] to me a little bit about what they do and how they are going to pull local artists in. Is this a circus where they're going to bring folks in from somewhere else? Where they teach [Sun Valley] about art — or does Meow Wolf really want to foster a sense of art? Are they willing to come here and inspire? Because if they're coming here to inspire and to be part of it then they're going to be successful." Then, he added with a smile, "if they really want people to experience art [in this neighborhood], I had to remind them, all you got to do is walk around the neighborhood and you see art."
More Diverse Housing
As the lowest income neighborhood in Denver, Sun Valley sits on a precipitous ledge between the need to improve the quality of living and the desire to develop for profit. Less than a decade ago, this area would have been avoided by many — crime was up, houses were depreciating and general morale was low. Today, 94 percent of the Sun Valley housing market is subsidized, the median income is $9,874 and the unemployment rate is 70 percent. In 2016, Sun Valley received an FY2016 Choice Neighborhoods Implementation Grant from the U.S. Department of Housing and Urban Development (HUD) for a whopping $30 million, along with Boston, Massachusetts, Camden, New Jersey, Louisville, Kentucky and St. Louis, Missouri.
Technically awarded to Denver's Housing Authority (DHA) and the City and County of Denver, this grant secures much-needed funding to improve the isolated and decrepit residential units that already exist but is only part of a much larger funding package the DHA and its partners have to upgrade and improve Sun Valley. Overall, $240 million is allocated to developing the area, available through funding partners to the DHA.
Spread throughout the neighborhood, these new developments will range in type — from townhouses to high-density apartment complexes. The idea of mixing income levels hinges on the belief that it will equalize, rather than gentrify.
"There's a difference between responsible community development and gentrification. Gentrification has an element of purposeful displacement with intent. It is a replacement of working class, mostly people of color with an almost aristocracy or ruling class. And so we have to make sure that our projects are inclusive. If we are going to build housing there needs to be affordable housing built in and you're talking to a city that is scared to death of venturing into the realm of rent control." – Councilman Lopez
Six phases of development for Sun Valley's new housing are in place, and when those phases are complete, 750 mixed-income housing units will have replaced Sun Valley Homes' and Sun Valley Annex's 333 public housing units, adding an additional 202 moderate-income units and 215 market-rate units. The hopes for this mixed development hinge heavily on one idea, which Councilman Lopez explained as, "no matter where you live in Sun Valley, your income, the perception of your income, of how much you pay for housing is indistinguishable from those who are paying market rate."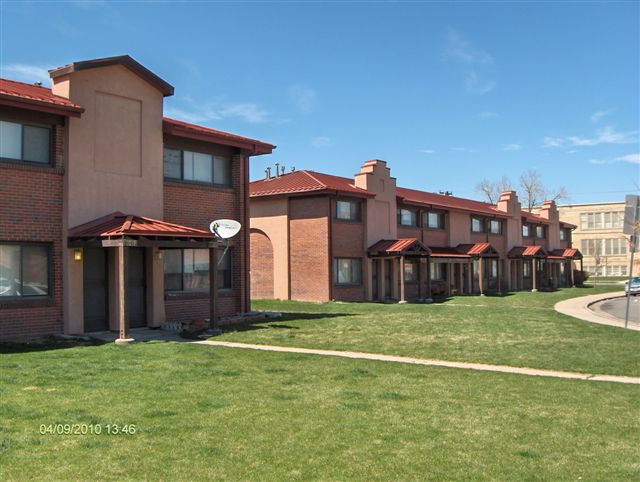 The current DHA public housing units in Sun Valley. Photo courtesy of Denver Housing Authority. That $30 million HUD grant came on the haunches of a previous grant in 2013, where local partners created a "Transformation Plan" for the neighborhood. This includes, according to the official government document, "improving the neighborhood's landscape by creating new open space and increasing opportunities for local businesses; and increasing families' access to quality jobs and education."
Instead of redeveloping Sun Valley to address the status quo or choosing the cheapest option, there seems to be a push to develop the neighborhood in a forward-thinking way. Councilman Lopez described the goals, saying "all of that [public housing] was for a city that didn't have very many people — a city with the Valley Highway and I-70 — for an older city. Denver has grown exponentially and it will continue to grow. I want to make sure our planning is smart and that whatever development the city puts its fingerprints on, it has a series of community benefits that go along with it. If it's taxpayer dollars that fund or leverage a projet, there should be community benefits."
More Businesses and Jobs
In 2016, the DHA implemented the Sun Valley EcoDistrict (SVED) to spearhead this new development in Sun Valley. This nonprofit entity basically serves as a consultant to the DHA, attracting strategic partners, offering solutions to problems, implementing proposed projects like the Transformation Plan and monitoring the progress of developments. It was developed after Sun Valley stakeholders and the DHA attended an EcoDistrict Incubator in Portland, Oregon and participated in the EcoDistrict Target Cities program in 2014.
Even though one of the SVED and DHA's goals is to provide more housing without upsetting the existing residents — like some would argue has happened in RiNo and Five Points — they also want to improve commercial opportunities that can lead to positive community transformation, equity and environmental sustainability. "This is not RiNo, this is Sun Valley," Councilman Lopez commented. "And most of Sun Valley is publicly-owned, so we call the shots, not the developers. You can't just make a neighborhood for 20-somethings and artsy folks."
Working with the Metropolitan Football Stadium District and Xcel Energy, the DHA and SVED are particularly excited about developing underutilized spaces like the Broncos parking lot. They prefer to think of the Sun Valley developments in similar terms to the Mariposa Development — where sustainability, accessibility, diversity and mixed-income housing reinvigorates a failing neighborhood.
Proposals have been made for a handful of big commercial and community-centric developments. The SVED is designing a 30,000 square-feet multi-use office building somewhere in the district.  This building will house offices for-profit and nonprofit organizations, an art gallery, food services (that might actually be an international food market) and a resource library "to educate visitors and residents on the development history and progress" of the neighborhood, according to their website. Another plan is to implement a micro-business incubator, where residents and small business owners can have space to work and grow — with 20 percent of the spaces reserved for Sun Valley Homes (DHA housing) residents.
The SVED is also focused on generating renewable energy for the neighborhood — a bold move away from the electric substation, oil tank farm and legacy district steam power plant that have lined the South Platte River for years. Funded in part by a grant from the Environmental Protection Agency (EPA) in 2014, this regeneration of the riverfront and plan to create a district-wide energy system will create jobs, even if some of them are only short-term.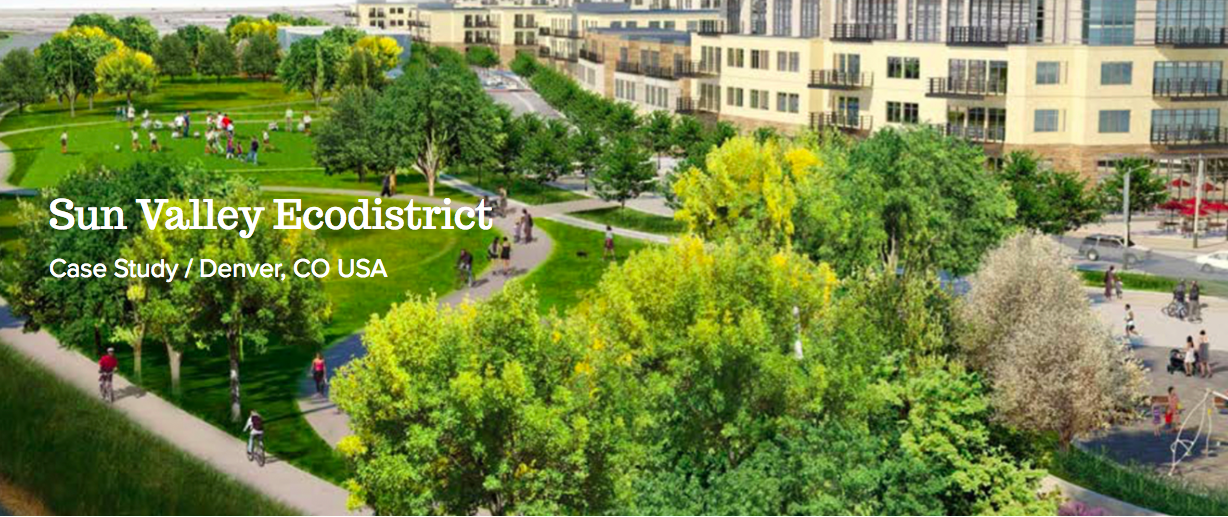 "With EcoDistricts at the table before development began, we were able to plan for holistic energy, water, wastewater and other district-based solutions that will change the entire face of how we develop, how we conserve resources, how we save money, how we interact, and therefore how people from all income levels can live sustainably together."
But the SVED is still working on all of these developments, in various stages of planning and implementation, whereas the local developer Sue Powers has already created a haven for local businesses in an old factory by the South Platte River — STEAM. So far, 65,000 square-feet of brick and wood warehouses have been converted to shared-use workspaces, offices and businesses with another 6,000 square-feet to be developed this year for a restaurant and brewery. Raíces Brewing Co. will claim that space, owned by three Latino business partners and headed by José Beteta — who noticed that minorities were not highly represented in the craft brewery world. Not only is this fitting for Denver — with over 300 craft breweries — it is fitting for Sun Valley, and that's the kind of development that neighborhood wants and needs so badly.
—
Denver is on the right path in this development, in terms of socio-economic balance, but what they may fail to accomplish is neighborhood harmony unless they are transparent with their motives. Cross-cultural friction will undoubtedly occur, as individuals that have been in Sun Valley their entire lives or for many generations suddenly find their stomping grounds inundated by strangers. But, as Councilman Lopez stated, the backbone to the redevelopment of Sun Valley is leveraging opportunities for locals — from public and affordable housing to increased mobility and safety to more access to jobs and careers. "Population growth is a plus for the city, right? We should accommodate that growth and plan for that growth and be futuristic for that growth. But we shouldn't paralyze ourselves. And I think times are going to get tougher before they're going to get easier, especially with affordability and we have to be bold. We can't do this [unless we do it] piecemeal — and Sun Valley is going to be a standard."