–
This week, in preparation for the upcoming CRUSH WALLS urban art festival, the street art and graffiti from last year's festival has been buffed. "Buffed," in the street art world, is a term to describe the process of essentially erasing a piece of work on a wall. In the case of CRUSH, everything is painted black. So, as we experience this one weekend of the year where RiNo isn't the most street art-saturated neighborhood, we thought it would help our temporary grief to look ahead at artists not to miss at this year's festival. These artists will reinvent some of the walls that are now blacked out, stretching from Broadway and Brighton on the south end to 38th and Downing on the north.
Denver Artists
Anna Charney and B1n4ry Visuals
The Lowdown: Anna Charney is relatively new to the Denver street art scene, but she hasn't wasted any time in cementing her spot. Her first mural (pictured above) was painted just a few months before CRUSH last year, on Santa Fe Drive. Using a mixture of digital tools to sketch out her designs and test out different colors schematics, Charney takes to the wall with a precise composition already in mind. Her use of optical illusions and layered shapes give her murals an almost 3D appearance, and a friend of hers once called it "digital taffy" — such a fitting description that we don't even want to try topping it. During CRUSH this year, Charney's mural will be highlighted in a special viewing over the weekend, where local animation and projection artist Zac Layman (B1n4ry) will project his own creations on top of the wall. Layman regularly uses projection over art, usually during DJ sets and electronic music shows in art galleries, which means he knows how to make the art look more interesting, rather than taking away from it or distracting the viewer.
Where to find them at CRUSH: In the alley between Larimer and Walnut near 28th
Casey Kawaguchi
The Lowdown: The mural Casey Kawaguchi painted for CRUSH last year (pictured above) became a beloved site for many Denver residents and visitors alike. Towering above viewers, the mural depicted the mysterious character Kawaguchi keeps evolving in his work. Her garments looked real enough to touch, with wrinkles and other small details expertly included. Kawaguchi works entirely freehand (which means he does not project an image onto the wall) with spray paint and once he moves into "the zone" it's truly mesmerizing to watch him create. We know we can expect the same expertise from Kawaguchi, and based on the many mural projects he completed this last year, we're guessing it will be even more wonderful than ever before.
Where to find him at CRUSH: Stay tuned for more information about Kawaguchi's location.
Chris Haven
This slideshow requires JavaScript.
The Lowdown: Denver native Chris Haven's work can be seen all over Denver, and usually, it's in the places you might least expect it. His claim to fame in the graffiti scene is his pyramid characters, who he cleverly outfits in different wardrobes and poses — like one lying down, or in a Broncos helmet, or holding a bag of psychedelic mushrooms. But Haven's style isn't monosyllabic, his birds-eye view of the city is another popular design and can be seen on the exterior of Joe's Liquor in RiNo, among other local spots. Using his innate knowledge of the city, Haven includes such iconic landmarks as the cash register building and the sculpture park. Though we don't know which design he'll use for the upcoming mural for CRUSH, we're sure it will embody the purely Colorado spirit he so easily exudes.
Where to find him at CRUSH: Haven will actually paint an interior mural, inside Izakaya Ronin on Brighton Boulevard.
DINKC
The Lowdown: Full disclosure — we might be a little bias when it comes to DINKC (pronounced "dink"), since he kicked off our series Hello Denver, My Name Is. But the truth is that DINKC packs a punch when it comes to watching street art in action. His designs, when finished, are eye-catching in their bold linework, focused color palette, unique graphics and overall composition on the wall. Originally from Kansas City, DINKC moved to Denver over a year ago and immediately started making waves in the street art scene. From participating in CRUSH last year and this year to starting a series of live-painting competitions called Patio Battles to an upcoming mural painting session at Grandoozy, DINKC isn't going to leave Denver without first leaving his mark — and we are eagerly awaiting those future murals.
Where to find him during CRUSH: On the back of Erico Motorsports on 29th and between Walnut and Blake Streets.
Dread
The Lowdown: As the original founder of CRUSH, Dread (Robin Munro) is a not-to-be-missed artist every year. When he started the festival almost a decade ago, his main objective was to change the way the public perceived graffiti. Instead of negative connotations, he wanted people to see the beauty, creativity and talent expressed through graffiti. Dread is a talented artist both with graffiti writing and murals or street art. Ask him anything graffiti-related and we bet he'll know the answer.
Where to find him at CRUSH: Dread will be in and out of his headquarters location in the alley behind Denver Central Market. He'll be collaborating with Kirileigh Jones and Jason Garcia on the north side of the Broadway/Brighton underpass.
Emit and Tuke
The Lowdown: Emit and Tuke are pioneers of the Denver street art and graffiti scene, having started their adventurous journeys into the heart of it in the early 1990s, painting for free and hoping to spread the right message about the form of public art. Emit is largely in charge of founding the DF Crew (with fellow artist Sub) — one of the first participating crews in CRUSH in 2010 and a continuing presence since. Tuke then became a part of that crew, launching a lifelong collaboration. Tuke finds the most inspiration for his art — whether it be commissioned murals or his own stylistic graffiti writing — from the subtle but compassionate notes and cartoons his mom used to draw and leave in his lunches. These two artists are legends in the Denver graffiti scene and witnessing them work on something is akin to witnessing history in the making.
Where to find them at CRUSH: Stay tuned for more information about where to find this duo.
Esic
The Lowdown: Zach Howard, otherwise known as Esic, is an artist who seems to always be working on the evolution of his style. Though his outdoor murals are truly admirable, Esic also works indoors and as an illustrator, where small details and techniques are emphasized. Some of his outdoor murals in Denver appear almost like watercolor paintings, even though he uses spray paint (and roller brushes for larger swathes of color). The finesse it takes for Esic to produce the visual appeal in his outdoor murals is remarkable and worth watching — especially when he uses alternative tactics like semi-transparent spray paint cans. He also uses only a minimal amount of black and white and instead creates his designs almost entirely with colors that represent the four elements.
Where to find him at CRUSH: Behind Denver Central Market in Alley two.
Jolt
The Lowdown: Jolt holds over 20 years of experience in the graffiti and street art worlds and is the main figure behind Guerilla Garden — which is why you'll see his iconic gorilla in pieces large and small. With a history of graffiti writing, murals, fine art and even curation, Jolt is a seriously-taken artist both in Denver and internationally. Jolt participated in CRUSH in 2014 and 2016, making 2018 the third in a pattern of biennial attendance — maybe we won't see him again until 2020.
Where to find him at CRUSH: Jolt will paint the Trellis Home between 25th and 26th on Lawrence Street.
Jason Garcia
The Lowdown: Though Jason Garcia grew up and studied art in California, he's been Denver-based for a number of years now. Before Garcia came to Denver permanently, he spent years traveling with the band Sound Tribe Sector Nine, live painting during their shows. Now, Garcia's outdoor murals show a practiced talent, with precise linework and bold color patterns. One of the common denominators Garcia uses in his art is a desire to help others — from Native American foundations to teachers' salaries and beyond. Currently, his style is focused on geometry, often finding inspiration in indigenous patterns of the Americas.
Where to find him at CRUSH: Garcia is collaborating with Dread and Kirileigh Jones on the north side of the Broadway/Brighton underpass for one mural. For the other, he'll be collaborating with Mike Giant and Patrick Kane McGregor on the future site of No. 38 on 35th and Atkins Court.
Kirileigh Jones
The Lowdown: Kirileigh Jones grew up in the Bay Area of California but has been creating and living in Denver for years. Best known for her insanely detailed mandalas, Jones has collaborated with Be A Good Person on several murals around Denver, adorning the inside of the letters with her pattern-work. Jones has never participated in CRUSH before, so this year marks a pivotal point in her career in Denver.
Where to find her at CRUSH: Jones is collaborating on a mural with Dread and Jason Garcia on the north side of the Broadway/Brighton underpass.
Koko Bayer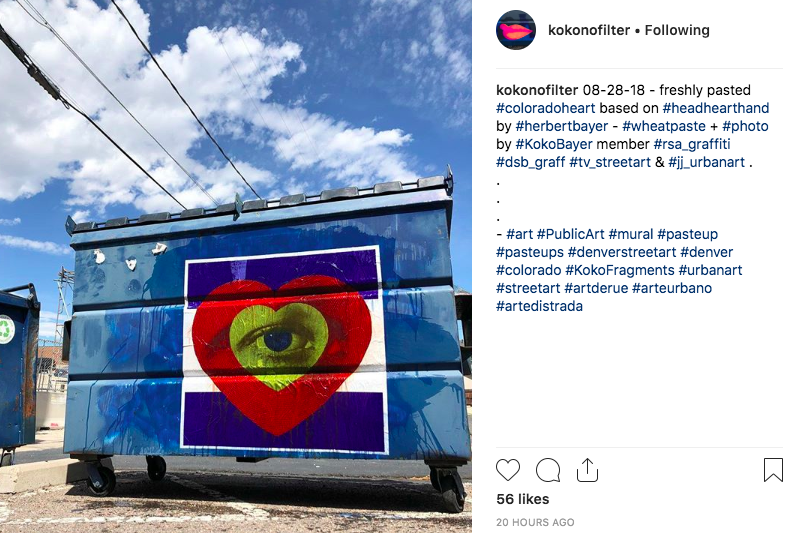 The Lowdown: Koko Bayer certainly has her own talent — specifically in a style of street art called wheatpasting — but she also shares the genes of the well-known Denver artist Herbert Bayer, her grandfather. Herbert is perhaps best known for his yellow sculpture called Articulated Wall, but Koko brings Herbert's other passion, photography, back to life with her wheatpastes. Using some of her grandfather's images, Koko crafts contemporary collages that bounce between a nice vintage black-and-white appearance and an almost neon version. With her unique and long-standing relationship to the Denver art community — Koko grew up in Denver and has experienced Denver's rise to being a street art destination firsthand — she is a veritable source of information and has some great stories to boot.
Where to find her at CRUSH: Stay tuned for where Koko will wheatpaste
Graffiti Crews
The Lowdown: CRUSH wouldn't exist without graffiti writers, since Munro when he first started it was focused on changing the stereotype surrounding graffiti. During that first year in 2010, only seven graffiti writers participated, blossoming into the festival it is today. If you're a fan of graffiti writing that features character work and other mural-like attributes, the RTD Crew is the best Denver graffiti crew to follow. They are the ones responsible for many wonderful "alley-takeovers" in CRUSH's past, including the riff on Stranger Things in the alley between 25th and 26th and Larimer and Walnut, on the south end of RiNo. DF Crew was one of the first participants in CRUSH and they'll make their fifth appearance this time around. But don't miss out on MDR, Creatures, TKO and KD Crews either.
Where to find them at CRUSH: MDR and RTD will collaborate on a tribute mural at 30th and between Walnut and Blake. The KD, DF and TKO crews will be found in the alley between 28th and 29th and Larimer and Walnut.
Remote and Anthony Garcia Sr.
The Lowdown: Anthony Garcia Sr. is a foundational figure in Denver street art, as the main creative force behind Birdseed Collective and a variety of publicly-focused projects using street art as a way to direct youth in positive ways. His art is geometric and pattern-based, especially finding inspiration in Native American and Latino traditional designs. Mostly, you'll find his work in some variation of primary colors, but with this collaboration at CRUSH we are expecting a slightly different visual appeal. The artist he'll be working with, Remote, comes from the East Coast (Boston and Miami) and usually mixes photorealistic subjects — like classic cars and pinup girls — with abstract settings or compositions. Together, Garcia and Remote are sure to integrate some interesting color gradients and perhaps each of their individual styles will benefit from the collaboration.
Where to find them at CRUSH: In the alley between Walnut and Larimer on 24th Street.
MPEK, Pharoah One, Brian Scott Hampton
The Lowdown: There are few other collaborations that incite as much happy anticipation than this threesome. Individually, each artist has a masterful set of skills but together is when the true magic happens. MPEK and Pharaoh have collaborated more times than we care to count, each possessing a certain Latino flair that harmonizes seamlessly. Hampton is also well-known for his indoor art and is a foundational designer at the alternative apparel company Threyda. There is no doubt that these three artists will create something absolutely stunning together, as their set of three murals from CRUSH 2016 has remained in the main alley for two years — when most others are repainted after one year — and is regularly admired by passers-by.
Where to find them at CRUSH: Find these three in the same place they painted in 2016, at 27th between Larimer and Walnut Streets.
Scot LeFavor
The Lowdown: Scot LeFavor is a Denver staple — since 2001 — when it comes to underground street art. You can usually find his work in off-the-beaten-path alleys, backyard patios and other somewhat hidden locales. It's not that he doesn't want people to see his work, it's that he appreciates the old-school element of surprise, when it comes to exterior murals and street art. Hugely inspired by pop art, LeFavor is not just a street artist, he also spends time screenprinting and painting indoors as well as writing for JoyEngine. LeFavor is worth saying hi to if you're interested in the art community in Denver because he's an advocate as well as an artist.
Where to find him at CRUSH: LeFavor will paint Liberati Brewery on Champa Street.
Visiting Artists
Nomad Clan
The Lowdown: Nomad Clan is the ongoing collaboration of two British female artists, Cbloxx and AYLO. The duo has been named one of the hottest talents in street art by Global Street Art and this next week they will paint their first American mural here in Denver. On their Facebook, the duo wrote "we are honored to have been invited to participate amongst some utter fucking legends," proving that although they are taking the global street art scene by storm, this upcoming festival is something they are even excited about. Based in Manchester, Nomad Clan creates large murals that pull from local heritage and history, with many of their subjects centered on "tales they hear in local public places" as it states on their website.
Where to find them at CRUSH: On 29th and Walnut Streets
Shepard Fairey
The Lowdown: As one of the most pivotal American figures in street art and graffiti in the last few decades, Shepard Fairey is in demand right now. After launching into graffiti through a sticker campaign later known as "Obey," Fairey has evolved over many years and many arrests into a bonafide artist with pieces all over the world. Much like Denver's own Koko Bayer, Fairey often uses wheatpasting as his primary medium, gluing large swathes of paper with a printed or painted design onto billboards, buildings and other public spaces. Fairey has visited Denver before, painting the side of the Center for Visual Art in 2012. But this time around, his work will be featured as a "headlining" mural in central RiNo. If you have the time to stop by and see him at work, it might be your only chance for the foreseeable future — because, like we said, he's so hot right now.
Where to find him during CRUSH: Don't worry about needing to find Fairey since he'll be in the main headquarters for the festival, in the parking lot adjacent to Denver Central Market.
Birdcap
The Lowdown: Birdcap — real name Michael Roy — is originally from Memphis and now spends his time traveling and painting — a job that some would find ideal. But, Birdcap must have a soft spot for the Mile High City because he keeps coming back for mural projects. In RiNo alone, Birdcap has at least two outdoor murals — one (pictured above) was painted for CRUSH 2017 next to Casey Kawaguchi and the other was a collaboration with Nosey42 in the alley between 29th and 28th and Larimer and Walnut Streets. His work is influenced by cartoons and character work, with donuts often making a cameo — the pink, sprinkled kind at that. Mostly, his color spectrum is like candy — which means it will be hard to miss him painting and it will be even harder to miss it once it's complete.
Where to find him at CRUSH: Find Birdcap in Alley two behind Matchbox.
Jaune
The Lowdown: The art of Jaune harkens to the interventionist style that serves as social commentary as much as it is art. Hailing from Belgium, Jaune creates stencils that are both subtle and deep in meaning. On his website, he writes "my work is based on the paradox between the visible and the invisible, with sanitation workers the main protagonists in my humorous installations and paintings — an idea that was born from my own experience working in the profession." Ultimately, his creations point to the interesting reality that public service professionals are foundational to urban life and yet go unnoticed by most city-dwellers. Through this playful, and yet serious avenue of expression, Jaune exemplifies the essence of street art — to make you more aware of the city you live in.
Where to find him at CRUSH: Along Brighton Boulevard in various locations.
For a full list of participating artists, go here. For a map, go here.