Summer is here and it's time to get your Om on. Who doesn't love a good yoga class? Seems like Denver is in "put a bird on it" mode when it comes to yoga events. Going beyond goats, beer and weed; here is a list of some unique and fun experiences to check out this summer both in and outside of Denver. From sleeping yoga to stand up paddleboard, this comprehensive guide highlights the variety of yoga-oriented events to choose from and many for great non-profit causes.
Lululemon Denver Celebrating International Day of Yoga
When: June 21, 6:30 p.m.
Where: Denver Art Museum, 100 W 14th Avenue Pkwy., Denver
Cost: Suggested $10 minimum donation/mats provided
The Lowdown: If you're needing an excuse to get some art into your life.  International Yoga Day at Denver Art Museum is your chance to see some art and practice yoga for a great cause. The donation-based yoga class will be led by Im'Unique's founder + executive director Tyrone Beverly. All funds raised will benefit Im'Unique's mission to create a culture of health, individual growth social change.
Sunrise Vinyasa Yoga at the Gardens
When: Tuesdays and Thursday through October, 8 a.m.
Where: Denver Botanic Gardens,1007 York St., Denver
Cost: $12, $10 members
The Lowdown: Yearn to spend more time lost in the floral treasures the Denver Botanic Gardens provide? Get there early on Tuesdays and Thursdays this summer for yoga then take that yoga off the mat and wander around the elaborate gardens. The on-site restaurant offers up coffee, smoothies and snacks for a post-yoga energy boost. This Vinyasa yoga class can improve posture, flexibility, and endurance. The perfect opportunity to marry nature and breath.
Yoga with the Sharks
When: Every other Saturday starting July 7 through September,  8 a.m.
Where: Downtown Denver Aquarium, 700 Water St., Denver
The Lowdown: Swim with the sharks, dive with the sharks; how about yoga with the sharks? This summer the Denver Aquarium brings you a new way to get your asanas down and under. Enjoy the sharks curiously swimming while you show them a thing or two with some dolphin, frog, and fish poses on parallel. It'll surely be a unique experience. Don't forget to have your camera ready for some interesting reactions from the big guys.
Ale House Asana Series
When: Saturdays 9:30 a.m. – July 14, August 11, September 8
Where: Ale House, 2501 16th St., Denver
Cost: Suggested Donation $10
The Lowdown:  The Ale House is partnering with Rino Yoga Social for a summer series of all-levels yoga-for-good from their popular rooftop. Overlooking Denver's best skyline, you'll get a head start on the day by moving your asana for a great cause. The Asana series is free with donation encouraged (suggested $10). Stick around after Shavasana because attendees will receive a complimentary drink after class (beer, mimosa with I.D. or mocktail). Bonus: Yogis that attend all four yoga events will be entered to win a $50 Ale House gift card. All proceeds to benefit The Delores Project. The Delores Project provides safe, comfortable shelter and personalized services for unaccompanied women and transgender individuals experiencing homelessness.
Wanderlust 108 Denver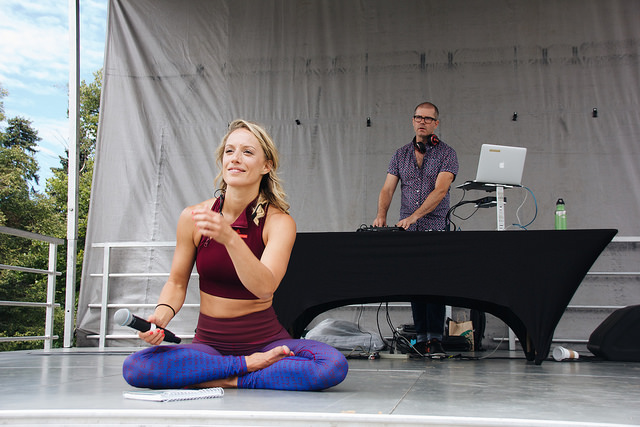 When: July 14, 7:30 a.m.
Where: Great Lawn Park Lowry, 101 Yosemite St., Denver 
Cost: $55 – $150, $10 discount if four people purchase a package
The Lowdown: Want some cardio with your yoga? Wanderlust 108 is a field day for your mind, body and soul. This all-day event features a 5k run, yoga, and meditation. Their primary focus is on community, not competition. Coined as the mindful triathlon, this unique event will be held in Lowry. Following the triathlon, you can choose your own mindful adventure by enjoying bonus activities, perusing a Kula Market of local artisans, and enjoy food at the Wanderlust True North Café. Additionally, music and dancing with DJs on the main stage as well hooping and acro-yoga will be offered. Wanderlust has joined (RED) in the fight to eliminate AIDS. For every Wanderlust 108 ticket purchased, Wanderlust will donate $1.08 to the Global Fund to fight AIDS.
Illegal Yoga
When: July 14, August 11, September, 8 a.m.
Where: Illegal Pete's South Broadway, 270 S. Broadway, Denver
Cost: Free
The Lowdown: It's Denver, everything is legal — not quite. Join Illegal Pete's and Core Power on South Broadway this summer for a free yoga class on the coolest patio (a covered patio if you get there early). Stay after class and cool off with a free beverage. Bring your mat, water, sunscreen and an appetite.
prAna Yoga
When: Wednesdays, 7 p.m.
Where: 105 Fillmore Street #109, Cherry Creek North Prana Store, Denver
Cost: Free
The Lowdown: The Prana store in Cherry Creek offers free yoga classes every Wednesday night at 7 p.m. This class will offer Yoga Nidra aka Sleep Yoga. Yoga Nidra is a state of consciousness between waking and sleeping, like the "going-to-sleep" stage. It provides the yogic goal of both deep relaxation and meditation a state of meditative consciousness called Samadhi. Under the guided meditation of the teacher, one goes into a Theta state where brainwaves receive all the health benefits associated with getting a good night's rest. An hour of Yoga Nidra is said to provide the same health benefits of three hours of sleep.
Stand-Up Paddle Board (SUP) Yoga
When: June – September, Saturday and Sundays 9:15 a.m.
Where: Chatfield Reservoir
Cost: $30 (park entry Cost $8)
The Lowdown: Get ready to cool off. Stand-Up Paddle Board Yoga will give you abs of steel. The class follows a typical Vinyasa Flow while balancing on the paddleboard. The likelihood of falling in during tree pose is high. It will be worth it though. It is a great way to keep cool and calm practicing outside.  The senses are truly awakened during this experience. Definitely make sure to check out the full moon class. Cost includes the paddleboard and class provided by Colorado SUP Sports. It is a 75-minute class and yogis should give themselves time to gear up and paddle out to the gravel pond and anchor in. Don't forget the sunscreen and a towel.
Cats on Mats
When: Every Wednesday, 5:30 p.m.
Where: 1241 W. Bayaud Ave.
Cost: Required Donation $15. Register here. 
The Lowdown: If cats are your thing; every Wednesday from June through August, Denver Animal Shelter hosts Cats on Mats, a professionally-instructed yoga class made even more fun and relaxing thanks to roaming adoptable kittens and cats! Bring your mat to enjoy an hour of downward dogs and purring pussies. If you're feeling Zen after class consider adopting a cat.
Yoga on the Rocks 2018
When: Saturdays June – August, 7 a.m.
Where: Red Rocks, Morrison
Cost: $15 – $120
The Lowdown: This yoga series needs no introduction. The website says sold out but there are plenty of ways to find tickets on Craigslist and the Fan To Fan Marketplace app. The spin this year is they have added Barre on the Rocks on July 2. Make sure to bring a water bottle and mat.   
Yoga Cross
When: Thursdays, 11 a.m.
Where: Civic Center Park: Broadway Terrace

Cost: Free
The Lowdown: If you work downtown this is the ideal lunchtime class. Yoga Cross is a high-energy combination of functional fitness and yoga in one hour. Fit yogis will complete 30 minutes of functional fitness training trailed by another 30 minutes of Vinyasa yoga. Yoga Cross is for all levels. This class is a collaboration between Fitness in the City and The River Power Vinyasa.  Yoga is a part of the Civic Center Moves program provided by the Civic Center Conservancy. Grab a co-worker or your boss and check it out!
Power Vinyasa Yoga
When: Thursdays, 6 p.m.
Where: Civic Center Park Great Lawn
Cost: Free
The Lowdown: This is an evening class provided by Civic Center Moves. It is an invigorating flow class of meditation in motion that will empower and transform you in body, mind and spirit. Learn to go with the flow, find your edge and practice at your own level.
Yoga Rocks the Park
When: Every Sunday, 9 a.m.
Where: Sunken Gardens Park, 401 W. 9th Ave Denver
Cost: Free, donations suggested
The Lowdown: Celebrating 10 years this summer and always a great event, YRP is a Denver summertime yoga + live music tradition. The event includes an all-levels, live music/DJ yoga class, guided meditation + talk for peace, Kid's Camp hosted by Radiant Beginnings Yoga and an after party complete with henna, free CBD Oil Massages by Color Up Theraputics, wellness vendors, food, drink and shopping. Yogis are encouraged to pre-register to ensure you are entered for the giveaways by local vendors. Donations will support non-profit PawsCo.  
Rainforest Yoga at Butterfly Pavilions
When: Wednesdays, 5:30 p.m.
Where: Butterfly Pavilion, 6252 W. 104th Avenue, Westminster
Cost: $10 members, $12 non-members
The Lowdown: Stretch your wings in a tropical oasis with Rainforest Yoga. This hour-long class provides a nature-centric yoga experience to rejuvenate your mind and body. Surround yourself with exotic plants and beautiful butterflies, and meet other yoga enthusiasts in the community. No matter your skill level, Rainforest Yoga at Butterfly Pavilion provides a unique opportunity to de-stress, unwind, and revitalize.