Fashion is truly the art of reinvention with old perpetually becoming new again. This summer is a trip back to the late '90s with trends that range from bright stripes and tropical floral to matching workwear staples like oversized blazers and pinstripe slacks to the grunge fashion staple — plaid. This reimagination of once-popular trends is what brings creative energy to the summer season, making us want to thoughtfully choose outfits that go beyond t-shirts and shorts. The first step to a stylish summer in Denver is understanding the trends, so we put together the top three trend categories for the cool kids, the music lovers and the adventurers to embrace as the heat continues.
THE CITY LOOK
The Lowdown: The stoic and crisp aesthetic of turning formal workwear staples into street fashion is this summer's must-go-to for any occasion. For women, pairing oversized blazers with a bralette and belted shorts or mixing prints and textures, like a glen plaid skirt with a ribbed crop top, always sets the tone for seriousness and edginess — the entire point of this trend. As for the men, mixing formal dress pants with a t-shirt or relaxed button down is the way to go, however, the trick is to match it with sport-focused accessories such as a logo windbreaker or graphic t-shirt. Pair it with the top trending accessory — the super slim cat eye — that is both unisex and a nostalgic reminder of the sleek wardrobe from The Matrix.
THE GRUNGE LOOK
The Lowdown: The grunge look is adding style to the carefree attitude of this summer. Band t-shirts will never be out, however, they have returned in full force. New graphics with classic band logos are the way to represent your music taste as well as your summer style. For women, pair floral with distressed denim or mesh tops with the most grunge staple of them all — plaid. For men, it's all about tucking the t-shirt in at the front — also know as a French tuck — to elevate the look. Find a pair of sunglasses that match your band-tee, creating the cool vibe that stands out.
THE ADVENTURER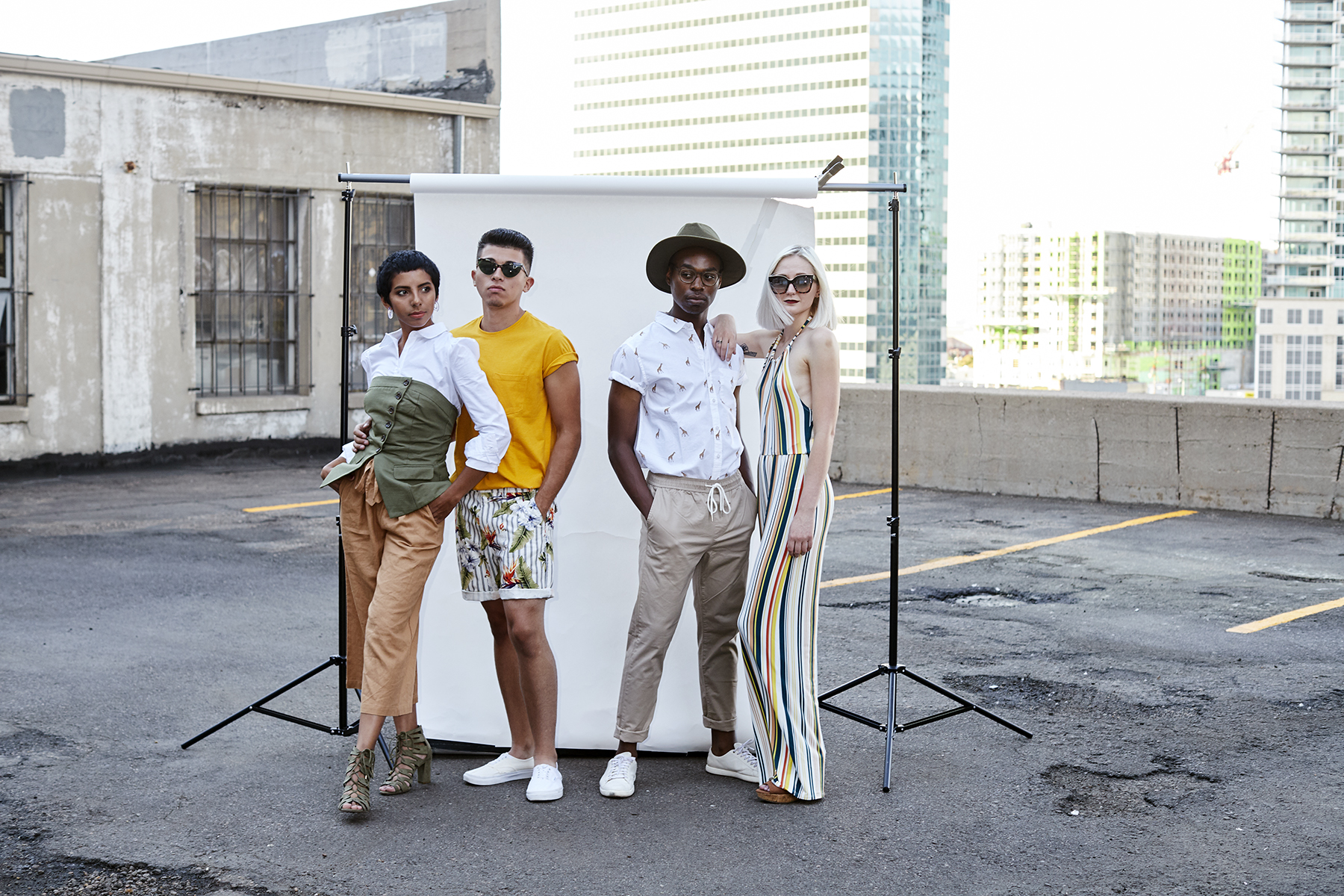 The Lowdown: This summer is about adventure and the tropics and deserts are the key inspirations for the two trends everyone needs to try. For the safari look, it's all about linen and earth tones as well as classic button-downs paired with a traveler's corset or poplin shirts decorated with animals. For the tropical look, it's all about bold stripes, colors and tropical-themed floral — always paired with brim hats and tortoiseshell eyewear. The looks are both summer appropriate and a refreshing take on the color block combinations and Indiana Jones aesthetic.
Photography by Rebecca Grant
Styling by Ernesto Prada and Stephen Garcia
Models Trevonn Redding Kelsey Currier  Lucia Escalante and Antonio Moya