This is a part of our ongoing 'We Tried it' series where we test out weird and wonderful things to do, eat or see in Colorado. Go here to see what else we've tried. Comment below and let us know what we should do next.
Jumping on a trampoline is usually just for fun, but you might be surprised with the kind of workout you can get out of it. DEFINE offers multiple classes but one of its more unique classes is called Bounce. Bounce is a low impact, high intensity workout that focuses on arms, legs, and abs. These 50 minute classes won't only have your heart racing, but will kick your ass as well.
The Basics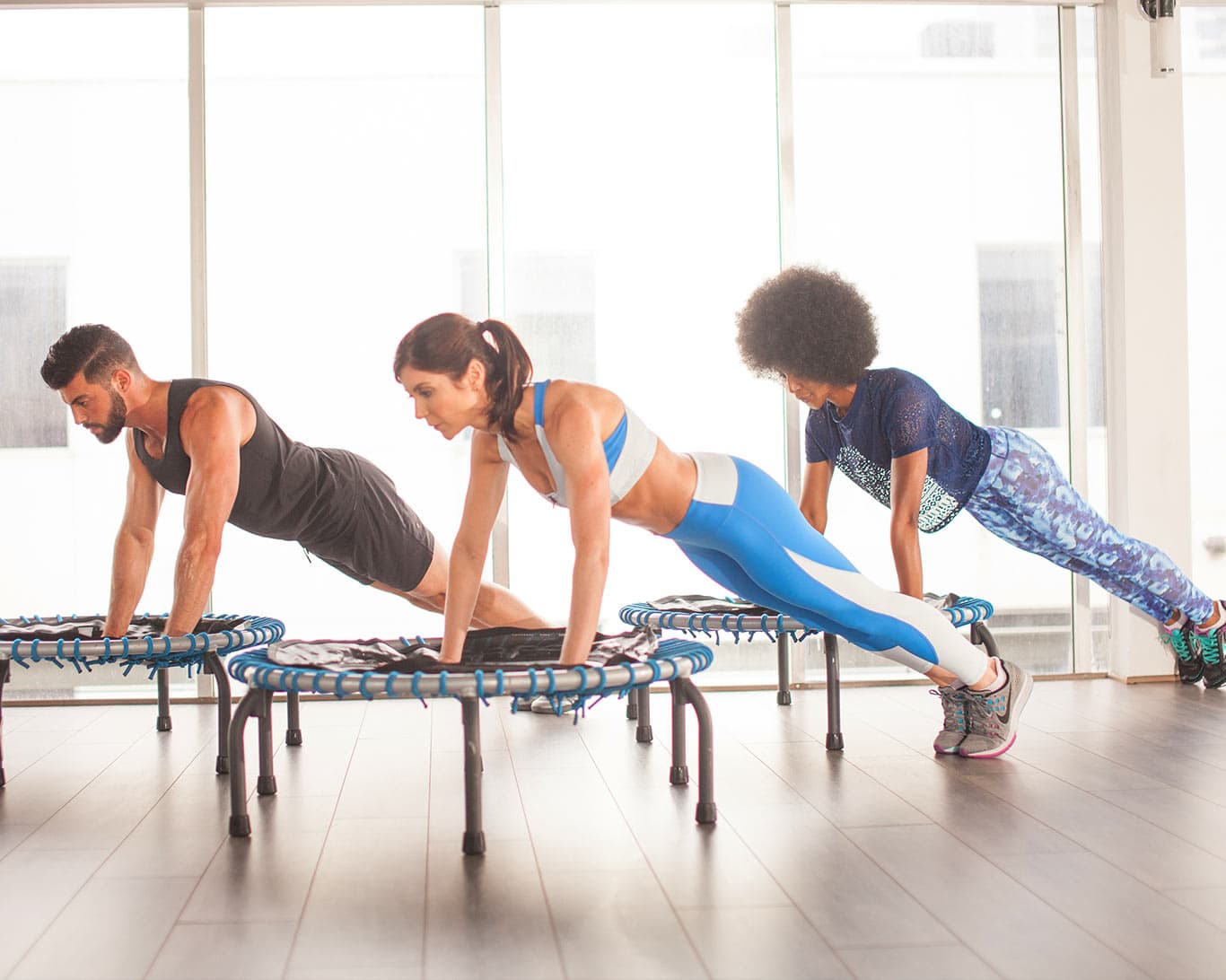 DEFINE is a studio located in LoDo Denver, but was originally started in Houston, Texas. The studio is a mix of classes but the main classes are cycling, barre, yoga and of course Bounce. It is the only studio located in Denver, but they do have another location in Boulder. The studio consists of two rooms-one room is a cycling room, and the other room has trampolines stacked on the side (for bounce), a ballerina bar that is located on all the sides of the room (for barre) and hammocks tucked in on the ceiling (for hammock yoga which is similar to aerial yoga).
Bounce incorporates a mini trampoline, weights and mini balls. The weights range from two to six pounds. Each workout is different every day, but the overall working of certain muscle groups is the same.
The Experience
For the warm-up, we started out with jumping on the trampoline from side to side. To get our heart rate up, we would then go to 30-second sprints of moving our legs up and down in a standstill running motion. It was hard to get used to and to not laugh at how goofy the movement looked. When we rested in between sets we switched to just casually bouncing around. In terms of using the trampoline, I'd suggest not focusing on bouncing high but instead on shortening the bounces so there is more resistance on the legs.
We then moved to planks which involved using the trampoline for the upper portion of our bodies.  This was the hardest part for me since while we were doing the planks she would instruct us to move our legs up and down or side to side. Between those plank workouts we rested and did a yoga pose like downward dog to stretch which was also a nice break.
We used the ballerina bar on the wall of the room to strengthen our arm muscles and then moved back to the trampoline to do some lunges using the trampoline. We also used the resistance band on both of our thighs and stood on top of the trampoline to do some squats and also squat pulses (the worst) while holding the mini balls.
The Verdict
My abs were killing me the next day. I haven't been sore for a long time in my oblique section, so I was really surprised.  The only part that bothered me in the class was the number of breaks. I really wasn't used to being able to rest, and at some points, I wanted to keep moving. I would also recommend bringing a buddy since some of the movements are kind of goofy, and you might not want to be alone if you easily feel socially awkward. However, since I ultimately saw results and the class was fun, I will likely return.
DEFINE offers different membership packages as well as class packs which you can check out here. Individual classes are $22 each and memberships start at $175.
All photos courtesy of Bounce.