After calling it quits five years ago, James Murphy and LCD Soundsystem confirmed a much-speculated reunion and penned in a stop at the legendary Red Rocks Amphitheater. The tour, aptly referred to as"Back from the Dead," was met with a frantic response. Fans set up their laptops hours before presale, unanimously and simultaneously begging to be given a slot to witness a spectacle predicted to be nothing less than dazzling. And it was. If only because of LCD's innate and undeniable ability to speak from within.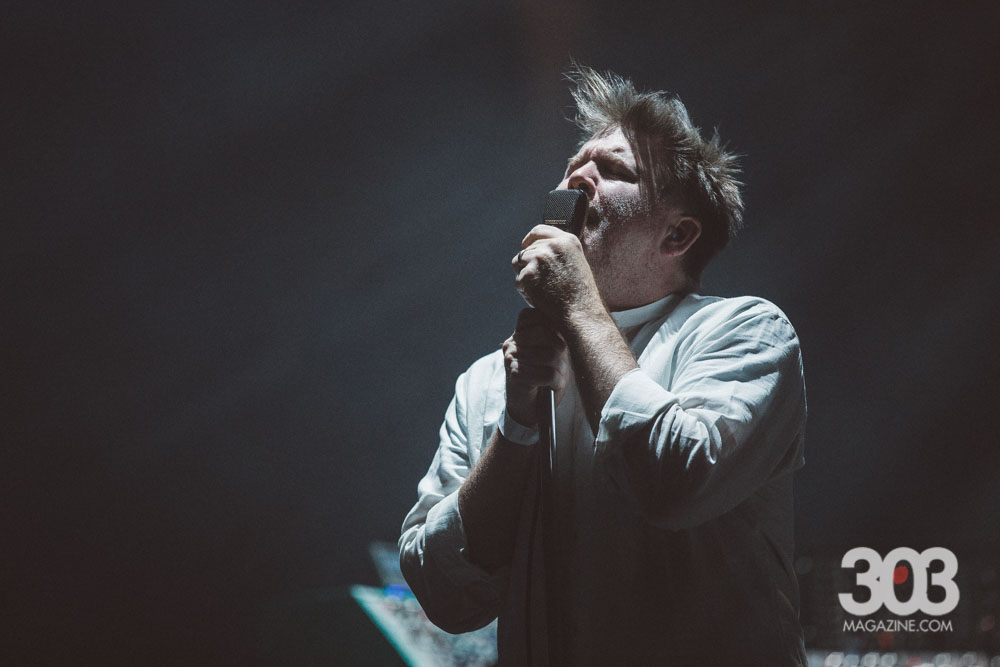 When flashing lights, dance beats and synthesizers are injected into songs, the music oftentimes sacrifices its emotion, its lyrical exhibition of humanness in favor of mass appeal. Yet something in LCD's sound calls attention to its humanity despite being wrapped in silvery disco paper and tied up with a dance bow. Their resounding intimacy defies the genre's logic, wedging the band into labels like "indie" and "rock". But the truth is, this is simply real, emotional music that also makes you want to dance. And even the dancing to LCD seems a little more sentimental—a little freer. You're enveloped in fear, grief, happiness, anger, love and pain and forced to reconcile these spirits with the corporeal fallouts of the band's melodies, energy and showmanship, creating some ethereal movement of the human body, in unison, beneath a glittering disco ball.
Openers Savages and Pat Mahoney's musical project Museum of Love—each with very different styles—began the night as the clouds rolled in and white strips of lightning careened across the distant horizon. The evening had a soggy start, as the heavens heaved sheets of rainwater onto concertgoers after the openers wrapped up their sets. The scene was funny in a way, almost foreshadowing the type of performance to ensue. Fans huddled beneath awnings, trees, tents and umbrellas. Strangers became friends and comrades, coming together in the face of unpredictability.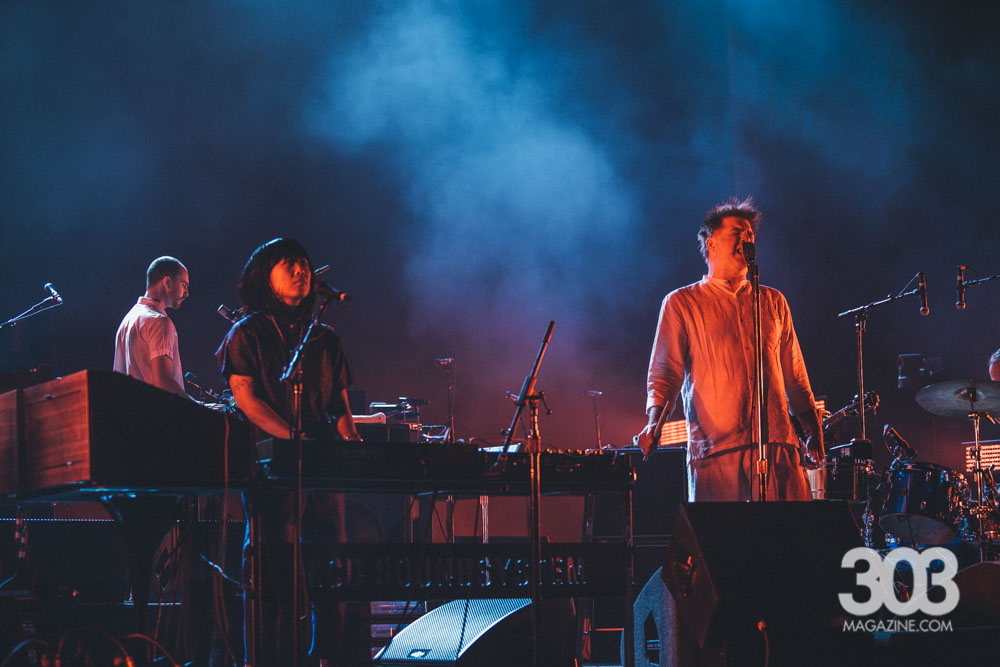 Almost as if controlling a weather machine back stage, the rain ceased and the band took the stage minutes later, as lights dimmed and anticipation rose. Murphy took the stage looking nearly supernatural, in an all-white ensemble. The time has come / the time has come / the time has come today. The band launched into an energetic rendition of "Us vs. Them," as a woman next to me whispered to her friend, "Have you ever heard of this band?" This seemed to run a common thread through the night—die-hard fans and LCD virgins alike rose to the occasion, stomping their feet, waving their arms and giving a warm Red Rocks embrace from the very first chord.
They dove into one of their biggest hits "Daft Punk is Playing at my House," as the audience screamed the lyrics at the top of their lungs in unison. Murphy was all quirk and composure, leaving the ceremony and pageantry to the giant disco ball above him. The more you listen to LCD, the more you realize that the songs are not soulless merchants of dance, but rather they are stories for the everyman. The performances are not mere extensions of a preset tape, they are the culmination of universal subjects, a catharsis of collective struggles.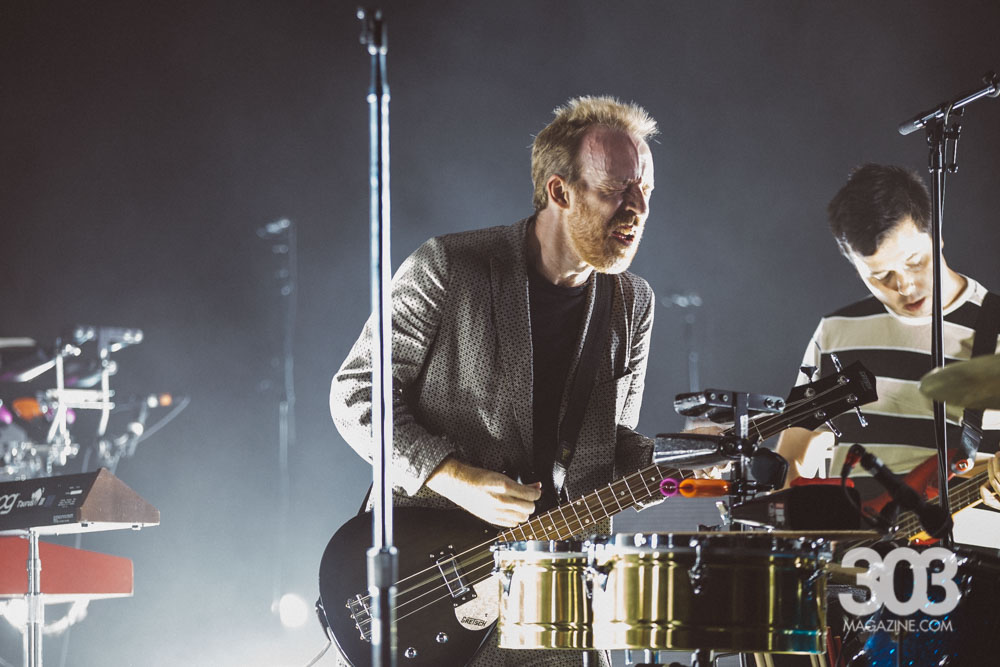 The band's videography lent to their persona, using top down cameras and old-school transitions to compose a story on the screens, weaving art visuals into the show. Jumping into "Someone Great," the band transitioned to a heavier subject matter, then followed up with an eccentric space interlude with Murphy chanting through a voice box. Members from the opening bands flooded the stage, bringing horns, vocals and excitement to cultivate sultry old-school jazz with a new-school disco backdrop.
Murphy returned to center stage for "Losing my Edge," the band's debut single. Despite its unconventionality in arrangement, this narrative about popularity and artistry seemed to resonate well with the crowd, who nodded along as Murphy mocked the attitude behind what happens when an artist's "cool" is ripped, replicated and reproduced, the hollow anxiety that one person's cool is better than your own.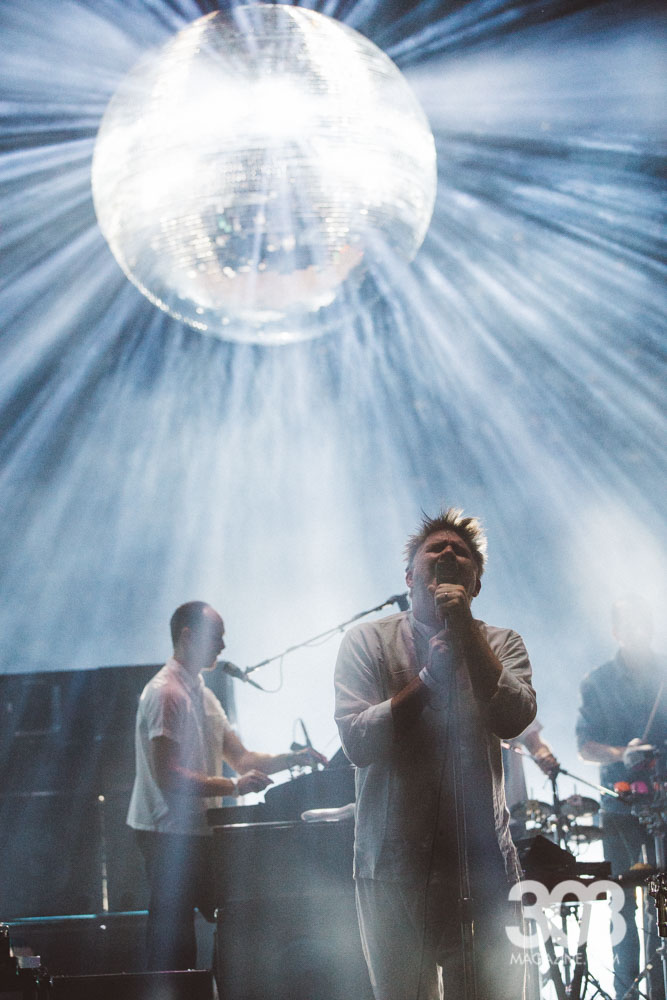 You don't know what you really want / You don't know what you really want / You don't know what you really want
When Murphy finally addressed the crowd in a string of more than 5 words, he expressed deep admiration for the sight and beauty of the famous venue.
I wish you guys could see what I see from down here. It's these beautiful rocks and then all of you guys. So, hey, thanks for being the you guys part. And thanks to the rocks for being the rocks part.
He crooned the ballad "New York I love You, But You're Bringing Me Down," giving everyone's feet a much needed reprieve.
They ended the night with "Time to Get Away" and crowd favorites "Dance Yrself Clean" and "All My Friends," both of which showcase the band's ability to seamlessly bring together dichotomies in genres, musicianship, humanity and emotion.
Don't you want me to wake up / Then give me just a bit of your time 
As the now-dry crowd sauntered from the stands and into the cool, damp night, people walked a little taller, head their heads a little higher and smiled a bit wider, knowing they'd witnessed Something Great.