This is an entry in an ongoing series for 303 Magazine, which will profile a range of industry professionals and the stories behind their tattoos. It is our intention to highlight the talents of local tattoo artists where possible, while demonstrating the narrative power of imagery by putting front and center a form that continues to fascinate the curious.
Aly Malm received her first beer-related tattoo well before she entered the industry. Roughly eight years ago, Malm was inspired by a visit to New Belgium Brewing Company in Fort Collins. Like many Colorado beer drinkers, Fat Tire was her foray into the world of craft beer. She was equally stirred by the brewery's culture. For Malm, at the time a recent Colorado transplant from North Dakota, this fortuitous visit sparked her interest in the beer industry.
"[Working at a brewery] is always something I wanted to do since the day I walked into New Belgium for the very first time," said Malm. Her tattoo, from Jon Sanders of Sanders Ink Studio in Fort Collins—who has almost exclusively tattooed Malm since 2006—pays homage to the iconic cruiser bicycle behind New Belgium's branding and flagship amber ale, while the accompanying "No Regrets" script embodies her sentiment at the time.
Malm's goal of working in the industry was fulfilled in April 2014, when she was hired as one of the original employees at Comrade Brewing Company in Denver. The brewery has garnered favorable reviews for its award-winning Fresh Hop Superpower IPA and other hop-forward offerings. Ironically enough, Malm's "Hop Head" piece, which unabashedly celebrates her obsession with beer's flavoring flower, was completed before her job behind the bar.
"It's kind of crazy that I'm so obsessed with hoppy beers and I landed a job not knowing what [Comrade's] beer would be like," said Malm. "Now I'm working at the brewery with the best IPAs in Colorado."
After balancing her bartending gig with a veterinary job, Malm bid farewell to an established career path. Working full-time at Comrade has allowed her to roll up her sleeves and showcase now-relevant pieces, including two pumpkins inspired by New Belgium's Kick, the brewery's limited release pumpkin cranberry ale, and an adjacent beer stein, courtesy of Sanders' then-apprentice Christopher Tuck. In addition to filling in her left arm with hops and flowers, Malm mentions a Comrade-inspired piece is in the works.
Much like her expanding body of work, it's clear that Malm has dedicated herself to the beer industry. "There's always going to be more beer tattoos because it's my life," she said. True to the "No Regrets" script tattooed on her right bicep, Malm has no plans of looking back.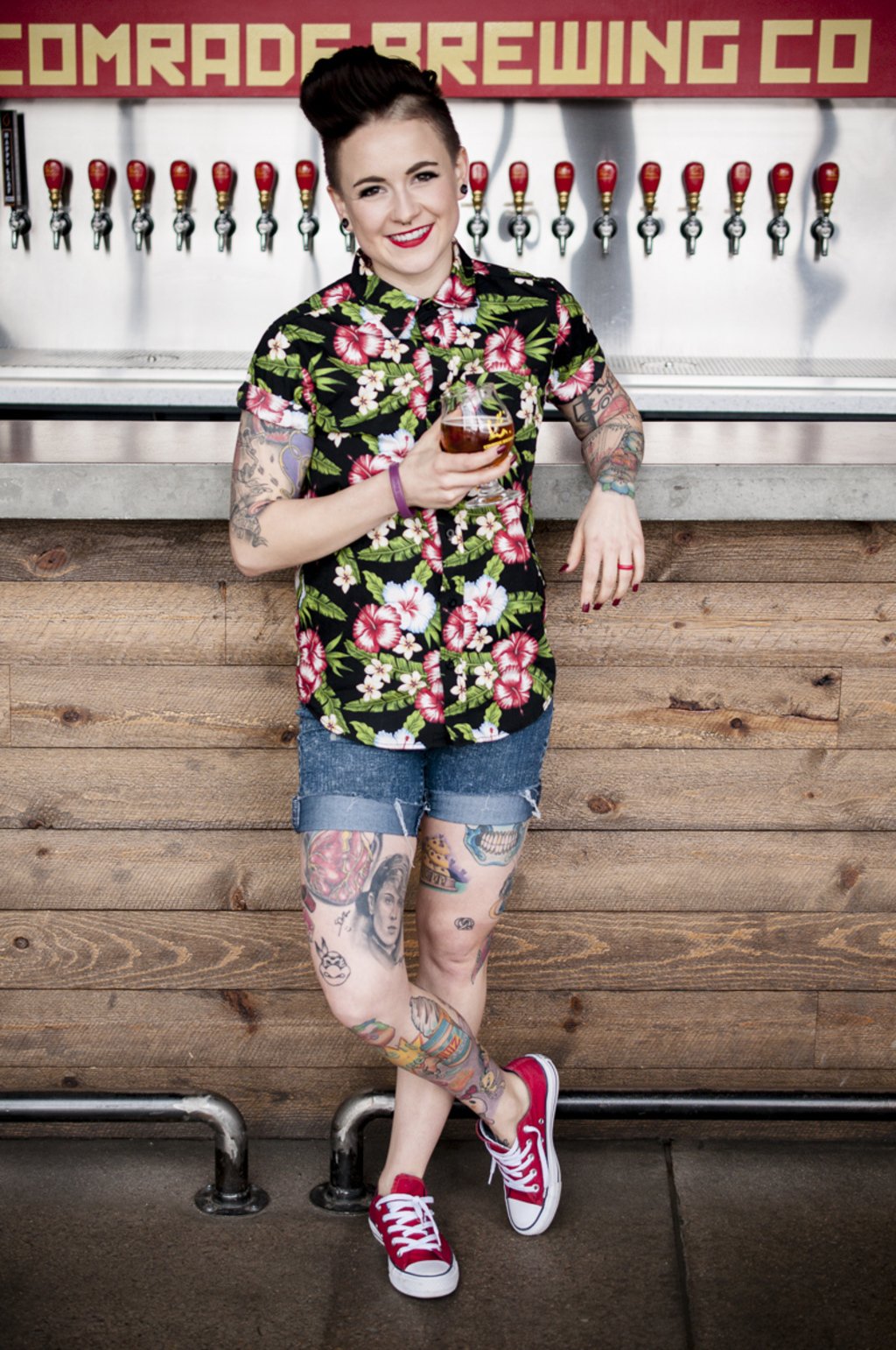 All photography by Candace Peterson.