This week is filled with giving back and great collaborations. While The Green Russell hosts Helliemae's caramels for a sampling, LOLA Mexican Fish House puts the city's prestigious chefs under one roof. Also, the Cherry Cricket is celebrates its 70th birthday by offering throwback prices. Give back this week by attending Metro Caring's Fundraiser, or the Cocktail Cabinet where Water for People and Absolut Elyx team up to supply water to the people who need it most.
LOLA Mexican Fish House presents La Cosecha
When: September 30
Where: LOLA Mexican Fish House, 1575 Boulder St, Denver
Make a reservation: (720)570-8686
The Low Down: Chefs from local restaurants Jax Fish House & Oyster Bar, Mercantile Dining & Provisions, Elway's, The Kitchen, Acorn, and Vesta Dipping Grill are coming together to celebrate the second annual La Cosecha fall festival. "La Cosecha is a casual, fun, country-style event where guests can order whatever they'd like, chefs and farmers can hang out and talk, with great bands playing and local bartenders mixing it up with farm products as well,"said Kevin Grossi, LOLA's chef de cuisine. Trying to bring recognition to locally grown foods, these fresh ingredients will be the inspiration behind LOLA's new menu. The festival is the perfect opportunity for guests to better understand the process of creating a menu, as well as a chance to see where the food comes from.
Sweet & Seductive Pop-up with Helliemae's at Bar 1
When: September 30, 5 – 8 p.m.
Where: Green Russell; 1422 Larimer St, Denver
The Low Down: Attention: Must be 21 or older! The Green Russell on September 30, will be hosting a sampling of Helliemae's delicious caramels, including special guest – Modern Gingham Preserves' sweet treats. This underground bar is known for its chef driven cocktails, so be sure to stop by and try one of its unique and delicious drinks, along with a complimentary glass of bubbly.
Cocktail Cabinet
When: September 30, 7 p.m.
Where: Colt & Grey, 1553 Platte St. #120, Denver
RSVP: here 
The Low Down: Water for People and Absolut Elyx are working together to bring 100,000 people clean water. Elyx will be selling its vodka all over the United States, and every bottle sold will supply one week's worth of clean water (140 liters). Also for every Elyx Pineapple of Hospitality sold, one month's supply of clean water (560 liters) will go to people around the world who need it most. Attend the Cocktail Cabinet to support Water for People, you will participate in a class where you will learn to make your perfect version of an Absolut Elyx cocktail while enjoying small bites and good conversation.
Cornucopia 2015: Share the Abundance
When: October 1, 5:30 – 7:30 p.m.
Where: EXDO Event Center; 1399 35th St, Denver
The Low Down: With the goal to meet individual's immediate nutritional needs, while providing them with the skills and education to help them live a healthier lifestyle, Metro Caring is the leading hunger-relief organization in Denver Help support its mission to spread  access to healthy foods, education on nutrition and gardening, promote self-sufficiency, and provide community health services to the city of Denver, by attending the annual Metro Caring Fundraiser, Cornucopia. The fundraiser will include a silent auction, a yummy dinner, and inform you on the many ways you can get involved.
The Cherry Cricket: 70 Years of Burger & Beers
When: October 2; 2 – 4 p.m. (throwback prices on burgers, fries, and coors banquet), 4 – 6 p.m. (happy hour), 9 p.m. (cake & champange)
Where: The Cherry Cricket
Cost: From 2 – 4 p.m. prices on burgers ($1.90), fries ($.45), and Coors Banquet beers ($.72)
The Low Down:  In honor of its 70th birthday, The Cherry Cricket is throwing a party! From 2 – 4 p.m. the Cricket will be offering throwback prices. Enjoy one of its many delicious burgers for $1.90, fries for only $.45, and Coors Banquet beers for $.72. It will also host a happy hour, and to top off the night, the restaurant will be serving cake and champagne. Stop by to show your support to a Cherry Creek classic, for this legendary burger joint and bar has probably been in Cherry Creek longer than you.
Rocky Mountain Oktoberfest
When: October 2 – 4
Where: Pepsi Center; 1000 Chopper Cir, Denver
Cost: $80 – Cornhole Team Package (Saturday Only), $60 – "Locals Only" Tasting Day Package (Saturday Only), $100 – Mile High Munich Passport Package (All Weekend), $200 – Bierverkoster VIP Package (All Weekend), $70 – O'zapft Is VIP Package (Fri or Sun Only), $100 – O'zapft Is VIP Package (Saturday Only), $15 – General Admission (Friday, Saturday, and Sunday), Kids 12 and under are free
Tickets: Available here 
The Low Down: It is officially Oktoberfest season. This year, the Pepsi Center will host the Rocky Mountain Oktoberfest. Along with 25 of some of the West's most popular beers (think Avery, Epic, and Great Divide), the festival will offer some of Germany's most traditional dishes; bratwurst, sauerkraut, German potato salad, cabbage, pretzels, and schnitzel. This annual event will benefit the Brewer's Educational Foundation, a non-profit organization that supports fermentation sciences and advancements in fermentation education and technologies.
Fresh Hop Festival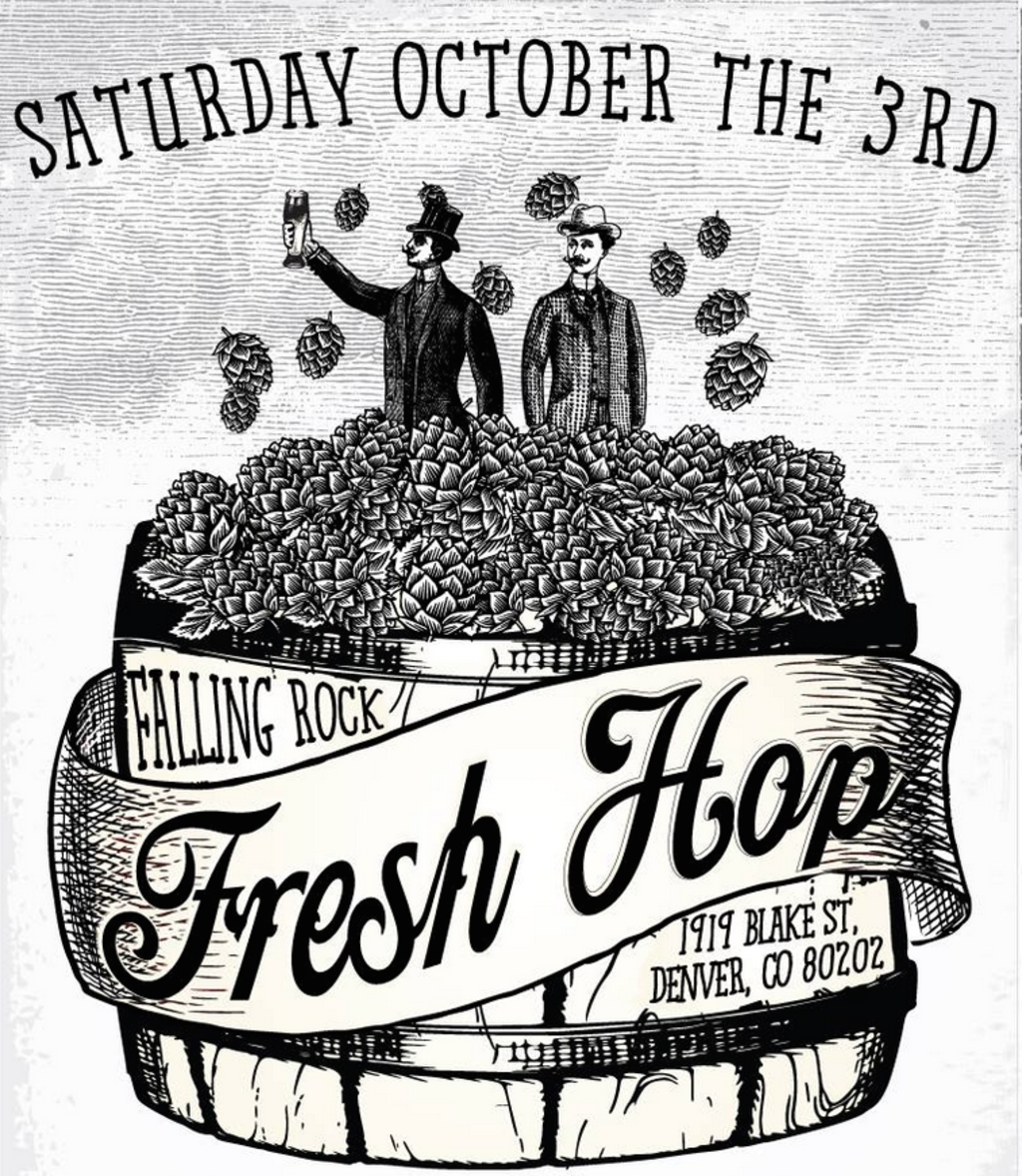 When: October 3, 12 – 4 p.m.
Where: Falling Rock Tap House, 1919 Blake St., Denver
Cost: $40
Ticket: Available here
The Low Down: For the 10th time, the team that has also brought you Sesh Fest are joining together to put on the Fresh Hop Festival. Taking place at the Falling Rock Tap House, local  hop growers will compete with one another to see who can create the best beer. However, here is the catch: the brewers only have 24 hours! Watch them go to work as they get their hops from the farm and rush them to the brewery's kiln. Each beer will taste different, so you must help the judges decide which beer tastes the best.
Mark Your Calendar
Chef Hosea Rosenberg + Boulder's finest support Conscious Alliance
When: October 8, 6 – 9:30 p.m.
Where: eTown Music Hall, 1535 Spruce St., Boulder
Cost: $125
Tickets: Available here 
ChoLon Bistro's 5 year anniversary celebration
When: October 5, 6 – 9:o0 p.m.
Where: 1555 Blake St., Denver, Co
Cost: $60
Tickets: Available here 
Harvest Week
When: October 4- 9 
Where: Grow Haus, 4751 York St. Denver, CO
Cost: $50-$85
Tickets: Available here