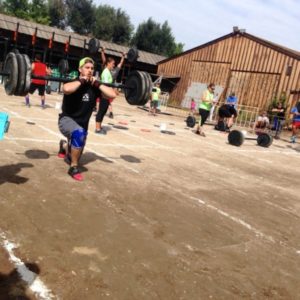 Usually when I tell someone that I now do CrossFit, they either are positively inquisitive, have an ignorant comment about coaching certifications, or bring up the risk of injury.  In the next two articles of the CrossFit Chronicles series, I will address both the correct information surrounding coaching certifications and the risk of injury that is involved with CrossFit.
CrossFit has 4 levels of trainer designation:
CrossFit Level 1 Trainer (CF-L1)
CrossFit Level 2 Trainer (CF-L2)
Certified CrossFit Trainer (CCFT)
CrossFit Coach (CF-L4)
According to the CrossFit website, "The Level 1 Certificate Course is an introduction to CrossFit's methodology and foundational movements. The course includes classroom instruction on these topics, as well as hands on small group training for the movements."  "The Level 1 is an introductory level education on the fundamental principles and movements of CrossFit. It is structured to meet two goals:
Provide attendees the knowledge to better use CrossFit methods for themselves.
Provide attendees an initial and foundational education to begin training others using CrossFit.
The Level 2 Certificate Course is an intermediate level seminar that builds on the concepts and movements introduced at the Level 1 Certificate Course. This course is ideally suited for any CrossFit trainer serious about delivering quality coaching.  It is recommended that the trainer has 6 months of experience before taking this course.
To attain the Level 3 Certificate (commonly known as the Certified CrossFit Trainer (CCFT)), you must either have 750 hours of coaching CrossFit as a Level 1 or Level 2 in the past 5 years or 1500 hours coaching collegiate or professional strength and conditioning.  The CCFT credential is for an experienced individual who wants to demonstrate a higher level of CrossFit coaching knowledge and ability and is under application review for accreditation by the American National Standards Institute.  This certification is only attained by passing a lengthy and highly inclusive written exam. The material in the exam covers knowledge not just in CrossFit but several additional areas including, but not limited to, nutrition, programming, anatomy, and physiology.
Finally, the highest and most difficult to achieve is the Level 4 Certification.  This certificate is attained by passing a practical exam. The exam is conducted by an assessor staff using the 6 criteria (teaching, seeing, correcting, group management, presence/attitude, and demonstration) that make up an effective coach. Of the thousands of CrossFit coaches worldwide there are currently only 45 individuals that possess this certification.
The levels required for employment at different CrossFit boxes are 100% dependent on the owner but all trainers at a CrossFit affiliate must hold, at a minimum, a CrossFit Level 1 Certificate.  At CrossFit Verve they highly encourage and support their trainer's continuing education both within CrossFit and other health/fitness areas.  They do this by hosting seminars and budgeting for training accordingly.  They also have 1-2 Trainer Development Meetings each month to learn, practice and progress in their coaching.  During these meetings they present articles, drill new movement progressions, work on the 5 elements of great coaching;  Attitude & Presence, Group Management, Teaching, Seeing & Correcting, and Demonstrating.  Co-owners Courtney Shepherd and Eric Clancy hold Level 2 certifications and Courtney is also on the Level 1 Training Staff for CrossFit Headquarters.
So as you can see this ignorant thought of lack of qualified coaches in CrossFit is just plain wrong.  I challenge you to look up trainer qualifications at a local gym to see if they match the complexity and time that is required to be a CrossFit coach.