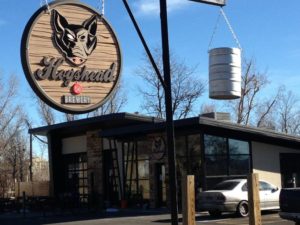 What:  Hogshead Brewery

Where:  4460 W 29th Ave, Denver, CO 80212

When: Monday – Wednesday 4:00 – 10:00, Thursday – Sunday, noon – 10:00pm

Pros:  Traditional English Ales in a comfortable pub setting

Cons:  Fans of big craft flavor may find these brews a bit subtle
If you're on the edge of becoming a beer nut like me, you've probably heard the phrase "real ale" thrown around in taprooms amongst the regulars.  It doesn't mean to imply that there are fake ales–it's a term coined by the Campaign for Real Ale, and refers to brews aged in casks or bottles without the addition of outside CO2 or Nitrogen.
"Everyone knows about oxidation in wine, but nobody talks about it with beer." –Jake Gardner, Hogshead Brewer
Before coming to Hogshead, I used to think this was something of a gimmick.  As a homebrewer, I've made "real" ales and I've charged my brews artificially with a CO2 canister, and I couldn't notice much of a difference.  Apparently, however, I'm not much of a brewer because the difference in the beers at Hogshead is definitely noticeable, as they do things with their beer that I didn't think was possible.
In addition to traditional brews, Hogshead also seeks to cultivate the atmosphere of an old English Pub.  "[Head brewer and part-owner Stephen Kirby] feels that beer is a social thing, and we need to get back to that."  With a lower abv than most microbrews you see in the market, community seating, and talkative and friendly locals who are more than willing to guide you to your kind of beer, the Hogshead accomplishes that goal.  But what about the beers themselves?  Well…
Chin Wag ESB (with Galaxy Hops)
If you're unfamiliar with Extra Special Bitters or ESBs, let me explain:  loosely speaking, an ESB has qualities of an American style Pale Ale, but with the focus on balance between the hops, the malt, and the booze, rather than pushing the hops slightly forward.
"Are you taking a test?" –Hogshead regular, on seeing me with five sampling glasses and a notepad.
Or you could try Chin Wag, which is an excellent example of the style.  It has a wonderfully floral aroma with hints of citrus that I wish came in cologne form.  It has a nice malty foretaste that slowly transitions to a long bitterness that creeps up on you more in the aftertaste than while the beer is in your mouth.  With the balance that I look for in both Pales and ESBs, I understand why this beer is their flagship.  And with a beautiful orange/amber color and amazing head retention and lacing, it's a glass that advertises itself.
Gilpin Black Gold London Porter
Black with amber highlights and good head, this beer looks like it was charged with nitrogen.  The cask aging creates such a fine bubble that the beer takes on an almost creamy texture, but without the mouth-coating effect you get with a lot of darker beers.  It has a light toasted bread aroma with strong coffee overtones that belie a relatively light swallow.  It has a longer finish, where the bitters creep up on you in a very pleasant way, making this the best sipping beer I've had in some time.  The flavor changes slightly as the beer gets warmer, toning back the refreshment but bringing in the subtle nuance of the toasted malts.  Let the beer sit on your tongue for a bit, and you'll catch a sweetness that is almost lightly fruity.  This beer is like an artisanal bread, it's not necessarily good because of the ingredients, it's good because its creators know what they're doing.
Roaring Mild
Like all the beers I tasted at Hogshead, this one brought clarity from an unfiltered beer I haven't seen since I visited the folks at Mountain Sun.  With a low abv, this is a great session ale, and an awesome introduction to the world of cask ales.  It has a beautiful brown/red color with great malt flavor and nice light bitterness that lingers in your mouth in a very pleasant way.  It's genuinely refreshing, which is not something you find in a lot of dark ales.  This is perfect for when you feel like a brew but have stuff to do.  While I won't go so far as to say you can initiate your non-craft beer friends into your world with a glass of this, it would be a great second step.
Super Sesh Session IPA
This is the IPA for people who think IPAs are overrated.  It starts with a crystal clear orange/amber color with head that lasted for nearly twenty minutes.  It has a floral aroma with hints of the bitterness underneath.  It also looks nitrogen charged, but has a quicker finish than any IPA I've ever tasted.  It tastes clean and (you might be noticing a trend) refreshing.  At 4.1%, craft brew veterans would have to be trying in order to get out of control on this IPA, but that's the point.  This beer is for people who like the taste of beer more than they like getting drunk.  It really hammers home how in the past, people drank beer both for fun and for bacteria-free hydration.  Definitely give this a try.  It almost brought me back to the IPA side of the argument, and that's no small feat.
Lake Lightning Pale
With great citrus aroma and a clear yellow/amber color, Lake Lightning was my favorite of the beers I tried at Hogshead.  it has a complex, sweet, fruity flavor with a nice hint of bitters and a clean finish.  The light effervescence leaves you refreshed, and the lace lines on the side of the glass will remind you of how many sips you've taken.  This kind of "fruit on the front, bitter on the back" flavor is hard to find on the market, but Hogshead has perfected it.
This beer is going to be featured on June 22nd during Hogshead's "Beers from the Wood" series, where they take one of their brews and age it in French Oak in order to illustrate what aging can do to a well-made beer.  Head on down and see what real ale is all about!
With a menu that lacks the alcohol burn, syrupy sweetness, or watery undertones of many beers, craft or otherwise, Hogshead offers some of the friendliest brews you'll find anywhere.  Because it's low abv, you can be adventurous with your selection without fear of looming hangover.  Strike up a conversation with the bartender and the locals.  In a world where brand building and uniformity of product are paramount, it's refreshing to pop into a pub where adventure, flavor, and community are the focus.  Hogshead is the kind of pub I thought I'd have to break out my passport to visit.  Luckily, we have one right here in Denver!