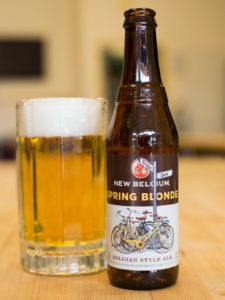 What:  New Belgium's latest line of beers

Where:  500 Linden St, Fort Collins, CO 80524, liquor stores throughout the United States

When:  Taproom operates Tuesday-Sunday, 11:00am – 6:00pm

Pros:  The depth, complexity, and balance you expect from the guys at New Belgium

Cons:  One of these beers is seasonal, and won't be available year-round
New Belgium is releasing three new beers this season–Rewind IPA, Spring Blonde, and Snapshot.  However, a brewery like New Belgium makes it difficult to write an interesting review  because the majority of Coloradans already know that whatever they buy from New Belgium is going to be great (After all, two of my top five all time beers come from these guys).  But Rewind is an IPA, and that gives me a nice opportunity to spice up this review with a topic I'd like to address.
There's only one rule when it comes to drinking beer:  Drink what you like.
At the risk of alienating every craft beer fan from here to Rohoboth Beach, I will come out and say that I think the IPA is an overrated style of beer.  The accepted definition of the beer seems to be the source of the problem, with most people thinking "really super bitter" when they hear India Pale Ale.  In that sense, the IPA has become the atomic hot wing of the beer world, where taste takes a back seat to the challenge of actually drinking the beer.
However, this is not to say that I don't like a good IPA.  One that that achieves balance between the bitterness of the hops and the sweetness of the malt, and where the selection of hops brings more to the table than just bitters, that's a work of art.  In the same way that I'll knock back a couple dozen well-made mango habanero wings before I'll even consider taking on an "atomic challenge," I'll drink a good IPA every time I find one while ignoring those that simply boast a beefy IBU.
There is no "objectively good beer."
I wholly recognize that I'm not stating anything people don't already know.  "Duh Ryan, good things are good."  My issue arises when self-proclaimed beer connoisseurs seek to bully those new to the craft world with their difficult-to-drink IPAs.  I do believe people should try new things, but as far as I'm concerned there's only one rule when it comes to drinking beer:  Drink what you like.  If you're trying an IPA and you think it tastes bad, don't let your "buddy who knows a lot about beer" tell you you're wrong.  Heck, if you hate a beer, and I say it's good, I'm not necessarily right.  There is no "objectively good beer."  People's tastes are their tastes, and nobody can argue with that.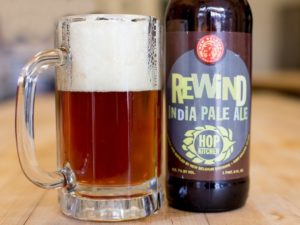 There, now I can come down from my soapbox and actually do my job, which is to give an idea of what to expect from New Belgium's new offering.  They've been making beer since 1991 when founder Jeff Lebesch decided to take his homebrewing commercial, so they have plenty of experience and know how to make good beer.  But rather than say "they're all good, try them all," here's a little more detail to help out on your day off:
Rewind IPA:  With a slightly cloudy, dark amber color and a head so thick it honestly gave us trouble at the photo shoot, Rewind is easily my favorite of the IPAs offered not only by New Belgium but by many breweries.  It's incredibly well-balanced, with an easy-going sweet side to match the smooth bitterness of the hops.  With a fruity aroma that brings to mind peaches and citrus, this would be the ideal IPA to show off at a company picnic.  But at 7% ABV, I wouldn't recommend having too many around the boss.
Spring Blonde:  One of my guilty pleasures in drinking homebrew is that you can taste the yeast—something you don't get in many commercially made beers because they're either heavily filtered or pasteurized.  This is why, when I come across a beer like New Belgium's Spring Blonde, I find it very exciting.  It smells like fresh-baked bread with hints of caramel, both of which are complimented nicely by the bread-crust color and off-white toasty head and lacing.  It has a much lighter mouthfeel than I expected, and doesn't have the heavy aftertaste that many dislike in beers that feature yeast flavor.  It also doesn't bring the hops like I expected, which I honestly appreciated because it didn't distract from the breadiness.  This brew reminds us all that beer was considered a liquid meal in times gone by, and the history lesson only adds to the enjoyment.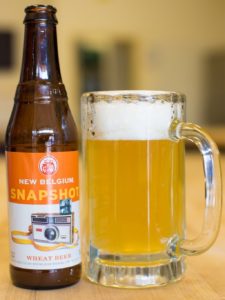 Snapshot:  Let's not beat around the bush here—if I were trapped on a desert island and could have only one kind of beer, it would be wheat.  And while many tend to lean a little heavily to the sweet side (which many craft fans find off-putting), Snapshot toes the line in a wonderful way without going overboard.  It has a hazy straw color with a wonderfully sticky, almost marshmallowy head and lacing.  It has a light, citrus aroma with hints of yeast, but doesn't have the kick in the nose that hefeweizens bring to your glass.  The initial flavor almost brings apricots to the party, but doesn't have the cloying sweetness one might expect from that.  It gives the sweet, it gives the sour, it has hints of bitter, and is amazing both straight out of the fridge and left to warm slightly.
I'll be honest, I've been drinking New Belgium since before I knew anything about brewing.  I started bringing Fat Tire to parties in college just so I could be "the guy with the good beer."  So maybe I'm biased when I review their work, since I've been a fan for so long.  But I think it would be difficult to dispute that they know their way around malt and hops, and it was my pleasure to review their newest work.
All photos by Camille Breslin
Special thanks to Auguste Escoffier School of Culinary Arts for use of their kitchens during our photo shoot.
Don't forget to purchase your tickets to Denver Fashion Weekend 2014, April 3-6!  Tickets on sale now!