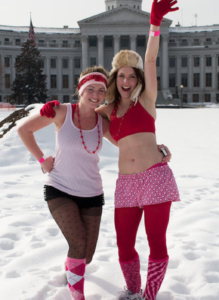 What is it – Cupid's Undie Run is the world's largest organized underwear run.  It is a great way for fitness-minded singles (or couples) to enjoy a way to run legally in Denver half nude with the charm of Valentine's Day.  As an added bonus it is a national fundraising event for Children's Tumor Foundation.
When – February 8th, 12:00pm (Party Starts), 2:00pm (Race Time), and then back to party until 4:00pm
Race Details – 1 mile run in the cold and dressed in next to nothing, piece of cake, right?  The race starts and stops at Stoney's Bar & Grill and takes you around the State Capitol landscape.
Where – Stoney's Bar & Grill, 1111 Lincoln Street, Denver, CO 80203
What to wear – Pink/Red/Festive Underwear and Running Shoes (yep that is about all you need besides yours ID)
Who does it support – Since 2010, Cupid's Undie Run has donated nearly $2 million to Children's Tumor Foundation with 100% of fundraising dollars going to the foundation.  The reason for the specific charity is the founder's brother was diagnosed with Neurofibromatosis and they wanted a wacky but philosophy driven idea that they could really get behind to make a difference.
Do you want to donate? Please follow this link (http://hopecur.com/303magazine).  Any small amount would be greatly appreciated to the Children's Tumor Foundation.
Bad News – The race is sold out…

Good News – 303 Magazine is giving away 2 tickets to the event on our Instagram today (February 5th, 2014).
Click Here to Enter the Contest