Meghan McCain, 28-year-old daughter of U.S. Senator John McCain recently discussed her dating life on daytime gab fest The View. She claims that men are intimidated by her and her political family and reluctant to ask her out. She went on to explain that if her and a guy make it to date three, it's a big indicator of a likelihood of a future together. Is date three a big deal? Does date three mean sex, love or anything at all? Here's some infographic answers to the statistical stance on love and romance.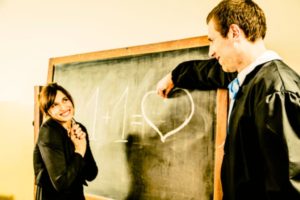 Dating infographics online reveal that 62 percent of people feel that the third date is the best time to get frisky, while 36 percent of people are willing to try the horizontal tango on the first date. Other studies show that four in six men are open to sex on the first date, while just one in six women are open to immediate nooky.
What characteristics are more likely to make women hop into bed? Women that are large or overweight, separated, in their early twenties, tall, poorly educated, medium drinkers or are widows. What men are ultra-eager to hit the sheets? Men that are married, mixed race, athletic, medium drinkers/smokers or in their late twenties (source).
According to the same infographic regarding first date success, women are twice as likely as men to be able to tell if there is chemistry instantly. Or within 3 seconds of meeting.  While 75 percent of people can tell if there is chemistry within 30 minutes of meeting. 
What are women looking for in the men they date? Women ages 21 to 25 want the "total package" i.e. looks, money, personality and success. Women ages 26 to 35 are hoping their dream guy will have looks and stability, while women ages 36 and greater are seeking financial security (source).
What about online snooping? 95 percent of women have googled their guy before a date, and 63 percent would make the first move on a guy they liked. 62 percent of women say there's nothing wrong with a hot and heavy makeout sesh on the first date, and 53 percent wait a few months before announcing or introducing their paramour as a bona fide boyfriend (source).
And men fall in love faster than women. 33 percent of men fall in love on the first date, while just 10 percent of women do. Almost half, or 47% of men are in love by the third date, while 72 percent of women take five to 10 dates (source).