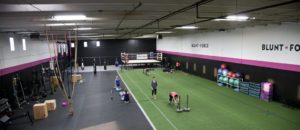 I am no stranger to the type of strength and conditioning Tiffany Coolidge (owner of Blunt Force Training and MMA) produces in her athletes.  As an employee of the State of Colorado Boxing and MMA Commission, I have crossed paths with several of these athletes over the past year.  I figured that was enough to spark my interest to check out her facility and take a few boot camps classes from Tiffany.
The facility is an old warehouse space in the booming Jefferson Park area that has been turned into equal parts, MMA mats and ring, workout equipment, and field turf with functional equipment.  First mistake, I was running late.  Second mistake, I took Tiffany lightly due to her pleasant introduction.  Next, Tiffany put me through some dynamic stretching techniques to warm up my muscles that would be used in the workout.  Some of her students and fighters had already started the workout so I did my best to hurry and get started on the boot camp.  Then came my final and biggest mistake, trying to keep up with these MMA fighters due to being competitive.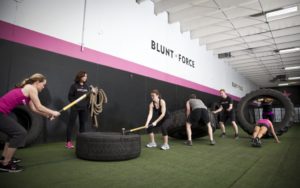 I did sled pushes, burpees, pull-ups, sledgehammer hits on the tires, and abdominal work all for speed.  I was keeping up great until the second cycle where I hit the wall.  Every athlete has hit this wall from time to time where you can't breathe and you need to visit the porcelain god.  It hasn't been since college that a trainer has got my "badge of honor" in a workout and I wasn't going to let it happen today.  After a few minutes, I fought through the feeling and finished the last few exercises before the timed boot camp expired.
Embarrassed at my performance, I spoke with Tiffany to schedule a redemption workout before I had to leave for a work trip to Montreal.  She happily accepted the offer to kick my ass again and I left the facility to go home and lick my wounds.  I will admit I thought about this redemption workout every second until two days later when I could return.
Being prepared and not underestimating Tiffany this time, I took to this boot camp with a different mentality.  I would leave my ego at the door and move at the pace that would push my limits and not the pace that pushes a pro MMA fighter's limit.  This workout though was crazy intense.  It was a special workout that Tiffany does for when one of her students has a birthday.  She stated that no one has finished the workout in the allotted time so I knew it wasn't going to easy.  I vowed to finish the workout even if I had to stay after the class time.  I did just that with several other students.  I loved the "team" atmosphere that Blunt Force Training exhibited and the encouraging comments or laughter Tiffany would lend to me when she could see I was struggling.
Blunt Force Training is located off Bryant Street in the Jefferson Park area of the Highlands.