This year, Chipotle's 3rd Annual Cultivate Festival brought together everyone from celebrity chefs and nationally famous musicians to local farmers and craft brewers.  There was plenty of tasty eats at City Park for a day that was all about fresh food and where it comes from. Chipotle, celebrating their 20th anniversary this year, is committed to the use  of organic, responsibly raised and locally sourced ingredients whenever possible. Cultivate was all about honoring this methodology and connecting people in their local communities who are also dedicated to this mission. This made for not only a informative experince but a delicious one as well.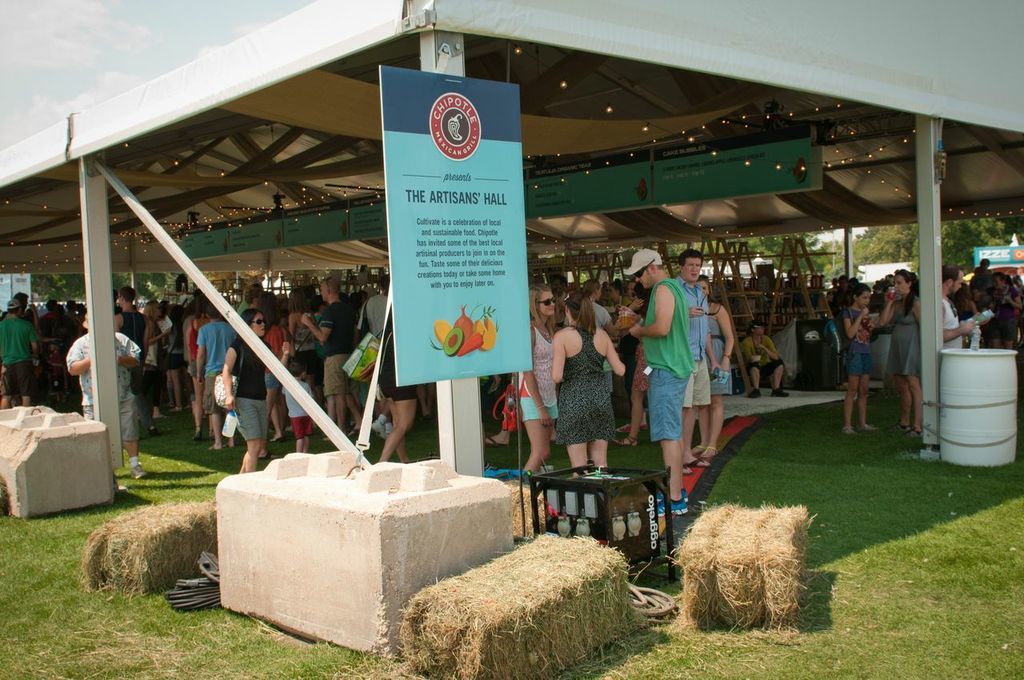 A brochure handed out at the entrance guided guests through the six experiences spread throughout the festival. Each stop included information about topics like fresh vs. processed Foods, farm facts, and even a Tabasco stop where you could see the barrels where the hot stuff is made. Each experience came with a stamp for your brochure, and many spent the day collecting stamps that let them earn a free Chipotle burrito while they learned.
The experiences showed how Chipotle utilizes local farmers every day in their restaurants, and many of the farms that provide ingredients to Chipotle in Colorado were also on hand. Building personal relationships with local producers is one reason why Chipotle is so successful. Milberger Farms in Pueblo, Petrocco Farms in Brighton, and Hungenberg Produce from Greeley all provide ingredients to Chipotle and were at the festival giving guests first-hand information about their techniques and what makes their ingredients taste so good.
If all that walking around left you with an appetite, there was plenty of food on hand to fill hungry festival goers. Chipotle created some specialty dishes available only at the Cultivate festival including the vegetarian-friendly Equites, a salad made with charred corn, shredded cabbage, crispy tortilla strips, roasted tomatillos, pickled onions and cojita cheese. There was also a Rice Bowl available from Chipotle's new Southeast Asian concept currently open in D.C. and L.A., ShopHouse Kitchen.
In the Artisan's Hall, tables were packed with selections from regional businesses like the Backyard Soda Company that was serving up snow cones made with flavors like Colorado Peach Marjoram that pleased both adults and kids and The Real Dill, Denver's own source for hand-crafted artisan pickles in varieties like Habanero Horseradish Dill (perfect for your next bloody mary!).
After a chilly 31°F degree day in October for last year's Cultivate Festival, this year it was all about staying hydrated and hanging out in the shade as temperatures reached the 90's. Thankfully there were plenty of cold beers to try in the Tasting Hall. For $2 a pour, festival goers got to sample brews from Bull & Bush, Breckenridge Brewery, Avery, and more. At the bar tents, the refreshing Cultivate Farmhouse Ale, the result of a collaboration between Chipotle and Great Divide Brewing Co, was also available.
The Chef's Tent and Music kept the festival goers' energy up all day as a steady rotation of celebrity chef demos and live bands rocked out the kitchen and the stage. Top Chef All-Stars winner Richard Blais and Chopped judge Amanda Freitag were on hand showing off how to use the ingredients of summer along with Chipotle's chefs Nate Appleman and Joel Holland, Colorado chef and former Top Chef Masters competitor Lachlan Mackinnon-Patterson and Table 6's Scott Parker.
Local band Air Dubai kicked off the music with a high energy performance early in the day. Folk trio Good Old War, singer-songwriter Allen Stone, Portland's Blitzen Trapper, and L.A.'s Cold War Kids rounded out the day's entertainment with DJ Chris Golub keeping everyone dancing between sets.
The event also featured a Kid's Zone where kids played in fresh cotton, planted tomato seeds, explored a Learning Garden (created by The Kitchen Community, a Boulder-based non-profit you can learn more about here), and munched on "cleaner wieners" from Applegate.
Whether you came for the food or the entertainment, this year's Cultivate Festival made learning about sustainable, local and responsibly raised food fun for the whole family. I left with a bag full of goodies, a full belly and a new appreciation for where food comes from and the businesses that utilize and promote sustainable, local, and healthful foods.
Check out 303's Q&As with Amanda Freitag (here) and Air Dubai (click here).
Find your photo from this event in our gallery here.
All Photography by Caitlin Savage