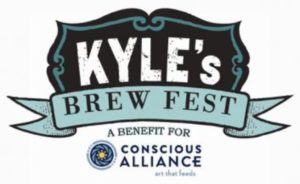 What: An afternoon of unique brews, tunes and a silent music memorabilia auction all benefitting Conscious Alliance.
Where: Boulder Beer Company, 2880 Wilderness Place Boulder, CO
When: Saturday July 20th 3-7pm
Tickets: Start at $25 and are available at www.kylehollingsworth.com
There may be a lot of beer festivals in Colorado this summer, but musician Kyle Hollingsworth's Brew Fest is so much more than just beer tasting. The festival is a celebration of brewing, music and creativity for a good cause. Known for his eccentric energy as a keyboardist and accordion player for Colorado natives The String Cheese Incident, Hollingsworth has also been a home brewer for years and has previously partnered with Boulder Beer Company in creating Hoopla Pale Ale.  I recently had a chance to chat with Hollingsworth about this event and he let me in on what's in store.
This year, Hoopla returns along with two new beers that are the result of Hollingsworth's latest collaborations with New Planet and newcomer to the Colorado beer scene, Fate. New Planet helped Hollingsworth develop a Gluten-Free Belgium Pale Ale with honey and orange peel and, after copious tastings in search of a unique way to combine beer and tea, Hollingsworth and Fate have developed a hoppy wheat brew infused with Earl Grey.  The Brew Fest will also feature over 60 craft beers from more than 30 breweries including Aurora's Dry Dock, Left Hand, and one of Hollingsworth's favorite Colorado breweries, Avery.
In addition to tasting plenty of different brews, Kyle's Brew Fest will offer attendees the chance to learn more about craft and home brewing and its connection to music with on stage discussions and Q&A's with attending breweries. Hollingsworth will also be performing at the Fest and if past shows are any indication, there's no way of knowing what instruments, covers and costumes you may be treated to while sipping and dancing the afternoon away.
The Silent Auction will give attendees the chance to bid on a variety of memorabilia from Colorado music scene favorites. Past items have included a guitar donated by Big Head Todd and a cow suit worn onstage by Hollingsworth himself. This year's items will be equally unique, but you'll have to attend to see what one-of-a-kind collectables Hollingsworth has rounded up.
Proceeds from the Brew Fest, including the silent auction, will benefit Conscious Alliance, a Boulder-based non-profit founded in 2002 which works closely with musicians to coordinate food drives at concerts nationwide. To date, Conscious Alliance has collected and distributed enough food to provide over 1.6 million meals to people in need including at-risk teens and many Native American reservations.
As an added bonus, Kyle's Brew Fest falls one week before The String Cheese Incident's Red Rocks show, so as Hollingsworth said, you can think of this event as the "official pre-party."  "People have many choices when they look at beer festivals," Hollingsworth went on to say, "but this is a bit out of the ordinary." So if you're looking for an experience that goes beyond tasting cups, Kyle's Brew Fest is the place for energetic music, exclusive beer, lots of learning and a dose of creativity that you can feel good about being a part of.