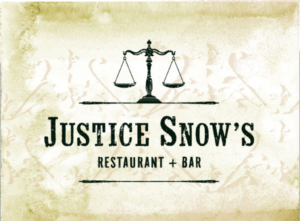 303 Magazine hearts Aspen – so much so – we've decided to dedicate an entire issue to this idyllic mountain town. Coming in April, the "I Heart Aspen" issue will reveal the local characters who move, shake, and influence the rest of us longing to live the Aspen life. And if your wallet has suddenly gone missing at the mere thought of a weekend getaway, not to worry. April officially marks off-season (aka "mud season"), which means a mass exodus for locals and crazy travel deals for visitors. With our go-to guide on where to eat, drink, play and stay, you'll get a taste of the very best for less. Save the date for our "I Heart Aspen" getaway (April 13-15). The planning is underway for an entire weekend including an official issue release party, hotel packages, lift tickets and more (complete details to be released on March 10th).
Until then, we're keeping you in the know of all Aspen happenings on the regular with "Aspenings." And now, introducing Justice Snow…
The speakeasy trend we've seen in Denver as of late has traveled west and landed in Aspen's Wheeler Opera House, which originally opened its doors in 1889. Guarding these historic doors is Thuk Thuk, an 8 year-old Husky mix who doesn't ever stray from her bed while her "mom" works 16-hour days, seven days a week to get her latest venture off the ground. City officials turn a blind-eye to this "bar dog" who belongs to co-owner Michele Kiley.  Both Thuk Thuk and Kiley offer an immediate warm welcome to Aspen's most highly anticipated new restaurant, Justice Snow's.
So, who exactly is Justice Snow? Justice Snow's opened earlier this month to mixed reviews from locals not only questioning the new operator of the former Bentley's space, but also their arcane name choice. Named after an actual justice of the peace at the time the Wheeler Opera House originally was built, Kiley was inspired by the "sense of community the space embodies and the town's obvious passion for snow."
Along with co-owners Marco Chingolani and chef Jonathan Leichliter, Kiley competed to become the new operator of the city-owned space over two years ago while they were running the former Cheese Shop/Specialty Foods of Aspen.  The group, known as Fiercely Local LLC, was adament in keeping the historic elements in tact and continuing the legacy of a true local hangout.
"The space really told us what to do. It's iconic Aspen and a community asset and we wanted to stay totally faithful to that," she says.
Kiley enlisted the help of Brooklyn-based interior designer and Colorado native Matt Duncan to create Justice Snow's vintage look. From the antique white oak planks that line the floor to brass chandeliers from a scrap yard, Duncan paid close attention to the original elements. The details are the most fun – peepholes playing vintage film clips (one with porn!) dot the wall outside the bathrooms.
When the speakeasy trend left Denver for Aspen, one of its local trailblazers followed. Joshua-Peter Smith, who previously led the beverage programs at TAG, TAG|RAW BAR, Avenue Grill and Twelve Restaurant, had a chance encounter behind his most recent bar, Williams & Graham.  Smith wowed Duncan, who was secretly conducting research, for over two hours with his breadth of cocktail knowledge. Along with his tip, Duncan left a note for Smith with his phone number about an opportunity in Aspen. Just two months later, he is now the "lead libation liaison & cocktail mechanic" at Justice Snow's. And don't ever call him a mixologist. "I'm pretty sure to be an 'ologist,' you need a science degree of some sort," he says.
Smith has put together an extensive menu of mixed drinks and will "build" (not make) cocktails according to his guests' mood.  "I'm the best at what I do," he says. Just watching him behind the bar and sipping on one of his custom cocktails explains his confidence. He also holds a BFA in acting, which only enhances the cocktails he crafts.
"If my guests see me having fun, they're going to have fun.  I make all of my drinks in front of people to help them better understand and change the way they view drinking to appreciate the spirits," he says. "The last thing I want to see is people throwing back shots. My passion is for people to drink better, drink slower, and drink happier."
While the cocktails are at the helm of Justice Snow's, the lunch and dinner menus boast unexpected and refined American pub fare. Leichliter uses the principles of slow food and sources local and regional Colorado products. Our favorites were the Tempura Pickles, Beet and Kale Salad, and Sustainable Colorado Rainbow Trout. Splurging on the Hatch Chili Mac & Cheese with Pork Belly is also a must.
Most hours of the day in Aspen are happy, so it's always a "happy day" at Justice Snow's with drink specials and a bar menu from 11 am – 6 pm. The ski crowd also stays happy during "haprès" from 3 pm – 6 pm. Unlike most Aspen watering holes, Justice Snow's is open 365 days a year. Come April, add this to your 303 Magazine weekend getaway agenda and tell 'em we sent ya.
Justice Snow's
At the Wheeler Opera House
328 E Hyman Ave.
970.429.8192
justicesnows.com
Katie Shapiro is one of Denver's (and now Aspen) resident gals about town. A "Jill" of all trades, she is a freelance writer, blogger, and PR guru. She likes skiing, drinking Manhattans, scarves, recycling, to-do lists, Gittel, and putting pins in the map. Check back often for the latest in travel, music, fashion, culture, and happenings.