Don't miss National Taco Day today in Denver! One option: satisfy your cravings with just $4 per taco at Cantina Loca from 4 – 5 p.m. That's not all for eats this week: try Glendronach's scotch and cheese pairing, a ghost and spirit pub crawl tour in Golden or bonding with bourbon at Mile High Spirits.
This week in music, you can find GRiZ, Goose, The 1975, Tropidelic and an Encanto sing-along film concert spread across the city's music venues. If you've always been curious about Red Rocks, schedule a walking tour this weekend. For entertainment, immerse yourself in Fang Bang, visit Lumonics Light & Sound Gallery or celebrate fall at the Littleton Pumpkin Festival.

Denver Fashion Week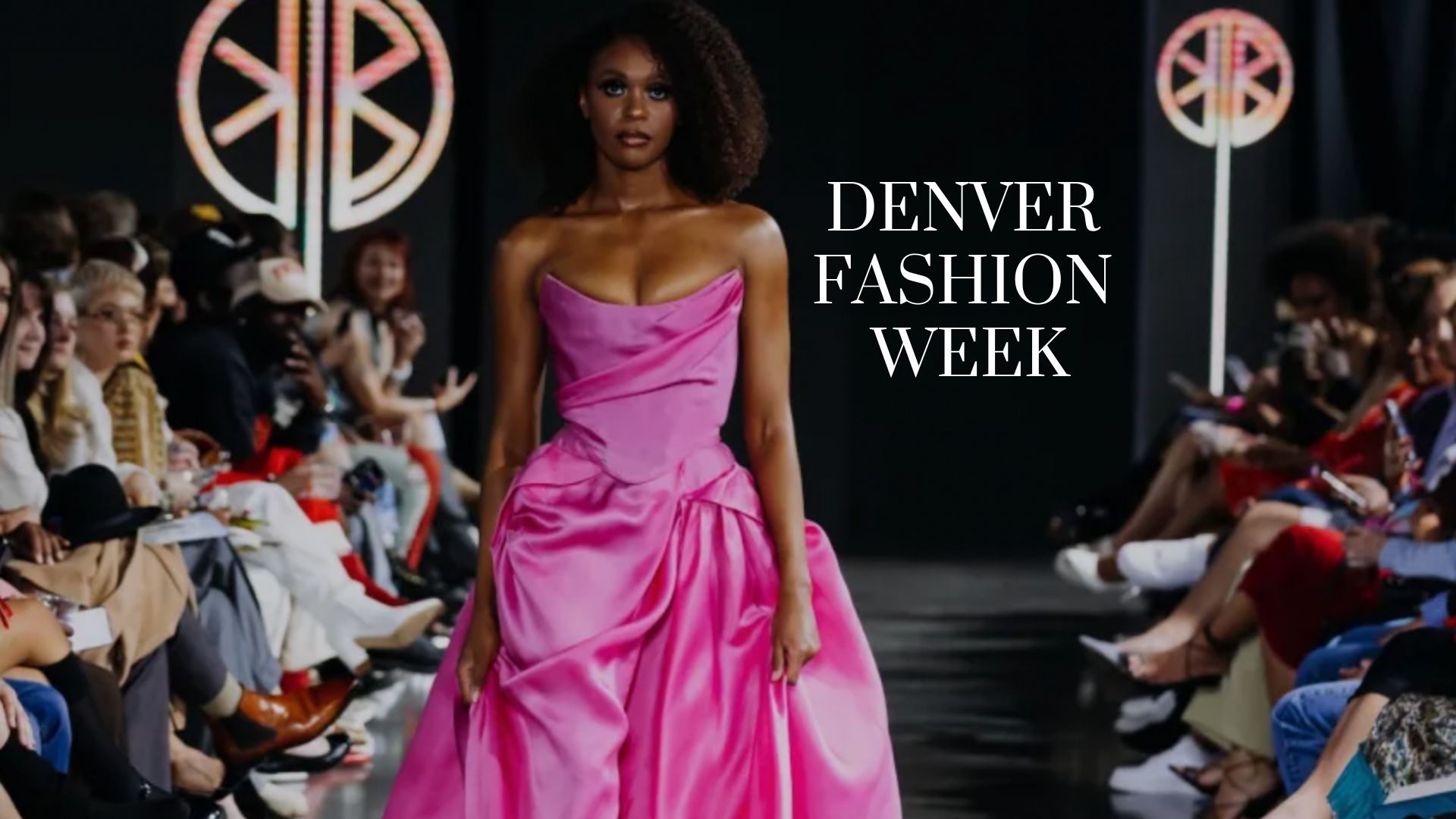 When: Nov. 11 – 19
Where: York Street Yards, 3827 Steele St, Denver, CO 80205
Cost: $40+, buy tickets here
Lowdown: Denver Fashion Week, one of America's fastest-growing fashion platforms, is back again for Fall 2023. Collections from local, national, and international designers will range from streetwear, activewear, lifestyle, kids, and sustainability to high fashion. The nationally acclaimed show occurs twice a year in the fall and spring seasons. As Colorado's most prominent fashion show, thousands of attendees show up each year to support Denver's growing and diverse fashion community. DFW tickets always sell out, make sure to reserve yours at the link provided above.
Denver Fashion Week Entertainers Contest Announcement — Calling All Colorado-Based Artists!
Sign Up For The Entertainers Contest HERE
Encanto: The Sing-Along Film Concert
When: Oct. 4, doors open 5:30 p.m., show 6:30 p.m.
Where: Temple Hoyne Buell Theatre, 1400 Curtis St., Denver, CO
Cost: $19 – $130, buy tickets here
Lowdown: If you love Encanto, don't miss this event where the entire feature film will be screened with a live band performing the music. As the songs begin on screen, the band will play and the audience is invited to sing along to all the movie's hits.
GRiZ
When: Oct. 5, 6 p.m.
Where: Fillmore Auditorium, 1510 N. Clarkson St., Denver, CO
Cost: $124+, buy tickets here
Lowdown: Back in June, popular bass music artist GRiZ announced his indefinite hiatus from music. As part of his last string of live performances for the foreseeable future, catch a ticket to see him at the Fillmore Auditorium. Colorado DJ producer Mikey Thunder will open.
Goose
When: Oct. 6, doors 6 p.m., show 7 p.m.
Where: Red Rocks Amphitheatre, 18300 W. Alameda Pkwy., Morrison, CO
Cost: $110+, buy tickets here
Lowdown: Goose is an American jam band from Norwalk, Connecticut that formed in 2014. Their members include Peter Anspach, Jeff Arevalo, Ben Atkind, Rick Mitarotonda and Trevor Weeks. Over the last several years, Goose has amassed a large following and accrued respect amongst jam band music fans. They've done a c0-headlining tour with the Trey Anastasio Band, been a headlining special guest at Dead & Company's Playing in the Sand festival in Mexico, alongside many other impressive performance stats. They are the up and coming — see them if you can!
The 1975
When: Oct. 7, doors 6:30 p.m., show 7:30 p.m.
Where: Fiddler's Green Amphitheatre, 6350 Greenwood Plaza Blvd., Greenwood Village, CO
Cost: $40 – $100, buy tickets here
Lowdown: The 1975 is an English pop rock band formed in 2002. They are to perform this Saturday at Fiddler's Green Amphitheatre for The 1975 Still… at their very best Tour with special guest Dora Jar. Jar is an American bedroom pop musician from Northern California.
Tropidelic with Kyle Smith & Joey Harkum
When: Oct. 8, doors 6:30 p.m., show 7:30 p.m.
Where: Cervantes' Other Side, 2637 Welton St., Denver, CO
Cost: $18, buy tickets here
Lowdown: For a mix of reggae rock, hip-hop and funk, don't miss Tropidelic, a band from Cleveland, Ohio, that is taking their To the Surface Tour to town at Cervantes' Other Side this Sunday. Joining Tropidelic is reggae rock singer-songwriter Kyle Smith and musical artist Joey Harkum.
National Taco Day
When: Oct. 4, 4 – 5 p.m.
Where: Cantina Loca, 2890 Zuni St., Denver, CO
Cost: $4/taco
Lowdown: James Beard Award nominee Dana Rodriguez's tacos are awaiting you at Cantina Loca for National Taco Day. Try a Baja fish, Barbacoa, Cochinita Pibil (braised pork), Cabrito (braised goat) or Carne Asada taco. The restaurant is open from 4 – 9 p.m., but stop through between 4 and 5 for special pricing of $4 each taco.
Glendronach Distillery Scotch & Cheese Pairing
When: Oct. 5, 7 – 9 p.m.
Where: Seven Grand, 1855 Blake St. #Suite 160, Denver, CO
Cost: $30, buy tickets here
Lowdown: Taste some wonderful Scotch Whiskys paired with artisanal, hand-crafted cheeses by professional whisky connoisseurs. Glendronach's national ambassador will talk guests through the pairings. You can expect to try a Portwood finish, 12 year, 15 year and 21 year scotch.
Golden Ghosts and Spirits Pub Crawl Tour
When: Oct. 6, 7 p.m.
Where: Starting location — Goosetown Station's front patio or living room, 514 9th St., Golden, CO
Cost: $42, buy tickets here
Lowdown: Over the course of this two-hour tour, guests will be guided to three different bars with stories about Golden's haunted past being told throughout. Golden History Tours states, "We're here to spin the eerie tales of Golden's Wild West past and introduce you to the restless spirits still hitching a ride on the mortal coil… This tour rustles up tales of cold-blooded murder, lonesome suicides, and other chilling deeds that might make a seasoned outlaw shudder."
Bonding with Bourbon: Cocktail-Making Class + Distillery Tour
When: Oct. 7, 5 p.m.
Where: Mile High Spirits, 2201 Lawrence St., Denver, CO
Cost: $40/person, buy tickets here
Lowdown: Mile High Spirits is offering a chance to intimately get to know bourbons in their barrel room through a tour and cocktail class. Tour guides will take guests through their bourbon production process to learn how bourbon is made. The tour will take place over 30 minutes and the cocktail class will be 45 minutes. During the cocktail class, they will teach you how to make an old fashioned (the Mile High Spirits way). Each attendee will receive $15 credit towards any bottle over $40 of their choice.
Twilight Saga PJ Brunch
When: Oct. 8, 11 a.m. – 2:30 p.m.
Where: The Mezzanine at Zeppelin Station, 3501 Wazee St., Denver, CO
Cost: $10 – $50, buy tickets here
Lowdown: As the leaves turn and fall off trees, The Twilight Saga is a go-to series to get into the spirit of the fall. Throughout October, you and a friend may consider keeping the pajamas on and heading to The Mezzanine to watch Eclipse. Guests receive a free welcome mimosa, popcorn, Twilight trivia before the movie with a chance to win prizes and to participate in a costume contest.
Red Rocks Private Walking Tour
When: Oct. 4, 8 a.m. – 1 p.m.
Where: Red Rocks Amphitheatre, 18300 W. Alameda Pkwy., Morrison, CO
Cost: $345 for 2 hours, call to book at (720) 295 – 5060.
Lowdown: Get to know Colorado's most iconic music venue through this tour at Red Rocks Amphitheatre. Guides will take guests through the history of the area, starting with its original use — which was a ceremonial space for indigenous people — to a popular destination during the Western gold rushes. Attendees will learn about the construction and setting of the stage, hear old stories about bands and performers who have graced the amphitheatre and see so much more.
Fang Bang Immersive Vampire Bar Experience
When: Oct. 5, 8 p.m.
Where: The Sports Castle – A Non Plus Ultra Venue, 1000 Broadway, Denver, CO
Cost: $25, buy tickets here
Lowdown: Fang Bang is an immersive pop-up vampire night club experience. Guests will get to view hourly performances by Denver's most macabre underground drag and burlesque performers in a highly-themed environment with horror-themed cocktails and the chance to interact with Fang Bang's vampires and dance to haunting music. Join Peaches Christ, David Flower Productions and Non Plus Ultra in bringing Fang Bang to life.
SENSATIA, CIRQUE CABARET
When: Oct. 6, 7:30 p.m., Oct. 7, 7 p.m. & 9:30 p.m.
Where: The Arch, a Non Plus Ultra Venue- 3001 Walnut Street
Cost: $55 – $104 buy tickets here
Lowdown: Prepare to be transported into an immersive performance experience blending spectacular acrobatic artistry, state-of-the-art visuals, live music, perfumery, and a tantalizing selection of curated craft cocktails. Brought to life by internationally renowned Quixotic, Sensatia promises a stunningly seductive encounter like no other.
Lumonics Immersed
When: Oct. 7, 8 – 10 p.m.
Where: Lumonics Light & Sound Gallery, 800 E. 73 Ave. #11, Denver, CO
Cost: $15 – $25, buy tickets here
Lowdown: Lumonics Light & Sound Gallery won the 2023 Best of Denver award for Best Long-Running Immersive Experience. Guests will see light sculptures by Dorothy and Mel Tanner, hear the Lumonics Light Orchestra with original special effects and visual music and lighting and effects orchestrated live by Lumonics' Marc Billard.
Littleton Pumpkin Festival
When: Oct. 8, 11:30 – 5 p.m.
Where: Denver Botanic Gardens Chatfield Farms, 8500 W. Deer Creek Canyon Rd., Littleton, CO
Cost: $10 – $16, buy tickets here. Tickets will not be available on site.
Lowdown: What is fall without a day at the pumpkin patch? Visit Chatfield Farms for the Pumpkin Festival where you will receive access to the 10-acre pumpkin patch, corn maze, an antique tractor exhibit, hayrides, photo booths, face painting, balloon characters and 20 carnival tickets for games and inflatable bouncers, slides and an obstacle course. The average price per pumpkin is $8. Additionally, there will be local craft and artisan booths, entertainment and live music, food trucks and vendors, as well as beer and hard cider vendors.