Designer Marlena Ray combines storytelling with upcycling in their brand, Reglow. Inspired by social and environmental issues, Ray wanted to create a brand that didn't just focus on the clothes but provides a way for people to learn and understand what it takes to create each garment.
"I was imagining what a fashion house would be like that is not hierarchical and provides access to teaching sewing and is a form of healing," Ray said.   
See Ray's first Denver Fashion Week collection on November 15 during Sustainable night- get your tickets here.
Ray grew up inspired by fashion and felt swept away by the fantasy of it all. It's why she decided to attend fashion school in Seattle and later at the London College of Fashion. It wasn't until 2018 that Reglow was born.
"I became really into upcycling and the stories that used materials carry and how to work with those stories as something that informs my process," Ray said. "I'm trying to focus  on what's the most accessible point for people — that's where I feel like mending and storytelling are in the central heart."
As a form of storytelling, Ray has a variety of sewing videos on their website that follow their design process. They did this in order for viewers and shoppers to understand the value of labor and how sacred the process can be. 
"The video process was a way to bring in more value to labor because the idea is that people can see it, learn from it and they can learn about the connection to the story of the materials," Ray said.
Their video tutorials are not like a typical step by step process but rather a casual conversation about how imagination can impact creativity. 
"They're not really tutorial style like step by step," Ray said. "More like let's get into the process of imagination and the feedback of what I'm stitching and how is that impacting my imagination, how is that impacting what I'm creating — so it's kind of like a conversation."
To Ray, utilizing sustainable materials like thrifting fabrics or using leftover scraps from past projects is extremely important. Sometimes it also inspires their different collections. One, for example, combines denim material with red and yellow coloring — this was inspired by primary colors.  
"There's different processes for different collections," Ray said. "I was inspired by primary colors to kind of play with their essence and also the abstract logos and motifs that were found on the materials and graphics."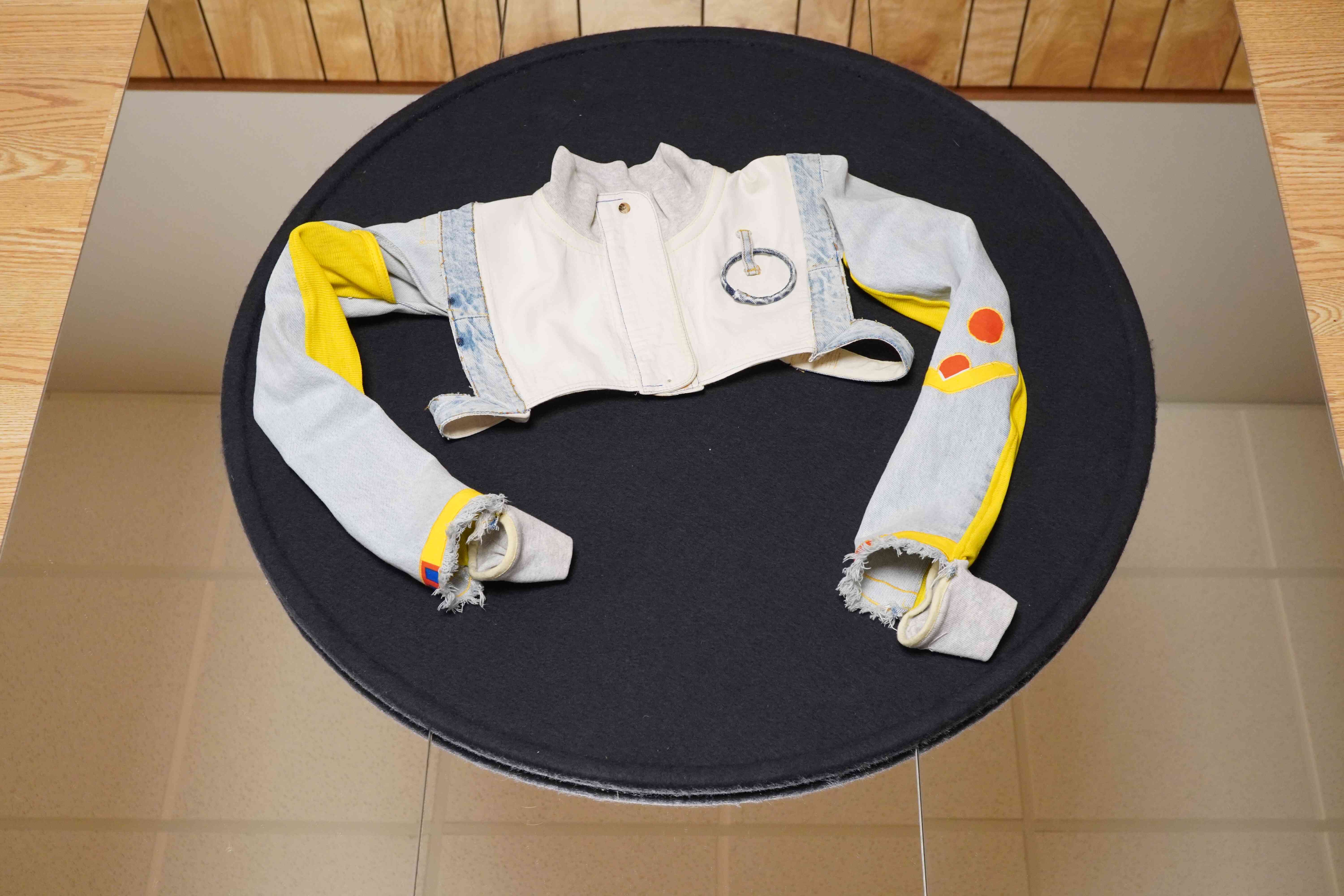 The colorful contrast between the red and yellow with the denim shows how playful Ray's designs are. Another design with intricate red stitching on denim is another example of how intricate their designs can be. It's because of this, they hope when people wear their clothes that they feel connected to what story the garment is telling.
"I hope to inspire a reimagination of how our lives can become more integrated," Ray said.
For Ray, designing is a meditative process but also allows them to create work for other people. The meditative process helps them draw inspiration for each collection — it's truly deep listening. 
"I really want to create from this place of what is emerging," Ray said. "I don't want to create from all of things telling me what I should and shouldn't do and so to find that place, is this inter stillness that's in my heart."
This slideshow requires JavaScript.
All photos by Marlena Ray
See Ray's first Denver Fashion Week collection on November 15 during Sustainable night, get your tickets here.