Denver's Mineral, Fossil, Gem & Jewelry show is here, and you'd be silly to miss it! The free show expands along 12 miles of Denver's National Western Complex with countless vendors and tables to peruse on any day until 6 p.m. through Sept. 17.
As for music, Denver hosts Flume, the Jonas Brothers and the Denver Jazz Festival this week. If you're looking for some incredible art to browse through, try attending the Amazing Art Expo, where you will see talented artists' depictions of Alice in Wonderland, Harry Potter, Star Wars, Lord of the Rings, and other adventurous and beautiful artworks.
For a complete "This Week In Concerts" listing, go HERE
Flume
When: Sept. 13, doors 5 p.m., show 6 p.m.
Where: Red Rocks Amphitheatre, 18300 W. Alameda Pkwy, Morrison, CO
Cost: $60+, buy tickets here
Lowdown: After releasing two mixtapes this year, Things Don't Always Go the Way You Plan and Arrived Anxious, Left Bored, Australian DJ and music producer Flume returns to the Red Rocks tonight. Electronic duo Overmono, Colombian singer-songwriter and multi-instrumentalist Ela Minus and Australian singer KUČKA will start the evening out with music.
Jonas Brothers
When: Sept. 14, 7 p.m.
Where: Ball Arena, 1000 Chopper Cir., Denver, CO
Cost: $29 – $229, buy tickets here
Lowdown: The Jonas Brothers take on an ambitious endeavor with this tour by performing five of their albums all in one night. Clyde and Gracie Lawrence, two musical siblings who go by the band name of Lawrence, will be the opening performance for the Jonas Brothers.
King Krule
When: Sept. 15, doors 8 p.m., show 9 p.m.
Where: Ogden Theatre, 935 E. Colfax, Denver, CO
Cost: $50 – $99, buy tickets here
Lowdown: King Krule is an English singer, songwriter, rapper and record producer. His latest album release is Space Heavy, for which he embarks on this Space Heavy Tour. Musical artist LUCY (Cooper B. Handy) will accompany Krule as the opening act.
The Whisky Dogs
When: Sept. 16, 2 – 5 p.m.
Where: FlyteCo Tower, 3120 Uinta St., Denver, CO
Cost: Free
Lowdown: FlyteCo Tower, the air traffic control tower turned brewery, restaurant, coffee bar/entertainment venue is hosting The Whisky Dogs this Saturday afternoon. The Whisky Dogs are a rock and blues cover and originals band led by Brian Bucca on vocals and guitar, Nick Stevens on bass and Layne Corbin on drums. They perform songs from all your favorites, Led Zeppelin, The Allman Brothers Band, Stevie Ray Vaughn, ZZ Top and Jimi Hendrix; however, they also have their own original music they play.
Denver Jazz Festival
When: Sept. 17, doors 8:30 p.m., show 9 p.m.
Where: Studio Loft at Ellie Caulkins Opera House, 980 14th St., Denver, CO
Cost: All weekend pass $185, purchase here. Sunday only $40, purchase here.
Lowdown: The Denver Jazz Festival begins on Friday and runs through Sunday. The festival will entail three evenings of live jazz, social dancing, dance lessons and performances by professional dancers. Sunday night of the festival includes Ian Hutchison's Colorado Band featuring Sweet B, as well as Neo Dance Stories Immersive Show. For more information on the festival, visit here.
Oktoberfest Menu
When: Sept. 13, 12 – 9 p.m.
Where: Spice Trade Brewery & Kitchen, 8775 E. Orchard Rd. STE 811, Greenwood Village, CO
Cost: Prices vary
Lowdown: Beginning today and running through Oct. 31, Spice Trade Brewery and Kitchen is rolling out a special Oktoberfest menu. The menu will feature a Festbier (Oktoberfest-style lager, brewed with Pilsner, Munich and Vienna malt with finishing notes of biscuit and toasted bread), $25 for a 2023 Spice Trade Brewing Stein, a Bavarian pretzel ($10.50), bratwurst ($14) and Schnitzel ($18.00).
Dairy Block Dines
When: Sept. 14, 7 – 10 p.m.
Where: Dairy Block, 1800 Wazee St., Denver, CO
Cost: $75 – $125, buy tickets here
Lowdown: Dairy Block Dines is an outdoor dinner party for 150 people in The Alley where guests will celebrate top Colorado chefs, award-winning cocktail crafters, live entertainment and more. The four-course dinner will feature a welcome cocktail from Poka Lola Social Club, and a carefully curated menu by BRUTØ, For[a]ged, Kachina Cantina and Denver Milk Market. Something Vinyl Club will be creating a listening experience to pair with each course as well.
Rainforest Dinner
When: Sept. 15, 6:30 – 8:30 p.m.
Where: Downtown Aquarium – Denver, 700 Water St., Denver, CO
Cost: $32.99 – $54.99, buy tickets here
Lowdown: The aquarium is encouraging folks to dive into their wild side with their sloth, Aspen, and his rainforest friends. At this event, guests will enjoy a buffet, exhibit discounts, a silent auction, local conservation guest speakers and animal appearances throughout the evening. All proceeds will benefit wildlife conservation.
Our Mutual Friend Brewing 10th Annual Gratitude Appreciation Party
When: Sept. 16, 11 a.m. – 10 p.m.
Where: Our Mutual Friend Brewing, 2810 Larimer St., Denver, CO
Cost: No ticket required
Lowdown: For the last ten years, OMF has celebrated their customers through their gratitude party, which is a day filled with special beer releases, community, music and dancing, a photo booth, food vendors, Gratitude party bundles and the chance to win OMF free beer for a year. Join in on the fun and enjoy one of the several specialty Gratitude bash beers that will be available.
Beer Pairing Dinner
When: Sept. 17, 5 p.m.
Where: Hogshead Brewery, 4460 W. 29th Ave., Denver, CO
Cost: $99, buy tickets here
Lowdown: For just about $100 per person, guests can enjoy the history and cultural influences of Colorado's cuisine with an intimate tasting menu curated by Chef Jared, with brews from Hogshead Brewery complementing the eats. There is limited seating so be sure to get your tickets for the five-course Colorado-grown meal.
Astrology Class: A Beginner's Guide
When: Sept. 13, 7 – 8 p.m.
Where: 734 Santa Fe Drive, Denver, CO
Cost: $30, buy tickets here
Lowdown: You hear people say "Mercury is in retrograde" or "the moon is in Pisces," but you may not know what it means. If you've wondered about astrology and what all of those phrases and terms mean, consider taking this beginners astrology class with artist and astrologer Grace Noel as your guide. Through this course, students will review all 12 signs of the Western Solar Zodiac signs, which of the four elements represent each sign and even discover what their own rising, sun and moon sign are.
Community Cloth & Culture Cloth – Opening Reception & Curator Discussion
When: Sept. 14, 5 – 7 p.m.
Where: McNichols Civic Center Building, 144 W. Colfax Ave., Denver, CO
Cost: Free, reserve a spot here
Lowdown: Shanna Shelby is the curator of exhibitions for Denver Arts & Venues, and Paul Ramsey is the co-curator. Join them from 5 – 6 p.m. for a tour and discussion of "Culture Cloth," which is on display through Dec. 17. Following that, there will be an opening reception for "Culture Coth" and "Community Cloth." This exhibition highlights contemporary artists and current designs being created with fiber, textiles and tangible artforms of cloth, fabric, thread and yarn.
Amazing Art Expo
When: Sept. 15, 5 – 9 p.m.
Where: Colorado Convention Center, 700 14th St., Denver, CO
Cost: Free, reserve a spot here
Lowdown: This art expo will present nationally recognized artists such as Christopher Clark, Dominic Glover, Adam Michaels and comedic parody artist "Bucket." You can expect to see art inspired by Alice in Wonderland, horror/monsters, Disney, anime, Harry Potter, Star Wars, Marvel, DC Comics, Lord of the Rings, parody, dragons and fantasy.
Denver Mineral, Fossil, Gem & Jewelry Show
When: Sept. 16, 9 a.m. – 6 p.m.
Where: National Western Complex, 4655 Humboldt St., Denver, CO
Cost: Free
Lowdown: The title of this show communicates the true plethora of goods that will be available to view from fine mineral specimens, to fossils, dinosaurs, gems, gemstones, artisan and antique jewelry, beads, crystals, meteorites, gold, silver, turquoise, Native American items, art, tools and more. This event is the largest single mineral, fossil, gem and jewelry show in the United States with 12 miles of tables and 600,000 square feet of selling space.
Tesoro Cultural Center's Rendezvous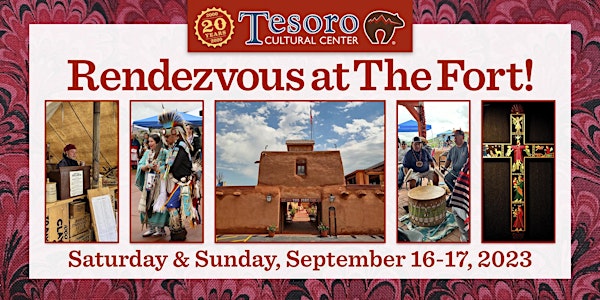 When: Sept. 17, 10 a.m. – 4 p.m.
Where: The Fort, 19192 Colorado 8 Morrison, CO
Cost: $10, buy tickets here
Lowdown: Tesoro Cultural Center hosts nationally award-winning artists, professional historical interpreters and talented musicians who help continue to share, preserve and celebrate the far western mountaineers and American Indians of the fur trade from the Bent's Old Fort era. The Rendezvous at The Fort will include ceremonial song and dance demonstrations, historical storytelling, informative lectures, a scavenger hunt, raptors, mammals and reptiles from Nature's Educators, and historical interpreters who will demonstrate day-to-day skills from the 1840s, such as sign language, beadwork, wool processing and more. The events begin on Friday and will continue until Sunday.