Denver's hottest new rooftop restaurant just opened atop the Halcyon Hotel in Cherry Creek. Rare Bird, managed by Makeready, is a new iteration of the primary location in Nashville that offers delightful small bites paired with breathtaking panoramic mountain views.
"We want this to be a place where guests can wind down with friends," said food and beverage director Todd Oyadomari. "Having a rooftop restaurant adds to the environment of Cherry Creek because it's something fun you can do while being outside, enjoying good food and excellent service."
This slideshow requires JavaScript.
The menu is composed by executive chef Daniel Young, made up of playful fare that can be shared. "He really brings the soul of Cleveland to dining," Oyadomari explained. "He's bringing that culture and cuisine to the menu through more casual offerings." Snacks include classics like a meat and cheese board, with more unique bites, including white truffle popcorn and a beet hummus.
This slideshow requires JavaScript.
For entrees, take flight with the Rare Bird Dog, topped with coleslaw, dijon and Flaming Hot Cheetos or the Rare Bird Wings, made with mango buffalo sauce. Lighter dishes are taken into account as well, with its Lamb Skewers with cucumber, pickled onion, tahini and housemade flatbread and a Crispy Salmon dish served with farro, radish, cucumber, pickled shallot and yogurt sauce.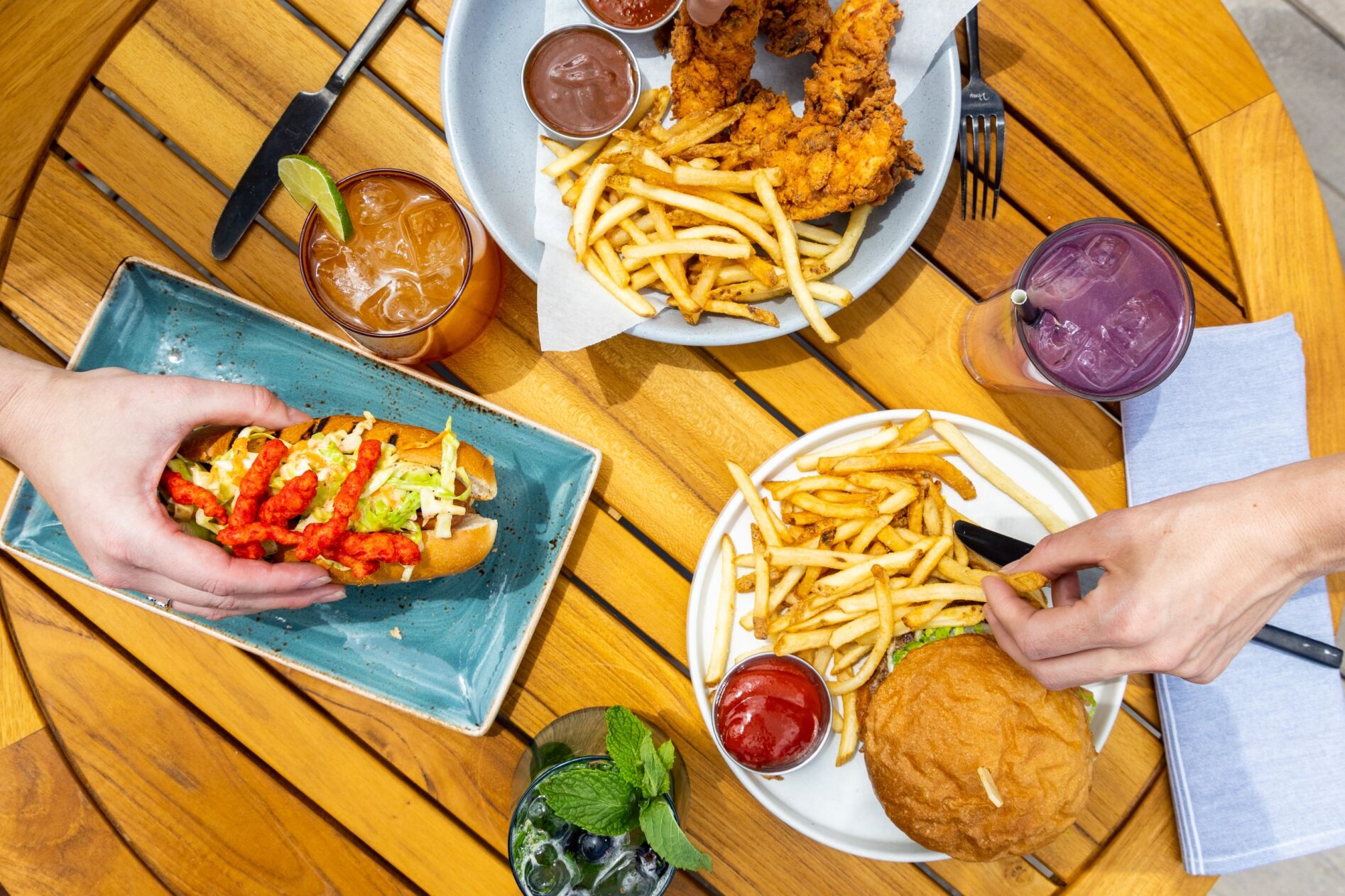 To enhance Rare Bird's free-spirited atmosphere, it introduced an extensive bar menu, which was a collaboration with the original location. Many of the drinks are spins on known classic cocktails. However, its new creations are the real draw, including the Fire Bird, made with blanco tequila, grapefruit, spicy basil syrup, agave and soda; Bird of Paradise with bourbon, blackberry, mint and lemon; and Early Bird, a mixture of New Amsterdam Vodka, Mr. Blacks Cold Brew, vanilla and Kahlua.
This slideshow requires JavaScript.
As summer winds down and cools off, Rare Bird will be putting on events that make the most of their sky-high venue. Rare Bird is the perfect destination for your weekend or weeknight plans, with an ideal view of the Mile High City, good company and tasty menu items.
Rare Bird is located on the rooftop of Halcyon Hotel at 245 Columbine St, Denver and is open Monday – Friday from 12 p.m. – 10 p.m., Saturday from 12 p.m. – 11 p.m. and Sunday from 12 p.m. – 8 p.m.
All photography courtesy of Makeready.