As autumn fast approaches, the crisp mountain air is beckoning us to get out there and get festive. Luckily, the mountain towns in the front range are providing the means for us to do so. From live music and mountainside movies to Oktoberfest extravaganzas and wine fests, there's something for everyone to indulge in this September and October. Enjoy this round-up of our favorite Colorado mountain town fall festivals.  
Vail Oktoberfest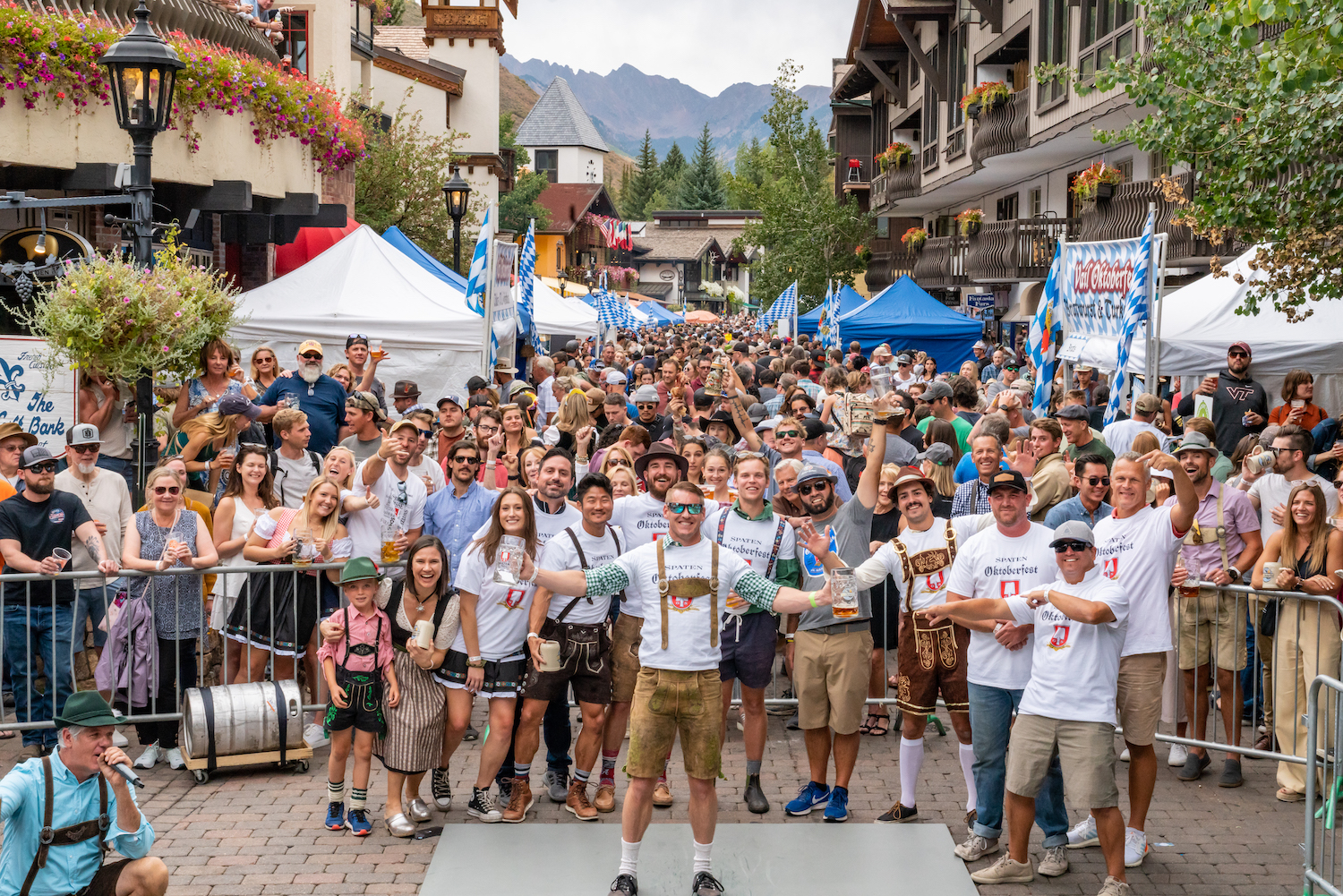 When: September 8-10 & September 15-17
Where: Lionshead Village & Vail Village 
The Lowdown: Oktoberfest season is upon us and no one does it better than Vail. There are two weekends packed full of all the German drinking festivities one might desire. The first is September 8-10 in Lionshead Village and the next is September 15-17 in Vail Village. Some of the events scheduled include bratwurst eating contests, Stein lifting competitions, adult keg bowling and an array of live performances. You can RSVP and check out more details here. Admission is free!
Winter Park Art Festival
When: September 9 & 10, 11 a.m.-7 p.m. 
Where: Cooper Creek Square 
The Lowdown: Appreciate and support local Colorado artists at the Winter Park Art Festival this fall. With more than 40 fine arts and crafts vendors, these two events put on by Winter Park will give you a great head start for your holiday shopping. Admission is free and there will be live music each afternoon from 1-4 p.m. as a cherry on top. 
Breckenridge Oktoberfest
When: September 15-17
Where: Breckenridge Village 
The Lowdown: What's brewing in Breckenridge? Another iconic Oktoberfest weekend filled with authentic German food, live music, games and all the beer imaginable. Official Breckenridge Oktoberfest Steins historically sell out by midday Saturday, so it is recommended to pre-purchase steins online in advance. The full schedule, transportation options, and all the information you may need can be found here.
Colorado Mountain Winefest
When: Saturday, September 16, 10:30 a.m.-5 p.m. 
Where: River Bend Park, Palisade, CO
The Lowdown: Mark your calendars for Colorado Wine Week (September 11 – 17) and to celebrate be sure to attend the annual Colorado Mountain Winefest. The Palisade event has grown over the years with nearly 30+ wineries in the area and over 50 wineries at the event. General Admission tickets include a commemorative wine glass, wine tote, unlimited sips from over 50 Colorado wineries, live music, educational seminars, a grape stomp, artisan vendors and so much more! Learn more about the event and purchase your tickets here. 
Union Peak Festival
When: September 8-10
Where: Village at Copper
The Lowdown: Celebrate the ultimate coming together of sport, art and community at Copper's 3rd annual Union Peaks Festival. A three-day festival, this event features an array of free musical performances from artists including Spoon, Fitz and the Tantrums and Quinn XCII. On top of that, there will be live art, free sports clinics and athletic activities such as a 5k trail run and sunrise yoga. Make it a weekend getaway and purchase one of the VIP passes that includes discounted lodging, food and access to the VIP stage and drink area. For more information on this iconic festival, click here.
Mountain Harvest Festival
When: September 22-24
Where: Paonia, CO 
The Lowdown: Head to the lovely town of Paonia in the North Fork Valley for the annual Mountain Harvest Festival, a celebration of art, music, farms and mountain spirits. This event put on by the North Fork Valley Creative Coalition will include free live music, local arts and crafts, a Great Chili Cook-Off, farm tours, a pub crawl and more. For more information, click here. 
Elk Fest
When: September 30-October 1st
Where: Bond Park, Estes Park
The Lowdown: Probably one of the most popular Colorado mountain town fall festivals, the Estes Park Elk Fest is a true Rocky Mountain classic. Bring your family and celebrate Rocky Mountain elk rut and Native American culture at Estes Park's Elk Fest. There will be vendors, food trucks, live performances, bugling contests, a 5k Rut Run and much more. All the details are provided here.
Freefall Bluegrass Fest
When: October 14 & 15, 2023
Where: Solaris Stage & International Bridge Stage, Vail, CO
The Lowdown: Are you a fan of bluegrass? If so, this is a must-go. If not, you'd still have a good time. In mid-October, there's going to be a plethora of artists performing live at the Freefall Bluegrass Fest in Vail. The lineup includes the Drew Emmitt Band, Bluegrass Generals, Tenth Mountain Division and many more. Check out their website for the specifics.
The Kirstie Ennis Foundation Oktoberfest Fundraiser
When: Saturday, October 15, 11 a.m. to 8 p.m.
Where: Sunlight Mountain Resort, Glenwood Springs, CO
The Lowdown: Head to the beautiful Glenwood Springs for another Oktoberfest extravaganza. Enjoy live music, great food and beverages, auctions and much more. This event is a fundraiser for the Kirstie Ennis Foundation, an organization that provides "education, opportunity, and healing in the outdoors through recreational therapy clinics and expeditions." Tickets are $50 and they'll be going to a really important cause in the outdoor community. Click here to get your tickets and more information.