"Do you want to hear something really sad?" asked Kate Major, Wardrobe Coordinator at Meow Wolf. 
"When emperor penguins laid their eggs this year, the ice melted before the babies could grow their waterproof feathers."
Major is referring to the significant influence that climate change has had on ecosystems across the world. Specifically, Major is referencing the impact of the fashion industry on the planet: while the causes of climate change extend across numerous industries, fashion and fast fashion in particular is one of the most significant contributors. 
In bringing up emperor penguins, Major said that this was the inspiration behind Meow Wolf's first ever in-house fashion show: Absolute Rubbish: A Trashion Show, which will take place September 19 in Meow Wolf Convergence Station's Perplexiplex.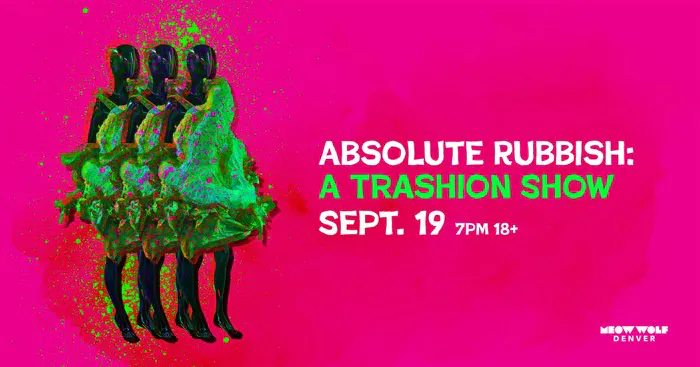 In other words, the Trashion Show is part of a movement against the non-sustainable practices in the fashion industry. Instead, upcycling trash or as Major puts it, "utilizing materials that are found," is the very vision that the designers in Meow Wolf's Trashion Show are bringing to life. 
Absolute Rubbish will feature 20 designers who are each creating one avant-garde look using items that are typically discarded. 
"The line-up is a wide swath, not just professional designers who do this day in and day out, but also people who were inspired by the idea of reusing trash," Major said.
And a wide swath it is: the line up of designers include local fashion show veterans like Idiot Cult, SKY|AIRE, MENEZ and La Adorna as well as students from the Rocky Mountain College of Art and Design and first-timers with little runway experience — but have a passion for upcycled fashion nonetheless. 
With the sustainable theme of the show,"where innovation and sustainability collide," Meow Wolf is staying accountable to their values. 
Meow Wolf is one of very few entertainment companies that is a B Corporation (B Corp). A B Corp certification is a third-party standard that requires companies to meet social sustainability and environmental performance standards. B Corps must also meet accountability standards and be transparent to the public about the score they receive on the assessment. 
As a result, Meow Wolf as a whole is extremely conscious of the waste they're producing: both to stay accountable and to take better care of our planet. And this consciousness extends to their wardrobe department, headed by Major. 
Major's expertise and commitment to sustainable practices extends far before her time at Meow Wolf began. She fine-tuned her skills working as a costume designer for companies such as Cirque du Soleil and The Wrigley Brothers Circus. 
Now, Major brings these master design skills coupled with a deep-rooted passion for upcycling to her role at Meow Wolf, where she is in charge of the costumes worn by the characters in Meow Wolf's characteristically immersive exhibits.
As such, the wardrobe room at Meow Wolf is packed with handmade and secondhand pieces from latex-mache masks and a dress made out of Meow Wolf Q-Passes to entire outfits made out of thrifted items and materials. 
One stand-out piece is made using sleeves that Major cut off shirts herself when Meow Wolf employees were too hot in the exhibit. The discarded sleeves from these long-sleeved shirts were sewed onto a jacket, becoming the staple piece for Meow Wolf Convergence Station's character, Sleevie Nicks. 
And while Major's official title may be Wardrobe Coordinator, she's the visionary and ideator behind Meow Wolf's sustainable costuming practices. As a result, Major is constantly trying new methods of reusing and recycling, such as using grocery bags in place of polyfill or transforming soda cans into sequins. 
For those looking to lean further into sustainable fashion, Major offered advice for reusing items that might otherwise end up in the trash.
"Clothing has so much inherent memory that it's healing to reuse it," Major said. "Maybe you're keeping it for sentimental reasons — like it's a t-shirt you wore in middle school that you'll never wear now. Make it into something! Make it into a tube top that you would wear. Make it into a pillow case."
Even with stained and damaged clothing, learning to mend or embellish clothing can help to give these sentimental pieces a second life. Major suggests adding cute patches or embroidery to ripped clothing or bleach dying stained pieces.
It is pieces and innovations like these that serve as the inspiration for Meow Wolf's first Trashion Show. Essentially, Meow Wolf's "Absolute Rubbish: A Trashion Show" is a bold response to fashion's environmental impact. With 20 designers transforming discarded items into avant-garde fashion, it's a creative stand against wasteful practices. 
In other words, looking hot doesn't have to harm Mother Earth — or the Emperor penguins.