Denver native Anna Charney has painted her way around the city after deciding to spray paint her first public mural just over two years ago at the annual CRUSH Walls festival in RiNo. Following CRUSH, her passion for street art grew rapidly. This passion and exposure landed her walls and commissions from the Colorado Ballet building on Santa Fe Drive to the northern reaches in RiNo on a new building not-yet-opened, and many areas in between. When she isn't on site at a mural project, the local artist spends her time in a studio working on canvas and other projects creating her illusion-based illustrations — one particular line and dot at a time. Since 2016, Charney has painted roughly 35 more murals, some in the private sector and some easily seen on the street. She's also stayed busy in her other pursuits, including a few features at gallery shows, a collaboration with Escape Artists (a cannabis and hemp company) on packaging for one of their products and live painting at music events.
As a blossoming artist and active member of the Denver cultural community, it seemed natural for Charney to be featured on our second all-local vinyl, 303 Music Vol. 2. Her imaginative design helped bring a different touch to our album than last year — a feature by local artist John Vogl — perhaps because it embodies her subtle femininity. Whatever the case, we couldn't be happier with how it turned out. We sat down with Charney to discuss her process and inspiration for the design, what kind of music she likes to listen to and what it was like to grow up in the Colorado music scene.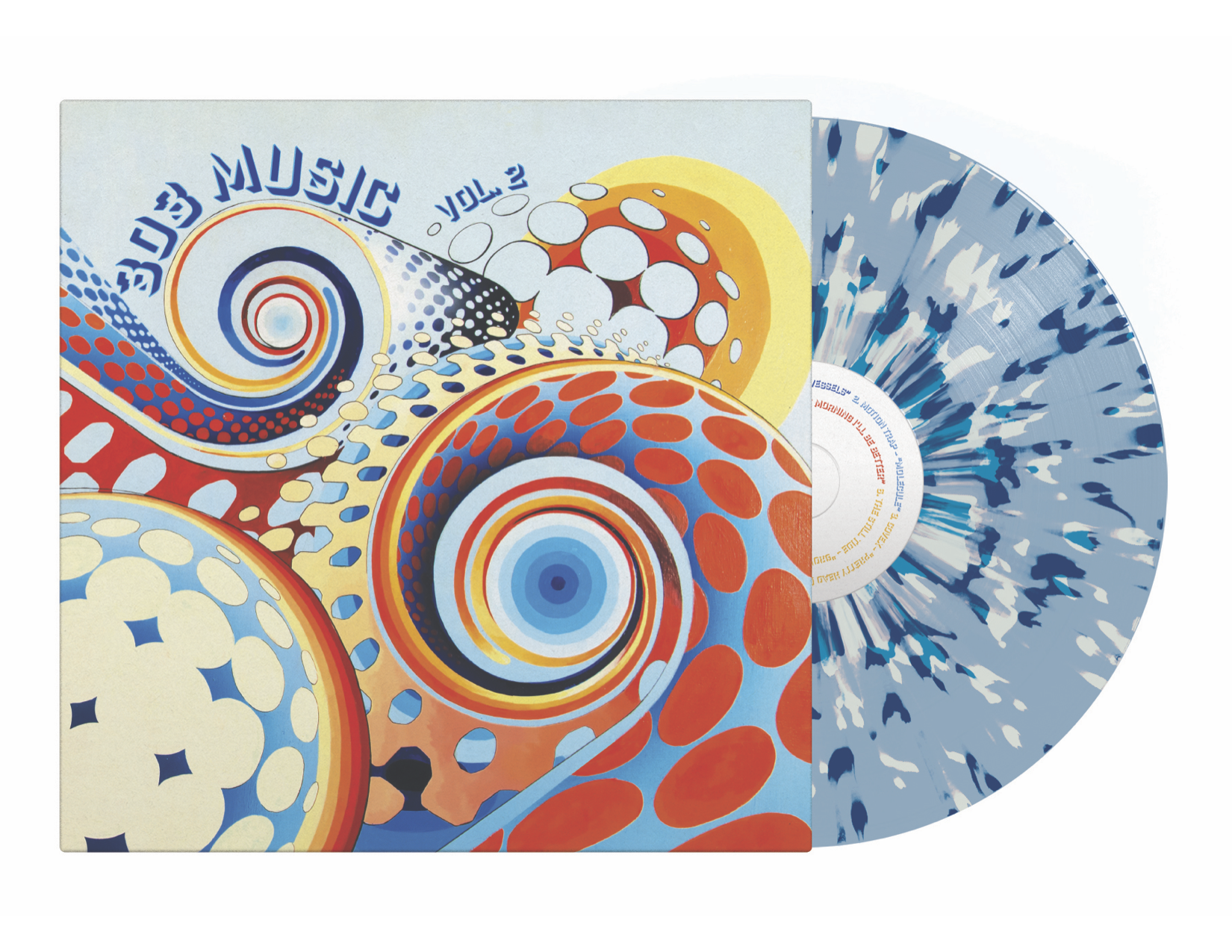 303 Magazine: Have you ever made album art before?
Anna Charney: This is my first time ever making album art before. So huge thanks to 303 Magazine for this opportunity. As I mentioned earlier, I want to explore more collaborations using the graphics quality of my work on a variety of products and I think album artwork is a great avenue to head down with that. We'll have to see what else happens in the future!
303: Describe your inspiration for the piece.
AC: Most of my work can be described as musical or energetic in its movement and swerving compositional structure. I had a lot of fun painting this piece. I went pretty bright but tried to stay within the primary color scheme of the Colorado flag and harness the local pride of the project.
303: Did you listen to music while you painted it? What kind?
AC: I have music on almost every waking hour of the day and always in the studio. I prefer to listen to mixtapes or recordings of live sets when I'm working (anything with a 30-minute minimum pretty much). This way, it's easier for me to focus for long periods of time on my work and establish a productive and creative flow with minimal distractions. My most listened to genres are probably downtempo/bass/house music.
303: Who are some of your favorite local musicians?
AC: Growing up in the Colorado, where the electronic scene has thrived, really shaped my taste in music. We're lucky to have such a great scene here still! My favorite music artist living in Denver right now is definitely Lane 8.
303: Why were you interested in creating the album art for this project?
AC: Because everything about this project is so well coordinated and community-based! I read a lot about Youth on Record — the organization that this project benefits — and their mission is really important and deserves support and attention. Also, I consider myself very lucky to be a part of the artistic community in Colorado, so I'm super into anything prideful like this that brings together and highlights creatives working here.
303: What is something you enjoy about being part of the Denver art and culture scene?
AC: I've had an incredible experience starting and growing my career in the Denver art and culture scene. I think that Denver's a really special community where people are friendly, rather than competitive, and work to uplift each other.
303: After doing this project, are there any other album covers you want to do/bands you'd want to create for?
AC: I would absolutely love to do another album cover! I've been spending a lot of time improving my digital art skills already this year, which I think will make this endeavor a lot easier in the future. I have a lot of favorite bands or producers that would be amazing to work with, but am open to most opportunities!
303: What were some of the challenges of this project?
AC: Honestly, the biggest challenge I'm facing in my work right now is jumping over the learning curve on digital art and being able to do graphic projects like this on my computer/iPad from start to finish. I did this project entirely by hand (it's an original painting on panel), whereas in the future I'd like to be able to create vectorized images and designs that are easier for production.
303: What were some of the unexpected joys?
AC: It was a joy learning more about Youth on Record and knowing my work is benefiting a really good cause. I love what I do and find unexpected joys all the time working in the studio and discovering a new color combination, successfully painting a smooth gradient, etc.
303: Do you have a favorite memory in one of Denver's local venues?
AC: Oh, that's a hard one! Growing up in Denver and actively going to shows throughout my whole life (that's really the only thing that gets me away from painting) I have tons of memories from all of Denver's venues.
Want to see some of Charney's work around town? Check out the gallery below.
This slideshow requires JavaScript.