Capitol Hill residents and coffee aficionados alike were devastated when Black Eye Coffee served its last cup of coffee at its Sherman Street corner location back in October 2017. But fear not — there's a new café on the block that opened this past Tuesday. Well, it's not really new. Anecdote Café previously launched as a bakery, bar and creative space at its old venue on Bannock Street and 9th Avenue, but was forced to relocate after less than a year upon learning their space had been sold for demolition.
Emily Hurd, Owner of Anecdote, knows there are big shoes to fill from moving into the space, but she is hopeful that this new location for Anecdote will welcome customers back to the spot by giving them a space to work on their artistic passions and encourage creative conversation.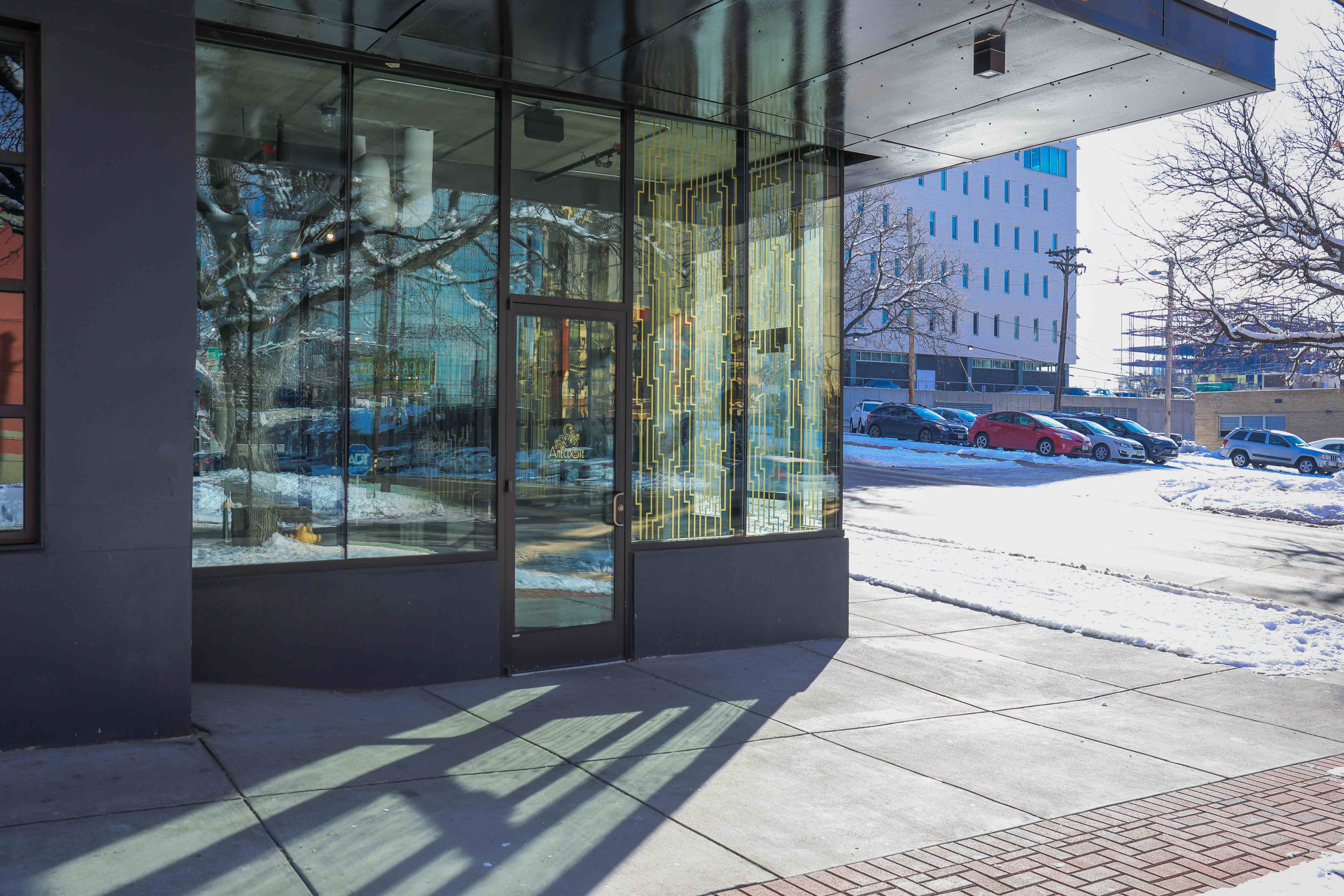 Hurd says that she once visited Black Eye Coffee after moving from Vermont to work at a culinary arts program.
"I just remember coming in here as I was starting to discover all the new Denver coffee shops, and I walked in here and just thought it was gorgeous. I really loved their design choices. It's a great example of what you can do if you're able to start from scratch and design something to be completely what you want it to be," Hurd said. "I never thought I'd be able to be in a space like this — in the exact space — so it's pretty crazy."
Currently, Anecdote Café is serving coffee and is still brainstorming ways to alter the space's design and make it very different yet still true to the swanky, black, white, and gold, '20s-inspired style. Hurd wants readers to know that although there are similarities, Anecdote will not be a full-service restaurant, but rather a quirky café with creative cocktails, desserts, sandwiches and beverages that you can enjoy while you work.
According to Hurd, Anecdote's culture is very focused on DIY. Rather than offering specific services, the café's goal is to evolve with its artists, entertainers and fellow makers by listening to their personal creative needs. In the short time that Anecdote was open at its old location, Hurd says many customers had ideas that she is going to offer at the new space.
"We had a lot of people come up to us in the old space and tell us 'Oh, I've always been interested in this, but I've never had any way to see if I liked it, or look into it or meet anyone else that does it.' And we were able to connect a lot of people even in the short time we were there, which was really neat to see. We really hope to do that a lot more here," Hurd said. "We think of it as very adaptable space for however, artists are able to use it."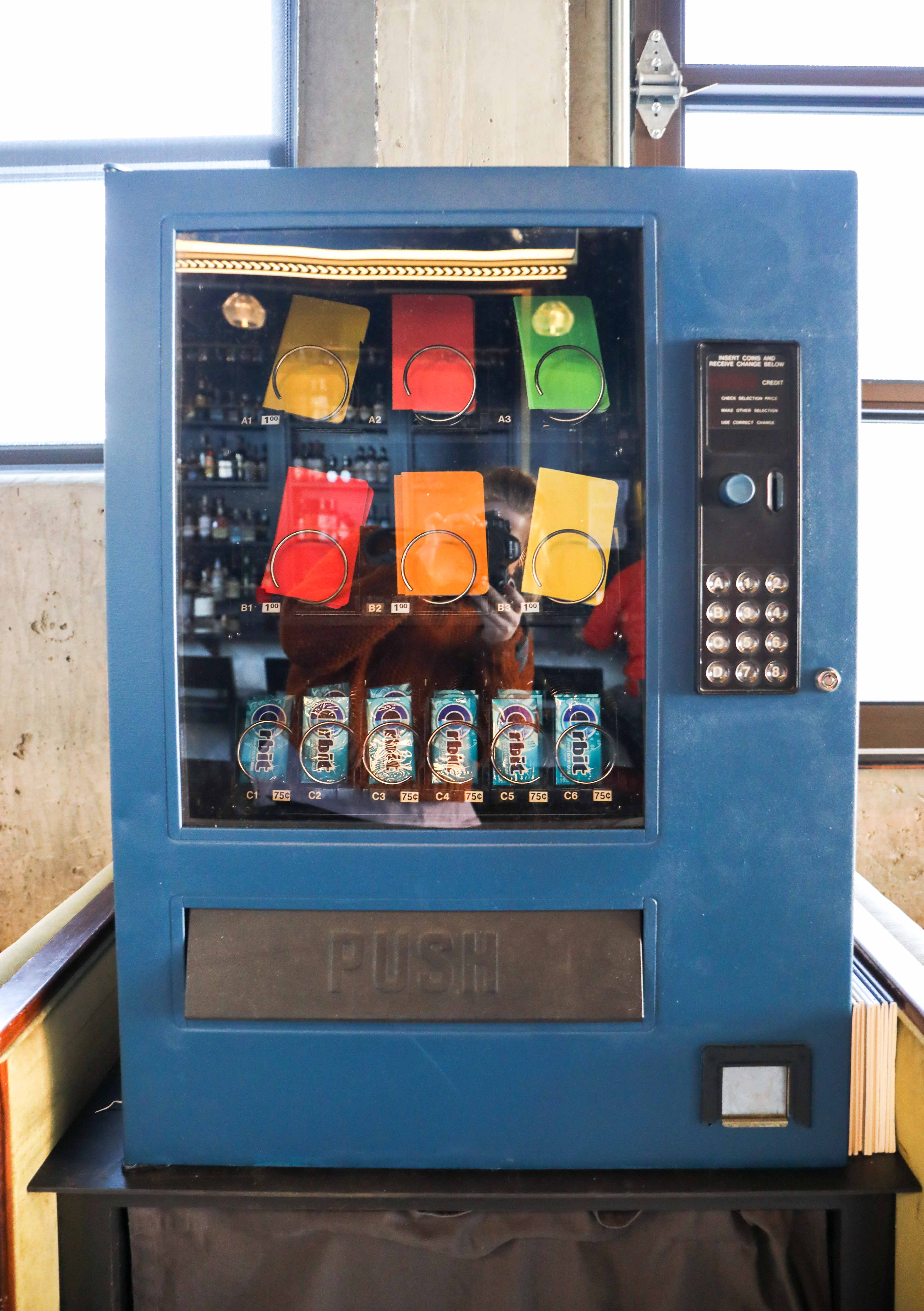 In addition to introducing artists and other creatives to each other, Hurd also wants to make Anecdote a gallery space to display work from independent artists in the community and will encourage art sales. There will also be an art vending machine that sells paper, gum and utensils. She also wants to build a collapsible stage for musicians, comedians and other entertainers to perform from. There really is no limit on how to utilize the space, for your own creative purposes but Hurd emphasizes that it's still important to make it about community.
"Creative café is a term we made up ourselves and a lot of people ask us if it's like one of those working studio spaces. But it's not like anyone can privatize studio space in here per se, or like turn it into office space. It's more of communal space," Hurd said.
Anecdote is planning on offering classes of all kinds to encourage collaboration and learning alongside other local artists. The classes will feature lessons teaching a variety of skills — Hurd said it could be anything from simply fun paint and sip classes to more professional classes on how to start your own art business. A lot of the classes will be taught by employees at Anecdote, including Hurd herself who says she loves to teach creative writing workshops and enjoys screen printing, textile art and painting in addition to pastry art.
Hurd said she was surprised to learn that many customers wanted to learn more about the business side of being an artist.
"We will offer an artist headshot day because not everyone has the opportunity or even knows the process of booking professional headshots. I personally have found a lot of people who were interested in support in that area and were asking questions like, 'How do I sell my work? How do I market myself? What are some basic business skills I should have as an independent artist? How do I protect my work and myself?' which are extremely important," Hurd said.
While all this sounds cool—we have to ask—where are they going to create all this art? The space on Sherman isn't exactly huge.
Apparently, Hurd has thought of that too since some of her furniture restoration, sculpture projects, and concrete and woodworking classes can tend to get a bit messy.
"Our old space allowed for a little more free-for-all messiness, but because this space doesn't allow for this as much, we're teaming up with the Denver Tool Library, a nonprofit on Santa Fe, and will have some of our messier, bigger workshops over there," Hurd said.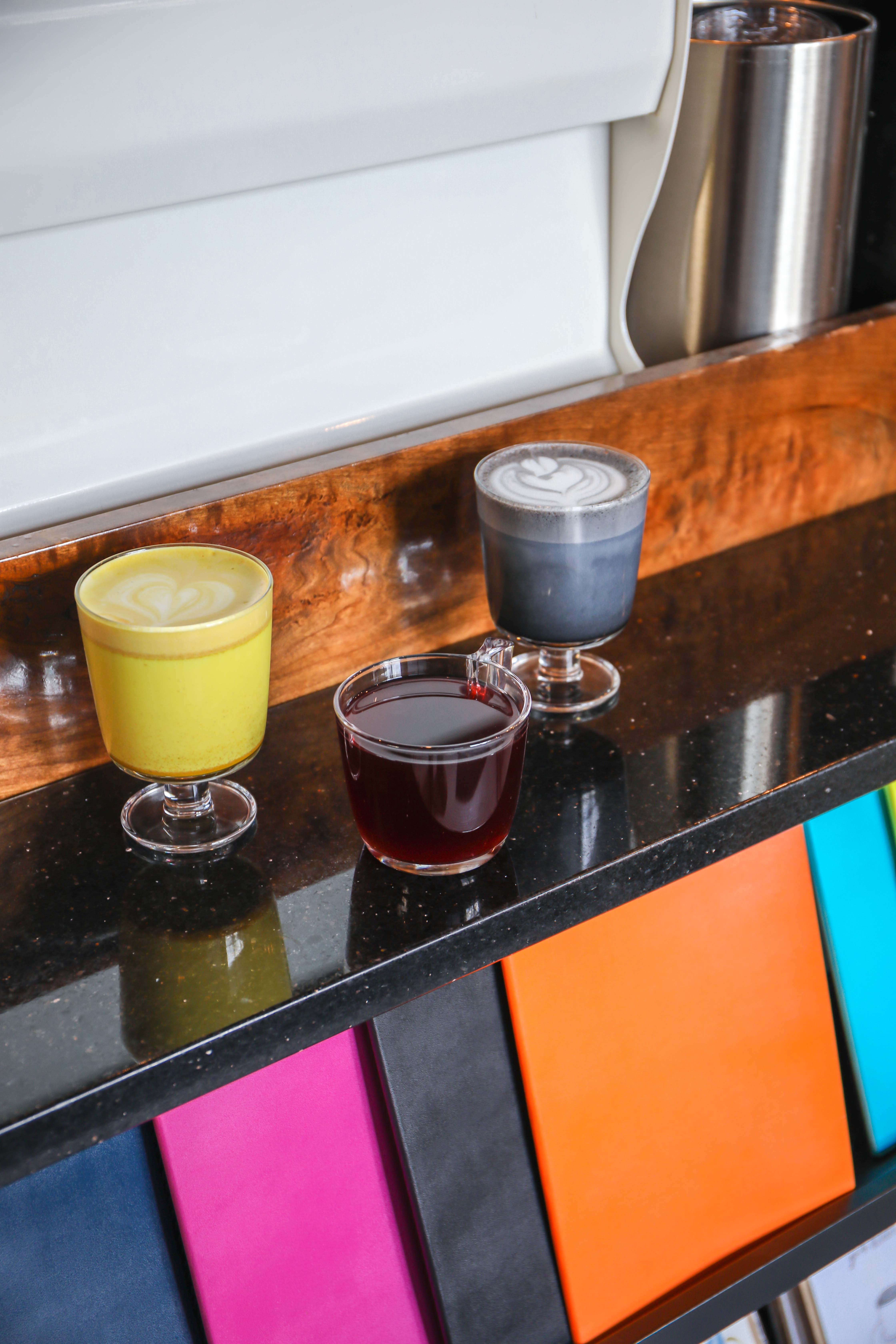 We're definitely excited to see what the future Anecdote will look like once customers start creating, but in the meantime, Hurd is preparing an eclectic menu to also get excited about.
For one, we're stoked about the café's colorful and flavorful beverage selection.
"We have all the staples of normal café service—your mochas, your lattes, your cappuccinos—but we also developed a signature series. It appeals to us as artists because they [the drinks] are all colorful," Hurd said.
Anecdote will offer a golden latte made of anti-inflammatory turmeric and ginger, a detoxifying black latte consisting of activated charcoal and dark chocolate, an ube latte that will be bright purple and filled with antioxidants and Vitamin E and a green tropical matcha latte. As for their craft cocktails, Hurd promises that they're working with only unique flavors and fresh ingredients.
"It's not your typical bar offerings. We'll be changing it seasonally or whenever we feel like it," she said.
Anecdote will also serve warm alcoholic drinks, beer, wine and tasty, gourmet-style sandwiches. But we're really stoked about the bakery menu. Hurd was once head of the pasty department at a culinary resort and spa in Vermont, and she's learned a thing or two on how to make a mean cake.
"I like working with fine ingredients and putting an artistic touch on things. My specialty is more in desserts and not so much breakfast pastries, but I'm moving into that world for the context of the café space," she said.
"Besides signature desserts like opera cake and Napoleon cake and things that you don't see at every other café, we really like our scones, but I guess our café pastry menu is beyond scones. We offer special order custom cakes. We can do fun cake decorating techniques. We do wedding cakes as well."
Anecdote may offer a lot of services, but Hurd is convinced all this originality is going to be a lot of fun. She isn't interested in playing another conventional café. We asked her why, and it's pretty simple.
"It's a space I always wanted to find and be a part of."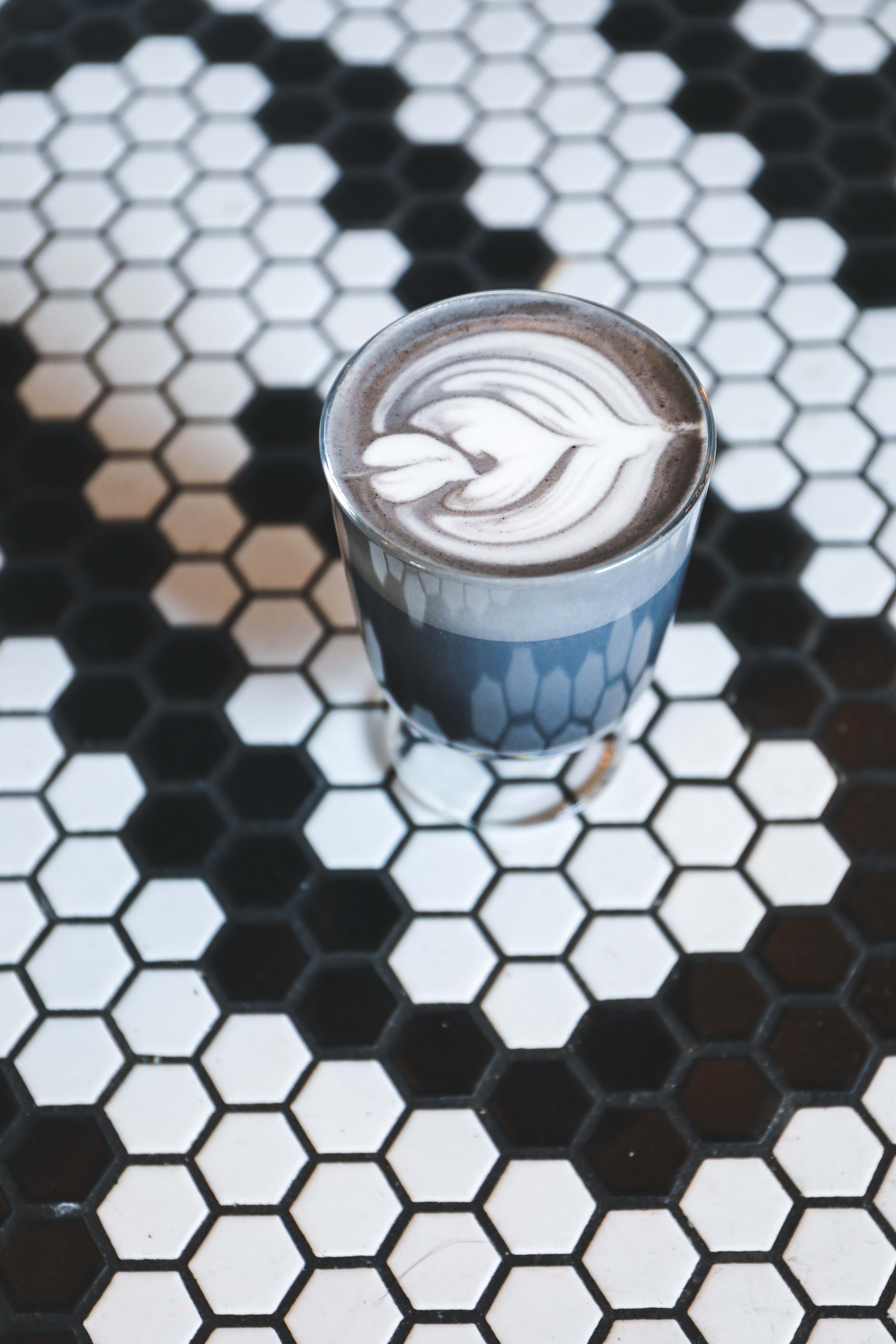 Anecdote Café is located at 820 Sherman St., Denver, CO 80203 and is open 7 a.m. to 8 p.m. Tuesday through Thursday, 7 a.m. to 10 p.m. on Friday and 9 a.m. to 10 p.m. Saturday and Sunday. 
All photography by Danielle Webster.