It's so easy to see everything in a negative light with all the crazy shit that happens on a daily basis. Sometimes it's too depressing just to turn on the TV and watch the news because you can seem to escape hearing about what is wrong in the world. Sometimes we tend to focus on the bad things, rather than the things that go right. On September 2 at Red Rocks, Jason Mraz represented positivity, good vibes and reminded us of the good things in life.
There was nothing about Mraz's set that didn't radiate some sort of positive message. A giant colorful banner with the words "Good Vibes" was hanging behind the instruments as Mraz and his ensemble greeted the sold-out Red Rocks crowd. The 10-piece band walked out wearing different colored jumpsuits that resembled a rainbow. It was an eccentric move, but it had the whole crowd smiling and feeling good.
Each of the 10 musicians on stage brought a different element of joy to the performance. It was so easy to see that Mraz and his band were not just musicians playing on a stage together but they were a giant family instead. They joked around like a family, showed love like a family and brought a sense of home to Red Rocks, making the crowd feel like they were also apart of the family.
Near the beginning of the set, Mraz got down on one knee, with a spotlight shining on him, and told the crowd to take a collective deep breath. The crowd followed instruction, revealing how incredible it is when 9,000 people taking a peaceful breath together. Mraz wanted the crowd to feel comfortable with one another, and he succeeded in this goal.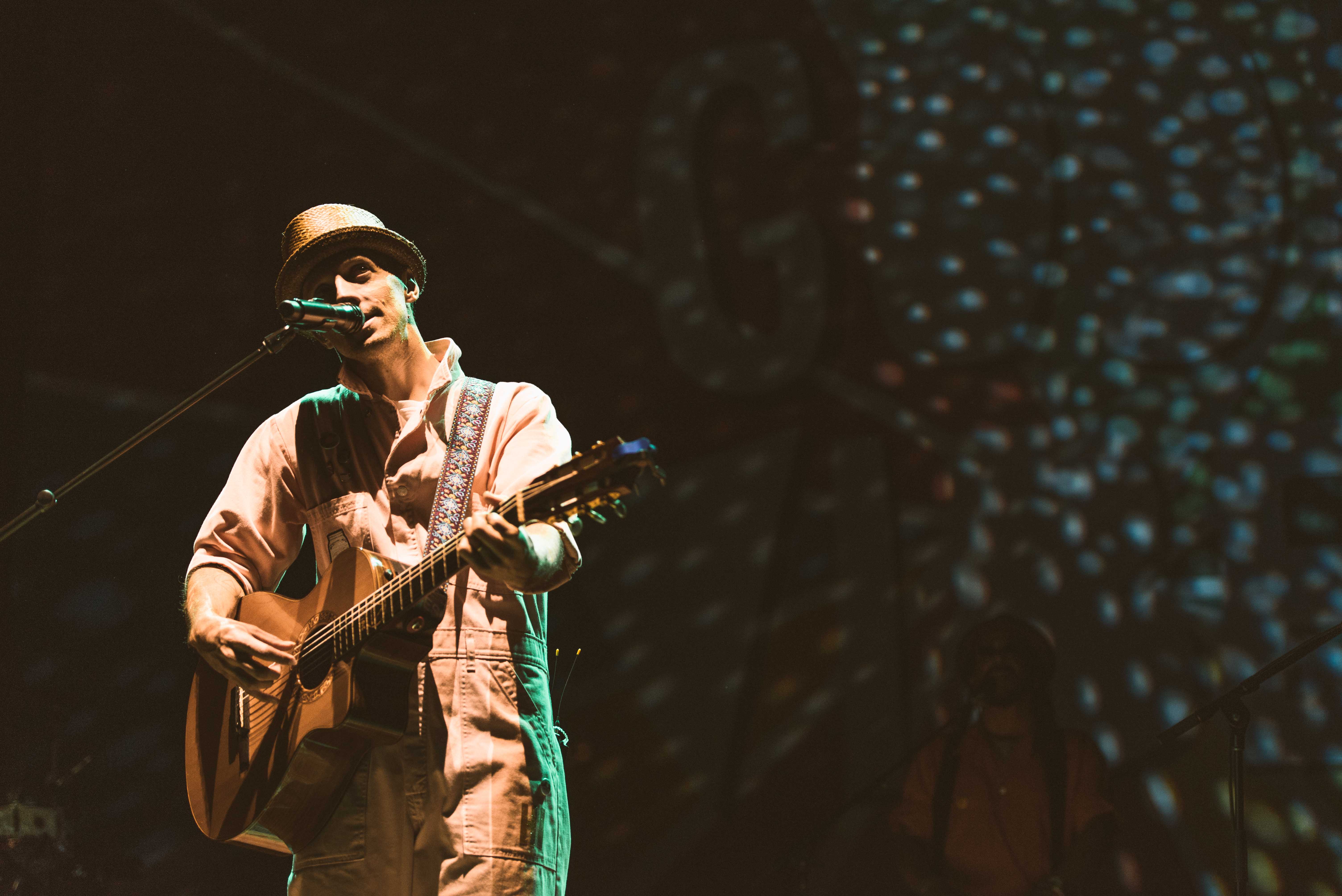 Ever since 2002, Mraz has been adding to his extensive catalog of songs. He writes in a simple yet refreshing way. His songs are relatable but are unlike a lot of different things out there. Now, it's one thing to have these talents behind the curtain, but what makes Mraz an incredible musician is his ability to put on a simple yet captivating live show on top of his stunning vocal chops. While performing hits such as "I'm Yours" and "I Won't Give Up," Mraz smoothly nailed every single note perfectly. The band was so locked in with each other that you could feel the groove in the air. Mraz and his band created musical moments in the set. During "Might As Well Dance," the whole band was dancing their asses off, which made it that much easier for the audience to do the same. Whenever there was an instrumental hit in the song, the band nailed it with precise accuracy. Another such moment came when guitar virtuoso Molly Miller took a shredding solo that had fans staring at the stage with their jaws open.
Mraz also took the time to pay a celebratory and heartwarming tribute to the late Aretha Franklin with a cover of "I Say A Little Prayer" and "Respect." The singer-songwriter invited many of his crew members out on stage to dance and sing along with him, which was another example of how inclusive Mraz was during his set. Oh, and did we mention Mraz had a sitar player? Yes, Mraz included a sitar player in his cast, which is something you typically don't see every day. Percussionist Mona Tavakoli and sitar-pro Becky Gebhardt took an intense solo that had the audience in awe.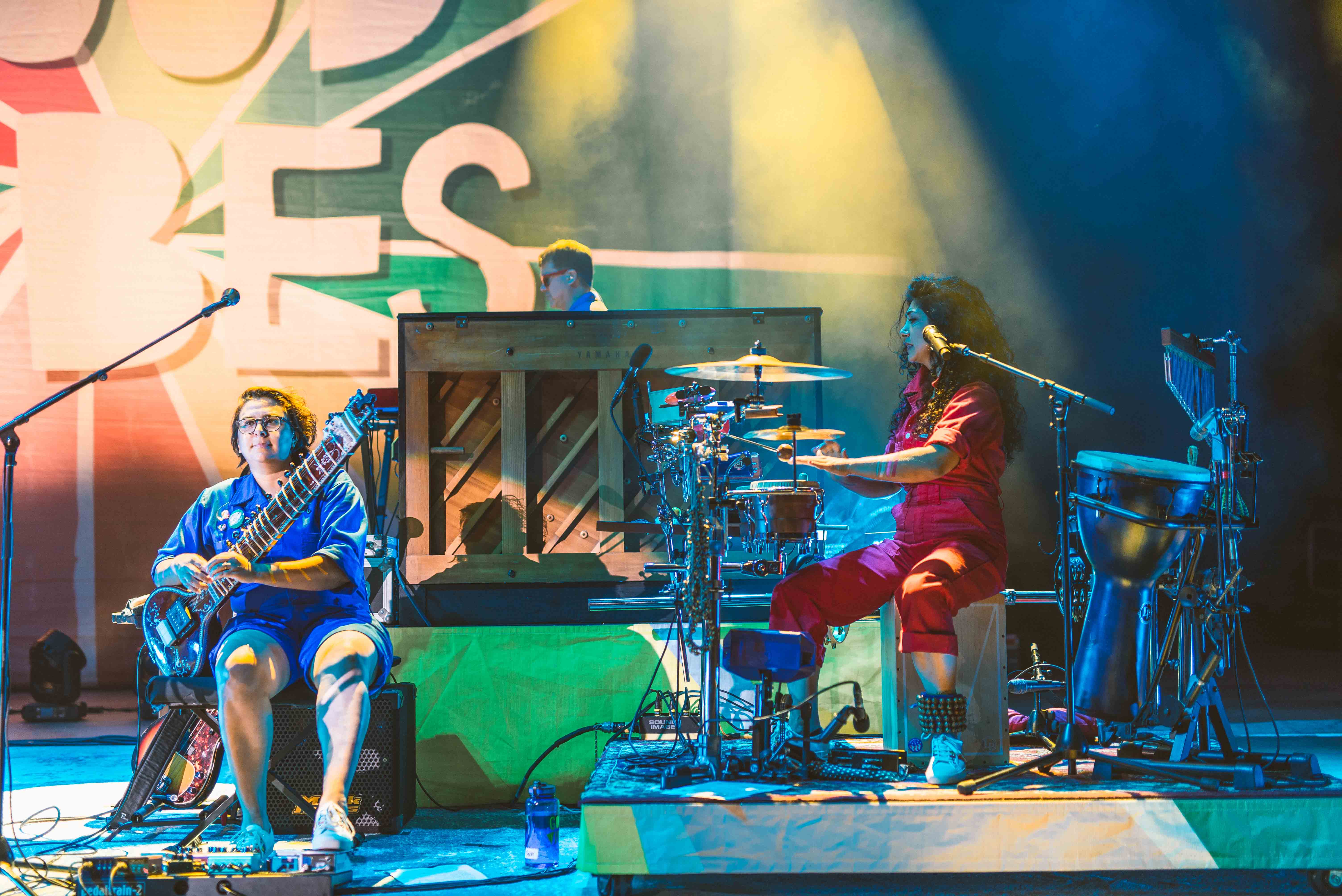 It's no secret that marijuana is a big part of the Colorado economy. Hell, we were one of the first states to legalize it. Mraz, with help from special guest MC Flow, took the time to tell the story about a very young Colorado girl named Charlotte who suffered from an aggressive form of epilepsy. Charlotte's seizures were curbed by the use of CBD oil, which emphasized the importance of getting the substance legalized across the country. Mraz and MC Flow used their platform to speak and sing a beautiful song on the importance of legalizing the herb. To make the story even better, Charlotte and her parents were at the show and dancing along with the music. It was an emotional moment during the set, but it was beautiful and touching.
Mraz and his band gave Red Rocks a reminder of the good in the world. Concerts are supposed to be a place where strangers and friends can come together to celebrate music. Mraz gave 9,000 Red Rocks attendees a reminder to do something that we often forget to do — breathe. "I don't know how many breaths I've taken today, but I'll remember every breath I'm taking tonight."