The week has arrived. What was once known as a "super festival" has descended upon Denver. For three days, the massive event is set to spread across Overland Golf Course for arguably the largest concert the Mile High has seen in recent history. Navigating your way through such a behemoth of a production can be tricky and riddled with mishaps if you don't plan ahead — so we took the liberty of putting together a survival guide for the weekend. From how to get there (don't drive) to general tips and, of course, some musical recommendations, we have laid it out all here so you can enjoy the inaugural Grandoozy to its fullest.
Getting There
The very first thing we need to mention is that there is no parking. We repeat NO PARKING. Since a lot of people in Denver still drive to events, this is really important to know. So spread the word and tell your friends, co-workers, grandparents—whatever. And because it's probably going to still be pretty confusing for people, Grandoozy made an entire guide on how to get there. The key takeaways are below.
Festival grounds times: 1:30 – 10 p.m. Friday, Saturday and Sunday
Location: There are two festival entrances at Overland Golf Course. One at West Florida Avenue between South Platte River Drive and South Santa Fe Drive and another at West Jewell Ave and South Elati Street. The address for the event is 1801 South Huron Street, Denver and it'll land you pretty close to the entrance on West Florida Avenue.
RTD: The Light Rail is a pretty good option since there are two stations nearby. Grandoozy is recommending the I-25 and Broadway station but it is a bit further away and it's not as easy of a walk. If you do take this station they will have a shuttle or you'll need to get a ride share. But be warned — high volume requests coming from that spot will cause some headaches. So we recommend going to the Evans station and walking to the Jewell entrance of the festival grounds. The event says it'll have a walking path and it is only a few blocks away (see map).
Bike: If you live in or very near to Downtown, biking is a great choice because you'll have access to the Cherry Creek bike path that connects to the Platte River Trail. It runs along the Platte River so it makes for a flat and pretty ride. Because it's next to water it can get cold at night so bring a jacket. You also must bring bike lights because the path is really dark after sunset. If you're partaking in drinking or consuming other substances, biking home might not be the safest route so consider the next option.
Rideshare: Uber and Lyft are probably the most popular ways to get to the festival. Uber is the partner for Grandoozy but they aren't offering any serious incentives unless you're a new user (but you probably aren't). If you for some reason haven't downloaded Uber you can use CODE: UBERGDZ18 for $15 off your first ride. There is also a shuttle that picks up in a couple spots (see map) in Denver but you'll need a pass to ride it. [UPDATE 9/14/18 at 11 a.m.: Use the code RIDESMARTCO for $10 off a Lyft ride, while supplies last]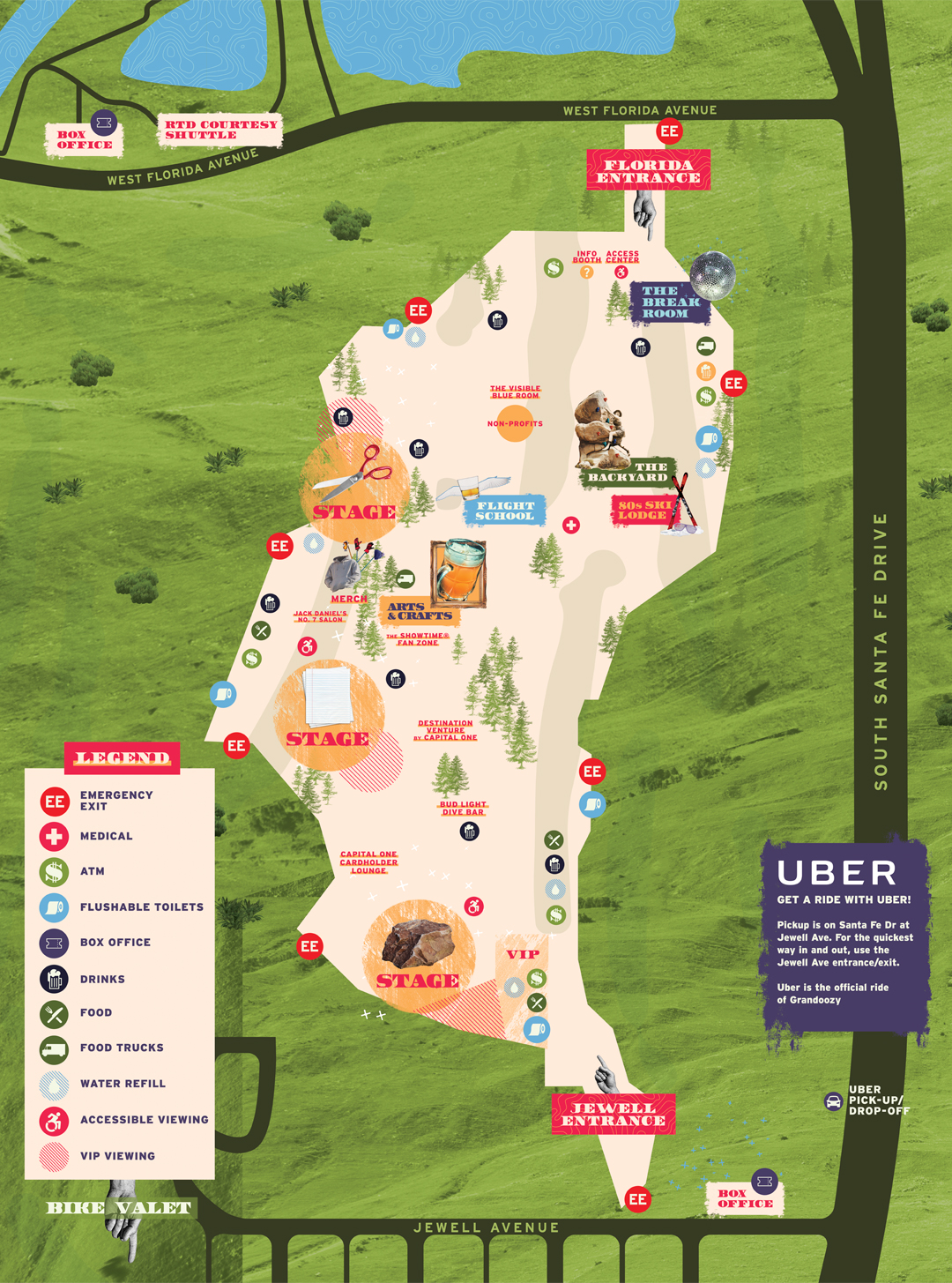 For the other nitty-gritty details on getting there, read the whole official guide. 
General Dos and Don'ts
The ultimate test of festival survival consists of policy awareness and restrictions — this is the best method for music fanatics to have the most fun wasted on cheer and good times. Being that Grandoozy is the first of its kind to overstimulate the Denver population and beyond, it's important to take precautions on what's allowed, as well as unaccepted, into the groovy grounds.
We all enjoy having sacks of items strapped to our backs while we parade from one stage to the next — but it's vital to know that Grandoozy is implementing a clear bag policy. This means the following are allowed:
Bags made of CLEAR PLASTIC, CLEAR VINYL or CLEAR PVC, smaller than 20" x 15" x 9"
One-gallon clear zip-top bag
Small clutch bags, smaller than 6" x 8", with or without a handle/strap (DO NOT HAVE TO BE CLEAR)
Waist packs / "Fanny-pack(s) or similar, smaller than 6" x 8" (DO NOT HAVE TO BE CLEAR)
Empty hydration packs with a gear capacity of 2.5L or smaller and no more than two pockets (DO NOT HAVE TO BE CLEAR)
The following are not allowed:
Any non-clear bag larger than the size of a fanny pack (larger than 6"x8")
Hydration packs with a gear capacity larger than 2.5L/150 cubic inches or more than two pockets
Full preparation for this weekend's extravaganza is necessary since re-entry is not allowed. With this being noted, festival-goers must abide to other rules on what's permitted. Check out the full list here to avoid the cost of getting booted.
Additionally, Grandoozy is weighing heavily on the matter of mutual respect and consent. In order for people to feel fully comfortable in their dancing shoes — the festival is enforcing a zero-tolerance policy for harassment of any kind. A sense of openness is accepted to a certain extent, so we politely ask music lovers to be mindful of judgments and unfavorable approaches. If one feels unsafe, they can seek assistance at the Medical Tent and inform a staff member about the situation. It's important to build a foundation of protection within an environment where passionate people simply want to sustain healthy shared experiences.
Just as we follow the path of safety procedures — newcomers may want to be in tune to some musical direction throughout the weekend since there is going to be a vast array of eclectic music to enjoy.
Make a Game Plan
With a big event like this, you should have at least a loose idea of what you want to do so you don't end up overwhelmed or feeling like you missed out. The music schedule is here and we made you a list of our favorite musicians to see here. We also set up a couple of game plans for you just in case you're having a hard time deciding.
The first day is going to break the ice with expressive sound — if you are a fan of R&B and rap, hit up the Rock Stage to catch Miguel at 6:30 p.m. and stay there for Kendrick Lamar at 8:30 p.m. If you have an interest in indie, then Phoenix will suit your fancy at the Scissors Stage starting at the same time or The War on Drugs at the Paper Stage at 7:30 p.m.
Saturday's madness exhibits a collection of rock and electronic — mosey over to the Scissors Stage for Denver based electronic group Sunsquabi at 6:30 p.m., Young the Giant at the Paper Stage at 7:30 p.m. to get a taste of alternative with Florence + the Machine due at the end of the night at the Rock Stage.
The final day is going to provide soul that is going to swallow up the crowd — Mavis Staples is bringing rhythm to the Rock Stage at 4:15 p.m., folks can dance over to the Paper Stage to get down to hip-hop trio De La Soul at 5 p.m. and definitely make sure to catch iconic musician Stevie Wonder for the finale of the weekend from 8 to 10 p.m. at the Rock Stage.
What to Eat and Drink
This slideshow requires JavaScript.
Because it's Denver and we love to drink and eat just as much as the next city, Grandoozy will have a pretty robust beverage and restaurant program. Dubbed Denver Devour, you'll be met with 30 local restaurants and food trucks, that range from local haunts to award-winning restaurants. Some of our favorites include the following:
Illegal Pete's if you want casual, inexpensive burritos, tacos or nachos
Señor Bear if you still want Mexican but a little more inventive
Biju's Little Curry Shop for casual Indian fare (this is a good spot for vegetarians/vegans)
Comal for global fare including traditional Syrian and Mexican foods (this is a good spot for vegetarians) 
Steuben's if you want some classic American comfort food
Snooze for breakfast dinner including a big lineup of pancakes and hash browns
Sweet Cow because you got to have some ice cream (don't sleep on the pretzel cone)
If you have a VIP ticket you'll get to level up to some of the fancier spots including a few that aren't open. This includes the highly anticipated Morin, which is said to focus on inventive French fare or Ash Kara which is Israeli and comes from award-winning chef Daniel Asher.
For booze — there will be plenty. That's because Grandoozy has two separate lineups for beer and spirits, which we have to say, we appreciate because Denver's distilling and cocktail game deserve the added recognition. For spirits, the "Flight School" is led by master Denver bartender Chad Michael George and will offer up four unique cocktails and five craft spirit flights including one flight dedicated to just Colorado spirits.
As for the beer, there will be a selection of Colorado craft breweries mixed with some national names. We recommend sticking to the local craft breweries and heading to places like 4 Noses Brewing, Ratio Beerworks, Denver Beer Company and Lone Tree Brewing. For a Denver event, the beer selection is just okay but admittedly it's much better than your typical music festival so we'll make do.
For the full lineup of food and beverage go here.
Other Things to See and Do
This slideshow requires JavaScript.
If for some reason you need to take a break from the music, the event has a couple other things worth checking out. If you're into outdoor sports, head to The Backyard for panels from industry leaders like the CEO of Icelantic or Olympians like Bobby Brown as well as vendor booths filled with gear from places like Never Summer, Topo Designs and Zeal Optics. There will also be yoga daily from CorePower starting at 2:15 p.m. at The Break Room. If you're looking for something a bit more upbeat but not fully in the thick of things check out the '80s Ski Lodge, which will be exactly what you expect — along with a lineup of DJs. Fellow art fans should keep their eyes peeled too because tons of our favorites will be live painting all weekend. Expect to see the graphic work of DINKC or the "digital taffy" of  Anna Charney and of course the iconic pieces by  Thomas "Detour" Evans. Pretty much no matter where you go at Grandoozy, you'll probably find something to explore.
Go here to see the full lineup of DJs, panels and vendors and here for the lineup of visual artists.