West Colfax is bent on bringing art to the historic corridor that once blazed with the lights of hundreds of neon signs. Instead of focusing on the tourist-driving industries that West Colfax once relied upon — namely, motels and hotels for the people heading into the Rocky Mountains — the 40 West Art District wants to attract locals, families and artists. And they're making headway, with major art institutions like Pirate Contemporary moving from its original Denver locale to the center of the new district and with projects like the ArtLine which showcases over 70 pieces of public art. To continue and celebrate their ambitious goals for the neighborhood, they're throwing their fourth version of the 40 West MuralFest — a one-day event that celebrates art with live mural painting, art demos, a guided tour and plenty of food and drinks.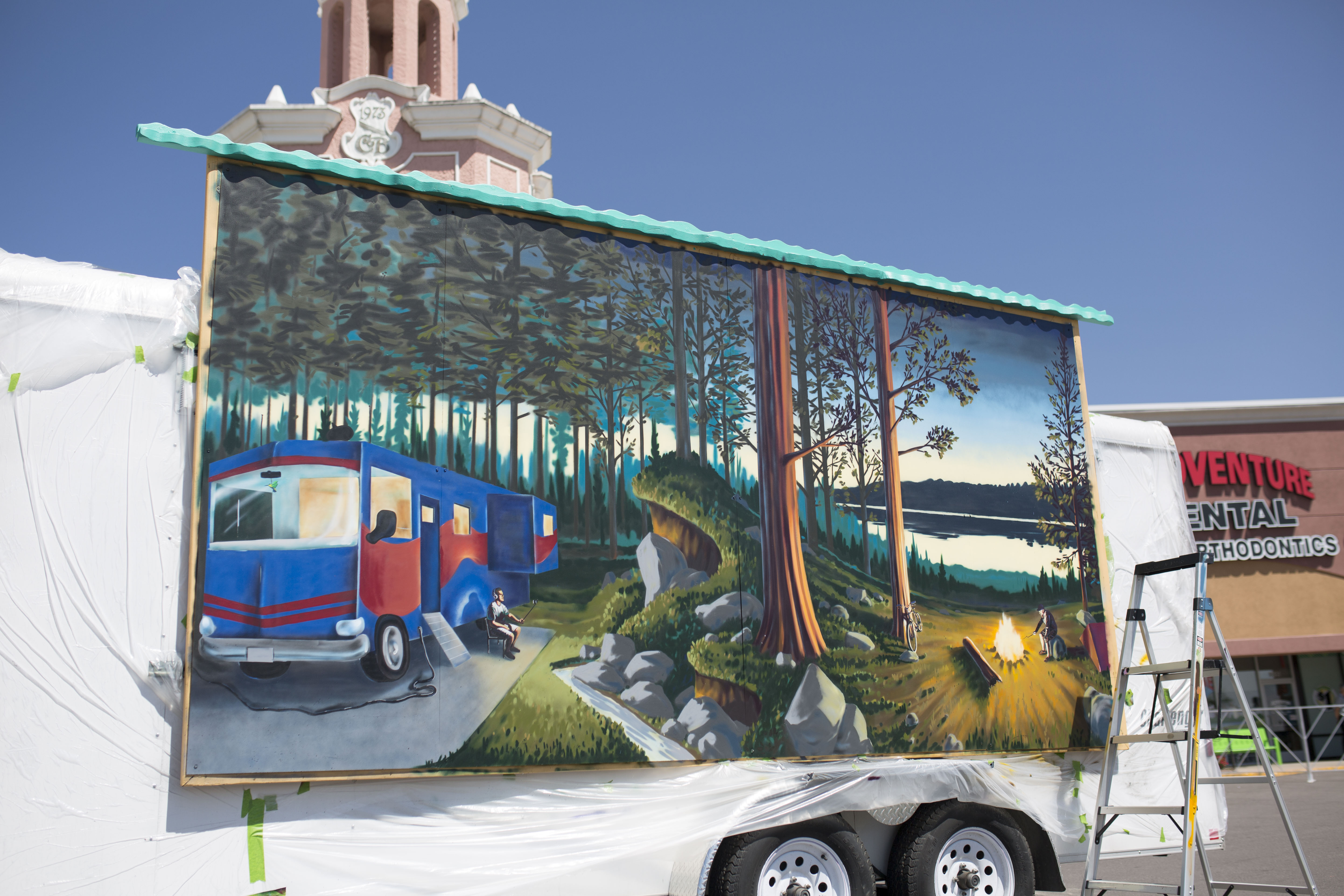 This year, the MuralFest is one not to miss, with well-known Denver artist Thomas "Detour" Evans as one of the muralists. Evans, aside from contributing greatly to Denver's art and culture scene for the last decade, has also recently been reaching his influence beyond Denver. After an exhibition at the Denver Art Museum last year, Evans traveled to France and Argentina this year on art residency trips while still finding time to paint on walls and in his studio in Denver.
He was one of six artists asked by David Letterman to paint a portrait for Letterman's new Netflix show, My Next Guest Needs No Introduction, and Evans was assigned to Jay-Z. Some of Evans' murals are iconic in Denver — like the garage door at Nocturne which has featured several different famous African-American jazz musicians or the huge portrait on I-70 and Colorado Boulevard. Seeing him paint live is not only mesmerizing, it might be one that is harder to catch as Evans continues to gain a reputation in the art world.
Other muralists who will be seen in their element on Saturday are Steven Teller, Shay Davis and Pepe Gaka. Teller is a muralist and street artist from Florida who spends his days traveling to festivals and other events to live paint. Davis is an artist who boasts a collection that can be found in the homes of Halle Berry, Tony Hawk and Greg Allman and will create a ground mural. Gaka, another traveling artist who has painted in Japan, the Philippines, Australia, New Zealand, Canada, Pakistan and of course, the US will collaborate with Sojourn Design Co. for a mural on Dutch Bros. Coffee.
Set in the parking lot of the legendary Casa Bonita, attendees can get into the MuralFest for free and enjoy all things art from 11 a.m to 6 p.m. Musical acts will serenade the visitors all day, including Maya Bennett, Kerrie Joy, Emelise Munoz and Pandas & People. And in order for the visitors to truly appreciate the art that 40 West is starting to offer to Lakewood and Denver, a free trolly will take people on a journey through the district to show off some of the other murals and public art.
With their fourth iteration of MuralFest, 40 West is making a mark in Lakewood — both figuratively, by attracting crowds to the previously downtrodden corridor and literally by providing the neighborhood with world-class street art. And if any of you Denver residents might be thinking that Lakewood is "too far" beyond your reach, don't forget that the W RTD Line can get you over there in just a few minutes from Union Station — so now you really don't have an excuse.