In a surprising coup, bike shorts took over the Spring '18 season during designer runway shows such as Dolce and Gabbana, Saint Laurent and Alexander Wang, but most recently, they've paved their way into an even more unexpected collection — fashion-forward Denver dwellers' closets. These thigh-hugging and ultramodern shorts offer inventive ways when playing up wardrobes and simultaneously provide the benefit of being relaxed. When styled on the runways, designers paired these uncustomary shorts with distinguished pieces that heightened the overall outfits, like belt bags, studded blouses, crop tops, blazers and chunky sneakers. With such an overwhelming body of evidence, we wanted to investigate the bike short hype and tested the versatility of these faddish pieces in an everyday place that seemed fitting to show their many styling approaches — the Glendale Laundromat.
CASUAL CHIC
The Lowdown: Bike shorts — as seen on celebrities such as Gigi Hadid, Kendall Jenner and Kim Kardashian — are perfect casual staples when mixing and matching high fashion and affordable designs. To heighten the look, consider mixing fabrics, colors and textures. Layering a pastel suede biker jacket or raincoat over a patterned blouse creates serious tenor. When more than one texture is present, the styling creates depth and when depth is present, an outfit turns heads. Adding a cowboy inspired bootie, high heel or mule creates drama and brings the entire look together for a casual and chic appearance.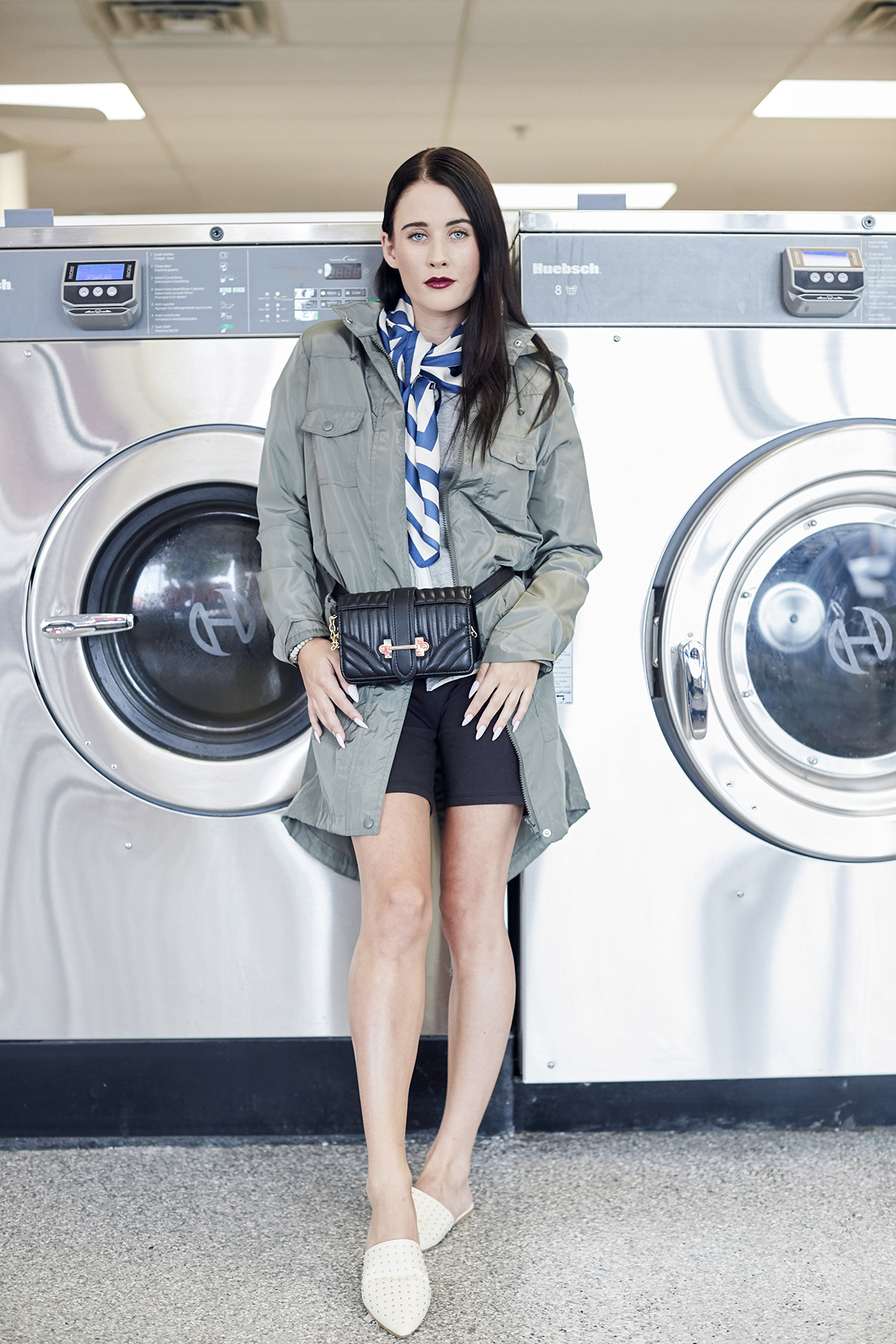 DENIM FOR DAYS
The Lowdown: Denim, recently reinvented this year, took a positive turn in presenting itself as a more exciting, edgy and urbane staple. Jean jackets with distressed holes, cropped lengths, no hemlines and added fabrics are the ultimate addition to any outfit. In the case of biker shorts, denim plays a major role allowing for an updated and sleek item to give the overall outfit personality and purpose. This fall, denim jackets worn off the shoulder or buttoned up and showing some skin are the ultimate ways to bring sexy back.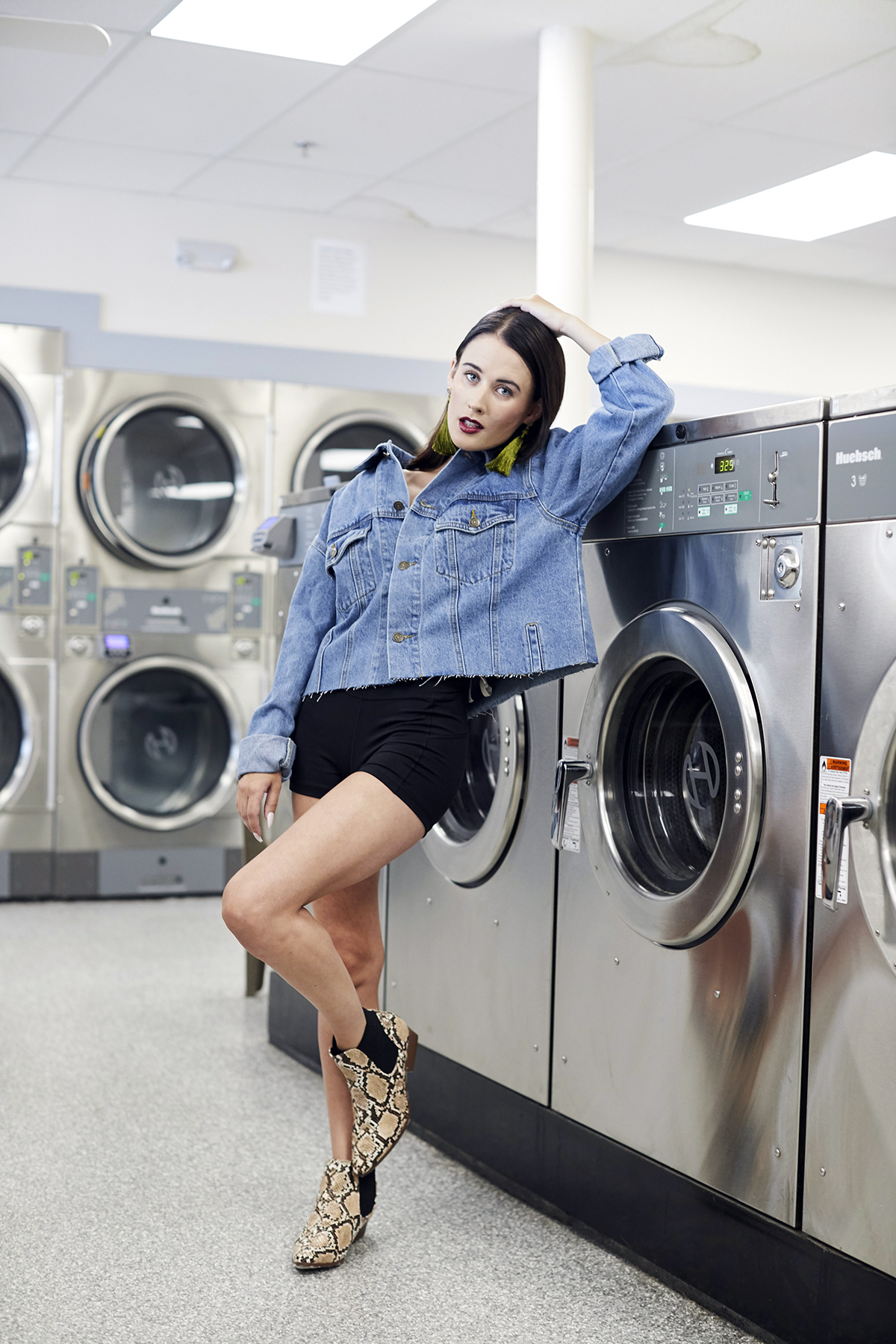 DATE NIGHT
The Lowdown: Date nights are meant to be sexy, fun and a little edgy. Keeping this continuity alive, bike shorts paired with a black leather jacket cause dramatic character when worn together. This updated biker jacket screams grunge, yet in a high fashion way. Paired with all black heels and limited accessories, this look is one that will make your date want to schedule another.
WORK IT
The Lowdown: High necklines instantly make attire professional, and this picnic-inspired, blue-patterned blouse is no exception. The ruffles provide a trendy version of the otherwise basic top and allow for a refined approach to work style. To keep hands free, a belt bag is a paramount accessory to add, especially in this season where belt bags are all the rage. Keep the look professional by pairing heels, ballet flats or patterned mules to complete the look.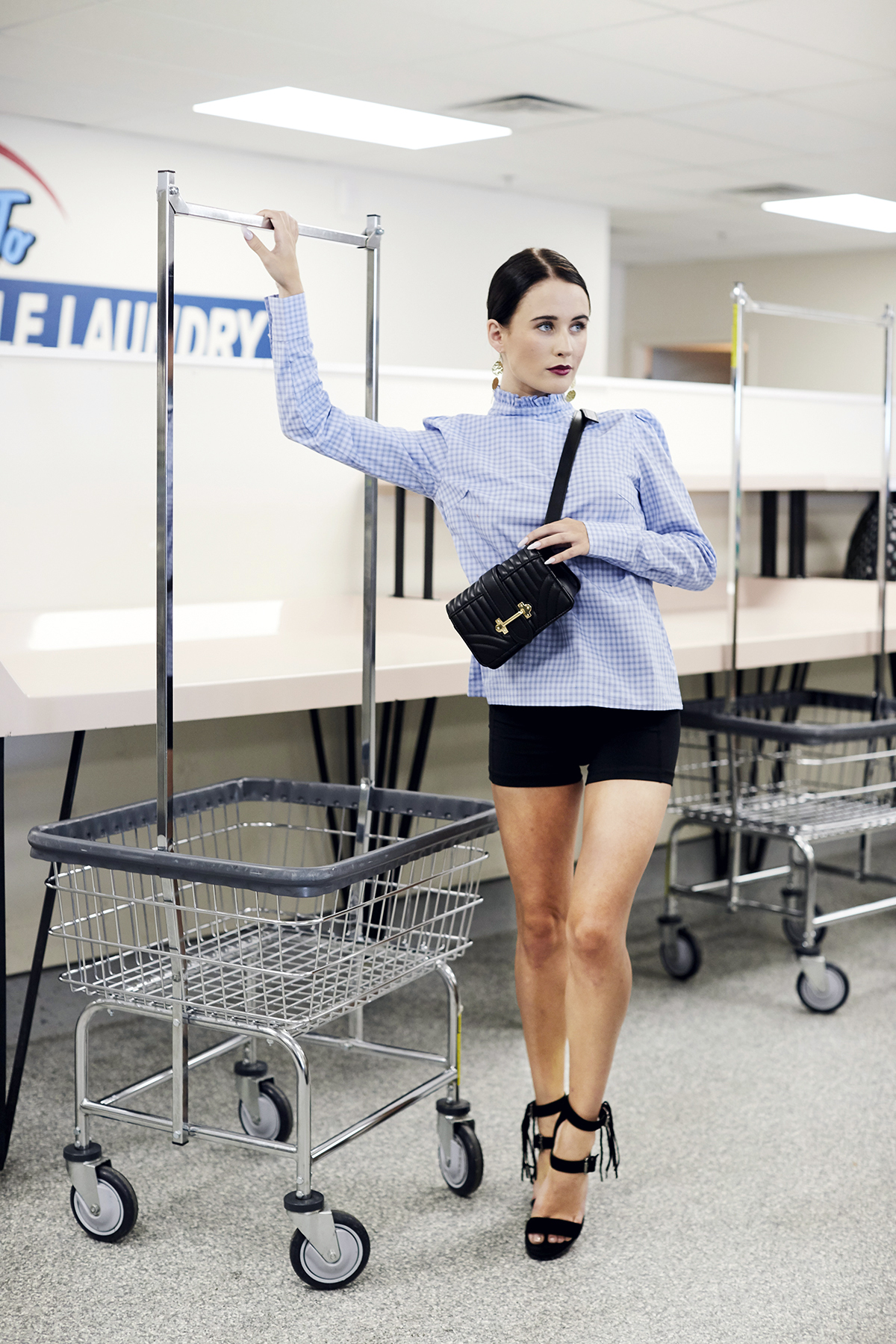 Photography by Rebecca Grant. 
Styling by Cheyenne Dickerson. 
Model Jain Barrett.