Murals and street art in Denver are popping up on new corners or alleys every week — showing the city that artistic talent does not need to rely on outdated structures of pricing or selling to gain exposure in the scene. And, despite what some people think, the street art isn't confined to RiNo — it's spread all over Denver.
Some of the newest pieces of Denver street art are on the corner of 14th Avenue and Speer Boulevard, adorning three inset brick areas. Painted by three different artists, these new murals represent an effort on the part of Hayman Properties (a Los Angeles-based company who owns the building) to create a new "art district" that will highlight artistic work without being an art gallery or museum. They're calling it the "Vibe Art District" — and though we are pretty skeptical if a handful of murals can constitute the label of a district, we are still happy with the addition of street art to the Speer corridor.
Curated by Ryan Rehbock of The Crown Collection — a gallery in the Highlands that focuses on psychedelic and alternative art, like precious stone wraps or special installations — the murals add a wonderful pop of color to 14th Avenue and each has a story of its own. "It's my pleasure to be able to bring such special and unique art to Denver, featuring some of my favorite local artists," Rehbock explained. "Driving down Speer and seeing those pieces is an amazing feeling, Jason and Stephen did an incredible job of blending their unique styles into a cohesive set of murals."
Looking at the murals starting at Speer Boulevard and moving down 14th toward Santa Fe Drive we see the work of local artists Jason Garcia and Stephen Kruse, followed by the third mural by Los Angeles-based artist Robert Moore.
Jason Garcia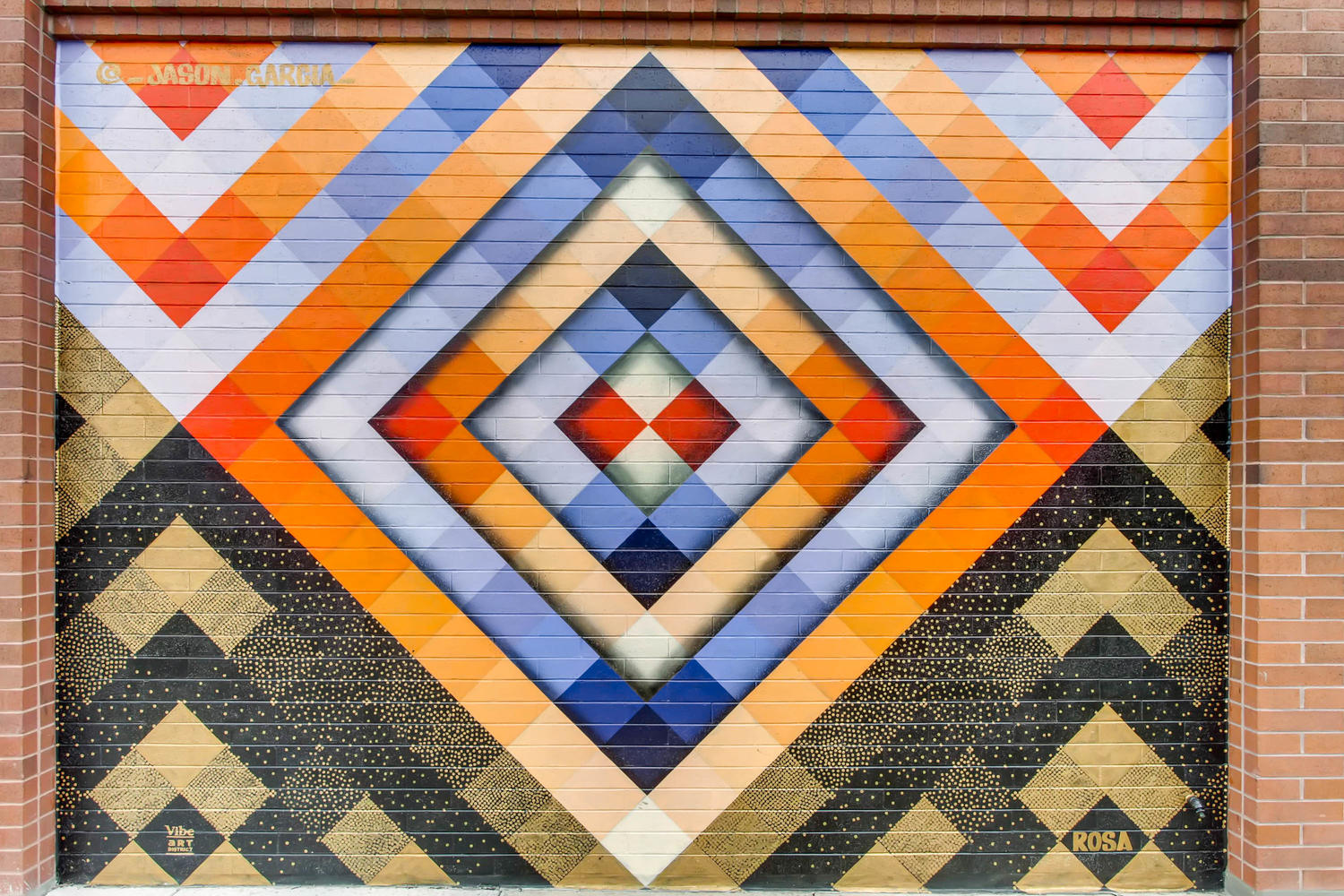 Garcia grew up in California and then studied art enough to earn his Master's degree. For many years, he traveled around with bands like Sound Tribe Sector Nine, painting live versions of his art on stage or next to the stage. When Garcia moved to Denver, he started painting exterior walls almost immediately, landing commissions and other jobs pretty easily. His style is heavily influenced by geometric shapes at the moment, but it's his deeper take on artistic messaging and how art can change the world that really sets him apart from other muralists.
"The primary image in the mural I painted is based on an indigenous pattern found throughout the Americas," Garcia explained. "An Ojo de Dios or God's Eye is thought to have the ability to visually discern and comprehend the unknown. It has often been placed in a home or along a path as a blessing for protection and guidance." The principal components of an ojo de dios are a central focal point — an eye — along with the traditional four directions or elements (earth, water, fire and air).
According to his website, "Garcia's art has raised over 40,000 pounds of food for Pine Ridge Indian Reservation and local food banks through Conscious Alliance food drives; paid for six teachers' salaries in musical programs in Gugarat, India… increased awareness and cultural education via The Sikh Heritage Foundation and enriched the lives of inner-city youth through mural programs at Precita Eyes Mural Arts Center of San Francisco." It's also been used to benefit environmental causes (Rainforest Action Network activist demonstrations), help schools from South Africa to Seattle and more. Without Garcia's passion for his art, it's doubtful any of these would have been so successful.
Stephen Kruse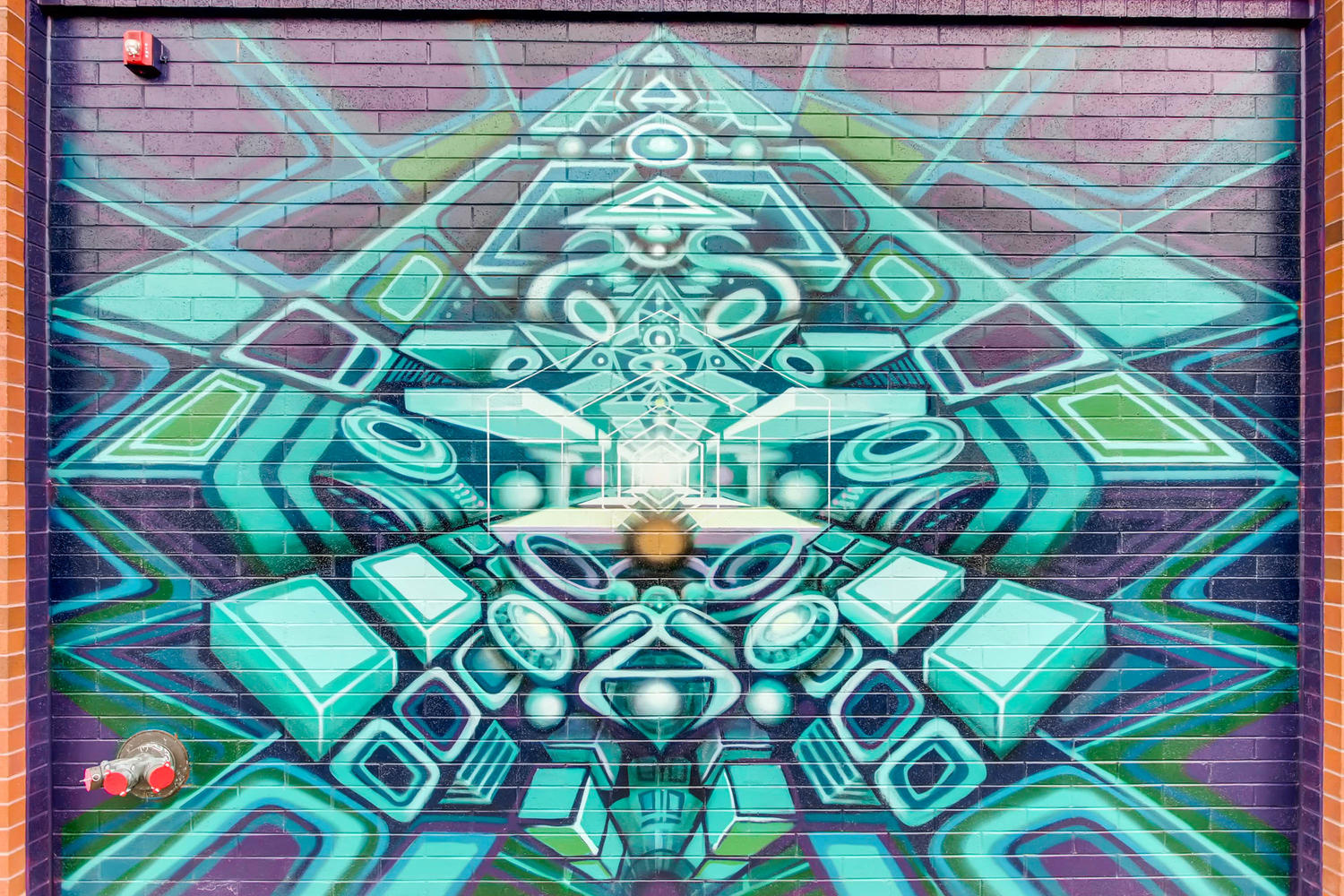 When you think of psychedelic art, chances are you imagine something similar to what Kruse paints regularly. And this one is no different — an unfamiliar perspective and horizon, otherworldly colors and designs that feel familiar and extraterrestrial at the same time.
Kruse started his painting career in Detroit but moved to Denver about five years ago to pursue a full-time artistic career. He's now part of the APEX Collective — a group of three like-minded artists, including Kruse. Typically, Kruse works at a smaller scale or else live paints during concerts. On the APEX Collective website, Kruse writes "if you listen close enough, sound makes the most lovely shapes and colors." It is a sentiment that should help viewers relate to his pieces not only because Kruse is inspired by music, but also because his art reflects the fluidity of music in a visual way.
"Painting something this large has always been a dream of mine," commented Kruse. "I was grateful for the opportunity. I hope for my work to reach the viewer at the inner core of their mind and soul. I aim to inspire and draw the viewer into a different realm of thinking. All of my work is about balance, really."
Robert Moore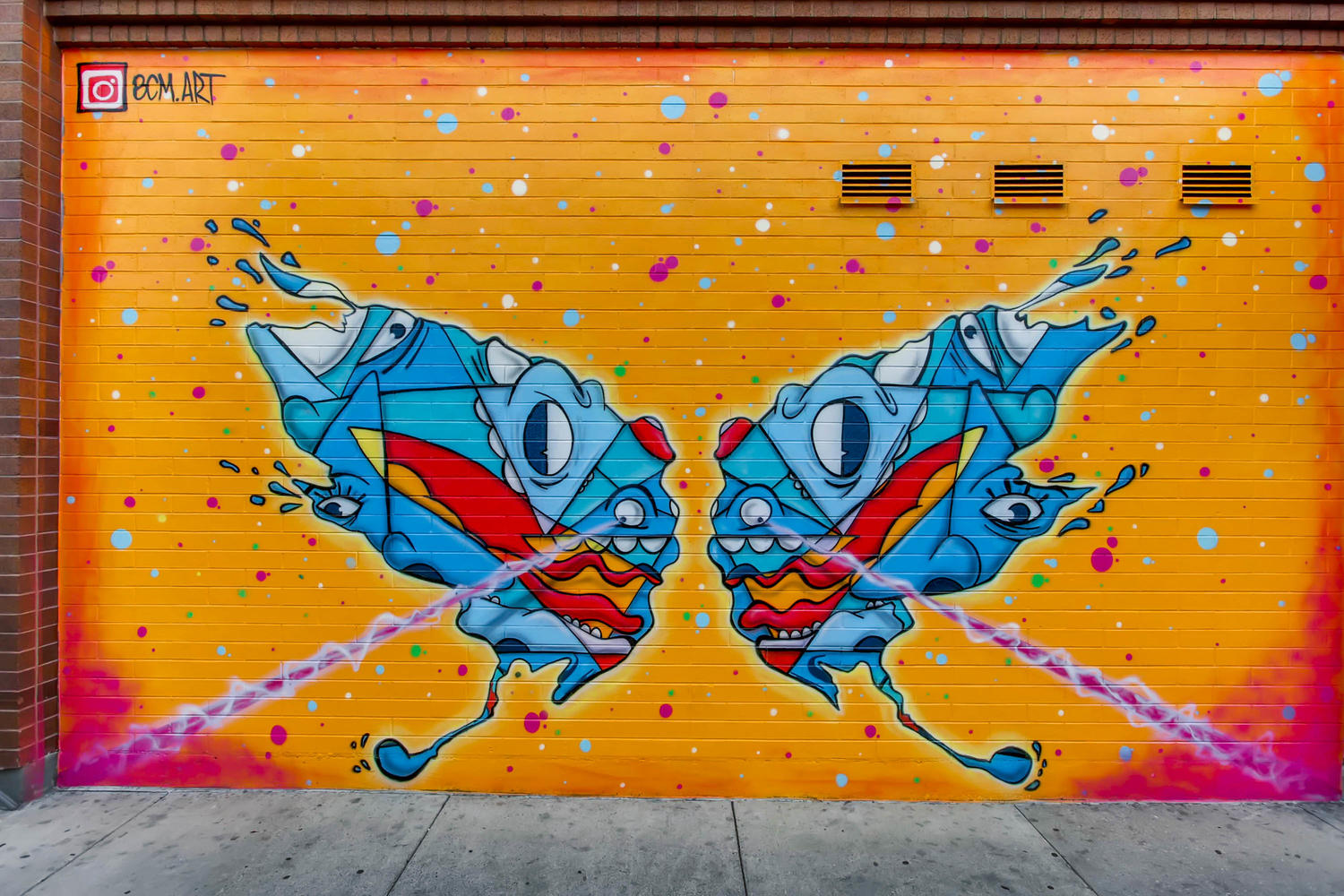 Hailing from LA, like Hayman Properties, Moore will be responsible for more than one mural on the Vibe Art District building. The other project he will supposedly be working on in the coming months is a seven-story mural of a pug wearing sunglasses, planned for the northeast wall of the building. Until that mural is completed, however, viewers can see Moore's style on 14th Avenue next to Garcia and Kruse. Rehbock did not curate this mural nor will he help with the building-sized pug, instead, Moore is a friend of Hayman Properties.
Both the butterfly and the pug will represent Moore's tendency to use childlike and playful symbols paired with saccharine colors to catch viewers' attention — even if that viewer is driving by at 35 miles per hour. There's also something a little sarcastic or melodramatic about Moore's work — come on, a seven-story dog wearing sunglasses? But ultimately, that irreverence is inherent in street art and eliciting a smirk from passers-by may be just what Moore was aiming for.
—
All photography courtesy of Vibe Art District