Synesthesia is the impression that certain bodily senses are switched around. It's easily described as "hearing colors" — though any number of sensory mix-ups can occur. The art of Crystal Wagner elicits a borderline synesthetic response — as if the massive installations portray a sound or a feeling rather than a visual one. Based in California, Wagner is known the world over as a printmaker, a drawer and an installation artist. Though she's completed customized art pieces for the Wayne Coyne of the experimental rock group The Flaming Lips and another one for NIKE, Wagner makes her way to Denver this week for a new installation at The Crown Collection Gallery. It's not her first time in Denver — she displayed at Vertigo Gallery for a group show in 2015 — but this time she's ready for a bigger and more mind-blowing exhibit. The opening reception of Paradigms takes place March 16, from 6 to 10 p.m. and will be on view until August.
Before heading to Denver, Wagner spoke with 303 Magazine about her process, her past installations and why she's excited to create something unique for Denver.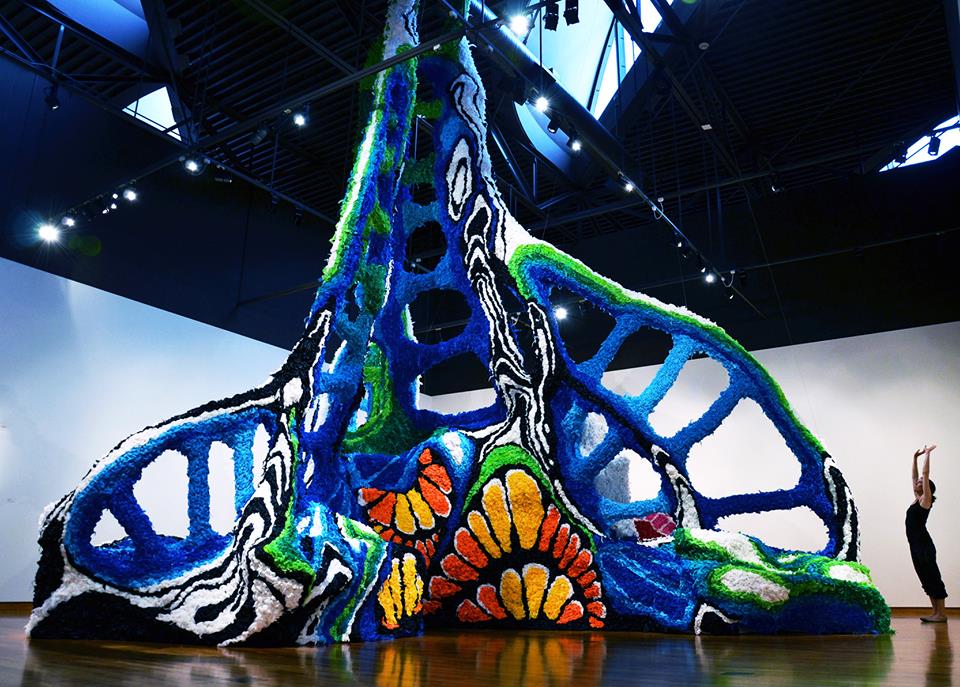 Wagner's installation pieces evoke many sensations, but the first one is most often wonder. Using reused and repurposed birthday-party tablecloth materials, Wagner weaves these through and around wire frames, creating sculptural forms that sometimes resemble piñatas. Everything she makes adheres to a site-specific plan, which also means some inspiration comes from the surrounding architecture, mood and usage of space. "I emulate forms and structures that are rooted deeply in both the micro and macro found in nature," Wagner explained. "Using synthetic materials to evoke a sense of wonder that encourages people to consider both their familiarity and lack of, to the forms and shapes that grow outside. Coral reefs, vines, root systems, trees, plants, fractals — cosmic and minuscule are all woven into the piece as it grows in the space."
Think fungus and wormholes, neurons and galaxies. These are the extremes Wagner reaches toward in her creations, but they also represent the vastly separated concepts she likes to compare. It fits into the saying "we aren't so different, you and I" — except that "you" sometimes represents roots or stardust.
"At Crown Collection Gallery, I am creating a piece that is inspired by the full spectrum. What I love about Denver is that the population of people that live here already have the core concept in common. A love of the outdoors, of nature. So I wanted to create something that was a celebration of that connection. It is both of this world and other-worldly," Wagner commented.
Her site-specific installations originate in her inspiration from nature, but they serve as a reminder that nature is often more whimsical than our wildest dreams. There is a common denominator with her creations, and that is the exploration of our connection and relationship to the natural world. She doesn't have to paint a plein air landscape to evoke organic or natural imagery, she gives you the feeling of nature. And that's much more difficult to accomplish.
Coming to a small Denver gallery after traveling the world to fabricate "pseudo-scapes" (as she has coined them) for major art galleries and companies alike might seem unusual. But Wagner attributes this to the curatorial efforts of Ryan Rehbock, owner of Crown Collection Gallery.
"I appreciate new formats and audiences for what I am doing as an artist and am intrigued by the opportunity to establish a dialog with the community here in Denver and with the unique and skilled artisans associated with the gallery. So when he suggested a pop-up exhibition in his space, I immediately said yes. As aestheticians, both Ryan and I are curating experiences for people that are housed in objects and physical spaces," explained Wagner.
After leaving her life as a professor of printmaking, Wagner devoted herself to a life of full-time art. Her expertise in printmaking allowed her a vision of what each technique could contribute to other mediums, like sculptural work. Now, printmaking still plays a role in her artistic practice, but she uses it as a tool to solely print colors. The shift in her life from academia to full-time artist brought about a change in her work, a metamorphosis that each piece has embodied in one way or another. It also shows how much time she actually puts into the making of her art.
This slideshow requires JavaScript.
Wagner remarked "being a full-time artist is work. Everyday. I spend 75-85 percent of my year on the road and the remaining time in my studio working on the smaller sculptural pieces. When what you love is what feeds you, it automatically changes the relationship of you to your work. Not in a negative way, just a shift. I am happy and grateful that I get to live this life and I am also aware that it is all consuming and it is a compulsion to make the work."
It's hard to put a finger on what Wagner should be most proud of. She's exhibited in Times Square in New York, Singapore, London, Berlin, Toronto and all over the US. She's created pieces for the snowboard company GNU and a large-scale installation piece for NIKE. And Wayne Coyne — frontman of The Flaming Lips — contacted Wagner specifically to create a piece for his psychedelic art gallery in Oklahoma City, The Womb.
About this success, Wagner gave some words of wisdom. "Advice to artists. Learn your marks, be aware of the way you see, and cultivate a celebration of self and individual autonomy with regards to your practice. An artist is both a philosopher and a maker. Learn who you are so that you know what you make and then make it as much as you possibly can. Only you can make your work."
Whatever Wagner does, she leaves a fingerprint of herself. Even if you miss the point of the synesthesia or the micro and macro comparisons, seeing Wagner's art should be high on your list this upcoming month because she creates beings —unique, un-replicated, singular installations that each have a personality of their own. The result is that people who experience her art leave with a sense of meeting someone, rather than seeing something.
All photography courtesy of Crystal Wagner.