Every summer the internet bursts at the seams with endless lineups of festivals all over the world. It can be overwhelming and make anyone want to throw away their life savings to hop on planes to catch each and every one. However, when you live in Colorado, there are so many different kinds of festivals, traveling too far would simply be a waste of time and resources.
From the middle of the city of Denver to the remote hills of Telluride and Durango, Colorado has the vibe you are looking for. From rap sensations like Gucci Mane and Future to country, folk and classical, we have what you need right here. Take a look at our extensive list and find which one (or five) is right for you.
FoCo Music Experiment (FoCoMX)
Where: Various Locations in Fort Collins
When: April 27-28, 2018
Cost: $35
The Lowdown: In its 10th year of 0f celebrating the music scene of Northern Colorado, FoCoMX brought over 300 acts to perform at over 30 locations in the beloved city of Fort Collins. Main acts for the 2018 lineup included The Patti Fiasco, The Burroughs and local favorite, The Gasoline Lollipops. Be on the lookout for this one next year, and bring your walking shoes and lots of love for music — you will have plenty of opportunities to show it.
Spread the Word Music Festival
Where: Fox Street Compound — 725 W 39th Ave., Denver, CO 
When: May 11-13, 2018
Cost: $20-50
The Lowdown: Kick off festival season by supporting the local bands of Colorado. Spread the Word Music Festival has been such a hit, it keeps coming back for more. Jeff Austin Band and Everyone Orchestra will be headlining this kickass weekend, but there are so many other bands that are worth the low price as well. Fox Street Compound is a great place to host a festival, and there will be more music late night at Cervantes'.
303 Music Fest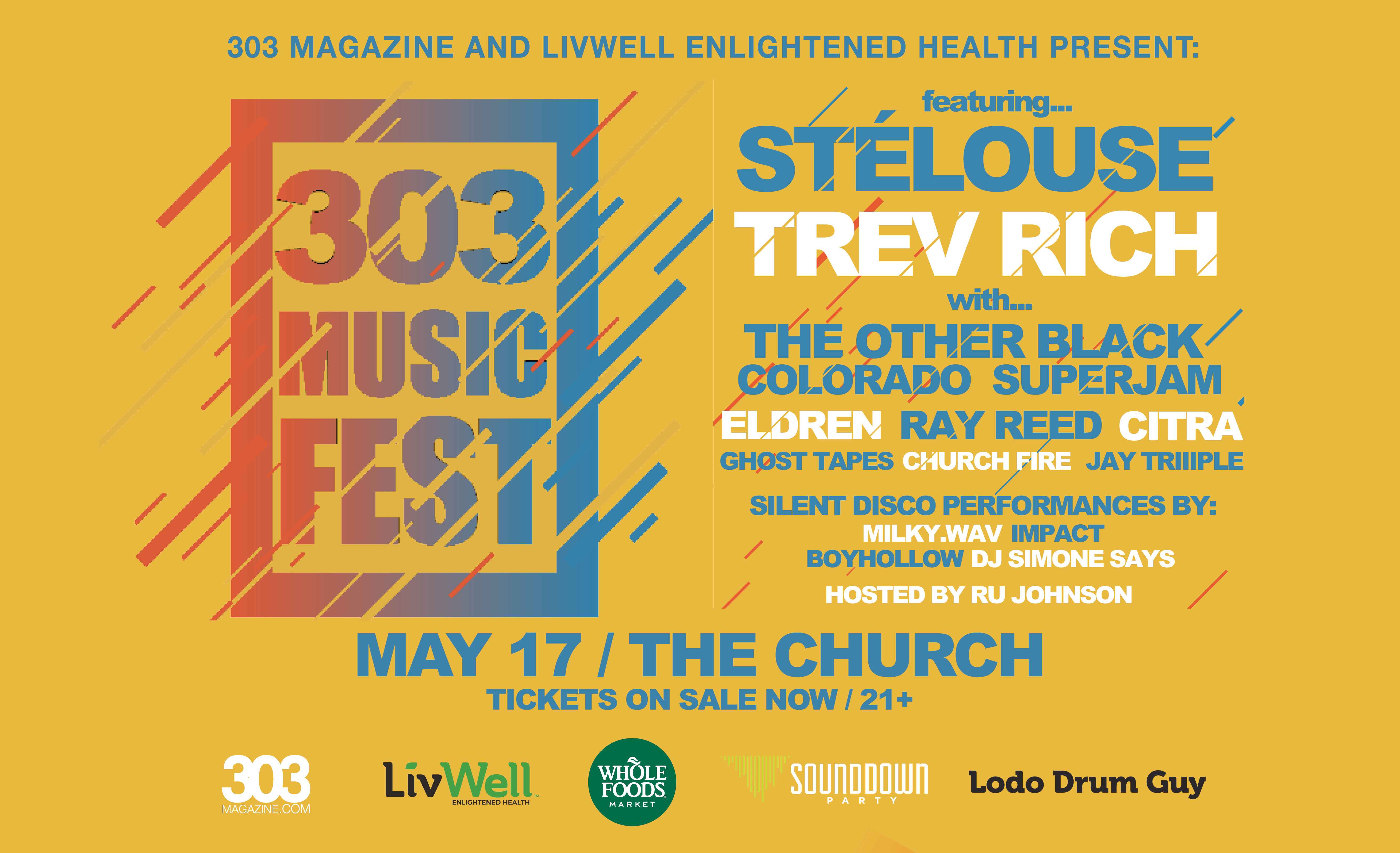 Where: The Church Nightclub — 1160 Lincoln St., Denver, CO
When: May 17, 2018
Cost: $15-50
The Lowdown: Not that we are biased, but this brand new festival is not one to miss! Our first music festival ever is meant to showcase the awesome local talent right here in the 303. Presented by LivWell Enlightened Health and being held at The Church, this festival will be all things Denver, Colorado. The main acts include Trev Rich and STéLOUSE and the festival will also serve as the premier event to our limited edition vinyl. With 17 Colorado-only acts and counting, this is a show not to be missed.
Denver Day of Rock
Where: 16th St Mall — Denver
When: May 26, 2018
Cost: $0-250
The Lowdown: This free festival is dedicated to showcasing local talent as well as supporting the hard work of Amp The Cause and other local non-profits. Amp The Cause is a local non-profit that raises funds to help children with life-threatening illnesses and provides opportunities for kids to participate in educational programs. The event takes place over five stages in the downtown area. If you would like to contribute to the cause, you can purchase a $250 VIP pass, that will grant access to catering, an open bar and VIP lounges throughout the festival.
Global Dub
Where: Red Rocks Amphitheatre — 18300 W. Alameda Pkwy, Morrison
When: May 31, 2018
Cost: $39.95
The Lowdown: Grab your spirit hood, get hydrated and go Global. The festival that always packs the monoliths outside of Denver is back, and the lineup is every bit of womp any dubstep fan could want. Ganja White Night and Zomboy will head the lineup, which should give you a pretty clear feel as to what sort of celebration you will be getting yourself into. This fest only needs one night to give you memories forever.
Greeley Blues Jam
Where: Greeley
When: June 8-9, 2018
Cost: $30-60
The Lowdown: Looking for a weekend with the fam checking out local music and food? Head on up to Greeley for the Greeley Blues Jam the second weekend in June. The packed walk-ways will serve a surplus of vendors in the historic downtown area and will showcase musical talents on the "Blues 101 Stage." The acts include legendary Chris Daniels, Victor Wainwright, Devon Allman and many more. The event is fun in the sun and a great chance to check out the local goods in the North.
Sun Drenched Music Festival
Where:  Denver Beer Company — 4455 Jason St. Denver, CO 
When: June 9, 2018
Cost: $25
The Lowdown: Denver Beer Company likes to prove they know how to throw a party every year by, well, throwing a great party every year. The Sun Drenched Music Festival is a great day to bring the family for games, live music and for those that are age-appropriate, beer. This year's music lineup includes Hot Buttered Rum, Town Mountain, Rapidgrass Quintet,
The Railsplitters and more. Each ticket even includes one free beer, and free beer makes the event worth it all on its own.
Juneteenth Music Festival
Where: Five Points, Denver, CO 
When: June 16, 2018
Cost: $30-60
The Lowdown: No festival on this list celebrates culture like Juneteenth Festival, which will take place in Denver's historic Five Points neighborhood. Join the thousands of people who come together to ignite a flame to the candle of pride, community and freedom. Juneteenth Festival is one of the oldest cultural celebrations honoring the end of slavery in the United States. Some of the expected tunes are primarily jazz, funk, R&B and hip-hop, as those genres serve as more traditional odes to the African American community.
Country Jam
Where: Grand Junction
When: June 14-17, 2018
Cost: $155
The Lowdown: Have you been dying for a chance to break out those cutoff shorts and even that farmer's tan? Well, hot dog, Country Jam might be the perfect place to do it. While a country music festival in Grand Junction, Colorado may sound below par of some of the others on this list, if you are a fan of the genre the festival never ceases to bring the heat in the lineup. This year is Florida Georgia Line, Miranda Lambert and Brantley Gilbert — all big names in the game. The festival is not camping only but beware of indulging and then hitting the road. The venue is outside of the town, and the safer option would definitely be to camp on the grounds. You will want to bring sunscreen, a cowboy hat and your finest aviators to make a splash.
Telluride Bluegrass Festival
303 Award Winner: Best Colorado Music Festival (2017-2018)
Where: Telluride
When: June 21-24, 2018
Cost: $85-240
The Lowdown: One of the longest-running fests in Colorado history is, of course, Telluride Bluegrass. The annual meeting of string fans of all shapes and sizes takes place right in the middle of the town. The lineup always boasts the heavy-weights of the bluegrass genre, while tossing in a few outliers to keep things interesting. This year Tedeschi Trucks Band, Sturgill Simpson and Emmylou Harris will be in the mix — a mix that will also include yearly staples like Sam Bush, Leftover Salmon and Yonder Mountain String Band. High in the San Juan Mountains, there is no way to this fest without a car, but once you're there, the costs stay down. Mary E. Ilium campground is only $50 a night, with shuttles that send you back and forth to the venue. You will need a tent, food and other good time essentials.
Sonic Bloom
Where: Hummingbird Ranch
When: June 14-17, 2018
Cost: $211
The Lowdown: If the smell of weird catches your interest, Sonic Bloom is probably the weekend for you. The headlining acts this year are Shpongle, Keys N Krates and Nightmares on Wax. While those headliners are sure to be enough of a party, EOTO and Break Science are veteran acts that should not be missed. It is safe to say that this one will be a doozy. Since this is a camping festival, one will need to tote a tent, groceries and plenty of water to stay hydrated while under that hot sun.
Cover Rock Music Festival
Where: Avon
When: June 22-23, 2018
Cost: $79-179
The Lowdown: This festival was made in the U.S.A. While unconventional, this festival is meant for the rocker in all of us who may never be granted the chance to catch some of the greats. The tributes at this all-cover rock fest will include Simon and Garfunkle, Tom Petty, Bruce Springsteen, The Eagles and so much more. In the beautiful Avon, Colorado outside of Vail, the mixture of these classic tunes and the stunning scenery are sure to be one of the highlights of your summer.
Bravo! Vail Music Festival
Where: Vail
When: June 21-August 2, 2018
Cost: Varying Packages
The Lowdown: This is one festival that may not ring any bells unless you are into the world of Colorado orchestra. For over 30 years, this congregation of musical talent has taken place high in the mountains near Vail. This event is much more laid back than the aforementioned, is family friendly and will more than likely expose its participants to a new world of Colorado musicians. Since it takes place over the course of several weeks, patrons can pick and choose when they want to go, who they want to see and where they would like to rest their heads in between acts. Plan to spend a little money — rooms in Vail are not cheap.
Westword Music Showcase
Where: Golden Triangle, Denver
When: June 23, 2018
Cost: $35
The Lowdown: Let's face it — you love this lineup every year and there is no evidence of stopping. Galantis, Bonobo and Joywave are all going to be bringing down the house in 2018. This is the festival that keeps everyone running around South Broadway like an amusement park — you will be sure to find a hole in the wall bar with the best specials in town while you hear your new favorite Denver band. It runs all day, and they mean it. Make sure you are drinking water, keeping track of your homies and catching as many acts as you can fit into your schedule.
Vans Warped Tour
Where: Denver
When: July 1, 2018
Cost: Starting at $45
The Lowdown: Colorado, I'm sure you're already familiar with what a Vans Warp Tour entails— slip 'n' slides and obviously, incredible national artists—but you should probably also know that this is the tour's final year of bringing excellent artists across the country. Yes, you, unfortunately, read that correctly. With over two decades of touring history, the national event that brought My Chemical Romance, Fall Out Boy and Katy Perry into stardom is now reaching a close. If you haven't yet experienced the enchantment of a Vans Warped Tour, buy your tickets now for this last call.
Music in the Mountains
Where: Durango
When: July 7-29, 2018
Cost: $50
The Lowdown: Not all music fans are the type to want to get lit in a sequined bra with a water bottle full of vodka. Some, appreciate the more classic approach, and those people will be meeting up in gorgeous Durango, CO in the month of July for the Music in the Mountains Festival. This festival showcases the beauty of classical music against the serene mountain backdrop, which is an experience that anyone could enjoy. The tickets are not too pricey, and with the lengthy time span that the festival runs for, it would be hard not to be able to find a weekend to make it up for a piece of it.
Central Rockies Old Time Music Festival
Where: Berthoud
When: July 11-15, 2018
Cost: TBD
The Lowdown: With a passion for preserving old-time music, the Central Rockies Old Time Music Festival celebrates its ninth year of promoting organic and early bluegrass sounds in Colorado. Featuring eight bands of all skill levels, including Patt & Possum and The Barn Owls, the festival will be filled with the sweet sounds of violins, banjos, fiddles and guitars. As their website puts it best—"Old-time music was the old-time name for real mountain-type folk music," shared Mike Seegar.
Ride Festival
Where: Telluride
When: July 14-15, 2018
Cost: $195
The Lowdown: Of all the festivals that Telluride has to offer, Ride Fest continuously brings the most eclectic lineup. Ride Fest hosts String Cheese Incident, Sheryl Crow, Grace Potter and more. Although it is a different kind of festival it has a very similar setup to others. You need a camping pass, you need a tent and you need some pals who are going to scream along with.
Underground Music Showcase
303 Award Winner: Best Denver Music Festival (2017-2018)
Where: Various locations in Denver
When: July 27-29, 2018
Cost: TBD
The Lowdown: If you love the Denver festival feel but are more inclined to devote your time to find the new up-and-comers of our area, UMS, or the Underground Music Showcase is the party for you. There is a lot of information yet to be announced, however, this rager has been popping off for 18 years this summer, so I would not waste time fretting on details and suggest you just put it on your radar now. Like Westword Music Showcase, this fest is pretty all over the place as far as venues go, but that is just all the more reason to get out and chug beers and shots in some parts of the city that you haven't yet seen.
Global Dance Festival
Where: Sports Authority Field — 1701 Bryant St., Denver, CO
When: July 20 & 21
Cost: $160-180
The Lowdown: Without contest, one of the most exciting events of the summer is Global Dance Fest this year. With off the wall headliners like Gucci Mane, Future, Destructo, Tiesto, Mark Farina, Thomas Jack, Deadmau5, Flux Pavilion, Adventure Club and others, this two-day festival is going to bring the heat right in the heat of summer. There will also be amazing local artists like SoDown to keep the lineup full and hefty. This will be a huge event, so invite all of your friends and be sure to catch up on all of the latest mixtapes so that you can vibe along.
RockyGrass
Where: Lyons
When: July 27-29, 2018
Cost: $165 *sold out
The Lowdown: Oh, look! Another Planet Bluegrass favorite. So, let's say you love the stacked lineup of the Telluride Bluegrass Festival but hate the beer and bathroom lines? Well, whoever said there is not best of both worlds has never had the blessed opportunity to check out RockyGrass — the perfect in-between of a heavy hitting lineup of talented pickers and a laid-back vibe. While tickets do appear to be snagged up for the time being, keep an eye on the Planet Bluegrass website. The exchange there is safe, watched and friendly. This will be your run-of-the-mill three-day fest, so pack your lodging in and eat around a stove. Don't forget beer money!
Arise
Where: Sunrise Ranch
When: August 3-5, 2018
Cost: $169
The Lowdown: The festival that quickly became Colorado's baby is going to be commencing again, and like last year and the year before, the lineup is drool-worthy. Hip-hop superstars Living Legends, master of the EDM universe Ott., reggae stars Slightly Stoopid and Thievery Corporation are leading the lineup with the recent addition of Opiuo. There is a promise for one more star player to be announced in May. This is your premier, community-focused summer festival, complete with yoga and camping so bring your gear, your food, your beers and a good mood.
Keystone Bluegrass and Beer Festival
Where: Keystone
When: August 4-5, 2018
Cost: $40-80
The Lowdown: This small but mighty fest in River Run Village in Keystone will bring some top acts in the bluegrass community to the fresh mountain air. Mandolin Orange and the Lil' Smokies are heavy headliners, and the rest of the acts are sure to keep the two-days of music bumping wildly. In the warmth of the August sun, this lineup is more than worth the short drive past Eisenhower Tunnel.
Bohemian Nights
Where: Fort Collins
When: August 10-12, 2018
Cost: Free
The Lowdown: Featuring Colorado-based musicians, this three-day festival incorporates all that we know and love about the Rocky Mountain state—community, respect for the environment and of course, emerging and exciting local music. For years, the festival has brought dozens of bands to historic downtown Fort Collins, featuring CAKE, Pandas & People, Leftover Salmon, Edison and Brandi Carlile in 2017's lineup. With six stages of entertainment, everyone in the family is sure to find a sound they love.
Mountain Town Music Festival
Where: Keystone
When: August 17-18, 2018
Cost: Free
The Lowdown: The mountains are hopping with music. With the bluegrass festival at the beginning of the month, and this right here in the middle, August is a hot time to be in Keystone. Especially since this festival is free, serving as a gift to the supporters of the community for what is sure to be a great summer. The Lone Bellow, Dustbowl Revival and Mulligan Brothers as the initial acts for the lineup, this weekend will be one to remember as your summer comes to an end. Check out the vendors for the food and booze and get ready to jive.
Rocky Mountain Folks Festival
Where: Lyons
When: August 17-19, 2018
Cost: $150
The Lowdown: As we've stated many times on this list, Planet Bluegrass just never lets us down. Obviously, Telluride holds the crown for the most well-known and adored bluegrass festival, but over the last few years, the Rocky Mountain Folks Festival has been steadily grabbing a solid following of its own. For those who want to avoid the 10,000 person gathering that is the bluegrass fest, one can join the softer souled event in Lyons, and still enjoy a weekend of talented tunes with their loved ones. Indigo Girls, Jeff Tweedy and Los Lobos will be the main acts to catch.
NedFest
Where: Nederland
When: August 24-26, 2018
Cost: $35-420
The Lowdown: This Colorado favorite is unlike any of your run-of-the-mill musical get-togethers. Tucked back in the Rocky Mountain town of Nederland, the concert brings together an eclectic crowd without the lines and headache of most summer festivals. This year's lineup has some great prospects, like Electric Hot Tuna, Melvin Seals, Head for the Hills and Flash Mountain Flood. Take your typical camping gear and a positive attitude, because you're about to make some friends.
Four Corners Folk Festival
Where: Pagosa Springs
When: August 31-September 2, 2018
Cost $41.50-328.75
The Lowdown: Pagosa Springs is an area that can sometimes be forgotten, but to forget this festival would be a grave mistake. With a lineup like Nahko and Medicine for the People, Sam Bush Band and The Dawg Trio with David Grisman, Danny Barnes & Samson Grisman, the three days at the end of the summer are sure to be full of fun and good vibes. This festival is great for the family as well, since children under 12 are free, and who doesn't want to camp out under the Colorado sky?
Jazz Aspen Festival
Where: Snowmass
When: August 31-September 2, 2018
Cost: $219.95-3,000
The Lowdown: This event, though small and humble, brings a mighty plate to the table of deciding-which-festivals-to-drop-dough-on. With a stacked lineup of Michael Franti, Lionel Richie and Fitz and the Tantrums, it could very well be worth it. With it being in the fancy hills near Aspen, you will not camp but will need to put yourself up in a hotel, which could cause financial burden if you're used to snoozing off the intoxicants under the stars. If saving dollars isn't part of your agenda, the walls of the inside are lined with tasty food trucks, so there's no real need to plan for meals. You will probably need a way to transport to and from, so look into the shuttle pricing on the website when checking out.
Seven Peaks Music Festival
Where: Buena Vista
When: August 31-September 2, 2018
Cost: $215
The Lowdown: Alright, Labor Day is stacked — we get that. However, all of the options are relatively different in their lineups, so depending on what your jam is, the choice should be easy. The choice to partake in Dierks Bentley's new Colorado festival, Seven Peaks Camping and Music Festival in Buena Vista, will be a choice for country music. With a lineup of Miranda Lambert, Elle King, Sam Bush, Brothers Osborne, Del McCoury Band and of course, Dierks Bentley, this festival is sure to bring the twang that the mountains are missing. 
Telluride Blues and Brews
Where: Telluride
When: September 14-16, 2018
Cost: $200 *sold out
The Lowdown: Okay, this list is not an ad for Planet Bluegrass, they just really know how to throw a festival together. The Telluride Blues and Brews is one of the top festivals of Colorado festival season because of three major components — it is nestled in the gorgeous valley of Telluride, the music is always on point and BEER. The get-together lasts all weekend, so there is no rush or hectic festival feel. The lineup for this year consists of heavy-weights Robert Plant, Ben Harper and Gov't Mule for all the rockers out there.  If you are dying to try this sold out fest, just keep your ears perked, there are always miracles floating around.
TBD: Grandoozy
Where: Overland Golf Course — 1801 S Huron St, Denver, CO 80223
When: September 14-16, 2018
Cost: $224.50-299.50
The Lowdown: Last but certainly not least, will be Denver's first ever super-festival, Grandoozy. Brought here by Superfly, the co-creators of Outside Lands and Bonnaroo, this festival is extremely exciting for the music fans of Denver. While you can see from this list, Colorado has a huge selection of festivals to look forward to — but nothing will compare to this. The lineup boasts a girth of acts that Denver has simply never seen before, like Kendrick Lamar, Florence and the Machine and Stevie Wonder. Other fantastic supporting acts include Logic, The Chainsmokers, Sturgill Simpson and Miguel. Grandoozy is the epic festival we have always wanted and deserved. And while the verdict is still out on how the fest will play out, we have high hopes for Grandoozy.