Colorado native, Marco Vargas, is an enigma by traditional standards, but that's what makes him an essential part of Denver's fashion community. Social constructs have dictated gender roles, imposing restrictions on behavior as defined by these roles. Vargas is here to teach us the evolution of style is based on true expression rather than a prescribed way of being. "When someone tells me I can't do something I have to prove them wrong, so I guess I'm just a rebel with a cause," he said. "I want to shake up the industry and be a voice for those that have been silenced. My cause is beauty and fashion for all. Not some, but all."
Vargas walked in his first fashion show when he was 12 years old and has maintained a presence on and off the runway since that time, including appearances at Denver's Unique Week of Fashion and Denver Fashion Week (DFW). He also travels all over Colorado with a team of artists as a brand representative for Smashbox, serving as the premier makeup corporation's presence at events and shows. Although he has an impressive list of lofty accomplishments, what is most impressive about Vargas is what he has overcome to get where he is. He drew strength from rejection, an abusive relationship and an HIV-positive diagnosis and used them as fuel to attain his goals and realize his dreams in the ten short years since he first stepped on a runway.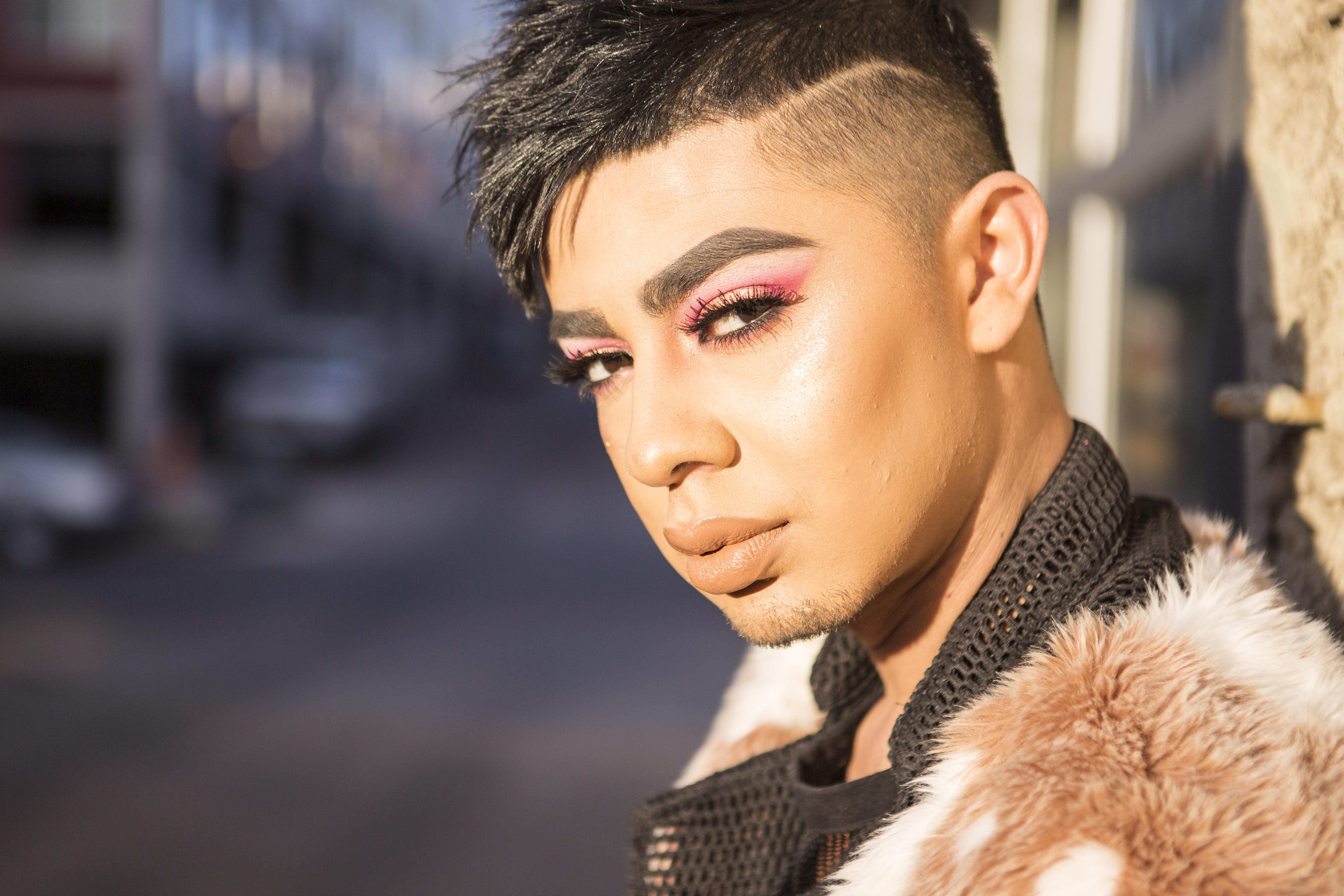 303 Magazine: Describe the moment you realized fashion was going to have an impact on your life.
Marco Vargas: I always would wear women's clothes even at a young age. They just fit better. I wouldn't dress like anyone else. I would sometimes make my own tank tops, cut up pants and stud my jackets to make them more unique. I never wore what the other kids would wear. The moment I realized fashion would impact my life was when I went to my first casting call to audition for a fashion show for Plato's Closet.
303: What was your path to modeling? 
MV: My path to modeling was long. I always knew I wanted to do it but I never admitted it. I thought dreams like that were too hard to reach. I heard on the radio that Plato's Closet was holding auditions for a fashion show so my sister and I decided to go. We were the only ones without an agency and the only Latinos. I was so nervous but as soon as I stepped on that stage, I blacked out. The adrenaline was intense. The excitement backstage and the adrenaline from walking were intoxicating.
I auditioned for DFW many times. I would always stand with the men but never got picked. Finally, at one casting when they were separating the men from the women, I went up to Charlie Price and asked: "Hey Charlie, should I stand with the boys because of what's in between my legs or the girls because of what my body type is?" He replied with a simple, "What do you think?" I quickly ran over to the girls' side. That was the first time I was picked.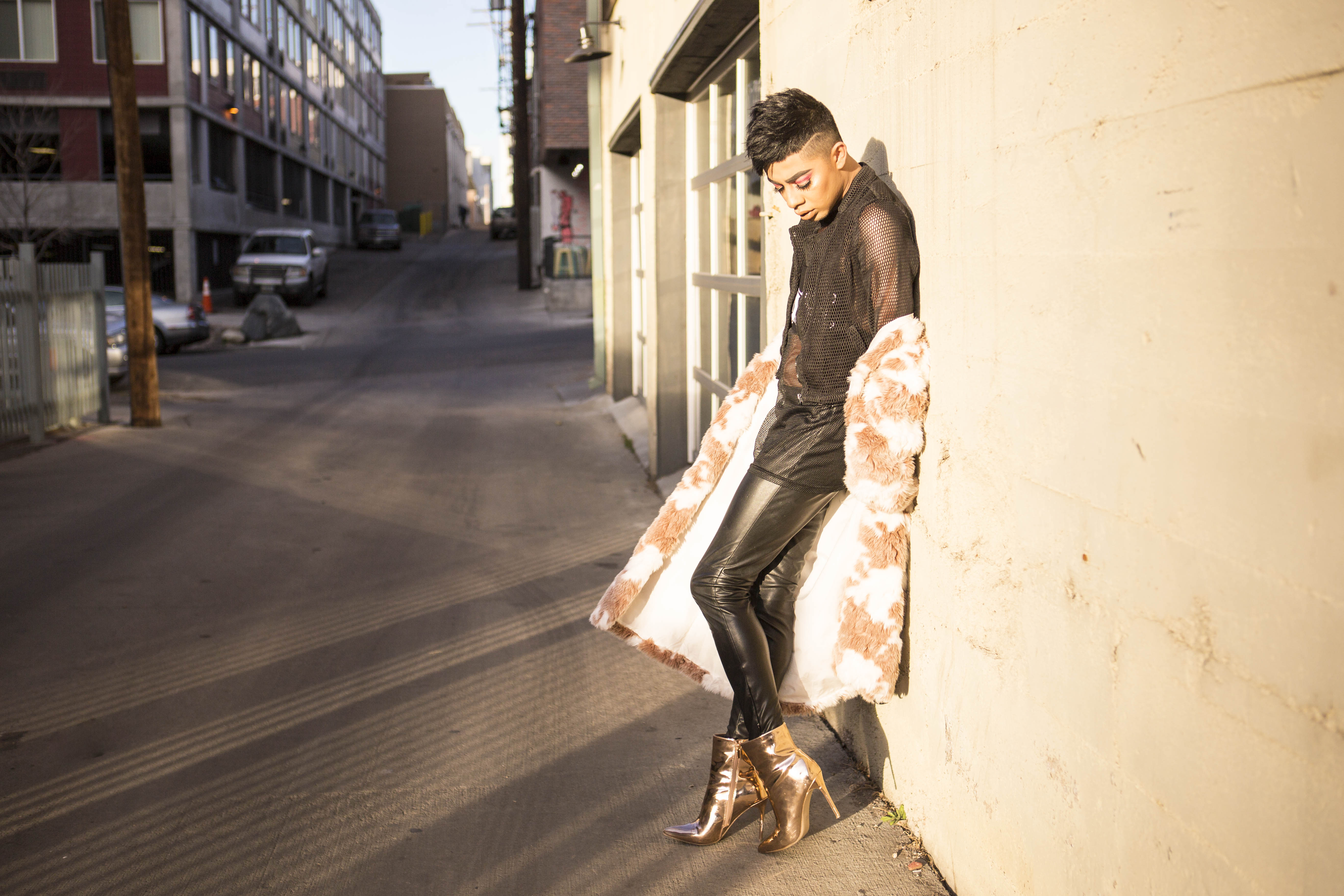 303: To what do you attribute your bravery to challenge gender norms and pave your own way? 
MV: I've always had this strength and courage and confidence to me. People always ask how I do it. "It" being the fact that I wear makeup and heels and how I'm so open about my status. I really don't know. I've just been through so much at such a young age that I'm not afraid anymore. I've been through things people 20 years older have not gone through. I just faked it until it was a reality. I'm a true believer in the law of attraction and started practicing that after my diagnosis.
"Whether people like it or not I exist. I'm walking the same earth as you and you will hear what I have to say. No more hiding, I'm breaking molds like many before me but there's still more to be done."
303: How did your long-term, abusive relationship alter your path? 
MV: That relationship was something that has forever changed me. I met a man and we quickly knew we were attracted to each other. When things became more serious, he got weird. He then admitted that he was HIV positive but was on medication and he was undetectable. I didn't know much about that but I knew I loved him. He was very charming and generous. I quickly knew some things were up though. When I have a gut feeling I'm never wrong.
He stripped me of talking to anyone. I had no communication with the world. When I did have a phone, we would have GPS trackers to track each other. This is not how two people who love each other should treat each other. We put on a front of a perfect relationship when it was toxic. I finally had the courage to leave him, and I never looked back.
I got sick shortly after. I was bedridden for a week because my mom was out of the country on vacation. I had not showered. I couldn't eat. I felt like I had the flu. When she got home you could imagine how alarmed she was. We went to the emergency room. I normally weigh about 130 to 140 pounds. I was a mere 110 pounds. I told the doctors I had been with someone who was HIV positive, so they tested me for everything. They said if they called it was because something came back positive. They called. When they told me I was HIV positive, I didn't cry or anything. I had already prepared myself mentally if I were to get it. I was educated on it and knew the steps.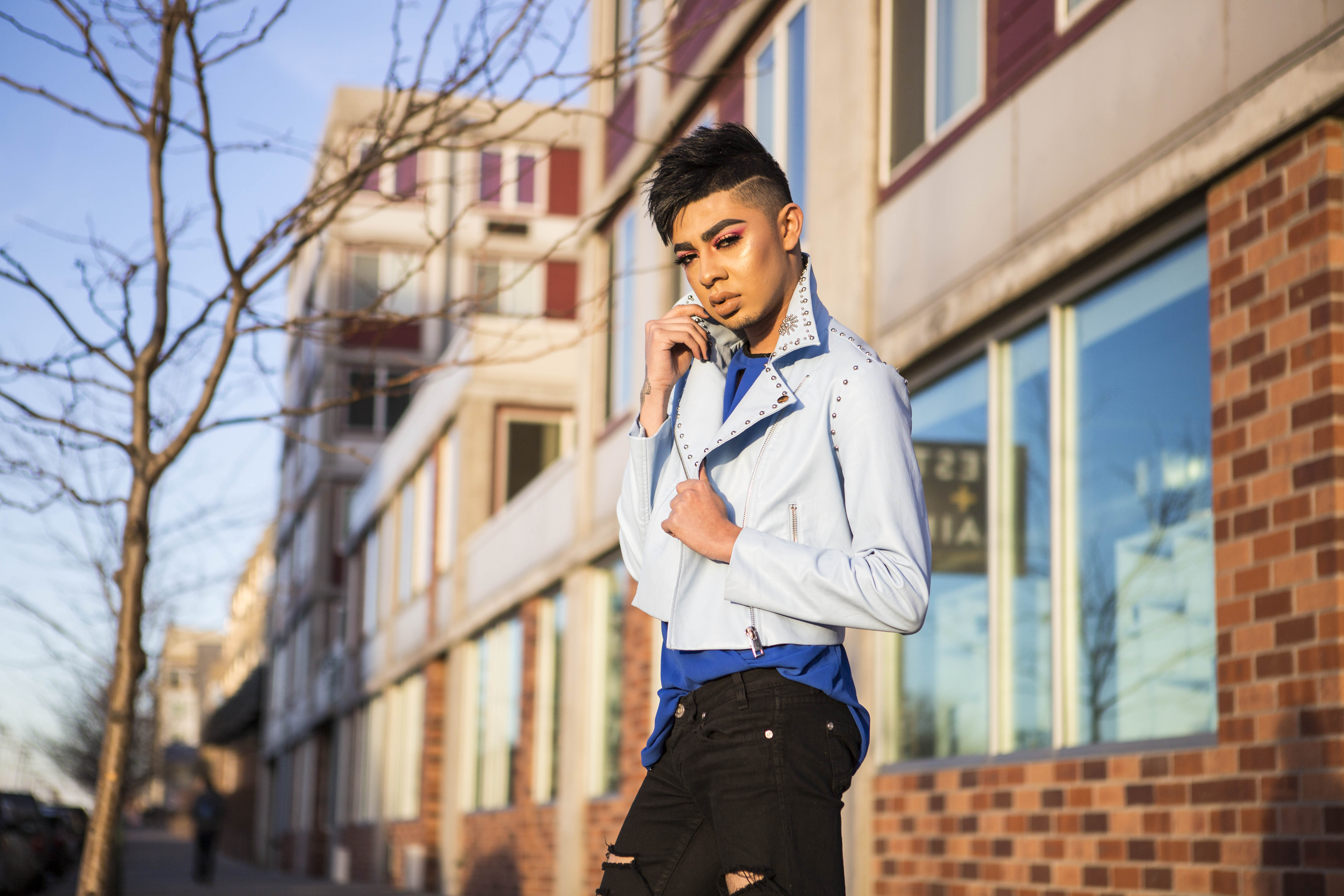 303: What are some of the most shocking things you've ever done?
MV: The most shocking thing I did was when I told the world. I kept it a secret for almost a year. Only my mom, sister and three close friends knew. That's when I started doing shoots and runway and I started to have a presence on social media. I always preached about being true to yourself and loving yourself, yet I was holding a huge secret. I felt like a fraud. People thought I was living a glamorous life doing photo shoots and being a makeup artist but behind the doors, I was getting poked and prodded in the doctor's office.
I did a photo shoot with a dear friend, Hosnah Safi, shared my story with her and we shot amazing images. One night, I wrote a long post and added my favorite image from our shoot and posted it on Facebook. The amount of love and support I got was phenomenal. It was the most relieving experience ever. It was like coming out again. A huge weight was lifted off my shoulders. I never wanted anyone to hold that over me. I didn't want rumors to start so I thought if anyone's gonna hear it, it's gonna be from my mouth.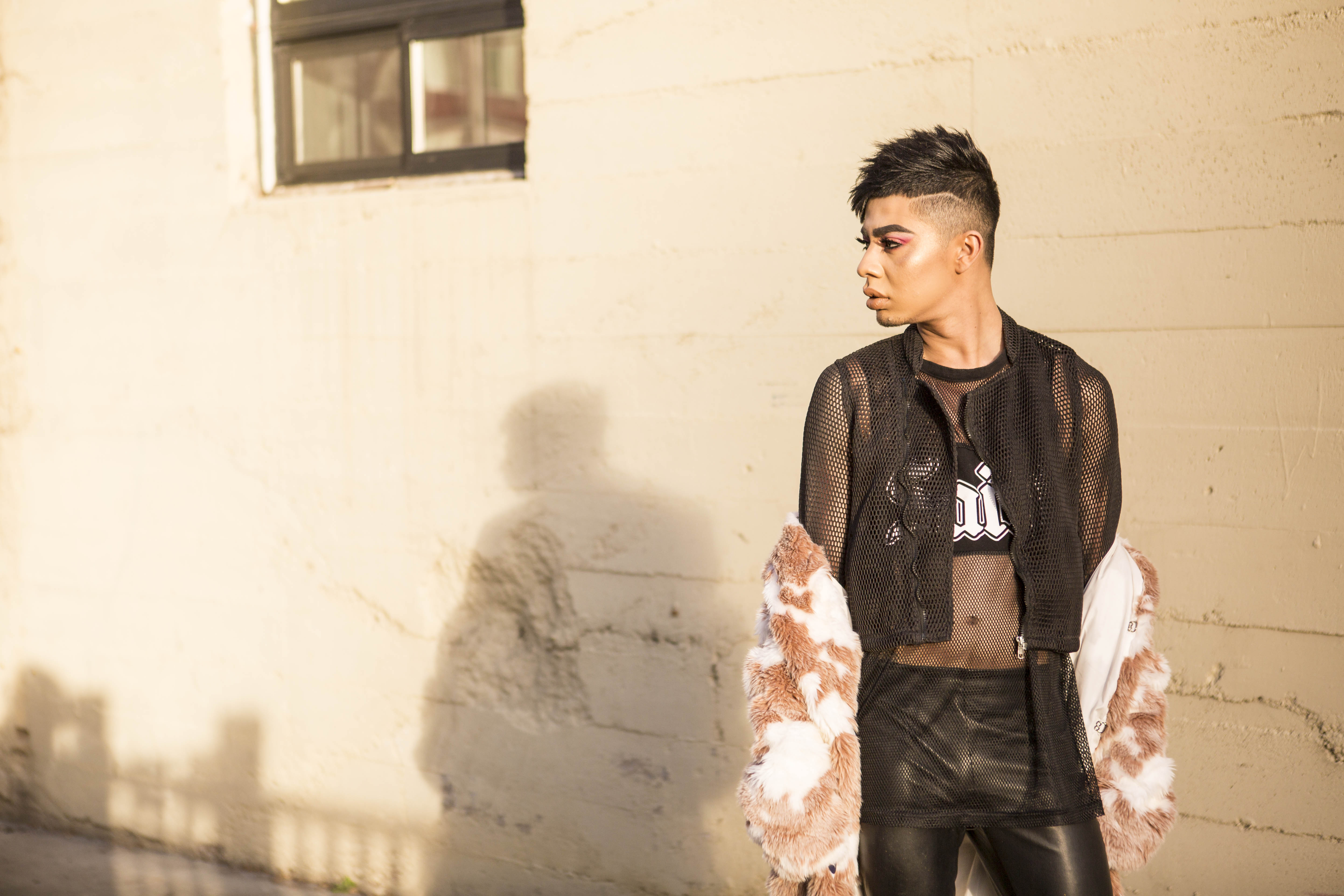 303: Do you feel you are part of a movement to a more diverse fashion scene in Denver?
MV: I believe that yes, the fashion scene is changing, I want to continue that. I want people to start noticing the rest of the talent Denver has to offer.  There's a need for more diversity and I'm going to stomp my way in.  I think I am apart of that movement. Since I dabble in all different parts of the fashion scene here, I'm starting to make my mark.
It's hard for people to wrap their minds around me. I'm not trans, I identify as a male. I wear woman's clothes and shoes, and makeup, but at the same time my demeanor is more masculine and I have a deep voice. Sometimes people just can't get it. It's easier to accept a lesbian or a masculine gay male or someone who is trans but what if I'm more than that?
303: What advice do you have for people out there who are struggling to express themselves?
MV: My advice to those people is just do it. Be you. You may be focusing on the negativity you might get, and I'm not one to sugarcoat shit. Yes, there will be people that are gonna challenge who you are but you know what? The love and support and praise you will get for being 100 percent you will outshine all of that. Surround yourself with true friendships and as long as you are happy with yourself others will follow suit.  It starts with you. You are in control of who you let get you down. I am here to tell you that you are beautiful. You are worth it. And above all never give up on your dreams. If someone else can do it why not you or me? I used to get so angry when people would reject me because of my status or because the way I look — dating in general —and you know what? Why am I mad at someone who isn't educated? It's not their fault, and it's not my job to do that.
Photography by Amanda Piela.