Caffeine and booze.
Need we say more? There are few things that Denver dwellers appreciate more than coffee and alcohol. These are two of our favorite substances and now, you don't have to crush a Four Loko to reap the benefits of this combination. There is no shortage of craft coffee and exceptional adult beverages here in The Mile High City and some had the bright idea to marry the two. 303 Magazine has put in the work to bring you a guide to the best of Denver's coffee meets alcohol combinations.
 Árbol Del Tule at Tatarian
Where: The Tatarian, 4024 Tennyson St., Denver.
Cost: $14
The Lowdown: Mike Huggins and Lenka Juchelkova have established somewhat of an empire in metro Denver. From the beloved Arvada Tavern with its classic American charm to the pre-prohibition Union Lodge No. 1— the couple has peppered Denver with dynamite drinking destinations. And now their newest location, The Tatarian, is bringing the woods to Berkeley. Their menu, like their name, is inspired by trees. And one drink is giving a nod to both the Montezuma Cypress and coffee. The Árbol Del Tule is a mezcal-based cocktail — a mixture of mezcal, coffee liqueur, liquor 43, Montenegro, demerara, hellfire shrub and angostura bitters. If some of these ingredients aren't ringing a bell don't worry, they've created a book that explains each drink and their bartenders are more than willing to break it down ingredient by ingredient.
READ: Berkeley's Newest Bar Tatarian Will Take You To the Woods
Coffee Apple Cider at Stem Ciders
Where: Stem Ciders, 2811 Walnut St., Suite 150, Denver or  1380 Horizon Avenue, Lafayette
Cost: $10 (4-pack)
The Lowdown:  Stem Ciders is an local cidery opened in 2014 by Eric Foster and Phil Kao, two passionate entrepreneurs with a deep appreciation for craft, and a strong commitment to reviving the cider tradition. This legendary team has made a name for themselves as Denver's cidery by producing knockout combinations from raspberry apple cider to red zinfandel barrel aged cider and even coffee inspired cider. Their coffee apple cider made our list for its ability to bring you both the crisp, refreshing taste of a boozy apple drink with the rich flavor and much-needed buzz of coffee. This cider is made in collaboration with local coffee roaster Method Coffee. Using Method's Protect Our Winters roast, Stem creates a drink that has the same amount of caffeine as one full cup of coffee. Unfortunately, it is seasonal, so like your morning joe you'll want to get it while it's hot.
Old Turk at El Five
Where: El Five, 2930 Umatilla, Denver.
Cost: $12
The Lowdown: Edible Beats Bar Director Ky Belk is nothing short of a mix master. He has created and formed the  El Five cocktail menu one ingredient at a time utilizing things like sherry, whole eggs and homemade coffee bitters. El Five managed to snag two spaces on our list, the first, an old-fashioned inspired by Turkish coffee is a caffeinated twist on a classic.
"We make the bitters in-house because you can't find Turkish coffee bitters anywhere else," explained Belk. "We take the coffee grounds and sous vide that with 151 Rum, Gentian (a root herb that makes things bitter,) cardamom and cinnamon sticks." 
Tha java-inspired drink is then poured over a singular ice cube and stamped with the El Five logo. It's passport to Turkey and an approachable play on a traditional drink. And seeing as the El Five menu is constantly updating, we'd recommend trying this drink while it's available.
Irish Coffee Flip at El Five
Where: El Five, 2930 Umatilla, Denver.
Cost: $13
The Lowdown: For most, sipping an Irish coffee conjures images of evenings in front of a fire and boozy breaks from the ski slope. Traditionally, this drink combines hot coffee, Irish whiskey, brown sugar and fresh cream. El Five's Irish Coffee Flip remains true to this classic recipe, with a few appreciated upgrades.
"It's Irish coffee meets espresso martini," explained Belk. "It's made with Jameson and coffee but its a flip, which is a cocktail made with a whole egg, making the drink frothy and light."
Vietnamese Iced Coffee at Departure
Where: Departure, 249 Columbine St., Denver.
Cost: $13
The Lowdown: Cà phê đá is the traditional name for one of our favorite cold caffeinated drinks, Vietnamese coffee. This beverage hailing from the East has become increasingly popular in Denver in recent years and Departure in Cherry Creek is taking it to the next level. By combining Monkey Shoulder whiskey, Hennessy VS cognac, J. Rieger cafe amaro, Fernet Branca and coconut milk, this elevated Asian eatery is whipping up a twist on Vietnamese coffee that appeases both our love for Asian culture and caffeine.
Nitro Cold Brew Manhattan at Carbon
Where: Carbon, 1553 Platte St., #130, Denver.
Cost: $10 
The Lowdown: There's a seemingly countless number of bars in Denver serving up twists on the classic Manhattan. And carbon is one of them. This Platte Street hot spot is doing a caffeinated twist on the age-old drink by infusing it with their cold brew coffee. "We rim a martini glass with our nitro cold brew coffee like you would rim a martini glass with vermouth," explained Carbon's Gabrielle Ciano. "And we serve that with a shot of cold brew, like a sip one then sip the other type thing."
The bartenders at Carbon combine Old Forester Bourbon with bitters and sweet vermouth before pouring the concoction into a martini glass. The drink is then garnished with either a homemade bourbon infused cherry or a Bordeaux cherry and accompanied by a nitro cold brew shot.
Spiked Carbon Coffee at Carbon
Where: Carbon, 1553 Platte St., #130, Denver
Cost: $8
The Lowdown: We're into anything covered in whipped cream. And not only is Carbon's Spiked Coffee topped off with a homemade bar whip (heavy whipping cream, angostura bitters and powdered sugar) but it can also be served hot or iced. By combining Peruvian drip coffee, or cold brew, with spiced dark rum and banana liquor, Carbon has managed to create a drink that can be enjoyed in both sunshine and snow.
"When I'm serving tables I like to mention that we can make this drink iced," suggested Ciano. "By substituting the drip coffee for our nitro cold brew, we can make a traditionally hot drink iced, and I really love that. The nitro gives it a frothy finish which is awesome." 
This, along with Carbon's other creations are some of our favorite in Denver. Created by bar manager Karl Schwender, this kick-ass drink combines both caffeine and alcohol and caters to those who like it toasty or frosty, a win-win in our book.
Bridging the Gap
Where: Wayward, 1610 Little Raven St., Ste. 100., Denver.
Cost: $13
The Lowdown: When beverage director Alexandra Flower created Bridging the Gap she pulled inspiration from the killer combination of pineapple and coffee. By utilizing the rich notes of Rieger's Cafè Amaro out of Kansas City and the brightness of pineapple infused gin, Flower has brought together summer and winter.
 "We had all of this gin that we'd infused left over from the summer and I was like, I need to make this into something a little more wintery," explained Flower. "So yeah we flipped it and essentially bridged the gap between summer and winter."
By infusing gin with grilled pineapple the Wayward team was able to create a substance that brings forward the full flavors of a tropical fruit that we all know and love. Next, they add the cafe amaro, pour it up and top it off with a simple orange twist and a clove.
Road to Eldorado
Where: Amethyst, 1111 N. Broadway, Suite 101, Denver
Cost: $9
The Lowdown: Amethyst is one of the rare places where Denver Dwellers can go to sip on both craft coffee and booze, in the same space. The Road to Eldorado is one of the teams favorite caffeinated concoctions. "It's really smooth and chocolaty," explained managed Roman DeShong. "You get the spice from the Fernet and the sweetness of the cherry, which is a great combination."
This Road to Eldorado begins with single origin cold brew Colombian coffee. Next, they add Eldorado eight year rum, maraschino liquor and fernet. The mix is then served up, with a twist.
Cocolatte at Pinche
Where: Pinche Tacos, 215 E., 7th Ave., Denver.
Cost: $13
The Lowdown: For this decedent drink, bar manager J Jenson begins with 1800 Coconut Tequila. He then adds Xocolatl Mole bitters, fresh brewed black coffee and shakes that with a dash of heavy cream. "We top it off with a lime twist to replicate that lime in the coconut vibe," explained Jenson. "It's kind of a fun play on a tropical cocktail."
This mix up can only be found at Pinche's newest location in the Governor's Park neighborhood. And it's not on their official menu yet so if you're looking to indulge, ask for Jenson and say 303 sent you.
Boozeless Bonus: Blackberry Kyoto at Corvus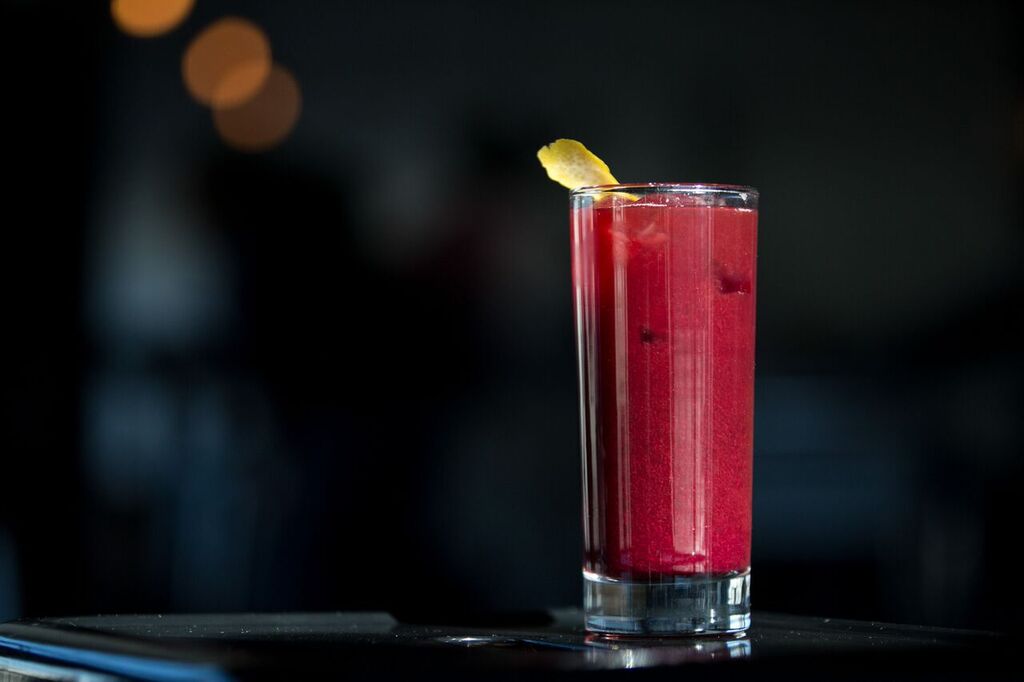 Where: Corvus, 1740 S. Broadway., Denver.
Cost: $6
The Lowdown: Okay, hear us out. While Corvus doesn't have a liquor program (*yet*),  there are few businesses that take coffee concoctions quiet as seriously. For their newest location in DTC, the team over at Corvus even paired up with local haunt Englewood Grand to make mocktails that taste like the real thing. And because of the caffeine buzz and the expert care that goes into making each one, you'll barely miss the booze. So for this last "cocktail," we have the Blackberry Kyoto which is influenced by traditional Japanese cold brew. The coffee goes through a six-hour elongated pour over process which produces a sweeter flavor. Corvus uses a Natural Ethiopian or Costa Rican coffee as the base for the Blackberry Kyoto. They then add a blackberry reduction and brown sugar sage simple syrup. And while this fruit-forward cocktail is alcohol-free, it is certainly one of Denver's most unique coffee inspired concoctions.